The Google Analytics App enables users to access their entire Google Analytics app and web reporting profiles from their mobile device. This app has a whole new look and feel that is optimised for mobile phones and tablets, enabling you to easily access your Analytics data anywhere, anytime.
We feel that Google has done an exceptional job with this app. It is perfect for anyone who need to regularly track performance of a website, be they a professional tracking multiple websites or a blog owner tracking only one blog.
Below are two screenshots of the app. The first shows the really easy to use menu, and people already familiar with Google Analytics will appreciate the layout of the menu. The second screenshot is one of our favourite – it shows the top landing pages over a period of time. In todays content driven Google – this page is invaluable to quickly check up on what content is doing well, and determining where your content strategy should go.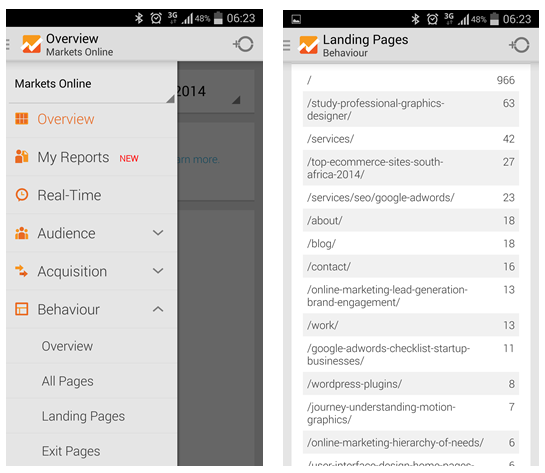 New Features of the Google Analytics App
"My Reports" – Enables users to create custom reports to gain new insight.
All reports now support default segments.
Improvements to navigation via Talkback.
Our Pick on the Features and Functionality of the Google Analytics App
You cannot miss the Google Analytics App icon on your home screen; you will immediately recognize it with the orange and white theme colours for the Google Analytics website.
My Reports is quite a handy feature that allows you to build your own custom report within the Analytics App.
The real time overview is also available on the mobile app, making it easier to see how many visitors will be on your site, top locations, top referals and more, all real time.
Interface and Graphs are the best parts of the Google Analytics App. The data is presented in cool graphs and bar charts that make it easy to analyse your Analytics data.
Other Google Analytics Apps You Can Use on Your Android / iPhone
For the Android OS [H2]
There are 2 solutions for Android, which are:
Mobile GA and
These Apps are both powerful and user friendly. These Apps are very useful because they enable you to quickly identify which metrics are changing on your site.
For the iPhone [H2]
There are 2 solutions for iPhone, which are:
Analytics for iPhone App by Sergej Mueller.
Ego App by Garrett Murray.
These Apps are very useful when accessing all your Google analytics data. The Google Analytics for iPhone App has some great reporting, while the Ego App enables you to consolidate reporting from various services, such as Twitter and Feedburner.
Why Should I Install The Google Analytics App By Google Inc? [H2]
Easy Setup – As soon as you install the Google Analytics App, it will request you to log-in to your Google Analytics account. It will then pull all the data and assembles it into really cool looking graphs and charts.
Accessible – With the Google Analytics Apps for Android and iPhone, you're able to access your data from anywhere at any time on a mobile device, as long as you have an internet connection.
User Friendly – Mobile Apps come with a clean interface that has a great look and feel that is optimized for mobile phones and tablets.
Insightful – The Google Analytics Apps generate eye-catching graphs and stats that enable you as a business owner to quickly analyse data and make informed decisions, even with limited Google Analytics knowledge.
Flexibility – If you run more than one account or profile in your Google Analytics, the App makes it easy to switch between accounts and profiles, without any hassles.
Want to download the Google Analytics app? Here is a link to the Play store – Go there now