Services
Hubspot inbound marketing
HubSpot is the world's leading marketing and sales platform, and our preferred means to deliver and measure marketing automation and accelerated sales performance. It has over 23,000+ customers from across 90 countries using their marketing software. HubSpot's software will help you to increase traffic, convert leads and prove return-on-investment (ROI). But what exactly is HubSpot Marketing? Let's explore…
What is Hubspot inbound marketing?
Hubspot is an inbound marketing and sales automation software that enables brands to engage with their market in a structured and centralised environment. By properly connecting your sales and marketing environments, Hubspot helps you grow traffic, convert leads, and track your entire funnel. It allows you to execute marketing strategies and connect the results of those activities to sales as leads, and further engage with these leads until they become opportunities until being carefully nurtured into customers.
Put more simply, Hubspot is a software that combines sales and marketing efforts into a central hub, allowing for greater clarity in your business intelligence and proving return on investment.
The key to HubSpot's success as a digital marketing tool is that everything is in one place. A singular point of entry and analysis for your digital marketing allows you to easily see where you are winning and where you need to improve. By touching all the bases in your digital marketing strategy, it can build momentum faster, and to a more targeted audience. It brings your team, all your tools and data together in one platform. Social gains feed into search gains, search gains feed into more website engagement, and in turn, greater email engagement by your subscribers enjoying your content; and the virtuous cycles go on. ROI abounds.
THE INBOUND METHODOLOGY
What is Inbound Marketing?
Inbound marketing focuses on attracting customers through relevant content that is helpful in nature, offering guidance in some way. Value is added at every stage of the customer's buying journey. Potential customers (prospects) can find you through online channels such as blog posts, search engine results and social media.
Inbound marketing utilises different forms of "pull marketing" including content marketing and search engine optimisation. You're initially creating brand awareness and attracting new business, with the aim being to increase the number of high-quality leads you generate. You acquire more high-quality leads by appealing to and enticing like-minded potential customers who fit your target audience or ideal customer persona (target audience/ideal buyer profile).
HubSpot's Inbound Methodology
Inbound marketing is focused on attracting customers through relevant and helpful content and adding value at every stage in your customer's buying journey. With inbound marketing, potential customers find you through channels like blogs, search engines, and social media.
The foundation of a solid inbound marketing campaign starts with settings goals, then creating buyer personas of the people you need to attract to achieve those goals, and finally content mapping and auditing for strategic execution.
HubSpot's inbound methodology moves across four principles using multiple software features:
Attract strangers and turn them into visitors with blogs, keywords and social publishing
Convert visitors into leads with forms, calls to action and landing pages
Close deals to converts leads into customers through CRM integration, email and workflows
Delight customers and achieve retention while turning customers into evangelists/promoters, achieved through smart content and social monitoring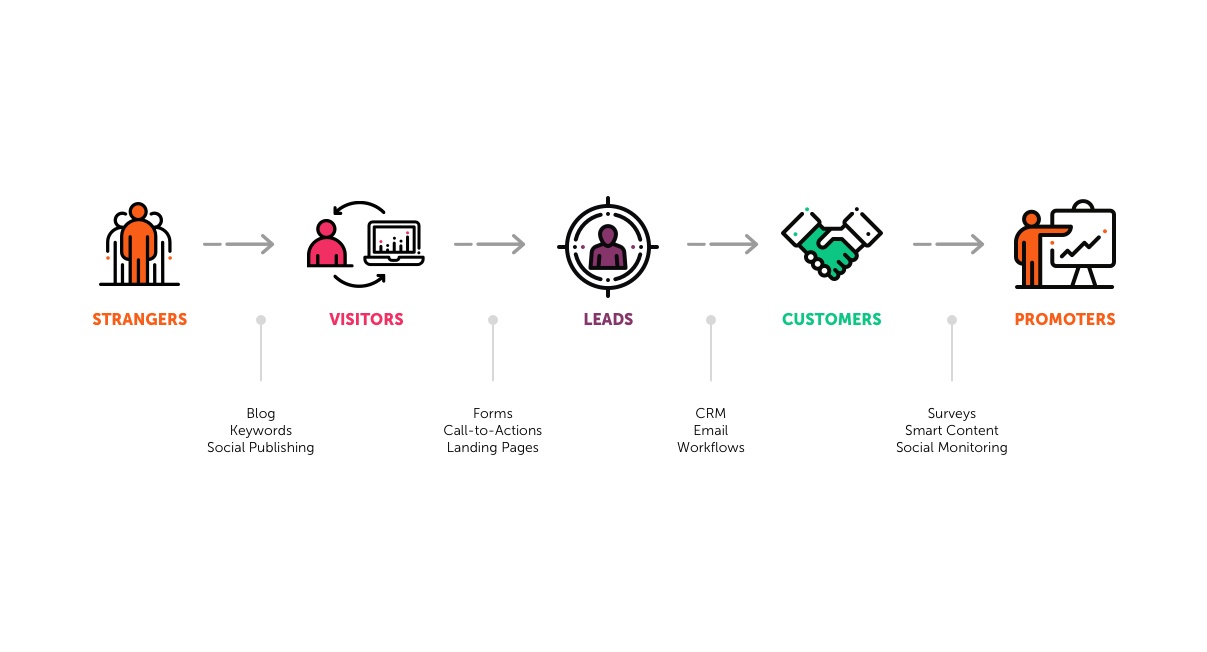 Mapping your buyer's journey
Once you've created your buyer journey and audited content, you can start to map the journey you will take your buyers through. This buyer journey is defined by Hubspot as the active research process a potential buyer goes through leading up to a purchase. It is divided into three stages that cater to each phase the buyer goes through:
Awareness Stage: The buyer realises they have a problem, for example, the buyer
Consideration Stage: The buyer has defined the problem and begins researching viable options to solve the problem, for example
Decision Stage: The buyer chooses a solution. Because of your inbound marketing and sales strategy, it should be the one you offer.
You need to have investigated your prospects thoroughly, and then mapped exactly the right content for their needs, to move them through the buyer's journey effectively – pulling them in as leads and seeing them out as customers and evangelists.
Mapping content to the suit the buyer journey
Core to the inbound marketing methodology is serving the right content to the right people. For this to work, you need to correctly map content to suit the phase of the buyer journey the lead/prospect is in, and create a suitable content marketing strategy. This content must offer value to the prospect; and must be worth them giving you their email addresses in return.
During the creation of your content strategy, you will decide which problems the potential buyer experiences [awareness]; what they will be searching for to attempt to alleviate the symptoms they're experiencing (help them identify the problem) [consideration], and finally how your offering is the best possible remedy [decision]. The diagram below illustrates how you can leverage relevant terms in each buyer journey stage: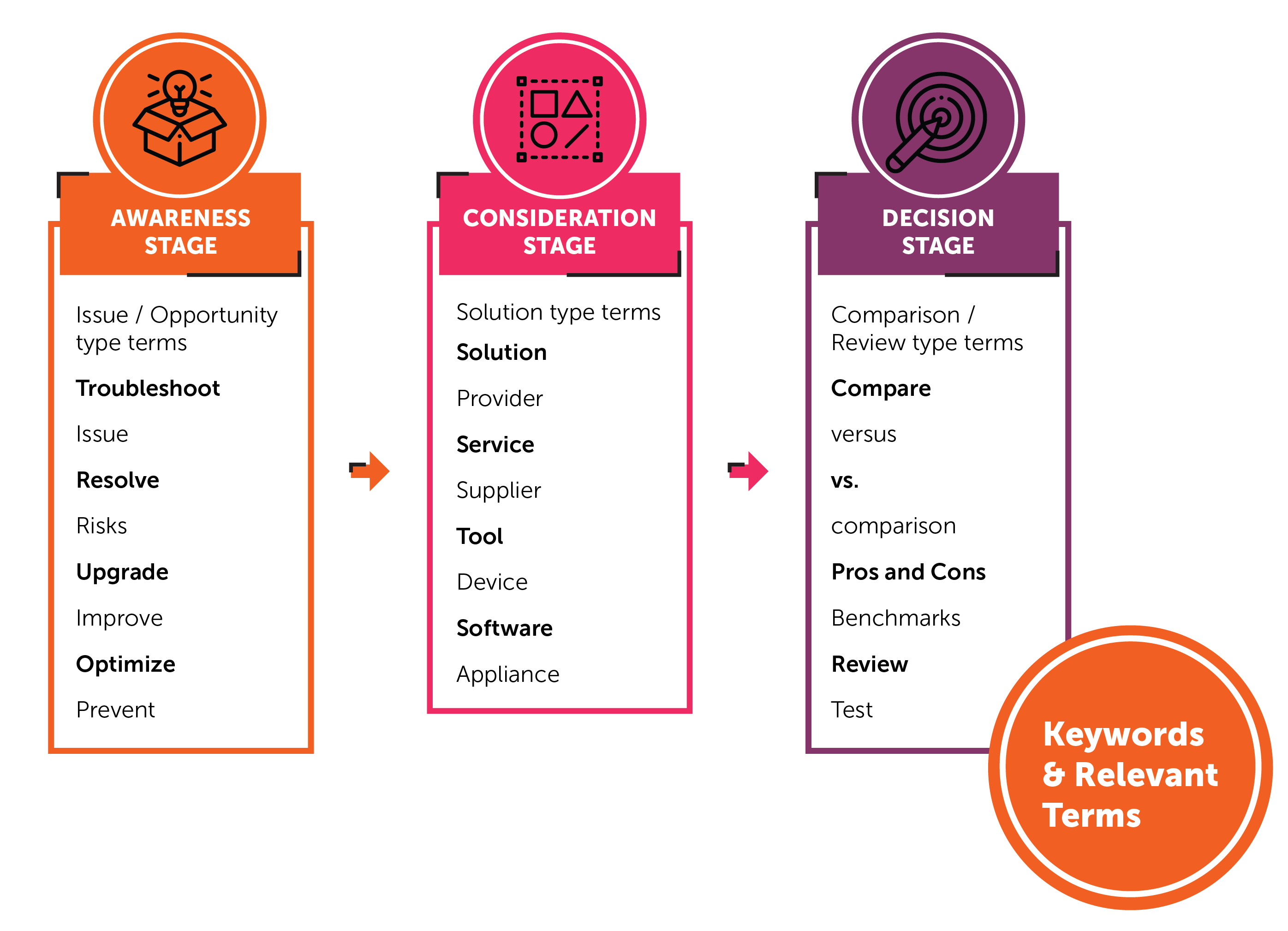 marketing automation:
Marketing automation is the box of magic marketers never knew they needed. It allows professionals to hold different marketing processes in the same environment, connecting them and thus creating a perfectly sinuous digital eco-system. This also allows for greater campaign reporting, and more accurate tracking of true return on investment (ROI) metrics. Further, marketing automation allows people to automate repetitive tasks like manually sending emails, manually scheduling social media messages natively, and converting data values in bulk.
hubspot inbound marketing features:
Depending on the HubSpot package you select, you will have access to a host of features that help you create a seamless, automated digital marketing ecosystem. We have divided them into content and contact features.
Content features
Campaign management and reporting: Set up goals prior to your campaigns, link all relevant content, keywords and social media messages, and get real time results for your campaign groups.
Content management: Build blog posts, landing pages, and call to action buttons and banners, and link them to contact forms in your Hubspot portal to track who's downloading what
Email marketing: Create, send, track and report on your email marketing campaigns, connecting them to your customer history, and determining which to send through automation
Social media management and reporting: Publish or schedule social media messages, connect these messages to campaigns to gauge which work best, and easily view results for your social efforts in your campaigns. Hubspot makes social media marketing easier to automate and report on.
Workflow management: setting up recipes for how your content can be automatically send to contact who meet certain criteria, thus moving them along the buyer journey and nurturing them into a sales decision.
Website pages: HubSpot offers subscribers the option of Hubsot COS website, thus placing your most valuable digital asset (your organisation's website), amongst all other marketing activities in one environment.
Keyword tool: Research keyword volumes and add relevant keywords into your Hubspot portal and your campaigns. This tool ensures that your content can rank organically as long as you follow SEO best practices.
URL builder: Build your own UTM codes to track Hubspot traffic accurately. You can also associate these with your campaigns to group all traffic for that campaign.
Contact features
Contact management: A single view of all your contact data. Manage all your contacts by the information you have, who they are, what they have engaged with, and what they are most likely to need until they are ready to make a buying decision.
Lead nurturing: A contact in a database is not a lead. A lead is someone you intend to engage with. They need to be nurtured into subsequent stages in the buyer journey. Segment your leads and nurture them according to what the data tells you.
Lead scoring: HubSpot allows you to scale your leads to be able to effectively identify the most qualified leads. Assign values to certain actions, deduct values based on adverse actions, and quantify which leads are ready to convert.
Conversion rate optimisation: This element may not be offered on the list of Hubspot features, but it's an inherent benefit if you follow the HubSpot Inbound Methodology. Conversion Rate Optimisation is the process of refining your sales and marketing programme to improve your conversion rates, bring in higher quality leads and close more deals.
HubSpot also offers Analytics and reporting tools and has recently introduced Lead Ads integration with Facebook.
SALES ENABLEMENT: CONNECTING SALES AND MARKETING
One of Hubspot's most appealing and understated features is its ability to connect sales and marketing in a way that organisations have strived for over generations. Sales enablement is all about giving salespeople in your organisation what they need to do their jobs most effectively. This includes helping them find quality leads, great sales content and collateral, a clearly-defined sales process and easy to use sales technology.
HubSpot Sales is a CRM tool that connects your sales team to your marketing efforts. It allows your sales team to engage directly with your leads and clients after they interface with any of your marketing elements. Lead notifications are sent to the relevant sales team members as soon as a client or lead opens an email or visits a specific product page. And lead scoring based your client's interaction with your marketing material allows the sales team to time their sales calls to perfection.
how does it work?
It starts with selecting the right Hubspot partner to get you going on your Hubspot Inbound Marketing Journey.
This will lead to a needs assessment and existing content audit. Next, you are onboarded with HubSpot and initiate a subscription which last a minimum of one year.
Your website needs are assessed. If you keep your current website, HubSpot is connected with your existing environment. If you wish to order HubSpot COS website, development is initiated.
Content strategies are written, audiences researched and split into buyer personas, the buyer journey is outlined and then you content is split to accommodate phases of the buyer journey.
Initiating Hubspot Inbound Marketing is by no means easy or cheap, but with the right partner, it will be set up right the first time and expertly executed. Ready? Get started here.
WHAT WILL IT COST?
Our clients typically invest between R20,000 – R50,000 per month into their HubSpot inbound marketing. The investment is proportional to the hours we work on your HubSpot inbound marketing every month.
The budget and hours depend on several factors. Is your industry highly competitive; are you the first to go to market with an inbound marketing strategy? Do you need to see results fast? Do you already have some tactics in place?
Depending on your requirements we'll work develop a tailored solution to suit your budget, current situation, and goals.
our TACTICAL APPROACH to LEAD GENERATION and nurturing
HubSpot has many incredible features, but it requires a tactical approach from the onset. At MO Agency, we consider everything as they relate to the HubSpot Inbound Methodology so that you can achieve maximum return on this investment. Our tactics include:
Content Marketing
Video Production and Animation
Infographic Design
Inbound Marketing
Search Engine Optimisation (SEO)
Pay Per Click
Social Media Marketing
Email Marketing
Marketing Automation
CRM
Website & Landing Page A/B Testing
Conversion Optimisation
Landing Page design, development, deployment
Analytics and Reporting
Lead Nurturing
inbound marketing in action
Drawing on the inbound methodology of attracting visitors, converting them into leads and slowly, subtly nurturing them into a sales decision, the following is a diagrammatic representation of inbound marketing in action:
Example of simple workflow: Goal is to send all subscribers and email 10 minutes after they subscribe. This helps us confirm subscription and ensure the contact knows what they have opted in for.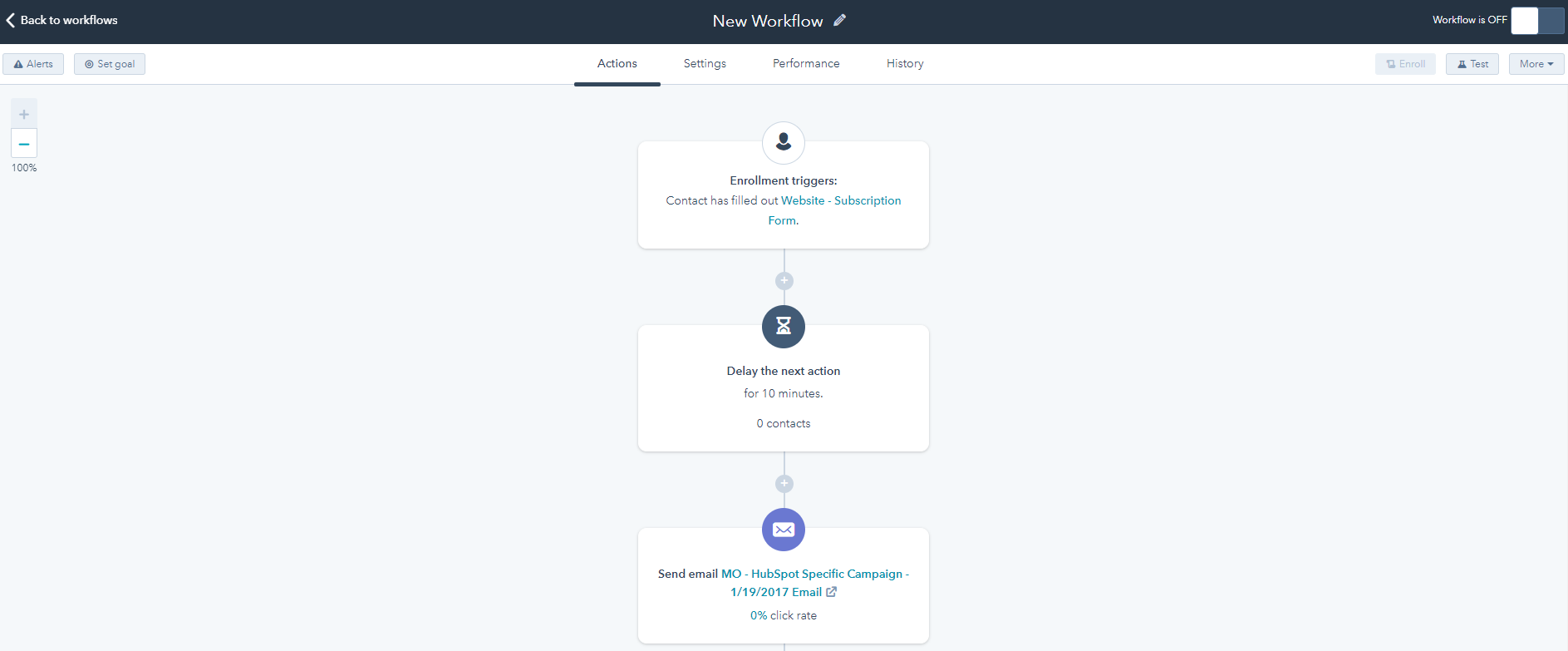 Example of complex workflow: Goal is to nurture a high-level (executive) contact into booking a consultation.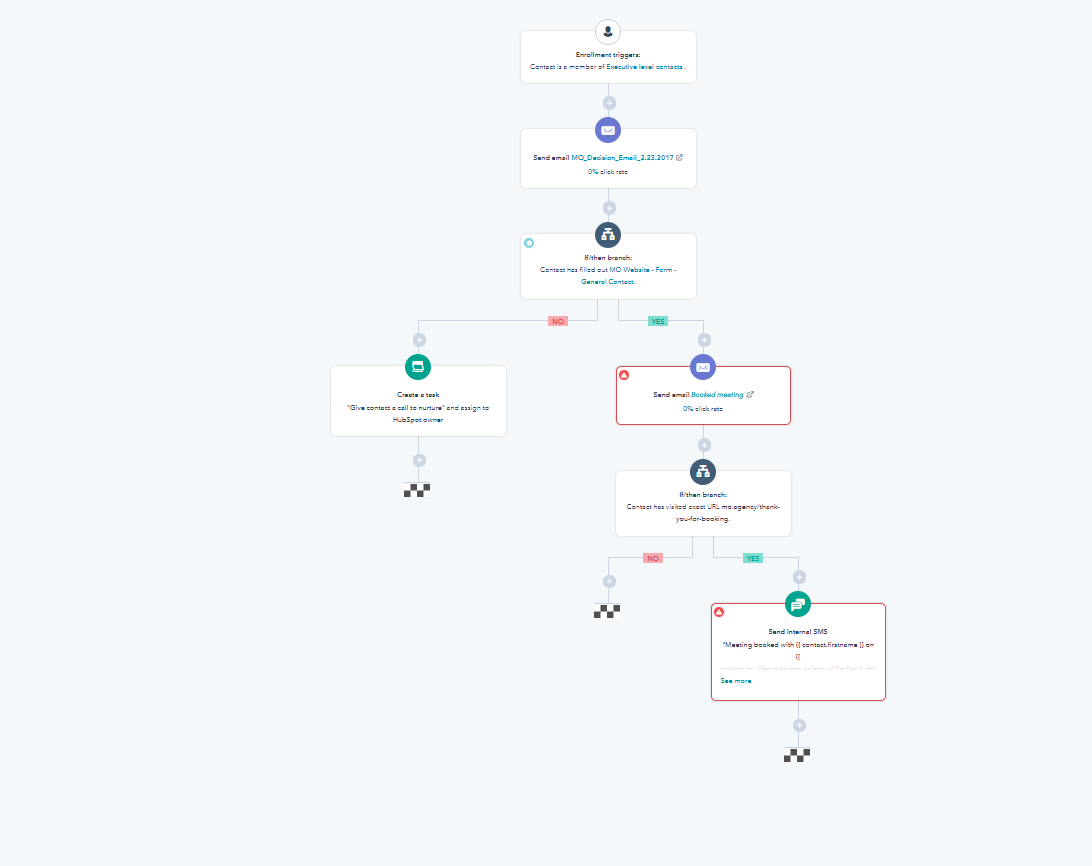 What success looks like in numbers
All brands are different and shouldn't expect the same results, but here's a snapshot of what Hubspot did for us. Within a year of implementing Hubspot, MO Agency had the following results:
1,014% increase in organic traffic
6,621% growth in contacts
6,300% increase in qualified leads
6,63% conversion rate accross the website

getting started with Hubspot marketing and sales
Our HubSpot inbound marketing program is delivered on a monthly retainer basis. In our first month, we research you, your marketing, your clients and competitors, and we provide you with a custom digital marketing plan to achieve your business goals. We have weekly status meetings with you, and one monthly reporting session where we focus on the month's successes and how we can adjust and improve for the upcoming month. Click here to get a Hubspot Consultation with Mo Agency.