Do any of these problems sound familiar?
There is no consistency across your brand
You are not sure how to stand out from the competition
Your brand 'feels' outdated
Your brand message needs some realignment
We've been writing lost of content, but nothing is happening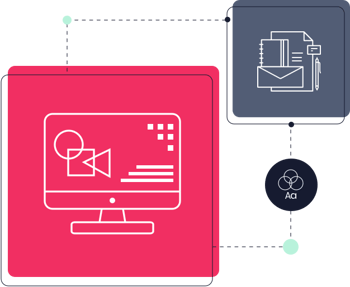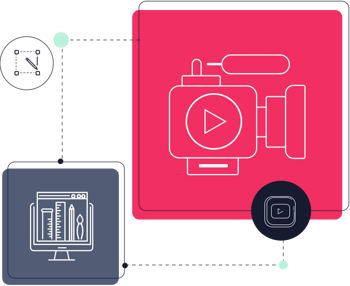 Would you like to?
Give your brand purpose
Connect with your customers
Stand out from the competition
Have a set of eBooks and infographics that prospects are clamoring for a sharing on social media
Align the company vision with the brand identity
Reposition your brand online
Why should you consider branding, creative and video services from MO Agency?
Your brand is the complete experience that your company produces. It's how that experience is felt by your customers. Your customers know how great they feel when working with your company. Strong branding delivers that same feeling to potential customers before they've even worked with you.
MO Agency can help you leverage well crafted content and build visual positioning to attract, nurture, and retain the right customers.
Our branding and creative capabilities and process
We have an experienced team of designers that can help freshen up your visual identity or build an extension of your existing brand.
Working at the intersection of design, content, and marketing, our design team knows how to attract new customers and boost your brand's reputation.
Our team of copywriters can write expertly for your audience and industry. We'll help you uncover your brand's voice, and unlock your inbound and content marketing potential.

Our Video capabilities and process
Talking heads, interviews, testimonials, explainer videos, animations, and demos.
Video should be part of your strategy for all stages of the buyer's journey. Do you need video to focus on brand awareness and attract new customers? Convert leads? Educate current customers?
Our video team has strong videography and animation capabilities. Our equipment and facilities include an in-office production studio and the latest camera, sound and lighting equipment.
Leverage video to elevate your brand, grow your reach, and strengthen credibility. We'll help you build your storyboard, write a script, source music and voice talent. We'll integrate the final product into your marketing and sales strategies.
Our work in motion
Creative and Branding services we offer:
Infographics
Interactive eBooks
Digital corporate identity
Sales and company presentations
Logo design and development
Brand guidelines
Corporate style guides
Brand analysis and research
Competitor analysis and research
Corporate video
Talking heads
Interview (on-site and in-studio)
Video testimonials
Explainer videos
Training videos
Animation
Drone video (aerial shots)
YouTube Ads and informational videos
Book a Digital Branding & video discovery session
Let's chat. We'd love to hear from you.