CRM integration enables frictionless data flows between teams
Growing companies need to change, scale and integrate systems regularly.
When each department has its own apps, spreadsheets, databases and communication tools, departments often operate in silos.
The problem for scaling companies is that silos create a reactive, misinformed and fragmented customer experience.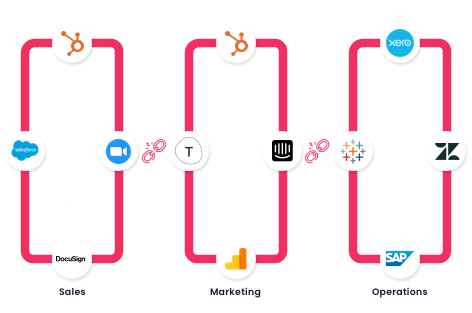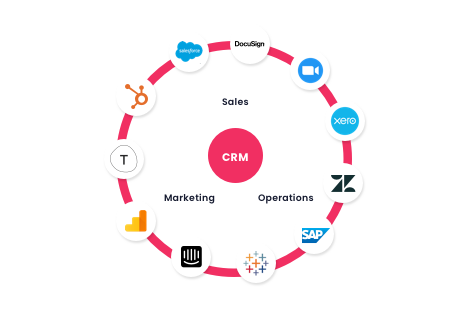 CRM integration to unify your unique technology stack
We have extensive experience integrating and automating data movement between Salesforce, Intercom, Slack, Microsoft, HubSpot, SAP, NetSuite, Zendesk, Xero, Docusign and more.
Our specialisation is HubSpot CRM integrations.
Although we've integrated tech stacks without HubSpot CRM, we feel strongly that integrations with HubSpot CRM at the core are miles ahead in terms of usability and breaking down departmental data silos.
Four CRM integration methodologies we use
Native CRM Integrations
Quick to set up, native CRM integrations can end up being rigid and inhibiting. But, they're perfect for some uses. We can advise when to use them.
HubSpot Webhooks API
Using the Webhooks API and a HubSpot App we can subscribe to events happening in HubSpot. We can then push that event data to another system.
HubSpot API
We use the HubSpot API when we need to regularly move large amounts of data between HubSpot and another system. We have more control over the data than with the Webhooks API.
API Integration Platforms
This CRM integration method allows data processing and cleansing to happen as we move data between systems. This is the most flexible, scalable and stable integration methodology.
Our CRM integration process
Depending on your requirements - which can include your tech stack, your current business bottlenecks, data hygiene and budget - we'll suggest one of the four CRM integration methodologies.
To arrive at the best option for your requirements, we'll visually map the flow of your data and process. We'll prioritise what and when to integrate. We'll determine when you can expect to see ROI from your CRM integration and shoot for this target.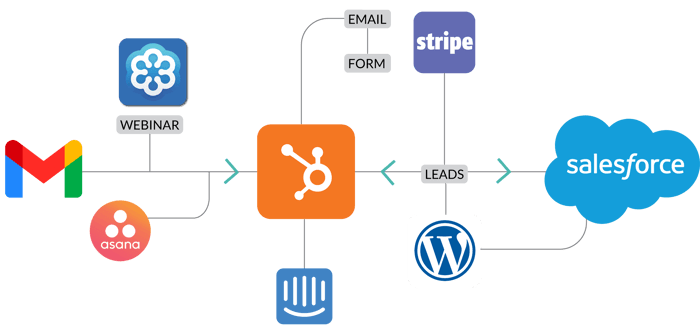 CRM Integration: Innovate faster with a single source of truth
Marketing Integrations
Improve marketing efficiency and scale business growth with the right information at your fingertips. Focus on the tasks that really make a difference.
Guarantee consistent marketing data
Enhanced lead and data enrichment
Hyper-personalisation at scale
Accurate lead to account matching.
Centralise and automate your lead lifecycle
Sync data across all your MarTech apps for consolidated performance reporting
Integrate any MarTech app with a REST API
Sync lead CSV lists with your marketing automation platform
Sales Integrations
Connect and automate your sales process to clear out every sales bottleneck. Salespeople should not have to populate data, they should be using it to close deals.
Enrich every lead using all data available
Automate your renewal processes
Trial conversion alerts
Marketing-sales lead handoff
Lead routing in real-time
Build accurate sales metrics
Stream buying signals and sales updates directly to salespeople
Automate tedious data entry tasks
Book an integration discovery session
Let's chat. We'd love to hear from you.