Here is what we've done
Our case studies
A showcase of the latest work we've done for our clients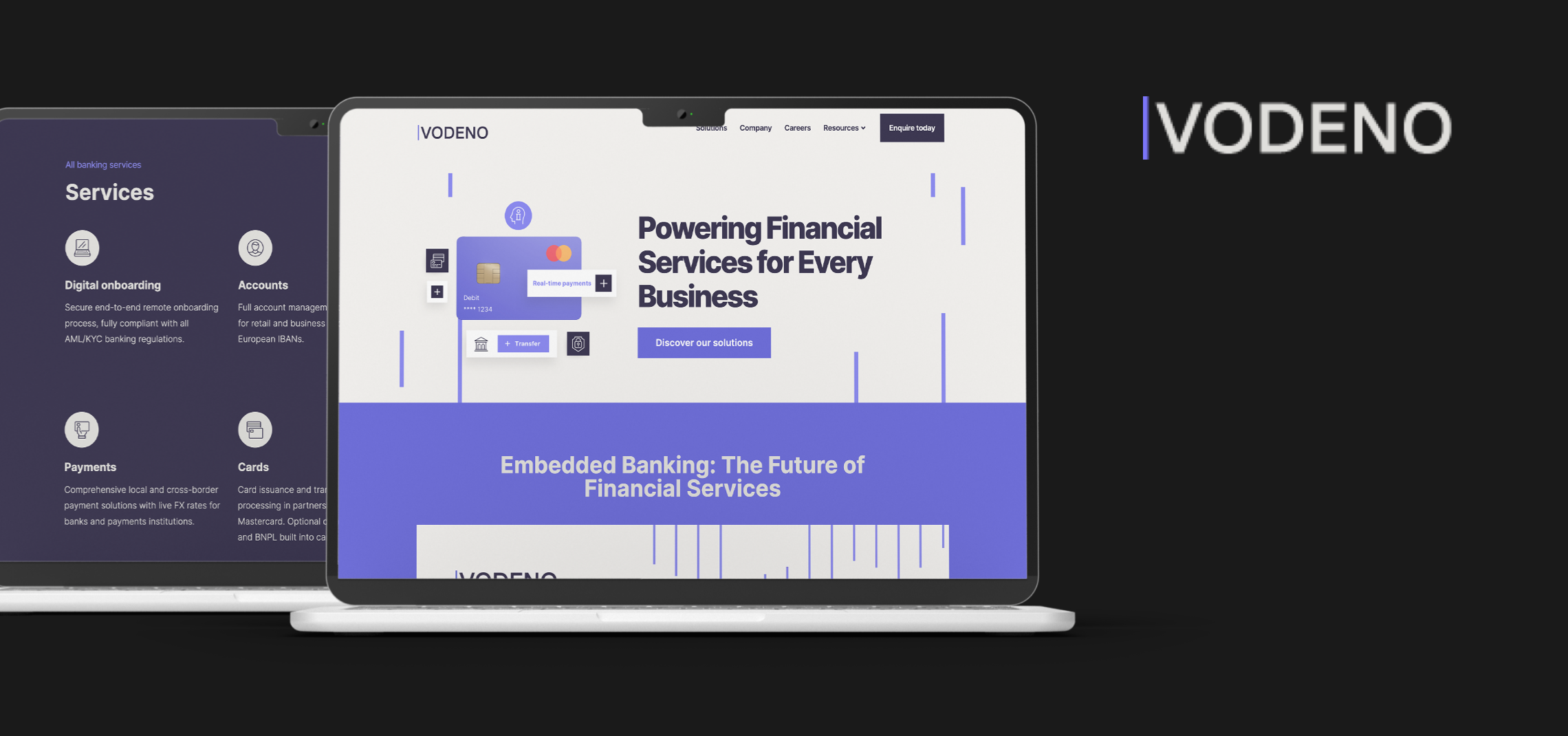 ← Back to case studies
Vodeno: Website project for a scaling and funded fintech
Web Development
Vodeno is a Polish based banking as a service (BaaS) provider. Their mission is to revolutionise the Financial Services industry. Combining a modern cloud-native API-based platform with deep banking experience, they are uniquely positioned to help regulated and non-regulated entities offer modern financial products. Vodeno enables traditional banks to quickly launch new revenue streams and extend product offerings and business models.
The brief
To support Vodeno's rapid growth and effectively communicate Vodeno's offering as a true BaaS solution and partner, the existing website needed to be overhauled. The goal is to be data driven, generate increased website traffic, and optimised for lead generation.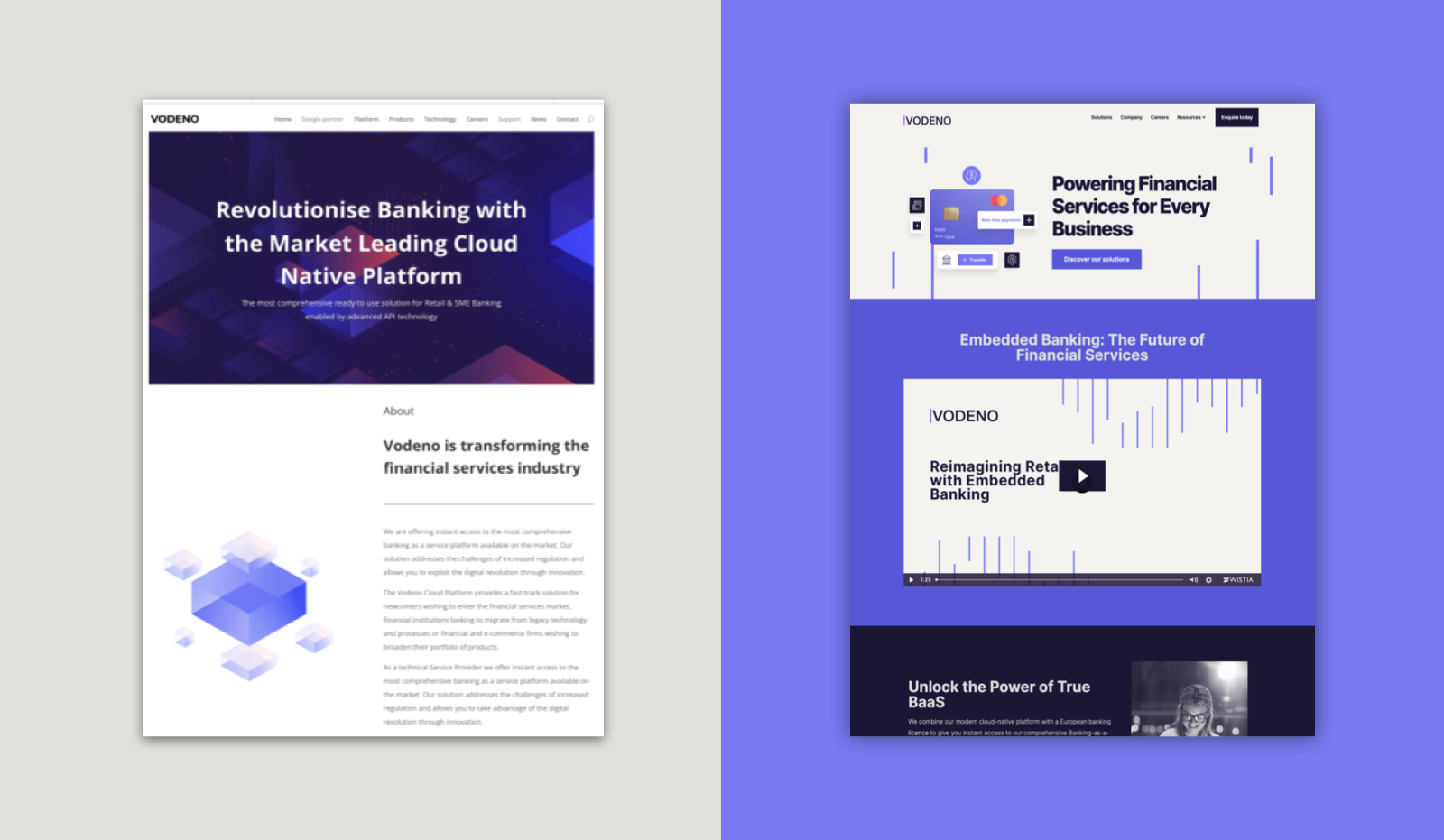 The challenge
To simply update the design and copy of the website would not have been enough, as the single page architecture with an anchored text navigation bar negatively impacted SEO and website traffic as well as UX.
Additionally, a significant opportunity existed to optimise the website for conversion and lead generation, by creating avenues where website visitors can share their details.
Choosing the best approach for the new website was also crucial. The best approach to the new website also had to be considered. Traditional website design presents a variety of risks. The process is cost intensive, dictates long lead turnaround time, is largely based on hypothesis and assumption drive design, and often requires redesign every two years, decreasing the rate of return over time.
Additionally being a financial firm, the requirements around data security on the website are extremely very stringent. The compliance team put the new Vodeno WordPress installation through its paces. We are proud to say the new website passed with flying colours.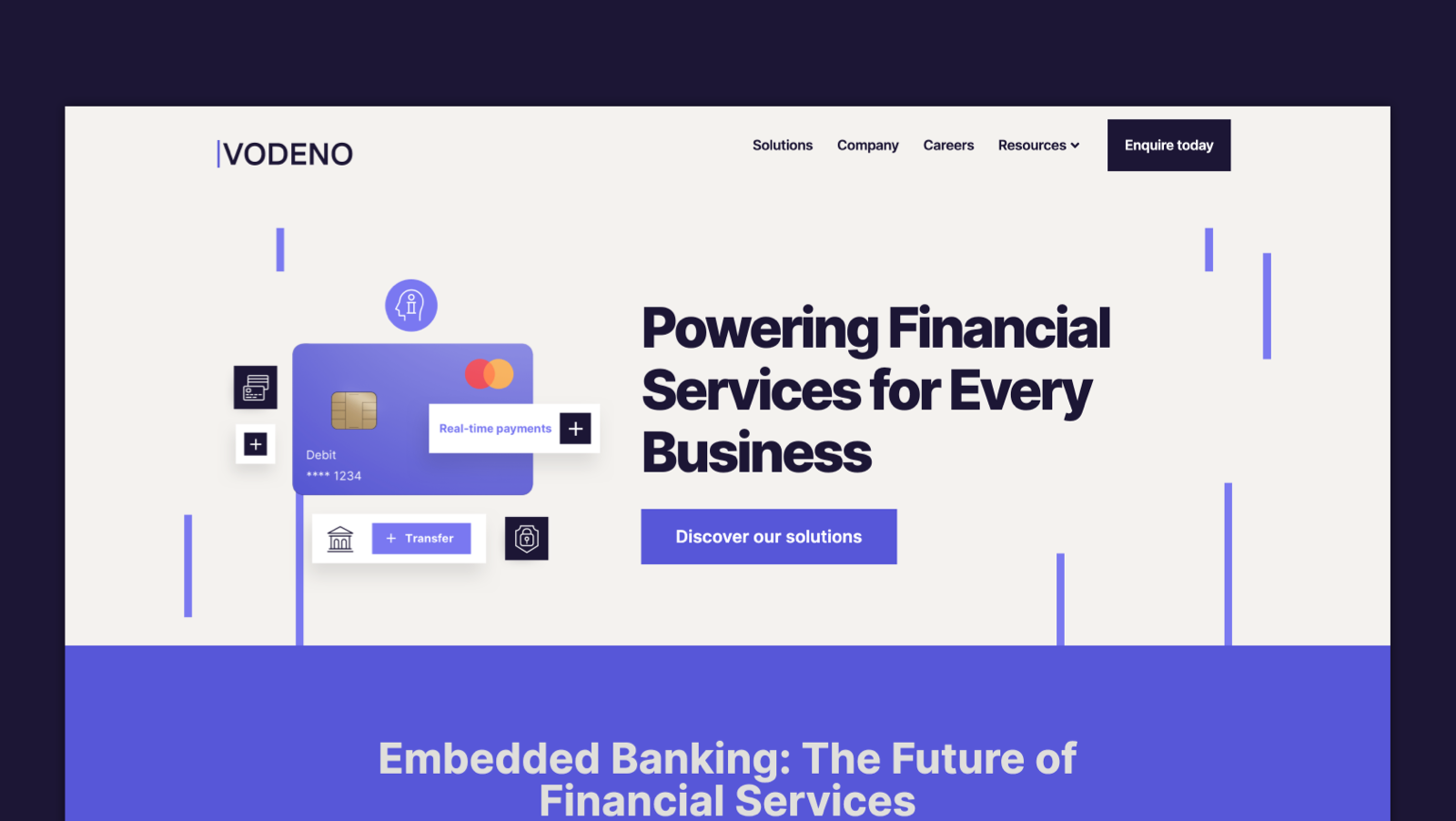 The solution
The solution MO Agency took to these challenges was a growth driven design (GDD) approach. This smarter approach to web design drives optimal results using data and minimises the risks that come with traditional web design through a systematic approach that shortens the time to launch.
This iterative, ongoing process contrasts a traditional website redesign by focusing on iterations, or "sprints," for shorter time frames (which are less risky and less costly), rather than planning to do everything at once.
A strategy outlining how the website could solve the problems of Vodeno's audience along their journey was developed and used to create the website wireframes.
Based on this, a launch pad was built to increase performance, UI and UX, and served as the foundation on which to build and optimise from.
With a launch pad site live and collecting user data, high-impact actions to optimise the website and grow the business were identified.
This solution allowed Vodeno to relaunch its website quickly based on its audience's priorities while making informed performance improvements to its website based on testing, continuous learning, and research derived from visitor behaviours.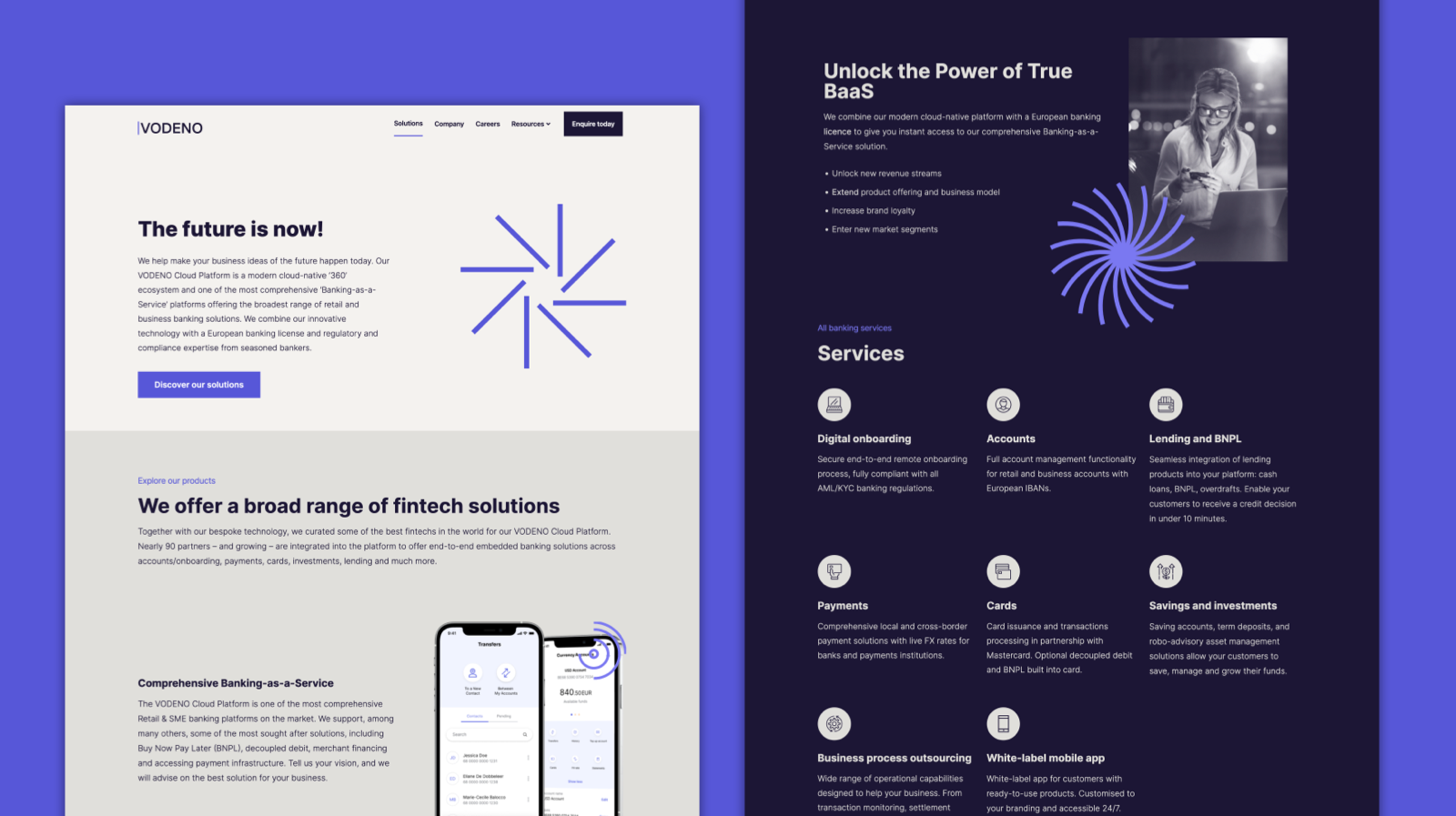 The results
The results of the GDD website project included:
The new launchpad was launched in six 6 months and the optimisations were completed within the next six months. We also saw an improvement in website health, going from 71% to 97% within one month of launching, and
maintaining a rate of 97% over the following six months.
Overall, we increased new website users from 1 900 to 5 000 (263%) within three months of launching. Through our SEO enhancements, Vodeno increased organic search traffic by 278%within three months of launching.
There was a 188% increase in website page views, from 8 000 to over 15 000 within three months of launching. Additionally, the enhanced website user engagement increased page scrolls and button clicks.
The new website generated 50 leads within two months post go-live (at an 8.2% conversion rate) and a further 113 new leads within six months of launching (8.26% conversion rate).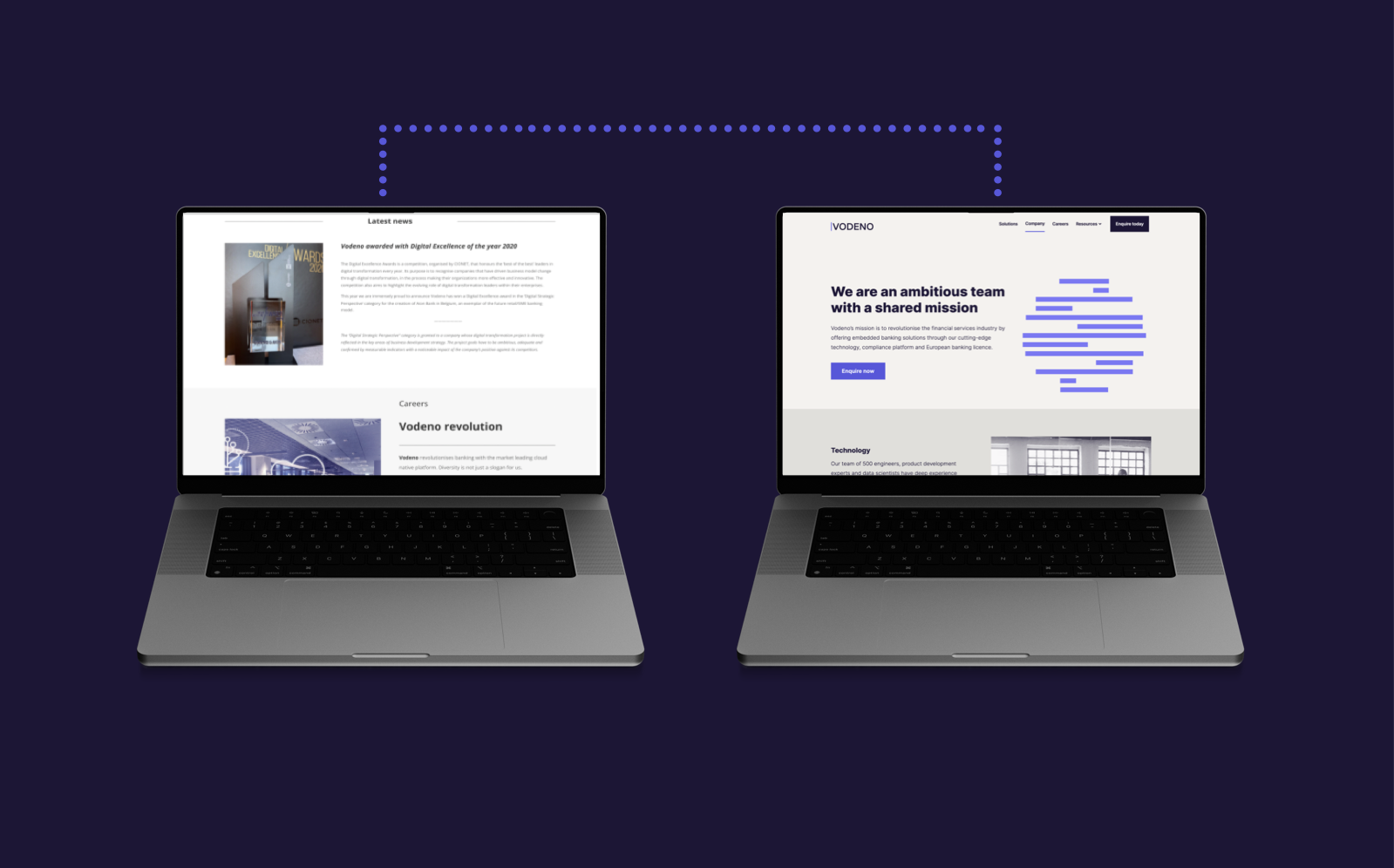 Our impact
By using site visitor learnings to inform and improve the strategies and tactics of marketing and sales (and vice versa), the GDD website offered a more adaptive model. This allowed Vodeno to change its marketing plans of action based on the conditions and obstacles they encounter while generating a constant stream of new contacts to market to, and nurture into sales qualified leads.
Clients
We've got your industry covered
Pricing
View our pricing
Our pricing for strategic and support work is based on a credit system, which means you'll never be asking your agency again. Only pay for deliverables and not the time it takes us to deliver them.