HubSpot is an all-in-one hub for your business to manage Sales, Marketing, Service and website CMS as an interconnected unit. This article is going to dive into the benefits of HubSpot's Sales Hub specifically.
All-in-one
As mentioned above, HubSpot connects all your business departments and their data. Leads are collected by marketing and enriched with all their tracking and activities data so that when sales take over the lead, they can qualify and manage the lead with enough context of where they came from and where they are going.
Email and activities tracking
Just as marketing is able to track lead activities, sales can keep a record of their interactions with their prospects. When an email is sent from HubSpot or through your preferred mail with the HubSpot plugin the emails you send are recorded in the CRM. Should the recipient view the email, the sales rep will receive a notification that the email has been opened. This includes click actions as well.

Similarly, emails sent from your prospects will be recorded and can be responded to directly in HubSpot. This feature is particularly helpful when leads are shared between sales reps, one can pick up a lead and know exactly what has been recorded.
Reporting and analytics
HubSpot has built-in tools to help you build any custom report too, should you need a custom comparison not already developed.
Deal forecasts
Get a detailed report estimating the number of deals you will close within a given time frame, with forecasted revenue by deal stage.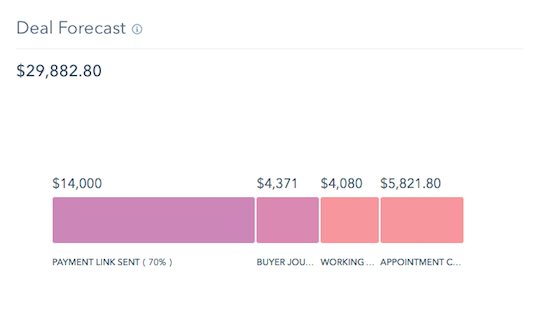 Pipeline and funnel reports
Sales reps get out of the box pipeline and funnel reports for a quick and easy understanding of the status and details of their deals and goals. These reports highlight how contacts are moving through lifecycle stages and the status of each deal.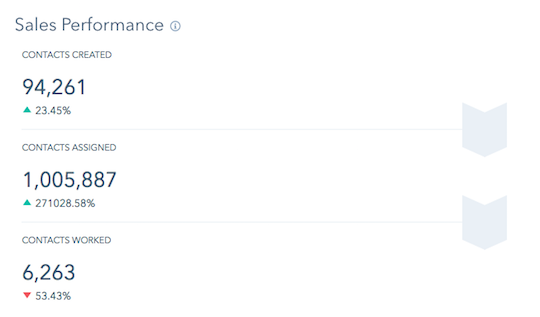 Sales activity analytics
With HubSpot Sales, Sales leaders have access to deep insights into their pipelines and sales rep activities to help accurately forecast performance and coach their team to hit their goals.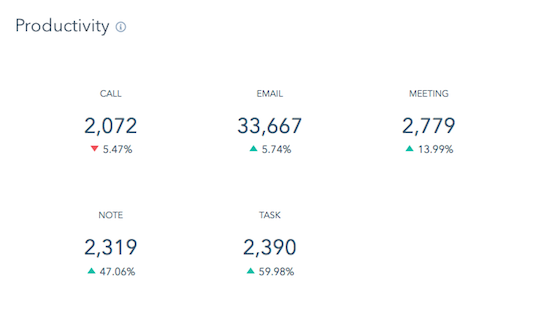 Sales integrations
Should your team use external tools for calls, data collection or other sales activities, HubSpot has many included integrations to sync data between them, even if there is no one available, the HubSpot API is excellent to create your own connection. These two integrations are our favourite.
LinkedIn Sales Navigator
Integrate LinkedIn Sales Navigator directly into HubSpot's contact properties. This will help you identify and enrich contacts with more information, even if they shared their personal email address. All within HubSpot, no need to visit LinkedIn each time.
Calls
Just as sales emails can be tracked and recorded, inbound and outbound calls have the same capabilities. Connecting your number or VOIP service to HubSpot is simple and provides reliable tracking and monitoring for both quality and reporting.
Service Hub
HubSpot's support and ticketing tool 'Sevice Hub' is natively integrated with HubSpot sales CRM. This means your sales team can view support requests and have a full line of sight of current and previous support communications with a customer before they pick up the phone.
Sales automation
Close more leads with sequences and workflows while your prospects get nurtured with personalised messaging automatically.
Follow up with sequences
Set up a queue of automated emails built with sales templates or from scratch. Enrol contacts in a sequence to send them personalised emails that encourage action or prompt a sales rep to perform a task. Never let a contact fall through the cracks again.
Personalise and tailor your automated messaging
Use personalization tokens to tailor your email messages to provide a personal and contextualised. Add details that are relevant to your leads with elements that reference their activities on your site and their interactions with your business online.
Streamline processes with workflows
Use workflows to create deals, automate tasks, and manage your data in bulk by updating properties, copying values, and more. This includes internal notifications to your teams when contacts take noteworthy actions, ensuring your contacts are always followed up with.
Proactive
With HubSpot CRM managing contacts and their activities, sales teams can proactively contact their leads. When contacts make certain actions on your website or interact with your emails, sales can get notified instantly to make informed and well-timed communications.
Collaboration
Break down the walls between sales and the rest of your business with a CRM that integrates with every aspect of your business for shared data without the hassles of duplication or missing data.
Integrated with website
HubSpot integrates with your website to capture lead activities and sources, this is especially helpful for attributing leads to campaign activities for effective ROI reporting. Leads can be captured with embedded HubSpot forms that link directly to your CRM and can be used to trigger workflows and sales activities.
Final thoughts
A CRM such as HubSpot helps your business capture and organise your leads and data which can be analysed and represented in clear and dynamic custom reports. When implemented in your business, your sales team can take advantage of the automation features to better manage their time and contact leads at just the right time.