Looking for a B2B lead generation company that can turn your business into a lead magnet? We've found 10 of the best companies in the industry.
Summary
Creating B2B leads is an integral part of any successful company's marketing and sales strategy in today's constantly evolving business world.
Connecting with potential customers and bridging that gap between them and your business requires coordination and knowledge.
Here are the top 10 B2B lead generation companies:
MO Agency

Cognism
Cience Technologies
Unbound B2B
Belkins
Upcall
LeadGeneration.com
SalesAladin
Callbox
SalesPro Leads


Want to choose the best B2B lead gen company for your business? Keep reading to find out what to look out for when choosing a company that can take your business to the next level.
Understanding B2B lead generation
At its core, B2B lead generation involves identifying potential customers and nurturing them into viable leads, guiding them down the sales funnel towards a successful conversion.
This process requires detailed insights into customer needs, preferences and pain points, combined with effective communication and relationship building.
An effective B2B lead generation strategy can be the key to unlocking new business opportunities, increasing brand awareness, and driving revenue growth.
What is B2B lead generation?
B2B lead generation is the process of identifying and attracting potential customers who are interested in your product or service.
It involves comprehensive market research, targeted outreach and effective communication techniques to win over potential customers who are more likely to become leads and ultimately become loyal clients.
One of the most effective ways to generate leads is through content marketing. By creating high-quality content that addresses the pain points of your target audience, you can attract potential customers to your website and build trust with them.
This can include blog posts, whitepapers, eBooks, and case studies that showcase your expertise and provide value to your audience.
In addition to content marketing, social media can also be a powerful tool for B2B lead generation.
By using social media platforms like LinkedIn, Twitter, and Facebook, businesses can connect with potential customers, share their content, and engage with their audience.
This can help to build brand awareness and establish your business as a thought leader in your industry.
The importance of effective lead generation in B2B businesses
Effective B2B lead generation has become critical to any business that is looking to improve conversion rates and increase revenue.
With a plethora of channels that potential customers can use to connect with businesses, it has become increasingly important to stand out in this crowded and competitive environment.
A well-thought-out lead generation strategy arms businesses with the right tools to make a meaningful connection with potential clients, increasing the likelihood of sales success and long-term growth.
Magnetise Leads
One of the key benefits of effective lead generation is that it can help businesses to build a strong pipeline of qualified leads.
By identifying potential customers who are a good fit for your product or service, you can focus your efforts on nurturing those leads and guiding them towards a successful conversion.
This can help to increase your sales efficiency and reduce the amount of time and resources you need to spend on lead generation.
Improved ROI
Another benefit of effective lead generation is that it can help to improve your overall marketing ROI.
By targeting your efforts on the most promising leads, you can maximise your marketing spend and ensure that you are getting the most out of your investment.
This can help to drive revenue growth and improve your bottom line.
B2B lead generation is a critical component of any successful business strategy.
By focusing on comprehensive market research, targeted outreach, and effective communication techniques, businesses can attract and nurture potential clients, increasing the likelihood of sales success and long-term growth.
What Does a B2B Lead Gen company do?
B2B lead generation companies serve an important purpose in the modern business landscape.
They use specific marketing techniques that help businesses to generate warm leads that can be converted into customers.
Here's a breakdown of what B2B lead generation companies do for their clients:
Data compilation: Compiling business and customer information using various criteria and sorting it out based on client needs.


Lead signup: Gathering leads by getting customers to sign up through a contact form on their website and leveraging their extensive reach to connect clients with their target audience.


Campaign creation: Creating precise and targeted campaigns to generate leads, as well as creating inbound campaigns to generate more opportunities.


Lead nurturing: Nurturing leads and using marketing techniques to identify well-qualified leads.


CRM integration: Integrating leads generated into CRM software such as HubSpot, Zoho, Salesforce, and others.


Account management: Handling all lead management work, including appointment setting and lead filtering.
Top B2B lead generation companies
With so much time and resources required to develop a strong B2B lead generation strategy, more and more companies are seeking out the expertise of specialised lead generation firms.
Below, we've compiled a list of the top ten best B2B lead generation companies to help you find the right fit for your business.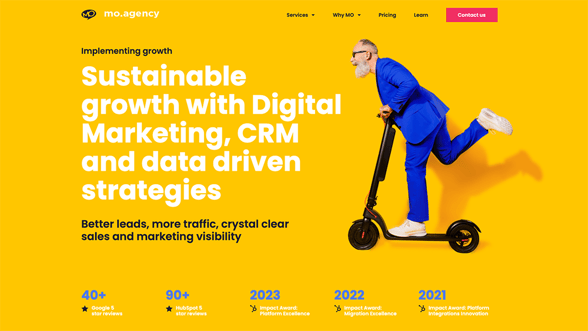 1. MO Agency
At MO Agency, we have a dedicated team of 30 marketing specialists who can serve clients in multiple regions around the world through our offices in Johannesburg, Cape Town, and London.
To grow and develop businesses, we use inbound marketing and lead generation strategies and software, HubSpot CRM, and system integrations.
By doing so, we ensure that our clients get the maximum return on their investment in HubSpot and build the perfect inbound marketing system that helps them to attract unmatched leads.
MO Agency is much more than just a B2B lead gen company. We also assist with CRM onboarding, web design, digital branding, copywriting, and much more.
With our team's extensive knowledge and experience, we can help clients to build the perfect lead-generation strategy and execute it seamlessly — turning your business into a
If you want to see some of our results, check out these case studies.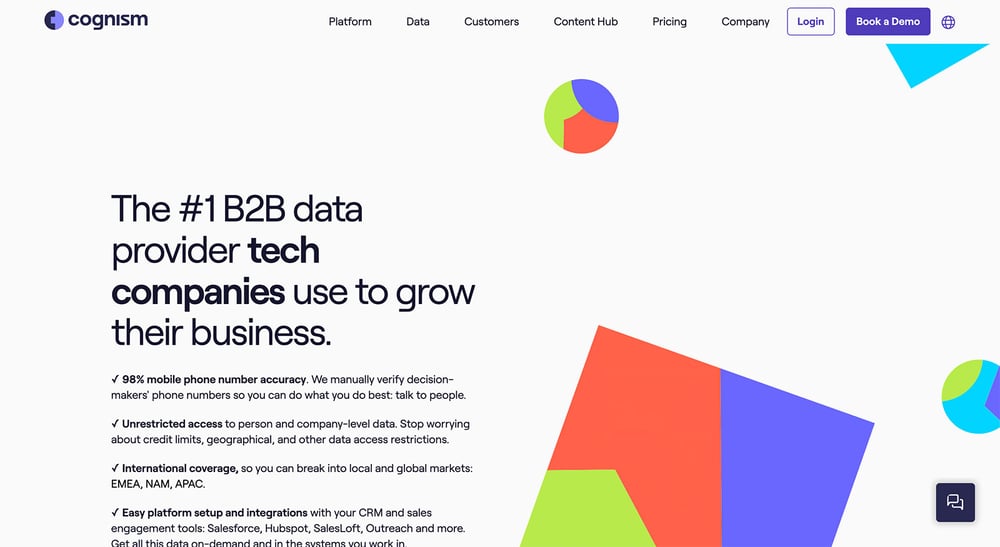 2. Cognism
Cognism is technically not a lead gen company, but rather a sales intelligence platform that uses AI to generate company and event data for new businesses.
By signing up to the platform, users get access to technographic, firmographics, human-verified emails, and mobile numbers.
One of the pros of Cognism is its use of AI to generate event data, which can help identify potential leads.
Additionally, access to firmographics and technographic is useful for understanding the characteristics of a potential customer. The platform also provides verified mobile numbers and emails, which can save time and effort for sales teams.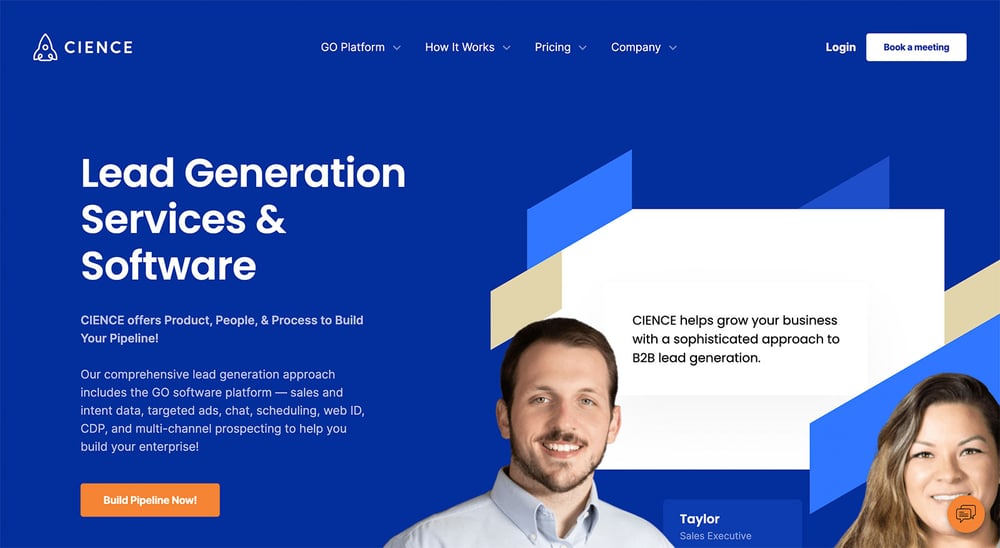 3. Cience Technologies
Cience is an emerging lead generation company that's perfect for startups looking for qualified leads.
The platform provides access to firmographics, technographic, and demographic data, allowing businesses to interact with their buyers and monitor leads.
The company uses a sophisticated approach to lead generation, employing AI technology and proprietary tools for outbound services to expand businesses.
Multi-channel outbound campaigns set the pace for future success, but there is room for improvement with inbound campaigns.
Cience's team uses tools to deliver effective, accurate messages through five platforms, including email, LinkedIn, web, cold calls, and pre-targeting ads. The validated information provided helps generate high-quality leads.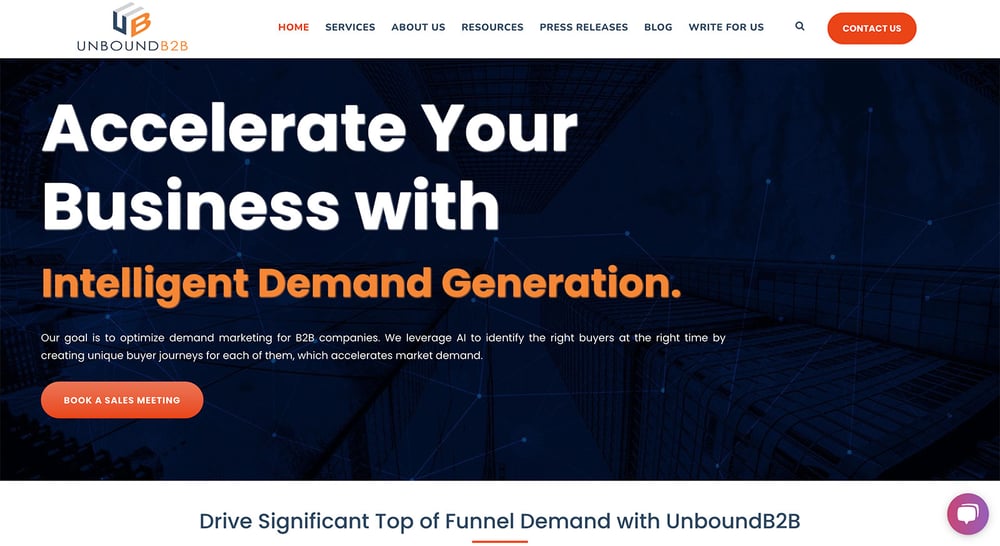 4. Unbound B2B
Unbound B2B is a lead generation company that focuses on delivering high-quality, qualified leads. They offer three types of leads: marketing-qualified leads, sales-qualified leads, and BANT-qualified leads.
Unbound B2B uses multiple strategies to arrange appointments, and they offer weekly and daily reporting of analytics data.
They use AI to segregate and provide valuable leads, and they check the quality of leads before providing them.
The company has an extensive pool of more than 150 million companies and 80 million professionals, which allows for a broad reach and better sales conversions.
One potential downside of Unbound B2B is that it comes with a base price that may be high for some. However, the company adopts a pay-for-performance model for payment, which means that you only pay based on the quality of the leads provided.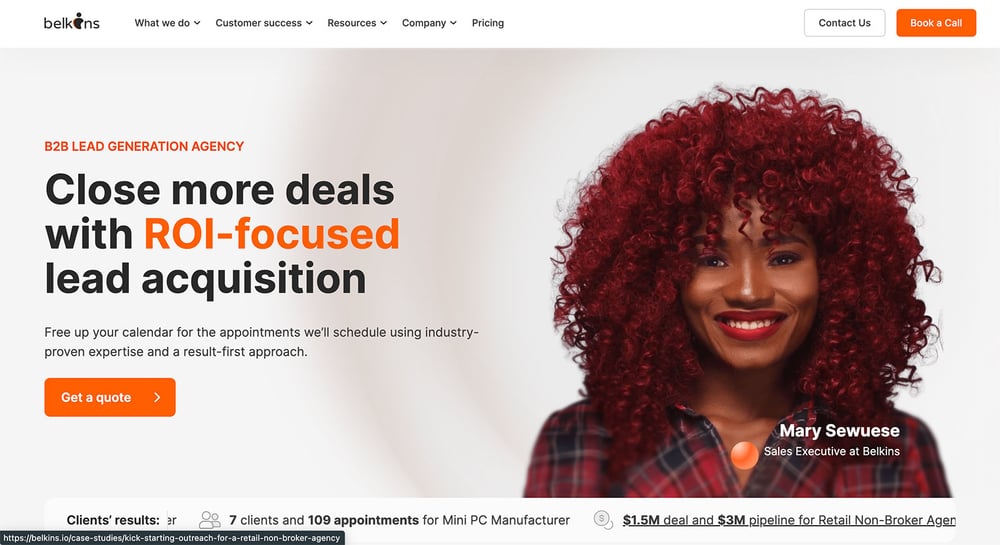 5. Belkins
Belkins is a comprehensive lead generation agency that provides an array of support to its users, including lead generation, email deliverability, appointment setting, and MQL to SQL conversion.
They offer all the essential features required to build a sales funnel, such as creating a targeted leads list and setting appointments with qualified leads.
Belkins offers experienced Sales Development Representatives (SDRs) and copywriters to help users connect and set appointments with prospects.
The platform generates leads and researches the most qualified leads through all available paid or free sources.
Additionally, it offers services related to email deliverability and influencer marketing strategies for connecting to prospects on LinkedIn.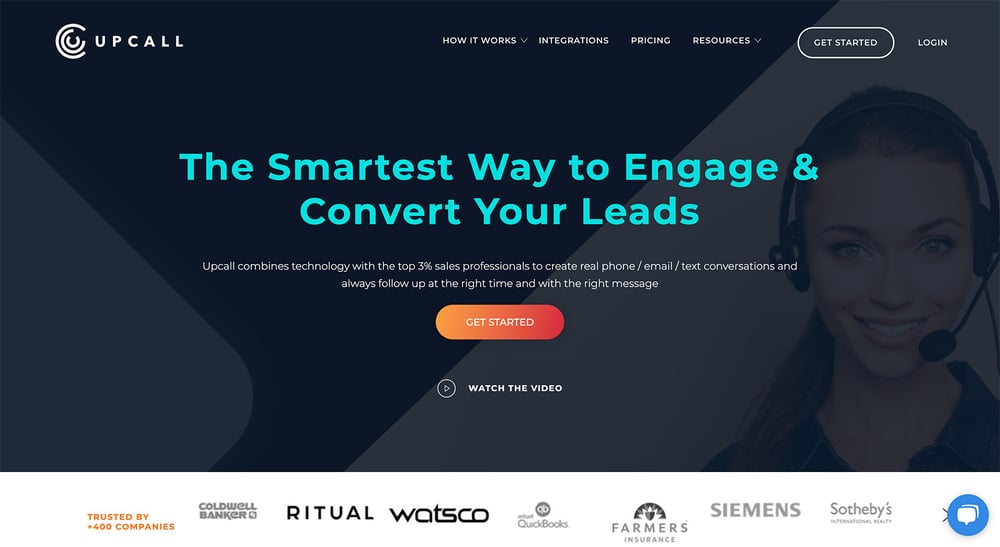 6. Upcall
Upcall is a lead generation company that provides a no-touch strategy by combining expert callers and user-friendly software to create highly qualified leads.
The company works with leading brands like LG, Airbnb, QuickBooks, and Farmers Insurance.
Upcall's team of expert callers make the calls and communicates with leads on behalf of your company, allowing you to check and monitor their findings in real time.
This feature is excellent for companies that want to engage with contacts without having to make the calls themselves.
However, Upcall's services are expensive for small businesses and startups. The company also works only with leads from the US and Canada, which excludes many international clients.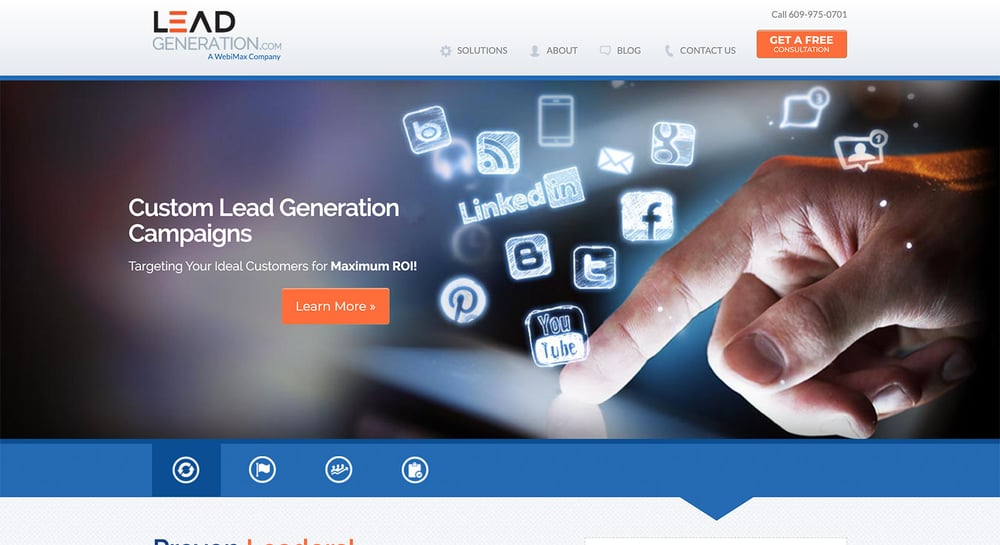 7. LeadGeneration.com
LeadGeneration.com is a customer-oriented lead generation company that provides its users with a dedicated team to handle the lead generation process. The company continues supporting optimisation even after the lead generation process is in place.
The leads generated by the company are delivered in real-time and are compatible for use with CRM software.
The company also offers a lead replacement policy. In case the lead received is below standard, the customer is provided with a qualified lead to make up for it.
One of the advantages of using LeadGeneration.com is that it provides a dedicated management team to generate leads.
However, some users find that the features are challenging to use and that the number of leads may compromise the quality.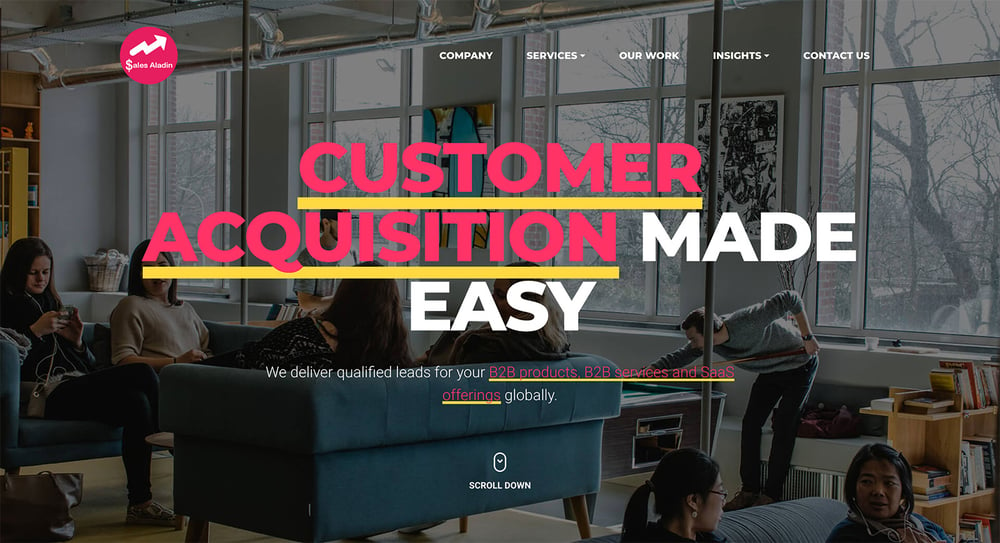 8. SalesAladin
SalesAladin is a lead generation agency that offers various sales growth solutions and marketing operations to help businesses grow.
The company provides a range of services, including B2B appointment setting, outsourced sales, outbound SDRs (Sales Development Representatives), account-based marketing, and content strategy.
One of the key strengths of SalesAladin is its focus on appointment setting with high-quality MQLs and SQLs.
The company will assist in market research for high-quality accounts based on the client's Ideal Customer Profiles (ICPs).
SalesAladin also offers other services to support sales growth and marketing operations. This includes creating the client's website to engage prospects and providing various "Martech" solutions, including integrating sales and marketing products.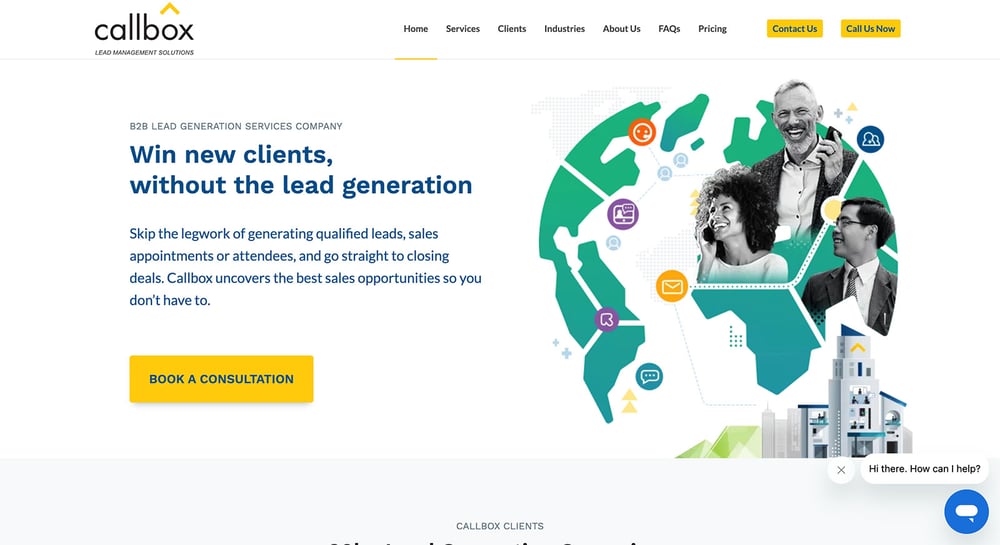 9. Callbox
Callbox is a lead generation company that focuses on providing leads to niche-specific B2B companies.
The company provides leads for different niches such as IT and software, finance, healthcare, consultancy, and advertising.
Callbox's approach is to provide multiple details of companies during the initial period, then identify the main stakeholders in the company and provide compiled data. This approach increases the probability of convincing the lead to convert.
Additionally, Callbox offers other services such as event marketing, database management, and account-based marketing.
Callbox also offers flexible pricing based on the client's needs. However, one of the disadvantages of Callbox is that it is very expensive for small and medium-sized businesses.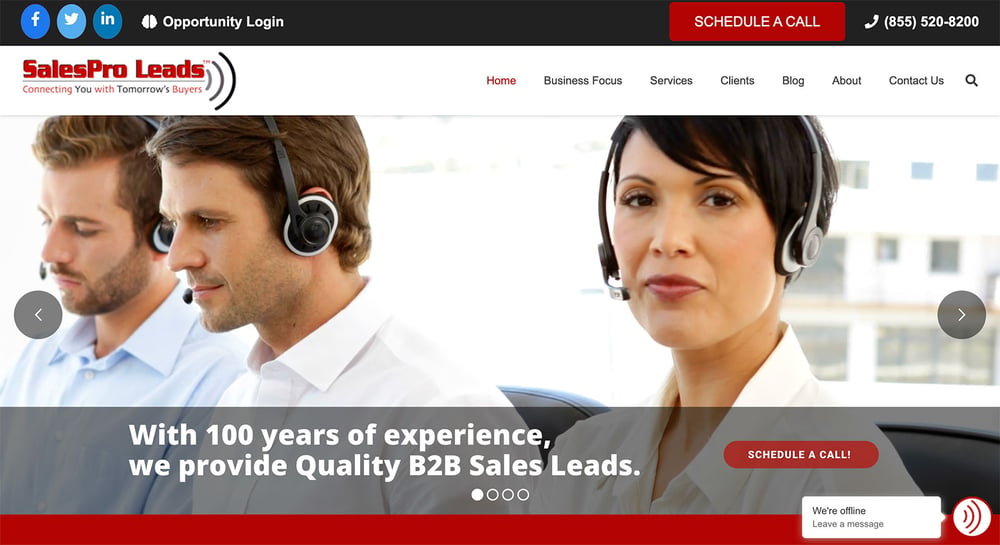 10. SalesPro Leads
SalesPro Leads is a lead generation company that specialises in providing qualified leads and helping businesses set up appointments with them.
Along with their lead generation services, they also offer complementary services such as inquiry management, lead nurturing, inside sales, and database management.
Their services are ideal for businesses looking to generate qualified leads through multiple channels and convert them into paying customers.
One potential drawback of SalesPro Leads is that their services are limited to appointment booking, making them unsuitable for B2C lead generation.
Businesses looking for a more comprehensive lead generation solution may want to consider other options. However, if appointment booking is your primary requirement, then SalesPro Leads can be a great option.
Factors to consider when choosing a lead generation company
When deciding on a B2B lead generation company, there are several factors to keep in mind.
While it might be tempting to go with the first company that comes up in your search results, doing your research can save you time, money, and headaches in the long run.
Industry expertise and experience
Each industry requires a unique approach to lead generation, and it is essential to have a partner who understands your specific niche.
Choose a company with deep expertise and experience in your industry, and make sure they have a track record of producing results.
A company that has worked with businesses similar to yours will have a better understanding of your target audience and the challenges you face.
For example, if you are in the healthcare industry, you would want to work with a lead generation company that has experience working with healthcare providers. They will understand the intricacies of the industry, such as compliance regulations and the importance of patient privacy, and be able to tailor their approach accordingly.
Range of services offered
Some lead generation firms offer a comprehensive range of services, while others focus on a specific set of offerings.
Choose a partner whose services align with your goals and consider which offerings will have the most significant impact on your business.
For example, if your primary goal is to increase sales, you may want to work with a company that offers outbound telemarketing services.
If you are looking to build brand awareness, you may want to work with a company that specialises in content marketing and social media.
Pricing and packages
Lead generation packages vary widely, from flat fees to pay-per-lead models. Choose a partner who offers transparent pricing that aligns with your budget and business goals.
Keep in mind that the cheapest option may not always be the best option. It is essential to consider the value you are getting for your investment.
Some companies may offer add-on services, such as lead nurturing and lead scoring, for an additional fee. Be sure to ask about these options and consider whether they are worth the extra cost.
Client testimonials and case studies
Before engaging with a lead generation company, look at their past work and ask for references.
Check their case studies and client testimonials for social proof of their capabilities. This will give you an idea of the quality of work they produce and what to expect as a client.
You may also want to ask for references from businesses similar to yours. This will give you a better idea of how the company has performed in your industry and whether they are a good fit for your business.
Data quality and accuracy
The quality and accuracy of the data generated by a lead generation company are critical to the success of your campaign.
Be sure to ask about the measures they take to ensure the data is accurate, up-to-date and targets the right people.
For example, you may want to ask about their data sources and how they verify the information they collect.
You may also want to ask about their "data hygiene practices", such as how often they update their database and remove outdated or inaccurate information.
By taking the time to consider these factors, you can choose a lead generation company that is the right fit for your business and will help you achieve your goals.
In conclusion
B2B lead generation is a crucial component of any successful sales and marketing strategy. Partnering with the right B2B lead generation company can help unlock new business opportunities and increase revenue growth. After careful consideration, the companies we listed stand out as leaders in the B2B lead generation space. Take your lead generation strategy to the next level with one that aligns with your business requirements.