Who represents HubSpot in South Africa?
HubSpot is a leading marketing, sales, and customer service software provider. The African region is run out of HubSpot's European office in Dublin. There are no HubSpot employees or offices in South Africa.
HubSpot uses a network of highly trained and certified service providers to sell, install, and manage HubSpot software in South Africa. These service providers are called HubSpot Solution Providers.
What does a HubSpot Solution Partner do?
HubSpot Solutions Partners have access to various tools and resources to help them provide their clients with a wide range of services, including:
HubSpot Implementation: Setting up and configuring HubSpot software for clients to help them get the most out of the platform.

HubSpot Training: Providing training and support to clients to help them use HubSpot effectively.

HubSpot Strategy: Developing inbound marketing, sales, and customer service strategies that leverage the HubSpot tools.

HubSpot Consulting: Offering expert advice and guidance on improving a client's inbound strategy, marketing, sales, and customer service.
Who are the top HubSpot Partners in South Africa?
Many agencies and consultants can work on the HubSpot platform in South Africa. It's relatively easy software to use. But HubSpot recommends a certified service provider to set it up efficiently and train various teams.
Only five service providers are tiered by HubSpot in South Africa. 'Tiered' means they have the experience and the training to work inside your HubSpot portal.
MO Agency, Diamond. Located in Hyde Park, Johannesburg & Century City, Cape Town. 90 x 5-Star Reviews

Spitfire Inbound, Diamond. Norwood, Johannesburg. 27 x 5-Star Reviews

Velocity Media, Platinum, Ballito, Durban North. 2 x 5-Star Reviews

Uku Inbound, Gold. Located in Cape Town. 4 x 5-Star Reviews

Muloo, Gold. Remote, South Africa. 5 x 5-Star Reviews
What is a HubSpot Partner?
A HubSpot Partner must undergo a rigorous training and certification process to ensure they have the expertise to provide quality services to clients.
They must also meet certain performance criteria and maintain a high level of customer satisfaction to maintain their HubSpot Solution Partner status.
By partnering with one of these experienced service providers, your businesses can benefit from the extensive expertise and experience of a team of professionals who specialise in helping businesses grow and succeed using the HubSpot platform.

What does it take to become HubSpot Solution Provider in South Africa
To do this, they join the HubSpot Partner Program and must meet a set of training and implementation criteria.
HubSpot partners have experience with many different implementations of HubSpot software. This experience may be across varied industry verticals and sizes of business.
This type of experience means they are well-equipped to fast-track your success with HubSpot software.
Fun Fact: Tiered HubSpot partners are required to purchase HubSpot Marketing Professional to become a tiered partner. So Gold tiered partners and up are using HubSpot to grow thier own businesses.
HubSpot Partner Tiering
Although it is easy to join HubSpot's Partner Program, moving beyond a non-tiered partner requires a commitment to HubSpot. Becoming a Gold, Platinum, Diamond and Elite partner requires a very focused effort.
Once approved by HubSpot as a partner, an agency's HubSpot tiers are determined by two things.
Managed Recurring Revenue (MRR): The $ value of all the HubSpot licences the agency manages on a monthly basis.

Sold Recurring Revenue (Sold MRR): The $ value of the licences sold to net new clients by the agency in a rolling 12-month period.
Based on the MRR and Sold MRR, you can expect a tiered HubSpot partner to be servicing roughly the following amount of clients, giving you an idea of the size of the agency's capabilities.
Gold: 3 to 5 HubSpot clients managed

Platinum: 5 to 10 HubSpot clients managed

Diamond: 10 to 40+ HubSpot clients managed

Elite: 30 to 50+ HubSpot clients managed
There are two types of HubSpot Partners
Marketing Partners
HubSpot's Partner Program is for agencies that want to grow their businesses by providing digital marketing, marketing automation, inbound marketing, and lead generation to their clients. These campaigns are geared to be ROI-centric and lead generation centric.
The core service is generally Inbound Marketing Strategy, and although they use HubSpot CRM from a marketing perspective, they are not normally geared to configure and integrate a CRM for an entire business.
Marketing, Sales & CRM Partners
A small percentage of partner agencies have decided that the intersection of CRM, sales, service and marketing is critical to their clients' revenue growth.
These HubSpot partners believe marketing can not work properly without an integrated sales and service process. And equally, sales will not work efficiently without a marketing process that is tightly integrated with sales.
These partners are experienced in CRM migrations from Salesforce CRM, Pipedrive, Freshdesk and more to HubSpot.
They're also adept at integrating systems. E.g. HubSpot integrated with Xero or Sage accounting software.
These partners have done not only the marketing training but also the sales technical CRM-focused training.
Sales enablement and CRM partners transform the way their clients sell with modern sales methodologies and technology that salespeople actually want to use. Working with a sales partner accelerates the evolution of clients' sales process in the short term. And shortens sales cycles in the medium to long term.
HubSpot South Africa: Selecting the best HubSpot specialists
HubSpot Solutions Partners undergo a rigorous training and certification process to ensure they have the expertise to provide quality services to clients.
HubSpot requires them to meet certain performance criteria and maintain a high level of customer satisfaction to maintain their partner status.
By partnering with a HubSpot Solutions Partner, businesses can benefit from the expertise and experience of a team of professionals who specialise in helping businesses grow and succeed using the HubSpot platform.

Get up and running faster
When working with a highly tiered HubSpot Partner, you are guaranteed to be up and running much faster. These HubSpot partners have proven inbound marketing, sales and CRM strategies and can tailor them to your unique business.
The higher-tiered partners manage multiple instances of HubSpot across many different industries. This allows them to know HubSpot CRM and other tools intimately. Intimate knowledge of the HubSpot platform allows them to fast-track results.
Achieve HubSpot CRM ROI faster
HubSpot software is a significant investment, the faster you are up and running - the quicker the ROI.
Almost always, we find that when a business works alongside a HubSpot Partner in South Africa, they get better results.
When we hold you accountable for the strategy we set out together, the final result is stronger. Everyone works better in a team.
The Pros and Cons of using a HubSpot Partner
Pro's
Access to a multidisciplinary team of HubSpot experts including, inbound marketing strategists, content writers, and integration specialists, to HubSpot CMS developers.

Outsourcing HubSpot skills can be less expensive than keeping an in-house resource.

If your HubSpot champion leaves, your company will always have access to HubSpot skills.

Partners staff are up to date on the necessary certifications and get additional partner-only training.

HubSpot Partners can train your staff.
Con's
It can be difficult to find a good partner that has the skills you require. Talk is cheap and agencies can sell well!



It can take time to build a relationship with a HubSpot Partner; where they understand how you sell and how to market your services.

HubSpot skills can be very specialised and can cost a premium.

You may find skills overlap with your current digital marketing providers.

Work may have a lead time depending on how busy your HubSpot Partner is.

Selecting the right partner can be tricky. It's a fine balance between how long they've been in business, and how large a company they are (Too big and you're just a number. Too small and they don't have all the skills in-house).
Which HubSpot Partner should you choose to work with?
As a rule of thumb...
Onboard with Diamond or Elite partners only. You do not want to get set up by an inexperienced partner. Onboarding costs are much the same across all HubSpot partners.
If they're charging much less than HubSpot's list price for onboarding. It's too little and can't be done.
I get 1 or 2 calls monthly from HubSpot customers who've done HubSpot onboarding with smaller partners, and the system isn't working as promised.
When we tell them we need to start from scratch because everything is wrong, they don't generally don't like the answer.
The smaller partners with fewer reviews will be less expensive. They may also lack solid institutional knowledge. One key person holds it all together. This is risky.
HubSpot has become aware of this problem and as of April 2023, has started removing smaller partners from their partner network. this has angered the smaller partner but is great for HubSpot customers.
The HubSpot partner directory
Pop over to the HubSpot partner directory for South Africa and read some of the reviews for your shortlisted partners.
Just take note that the directory allows international HubSpot partner agencies to list in South Africa and state that they provide services in South Africa. This is entirely fine considering the new normal of video meetings and remote work. Just something to be aware of.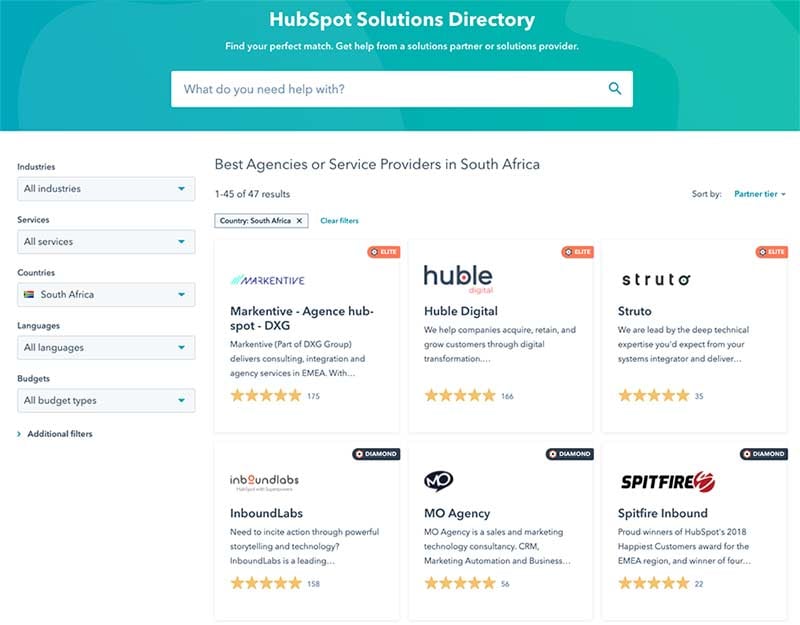 Services a Tiered HubSpot Partner in South Africa may offer
Each HubSpot partner in South Africa is unique in the services they provide. Aligning with HubSpot software, they create different packages to help achieve business goals.
Below is a list of the most common services provided by HubSpot Partners. Some Partners may offer them all, and some only a handful. There is no correct combination, and every partner will have their own methodology.
Inbound Strategy

Search Engine Optimisation

Keyword Strategy

Content Creation

Blogging

Buyer Persona Development

Pay Per Click

Social Media Management

Paid Social

Website Design

Web Development

Template Development

Growth-Driven Design

Campaign Management

Email Marketing

HubSpot CMS

Website Development

Lead Nurturing

CRM Integration

CRM Implementation

CRM Migration

Sales Enablement

Sales Services

HubSpot Training

HubSpot Onboarding

HubSpot Portal Audits

Process Automation

Business Process Mapping

Business Process Optimisation

Database Management & Segmentation

Integration Management
Some of our HubSpot resources you might find useful
Final Thoughts
If you are reading this blog, you've probably decided to buy HubSpot or already bought HubSpot - well done! It's incredible software that is particularly easy to use.
It is also incredibly deep software that can take years to master. HubSpot South Africa might not be represented by HubSpot itself, but HubSpot has appointed a robust network of HubSpot solution partners in South Africa.
Just remember to work with the right partner to get the most out of your investment.