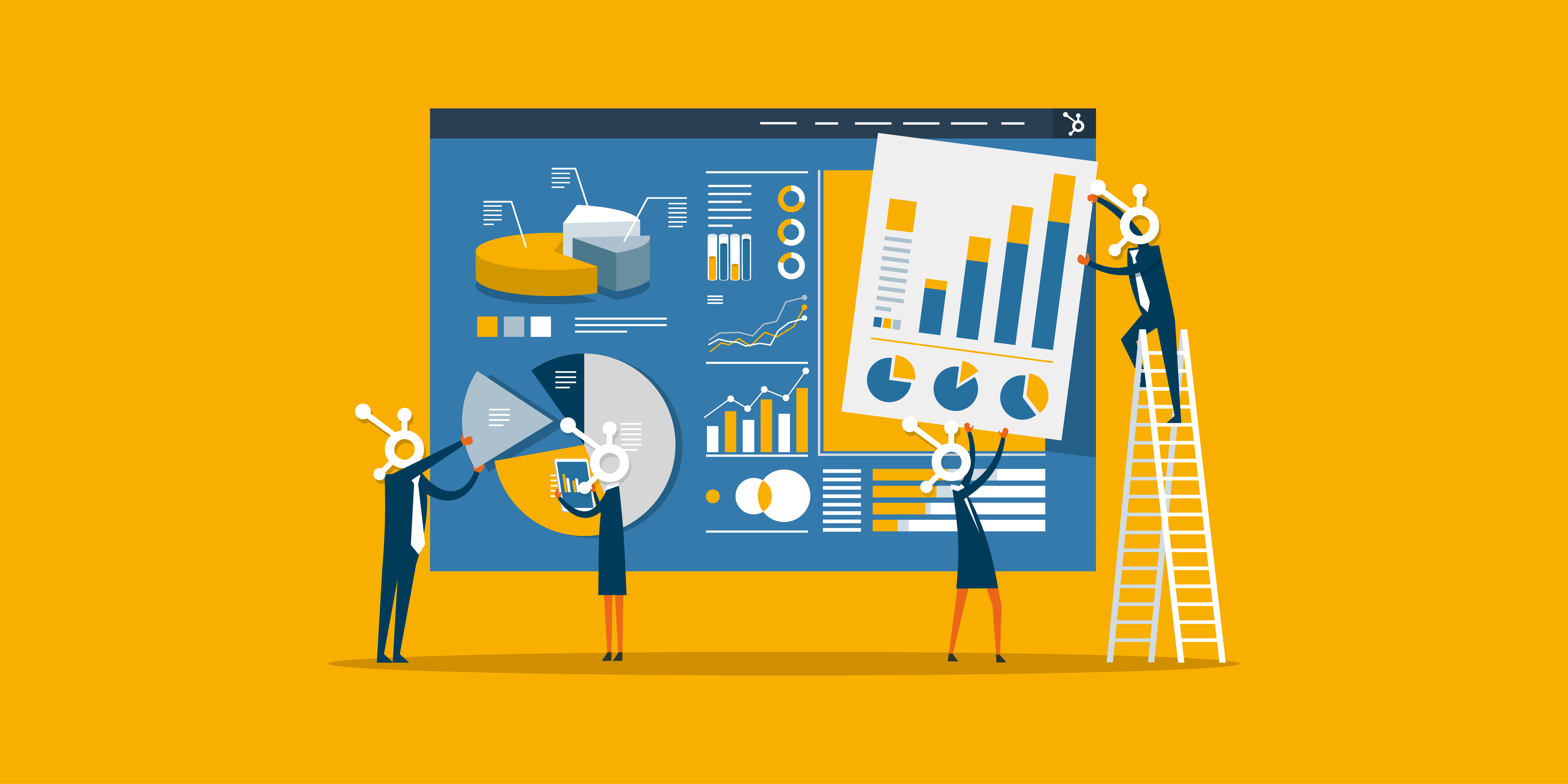 HubSpot
How to Choose a HubSpot Partner in South Africa
Who are the HubSpot Agency Partners in South Africa?
Although lots of agencies and will claim to be HubSpot agencies the five below are the only tiered HubSpot agency partners headed up and located in South Africa.
MO Agency, Diamond. Located in Johannesburg and Cape Town.
Spitfire Inbound, Platinum. Johannesburg.
Uku Inbound, Gold. Located in Cape Town.
Warbble Media, Gold. Somewhere in South Africa.
Propdata, Gold. Located in Durban.
What is a HubSpot Partner?
A HubSpot Partner or HubSpot Agency is a company that has entered into an agreement with HubSpot to sell and service HubSpot software.
To do this they join the HubSpot Agency Partner Program, and are required to meet a set of training and implementation criteria.
HubSpot partners have experience with many different implementations of HubSpot software. This experience may be across many different industry verticals and different sizes of business.
Experience with multiple clients and HubSpot applications enables HubSpot partners to fast-track your success with HubSpot software.
HubSpot Partner Tiering
Although it is easy to join HubSpot's Agency Partner Program, moving beyond a non-tiered partner requires a commitment to HubSpot. Becoming a Gold, Platinum, Diamond and Elite partner requires a very focused effort.
Once approved by HubSpot as a partner, an agency's HubSpot tiers is determined by two things.
Managed Recurring Revenue (MRR): The $ value of all the HubSpot licences the agency manages on a monthly basis.
Sold Recurring Revenue (Sold MRR): The $ value of the licences sold to net new clients by the agency in a rolling 12 month period.
Based on the MRR and Sold MRR you can expect a tiered HubSpot partner to be servicing roughly the following amount of clients, and it gives you an idea of the size of the agency.


Partner: 0 - 3 HubSpot clients managed
Gold: 3 - 12 HubSpot clients managed
Platinum: 10 - 25 HubSpot clients managed
Diamond: 35+ HubSpot clients managed
Elite: 80+ HubSpot clients managed
Two types of HubSpot Partner
1. Marketing Agency Partners
HubSpot's Agency Partner Program is for agencies that want to grow their businesses by providing marketing automation and inbound marketing to their clients.
Agency partners focused on marketing get exclusive partner resources and training to help them deliver the best possible marketing and sales services, implement ROI-centric services, and improve client retention.
Each partner agency gets a HubSpot channel account manager to provide in-depth business consulting, and a HubSpot channel consultant to train and make sure the partner agency is delivering services in line with HubSpot's high standards.

2. Marketing, Sales & CRM Partners
A small percentage of partner agencies have decided that the intersection of CRM, sales and marketing is critical to their clients' revenue growth.
This percentage is growing as HubSpot starts to take on the established CRM vendors like Salesforce CRM.
These partners - in addition to HubSpot's Agency Partner Program - have adopted HubSpot's Sales Partner Program. This program is for CRM implementation companies and sales consultants, coaches, or trainers who want to transform the way their clients sell.
Sales and CRM partners transform the way their clients sell with modern sales methodologies and technology that salespeople actually want to use. Working with a sales partner accelerates the evolution of clients sales process in the short term. And shortens sales cycles in the medium to long term.
Should you consider working with a HubSpot Partner Agency in South Africa?
We regularly come across businesses that have been using HubSpot for some time but are not using the full capabilities of the software.
Work with a tiered HubSpot partner
Working with a highly tiered HubSpot Partner Agency, you are guaranteed to be up and running much faster, and with a proven inbound marketing and sales strategy or CRM implementation and strategy tailored to your business.
The higher tiered partners manage multiple instances of HubSpot across many different industries. This allows them to know the HubSpot platform intimately. Intimate knowledge of the HubSpot platform allows fast-tracking of results.
Get more out of the software
In many cases, businesses want to get more from the software and just need a helping hand and to be pointed in the right direction. By engaging a tiered HubSpot Partner, they keep full control of the software, but get advice on the right tweaks and methodologies that come with experience and sometimes hard-learnt lessons.
We often find that when a business works alongside a HubSpot Partner Agency, they get better results.
When we hold you accountable for the strategy we set out together, the end result is stronger. Everyone works better in a team.
The Pros and Cons of using a HubSpot Partner
Pro's
Access to a multidisciplinary team of HubSpot experts from inbound marketing strategists, content writers, integration specialists, to HubSpot CMS developers.
Outsourcing HubSpot skills can be less expensive than keeping an in-house resource.
Regardless of internal staffing, your company will always have access to HubSpot skills.
HubSpot Partners make sure their staff are up to date on the necessary certifications, and get additional partner only training.
HubSpot Partners can train your staff.
Con's
It can take time to build a relationship with a HubSpot Partner where they understand how you sell and how to market your services.
HubSpot skills can be very specialised and can cost a premium.
You may have overlap with your current digital marketing providers.
Work may have a lead time depending on how busy your HubSpot Partner is.
Selecting the right partner can be tricky. It's a fine balance between how long they've been in business, how large a company they are (Too big and you're just a number. Too small and they don't have all the skills in-house), the technical skills they have, and lastly a cultural fit. Can you work well with them?
Which HubSpot Partner should you choose to work with?
You want to be working with a Gold, Platinum or Diamond HubSpot Agency Partner. Not all partners in South Africa are tiered at this level.
A word of warning: Take note that an agency or consultant may tell you they are HubSpot certified when in fact they have only done the freely available HubSpot Inbound Marketing Certification.
The certification is a process that takes time and investment on behalf of the agency.
Most importantly, to be certified the agency must own and be running HubSpot Marketing and Sales software for their own agency. A non-certified agency will not have their own HubSpot software.
1. Opportunistic agencies
Some agencies are not focused on HubSpot, but do resell HubSpot as an add-on to other services they are selling. They are opportunists when it comes to HubSpot. Be wary of such agencies. Better gains are made with a tiered HubSpot agency partner.
Another partner type is the traditional PR agency, brand or web design agency that sells HubSpot on the side to add an additional revenue stream.
2. Sales focused generalists
There are also resellers that may be offering multiple marketing automation platforms, such as Marketo, Pardot and Infusionsoft. These organisations are typically very sales driven, they are not specialists and potentially only have their bottom line at heart.
We highly recommend a partner/consultancy that is focused on their chosen software.
3. Gold, Platinum, Diamond and Elite HubSpot Partner agencies
And finally, there are the tiered HubSpot Partner agencies. These agencies come in many different sizes and different specialities. But in most cases, these partner agencies focus solely on HubSpot and Inbound Marketing and sales services.
They make a point of being the best in the business at one thing - HubSpot. Working with them guarantees success when you invest in HubSpot.
The HubSpot partner directory
Pop over to the HubSpot partner directory for South Africa and read some of the reviews for your shortlisted partners.
Just take note that the directory allows international HubSpot partner agencies to list in South Africa and state that they provide services in South Africa. This is entirely fine considering the new normal that is video meetings and remote work. Just something to be aware of.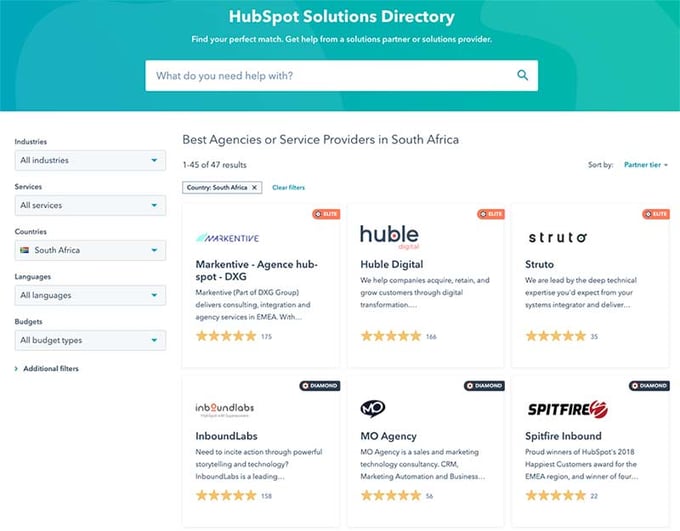 Services a Gold, Platinum, Diamond and Elite HubSpot partner agency in South Africa may offer
Each HubSpot partner in South Africa is unique in the services they provide. Aligning with HubSpot software, they create different packages to help achieve business goals.
Below is a list of the most common services provided by HubSpot Partners. Some Partners may offer them all, and some only a handful. There is no correct combination and every partner will have their own methodology.


Search Engine Optimisation

Keyword Strategy

Content Creation

Blogging

Buyer Persona Development

Pay Per Click

Social Media Management

Paid Social

Website Design

Web Development

Template Development

Growth Driven Design

Campaign Management

Email Marketing

Lead Nurturing

CRM Integration

CRM Implementation

CRM Migration

Sales Enablement

Sales Training

HubSpot Training

HubSpot Onboarding

HubSpot Portal Audits

Process Automation

Business Process Mapping

Business Process Optimisation

Database Management & Segmentation

Integration Management
Resources for HubSpot
Final Thoughts
If you are reading this blog, you've probably made a decision to buy HubSpot or you have already bought HubSpot - well done! It's incredible software that is particularly easy to use.

That said, it is also incredibly deep software that can take years to master in its entirety. We suggest working with a Gold, Platinum or Diamond HubSpot Agency Partner to get the most out of your investment. There are partners that are generalists, and some have industry vertical specialisations. In addition, most agency partners are marketing specialists, however some consult on both marketing and sales processes.
Welcome to the MO Agency blog. Here you can find resources on Digital Marketing, HubSpot Inbound Marketing, Web Development & Brand Strategy.