For decades, traditional media such as television, billboards, print newspapers, and radio were the long-preferred vehicles for advertisers.
However, that has changed drastically; thanks to the advent of the Internet and the phenomena of smartphones, social media, tablets, and digital newspapers.
In this era of the internet; between social media, PPC (paid advertising), content marketing, ad campaigns and brand reputation management, marketing can feel chaotic; and can oftentimes be expensive when it could've been free.
However, we need to educate and remind ourselves about the differences between paid and free online advertising if we want to maximize the effectiveness and benefits that come with the options at our disposal.
Where digital marketing is concerned; there are two ways to gain increased brand awareness, perception, website traffic, leads and sales: paid and organic marketing.
But what are the differences between free and paid advertising? And which is better for you?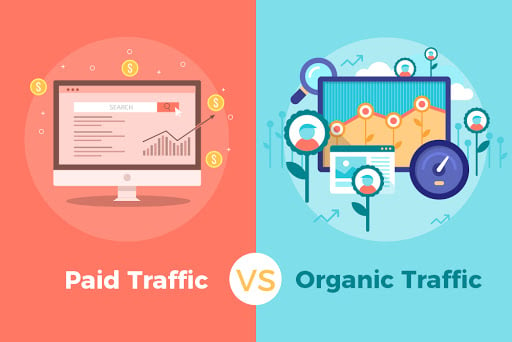 What is free online advertising?
Free online advertising are tools that you can make use of with no actual cost attached to them.
This includes tools that can increase your website traffic, crawl your website and index it in search engines. Some of these tools help build backlinks and a referral network. All of this increases exposure to your brand and your reach.
Free tools include:
Website indexing directories
Search engine submission websites
Blog directories
Affiliate networks like Google's AdSense, and Amazon and eBay's Partner Network
Social media platforms such as Facebook, Instagram, twitter and LinkedIn.
Also worth noting is that organic marketing or earned marketing is, oftentimes, also referred to as free online advertising.
Organic marketing (aka SEO or Search Engine Optimization) refers to tools and approaches that do not rely on paid marketing strategies, but if we are being honest and clear – no time investment is free.
It is the act of getting your customers to come to you naturally over time, rather than 'artificially' via paid links or boosted post
What is paid online advertising (PPC)?
Paid advertising, also known as PPC, is a form of online advertising where advertisers drive traffic to their website by paying each time a user clicks on one of their online ads.
In short, paid online advertising is defined by whether or not you have had to pay a publisher (Google, Facebook, Instagram, etc.) for your content to appear
Most examples involve online partnerships, website banner takeovers, pay-per-click advertising and paid search engine results.
Some examples of PPC are Google AdWords, Facebook and Twitter advertising.
You will often see paid advertisements at the top of search engine result pages or in your Social Media feeds, usually with text stating Ad or Sponsored,
Search engines such as Google displays paid ads based on the search terms and demographics that advertisers define and the amount of money they are prepared to pay per click (PPC).
Alternatively, social media platforms tend to display certain ads based on whether the advertiser deems you to be their target audience.
Some of those criteria which advertisers use to target can include your age, gender, occupation, behaviour, interests etc.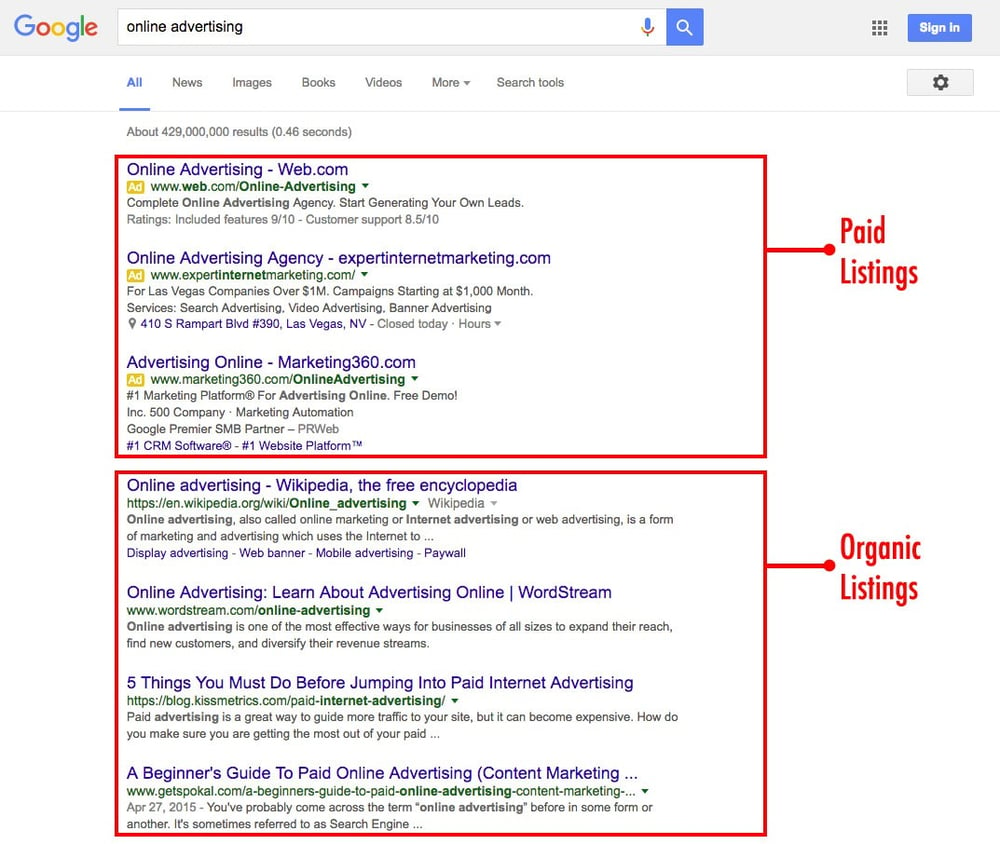 Paid Advertising vs Organic (Free) Advertising - Which is better?
Paid Advertising
Before we answer this question; it is important to understand that PPC and Organic advertising are practically two sides of the same coin.
When approached with the right balance, paid and organic advertising complement one another and maximize the results and campaign effectiveness either method can produce if only one method or approach had been chosen between the two.
However, one of the greatest benefits of paid online advertising is that PPC allows a higher level of control. It allows you a higher degree of customizability with targeting. Be it targeted to keywords or to specific demographics on social networks.
PPC, in general, allows you to do this and is often more cost-effective than other forms of advertising in the short term. This is because you're directly attracting your niche/target audience. PPC is also easily measurable and you get a stronger indication of your ROI (Return-on-investment).
If you're looking for quick results and brand exposure, including reach, then paid online advertising is the way to go. Just bear in mind that if times get tough and the advertising budget is cut - you'd then be getting vastly reduced brand exposure.
Organic - Free Online Advertising
Free online advertising is vitally important to a business as it helps with organic reach and ranking naturally on search engine results.
In fact, 75% of searchers don't even click past the first page of results.
This means that if you're not ranking highly, or your paid advertising budget gets cut, then your website won't get traffic - drastically reducing your online leads, sales, and ultimately revenue.
Another benefit of organic advertising is the fact that, just by effectively optimizing your website for the intended audience and their search terms, you can still continue to rank high on SERPs (Search Engine Result Pages). Leading to continued traffic generation even after paid advertising budget cuts.
Organic advertising can go a long way in building your website credibility. When your website landing pages rank high on SERPs (Search Engine Result Pages) it also reflects on the relevance of your website content and signals to users that you can help resolve their problems.
However, the time needed and money invested in this might be hefty. The important thing to note here is that in the long term, free advertising initiatives like putting out thought leadership content that's both highly engaging and search engine optimized is invaluable.
Key Takeaways
Finding the right balance between free and paid advertising is of paramount importance.
We know that as a product launches, for example, it would be inefficient to only invest in search engine optimized thought leadership content, because that takes a bit of time to gain momentum.
Instead, launching the product's search engine optimised website page using PPC for those short-term wins.
From there - write cleverly optimized, insightful content speaking about the related industry, which plugs the product in towards the end and points to the aforementioned search engine optimised website page.
Lastly, while you can teach yourself to use both paid or organic advertising channels effectively, we advise reaching out to a digital marketing agency to fast track your progress.
For some more serious advice about getting your digital marketing up-to-speed, we highly recommend downloading our Digital Marketing Checklist and Notes for 2019 - it's an assessment tool but more importantly an advice tool
In Summary
There is no substitute for careful attention to your website's content or the careful curation of your business's social media presence.
Paid ads can be very effective, but if a user arrives at your website but doesn't find what they are looking for, how is that investment working for you? You would only have paid website traffic without the results.
Ultimately, it comes down to your digital marketing strategy. Understanding your audience, understanding your campaign objectives, the time, resources and skills it would take to execute.
Just as importantly, understanding how your prospective customers use and interact with the web is the cornerstone to determining whether paid search, organic search or a combination of both is the best approach for your unique and ever-changing situation.
For expert advice regarding this and more; contact MO Agency today.