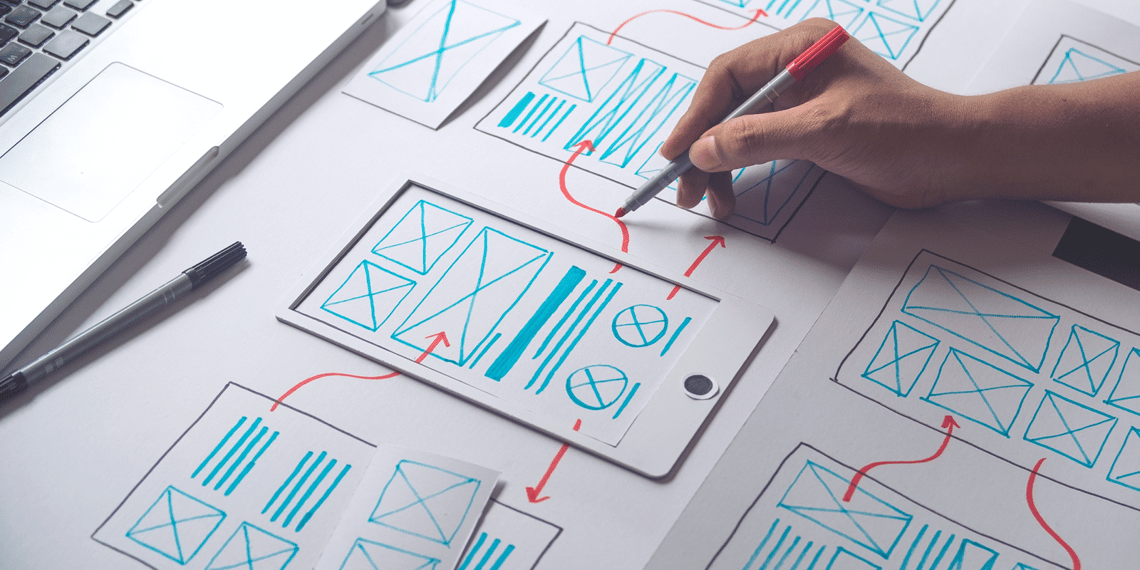 Marketing Automation
Does Marketing Automation Work in South Africa
However, global investment in marketing automation is expected to grow by close to 200% by 2023.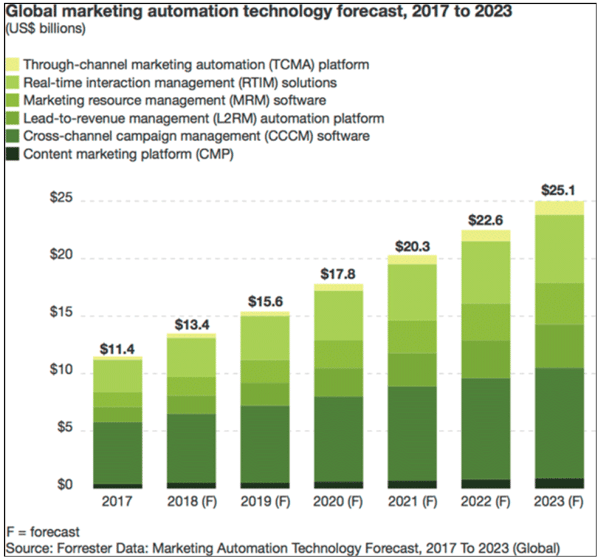 Does marketing automation work in South Africa? For sure. We've implemented countless examples in the financial and technology space in South Africa.
What is Marketing Automation?
Marketing automation refers to software that allows you to automate repetitive marketing tasks, operationalise communications, streamline marketing processes, time-consuming tasks and workflows.
Overall, the goal of marketing automation is to increase marketing efficiency while growing business revenue.
Why would you use marketing automation?
Business owners and marketers know that being effective in their role requires wearing many different hats. Unfortunately, there are only 24 hours in a day.
For the business owner time is spent on business development, marketing, customer service, HR, financials, the competition, suppliers and much more.
For marketers, a typical day is spent constantly juggling new digital channels, requests from the business, and an ever-growing stream of data to scrutinise.
Sound familiar?
The best way to claw back some time in the day is to automate a few of the many repetitive processes and tasks.
Take the manual work out of trivial, tedious, and time-consuming marketing tasks.
The processes that are repeated often are often done so for a reason - they work. By identifying these repetitive tasks and automating them significant time can be saved.
How are others using Marketing Automation?
Below is a chart detailing the most important goals of a marketing automation strategy. Convincingly, the top three goals are to improve the targeting of messages, improved customer experience, and better quality leads.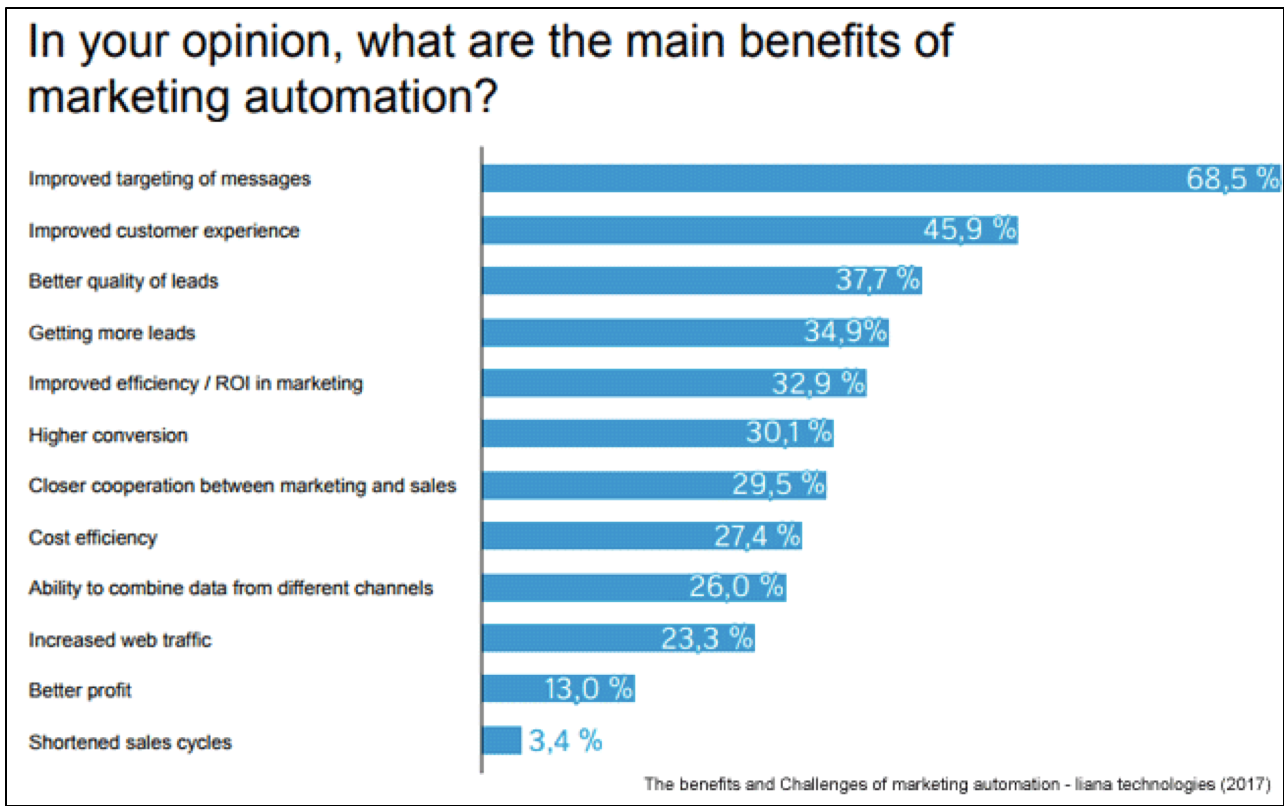 We have seen marketing automation work in South Africa for these three goals:
Increase lead generation
Improve lead nurturing
Increase sales revenue
Attracting new prospects (lead generation) through the use of effective marketing strategies is step one of the modern marketing process. If you want to do more to nurture those people so that they become customers, marketing automation is the next step.
Marketing Automation and the sales process
As a marketing automation consultancy in South Africa, we focus predominantly on the financial and technology sectors. In these sectors of the South African economy, the sales process tends to operate at multiple touchpoints & over long time periods.
With that in mind marketing automation is the perfect additive to your sales process or digital marketing campaign. To achieve success with these types of sales that comprise of large, considered purchases prolonged nurturing the prospect is often required, and marketing automation enables this very well.
So in a nutshell, marketing automation does work in South Africa. But, keep in mind, if you'd like the primary deliverable of your marketing spend to be qualified leads – sales-focused marketing automation platform and service provider is the way to go.
Do you need Marketing Automation?
So now that you know it works, let's discuss if you need marketing automation.
Are you finding the challenges of modern marketing taxing; from automating email campaigns, operationalising acquisition activities, scheduling content and/or social media posts, and optimising your content for SEO… the list goes on…
Here are some reasons you might want to take on
1. Long sales cycles
Your sales cycle is long and sometimes complicated. Longer sales cycles required regular and multiple touchpoints.
2. Sales and marketing teams don't play nice
Sales say the leads are poor quality, and marketing is always complaining that sales never follow up properly on the leads they deliver.
3. More ROI insights
You have no idea how marketing campaigns affected revenue. You don't know which campaigns are performing and which aren't.
4. Current CRM doesn't have automation
A good CRM is great for sales forecasting and task management. If you are to support sales, identify great prospects them adding marketing automation into the mix is a good idea.
5.Accurately target your audience
You have great content, but it's just not getting to the right people. Marketing automation is designed to help target your preferred audience. Targeted emails, landing pages, bots all help get your message across.
Final thoughts
There is a lot to gain from marketing automation. Time savings, operational efficiencies, better content delivery, and more. The modern marketing professional and modern business owner should both make a point of understanding the benefits of marketing automation.
Inbound Marketing
Get more out of your digital marketing
Fill in the form and learn why Inbound is the only way to get high-quality leads.
Welcome to the MO Agency blog. Here you can find resources on Digital Marketing, HubSpot Inbound Marketing, Web Development & Brand Strategy.