Many people have heard about HubSpot, but most also don't know what it really does. This is because HubSpot offers an enormous selection of features, licences and pricing points.
MailChimp, by comparison, is far easier to understand. Of late, they too have been layering in the additional features, but still, the pricing is easier to understand.
So why would you want to go for MailChimp over HubSpot or visa versa? I'm going to keep this blog as simple and to the point as possible.
What is MailChimp?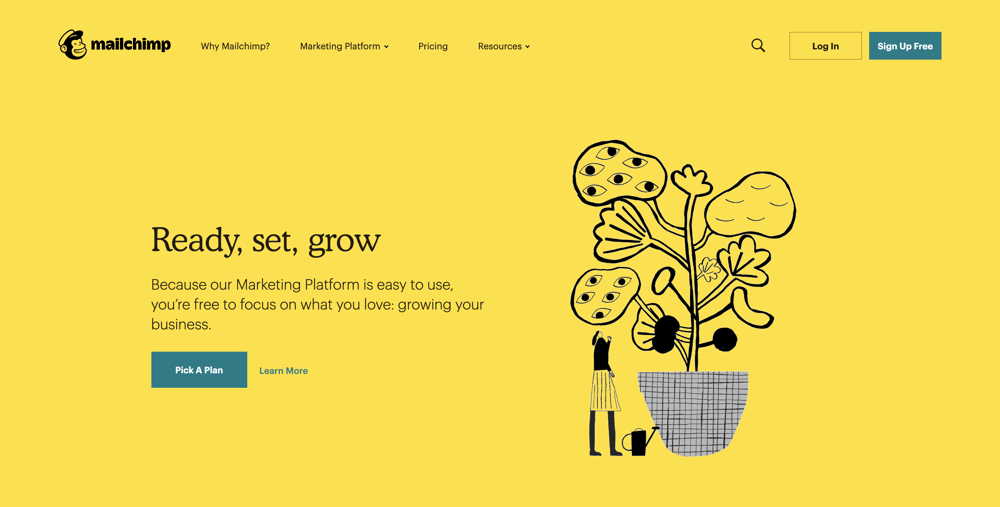 MailChimp is often the first email marketing platform that jumps to mind. It's been around for ages, trusted by many and has a very low price point. It also has a very memorable monkey aesthetic.
The platform is an email marketing platform that is super easy to use, has editable templates, personalisation, basic list management and great email analytics and reporting.
MailChimp is free to get going with which has attached literally hundreds of thousands of users to the platform. It does, however, have a steep price increase as your email database grows past 2,500.
What is HubSpot?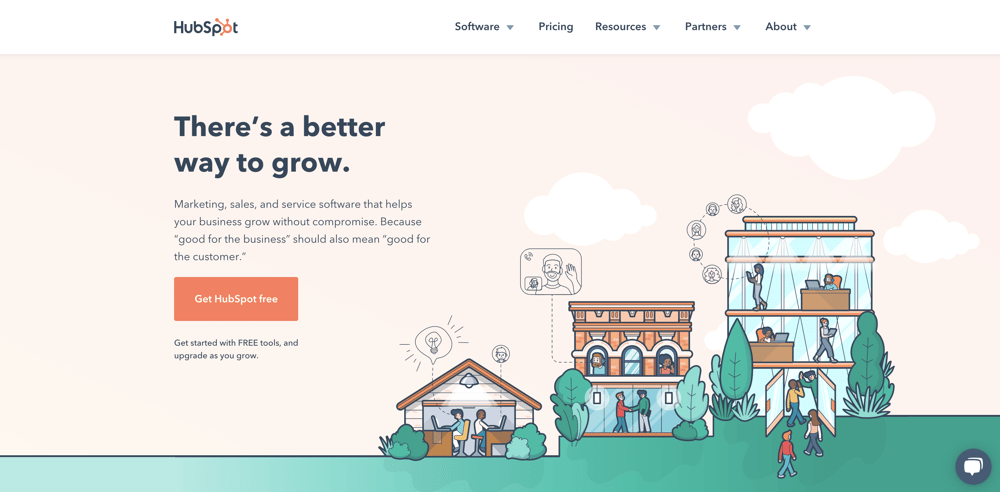 HubSpot is a complete solution including CRM, inbound marketing, email marketing, analytics, website CMS, service and help desk, and much more.
Essentially HubSpot has the ability to manage every single piece of your digital customer-facing ecosystem. All behind one convenient login. The problem is that all of this functionality doesn't come cheap.
But for the purposes of this post you want to know how the email marketing element works in comparison to Mailchimp, so let's jump into that. Just hold that thought in the back of your mind that you might want to marry your email marketing strategy with other elements like sales, CRM, or your website, and then HubSpot starts to make a lot of sense.
Which platform is more popular?
The Google Trends comparison below drawn over the last five years is slightly unfair for two reasons. First, the interest for MailChimp is far higher than for HubSpot. And secondly, HubSpot is far more than just email marketing software. But, and this is a 'big but' it looks like interest in MailChimp has decreased over the last five years, while interest in HubSpot has more than tripled.
As you read the rest of this blog these trends talk to the crux of my own personal opinion that email marketing as a stand-alone channel is not the optimum solution. I think the trends data below shows this. MailChimp as an email marketing specific platform still generates more interest today than HubSpot, but digital marketing takes time to deliver results. We should take into account these trends.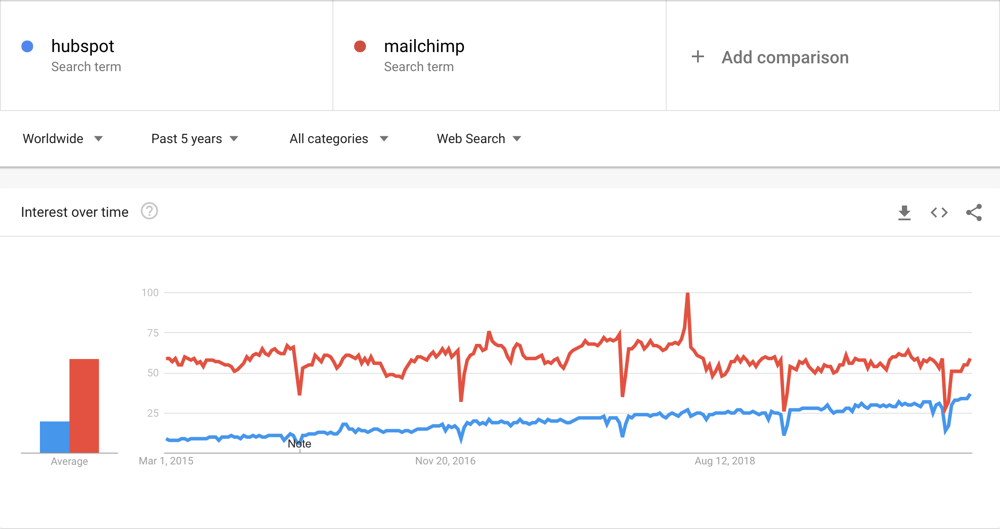 What do MailChimp and HubSpot look like under the hood?
Below are a series of screens that a user would go through to create an email campaign on both platforms. You'll see that other than a different look and feel, both platforms do the same thing when it comes to email marketing.
In all cases, the MailChimp screens are set before the HubSpot screens. If you are not sure look for the platform logo in the top left of the screens.
Selecting your type of email
Both MailChimp and HubSpot allow you to create an email for sending once, called a Regular email, ie. an email blast or monthly newsletter. Both platforms also allow you to set up emails for Automation, ie. they can be automatically sent (triggered) by user behaviour.


Selecting your template or theme
MailChimp uses two tabs to separate layouts and themes. HubSpot does it on one page. Otherwise, the functionality is the same.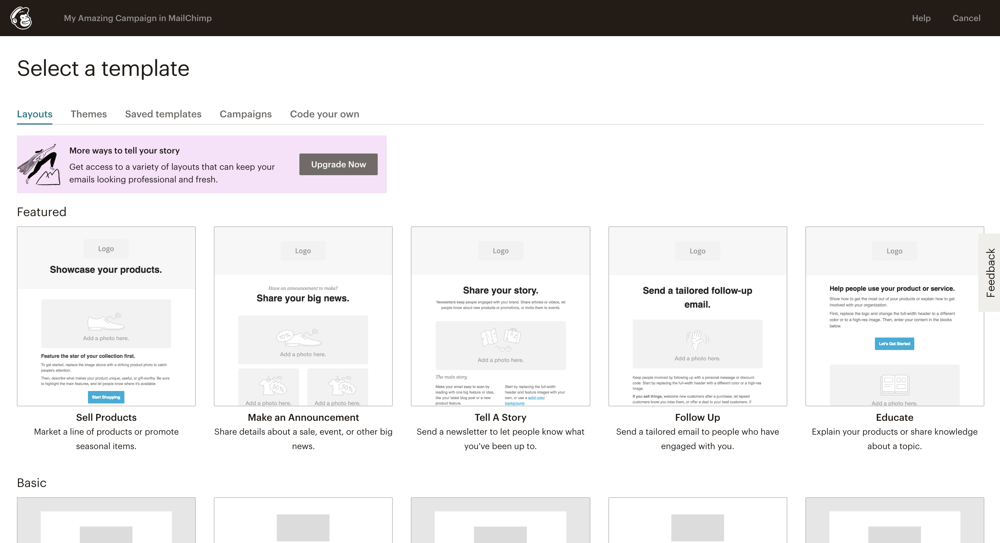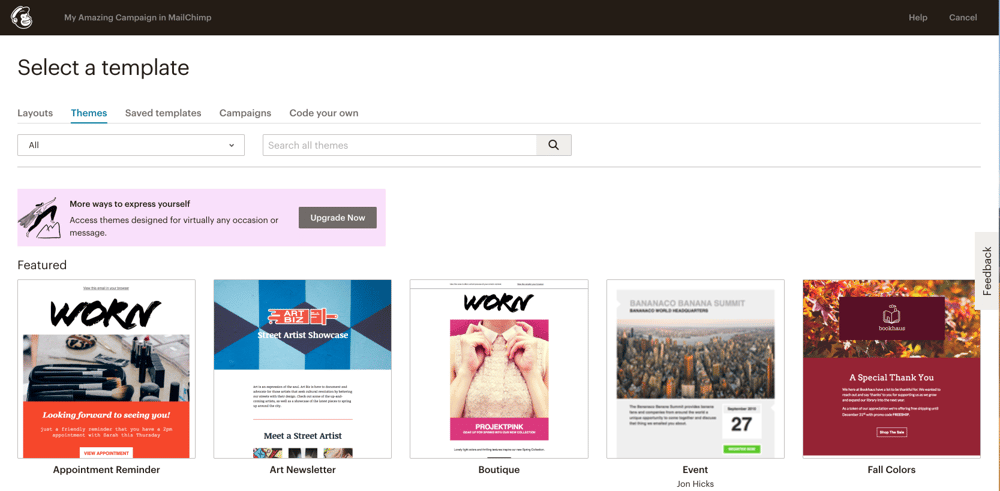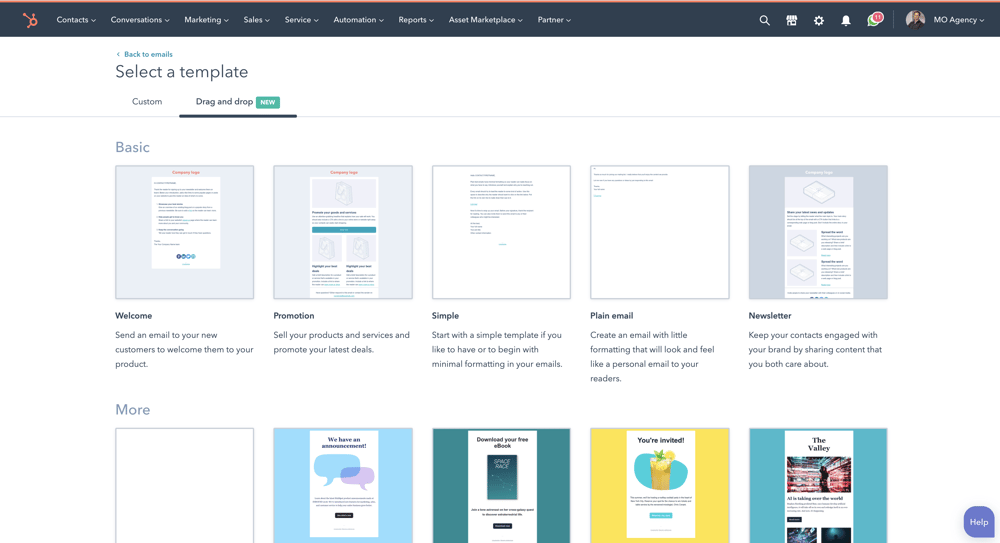 Creating and laying out your email
Again, besides some user interface differences, both platforms do the same thing.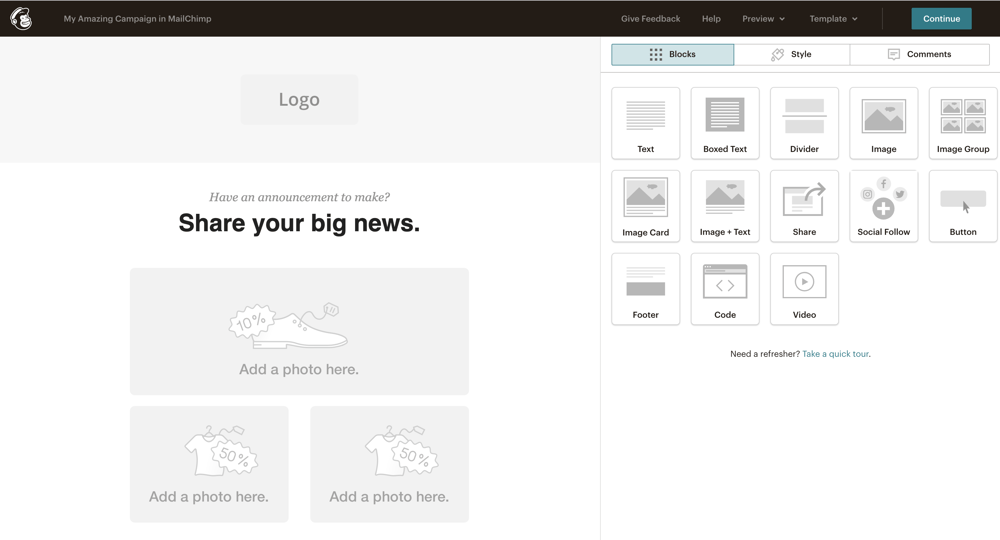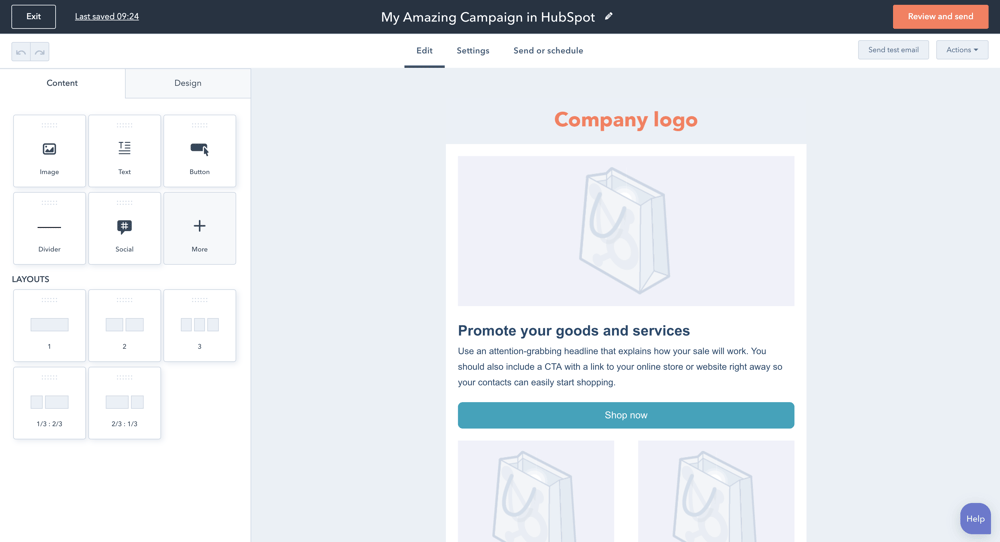 Reviewing your email settings before you send
Some user interface differences, but both platforms do the same thing.
One thing that can be mentioned on the HubSpot settings page, is that HubSpot will allow you to make the subject line Smart. You can customise the subject line based on the profile of your contact. This does require HubSpot Marketing Pro, however.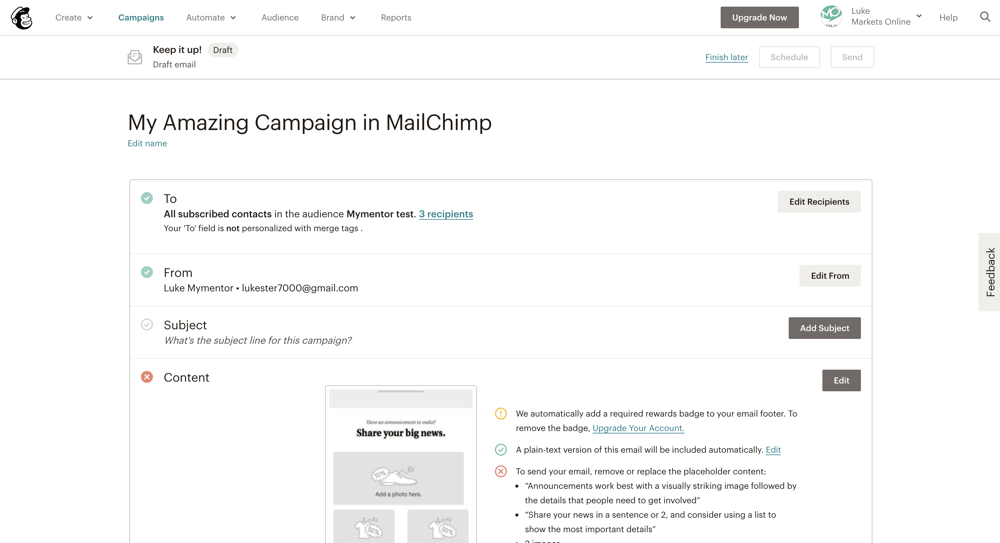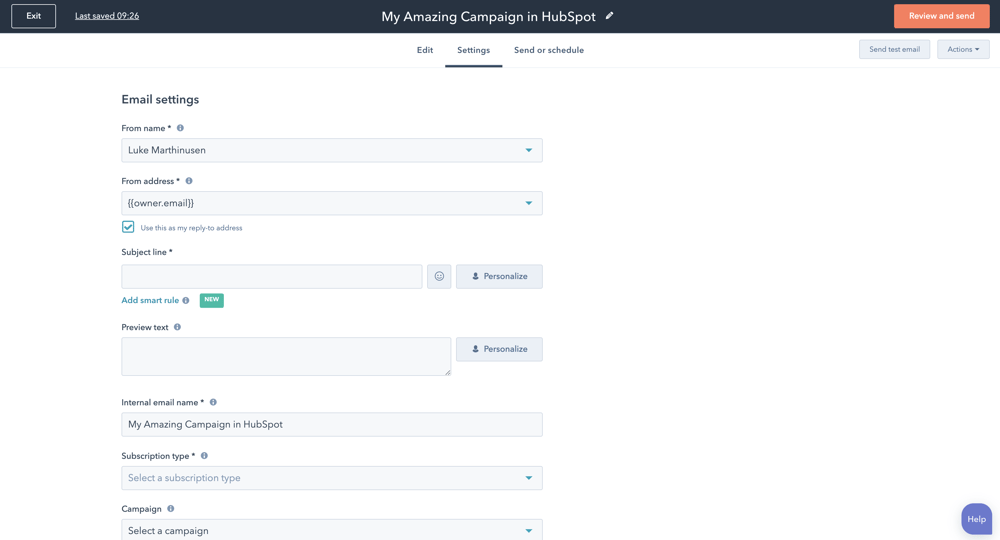 So now that you've had a look under the hood on both platforms, let's jump a bit deeper into why you might choose one platform over the other.
Who is MailChimp for?
MailChimp is great for newcomers to the email marketing game.
MailChimp is aimed primarily at small to medium-sized businesses. It is highly recommended for businesses that are new to the world of email marketing or have limited resources. This is owing to its step-by-step nature, ease of use, drag-and-drop templates and logical list upload and segmentation.
MailChimp offers a free plan, that allows you to send up to 10,000 emails a month to 2,000 individual subscribers. This is perfect for personal accounts and small businesses. And the great thing is that most of the tools and templates are accessible on this free account.
If you're a small business looking for an all-in-one solution then this could be just what you're looking for. Just remember on the free solution they paste their branding on the bottom of your emails, and this can't be removed.
MailChimp also provides pay-as-you-go options. These are great if you plan to be sending lower volumes of emails.
The free and paid accounts also give you some extras such as marketing automation, but don't expect too much from this. It's limited to autoresponders only. Read this article by Neil Patel on how you can use email autoresponders.
Much like HubSpot, you can manage your contacts/subscribers in lists, set up campaigns through the campaign generator and make use of a range of basic templates available to you free of charge. For more advanced templates, you will need to be a bit knowledgeable in HTML coding to upload a custom template to MailChimp.
Both HubSpot and MailChimp offer you the option to schedule email marketing campaigns to be sent out at particular times.
Email reporting is a feature common to both software platforms so you can easily understand how many opens, clicks and successful deliveries you've had. However, HubSpot offers far more depth and higher degrees of email personalisation than MailChimp.
MailChimp is the best everyman's email marketing specific platform in my opinion.
Who is HubSpot for?
HubSpot is aimed at anyone from small businesses to medium-sized businesses as well as large corporations and enterprises. They offer many different licensing options for their software which are built out to match different business sizes, needs and requirements.
The beauty of email marketing with HubSpot is that, because it is an integrated marketing tool, you can manage more than just your email marketing.
HubSpot, in the case of email marketing, is intuitive and easy to use for beginners and expert email marketers alike. Pound for pound HubSpot email marketing does everything that MailChimp does. Both have great drag and drop email editors. Both allow scheduling and list segmentation.
Both are free to use when you start up; HubSpot allowing 2000 email sends per calendar month, with HubSpot branding of course. Using HubSpot Marketing Starter you'll pay $40 p/month. This will allow you to send 5000 emails per month. Upgrade to 10,000 p/m for $80, 15,000 p/m for $120, etc.
However, HubSpot is not only an email marketing tool, it's also a marketing automation platform built to support digital business growth.
HubSpot Marketing Free and Starter will give you website chat, and integration into Facebook Messenger, integration into you website forms, and a lot more. So if you plan to be agile with your digital marketing and try a few things other digital channels and strategies, HubSpot may be a good option.
The HubSpot Marketing platform with its marketing automation and inbound marketing has you covered for everything such as:
Lead generation
Marketing
Blogging
Lead scoring and lead nurturing
Landing pages
Social publishing and monitoring
Paid ad management
Audience management for paid advertising in Facebook, LinkedIn and Google Ads.
And that is just in the HubSpot Marketing suite. There is still a CRM, Service, website CMS, and Sales element to consider.
So if email marketing is only part of your current digital marketing strategy - or even the future digital marketing strategy you envision - maybe HubSpot with its multiple functions is the way to go irrespective of the cost.
But back to email marketing. HubSpot is excellent at allowing you to create email marketing campaigns tailored to specific customer personas (ideal customer profiles) and nurture leads via triggered emails and autoresponders. Depending on the actions taken by leads/contacts and their website behaviour, different kinds of emails and workflows will be triggered on the HubSpot platform. HubSpot lets you easily nurture and eventually convert leads easily through seamless and highly automated email marketing.
Final Thoughts
In conclusion, it actually comes down to your budget and what level of marketing automation you're looking for. If you're in search of a holistic digital marketing solution that has you covered for everything, then HubSpot is definitely the way to go.
But if you're a small business starting out and you don't want anything other than a solid email marketing platform then try your hand at MailChimp.
Both are fantastic platforms, we hope this article has helped you make your decision.