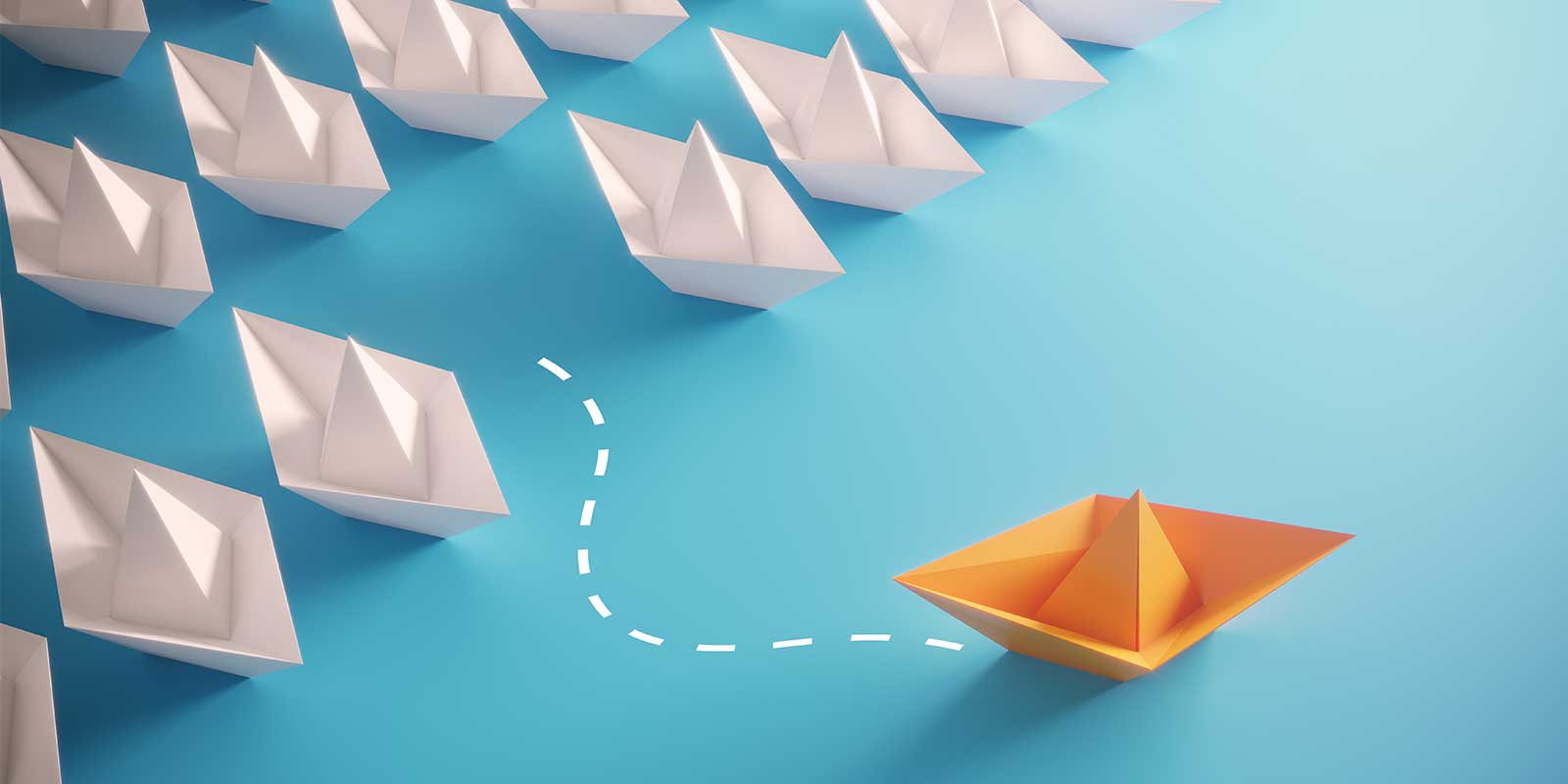 HubSpot
7 Essential Tips for HubSpot Success
I love HubSpot. It's helped me grow my business.

Want proof? Since we started using HubSpot, my business has become larger and more profitable. In fact, we have to be cautious about how many clients we take on because so many want to work with us, and we can't service them all.
The data proves this. The graph below shows our ever-increasing sales revenue since implementing HubSpot in January 2017.
Sure, we grew before - but growth was slower and less predictable.
What's great is that our overheads haven't increased at the same rate as our growth. This means more money in our bank account at the end of each month :)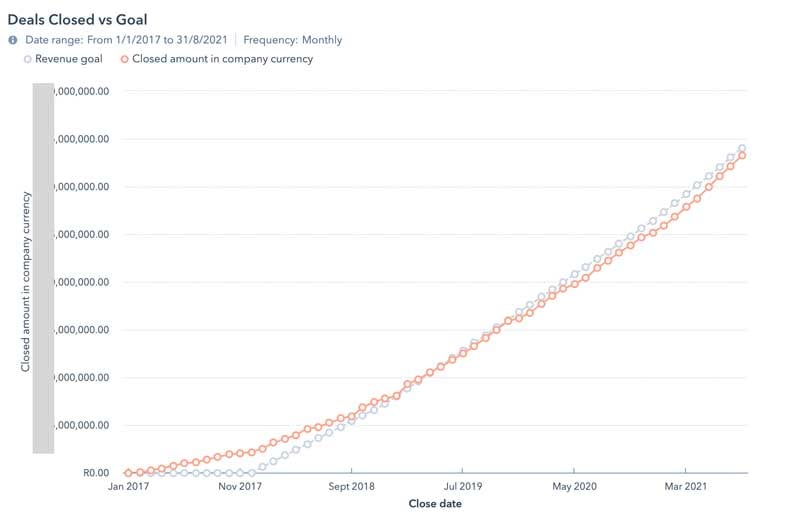 At MO Agency - we're a team of 22, and we don't want to be bigger for now. We feel that at this size, we do our best work. We only take on clients that are 100% aligned with our vision, our values, and fit our ideal client profile.
If you want to learn how to do this, read The Pumpkin Plan by Mike Michalowicz.
I highly recommend the read to any marketer or business owner/exec. But if you're short on time, Marcus Coetzee has written a great one page summary of the book.
Identifying who you work with best and relentlessly going after those folks is the key to great client relationships and business success. Client acquisition and churn cost money so make sure that you pick them carefully.
That's the theory anyway, but like most theories/methodologies - they need to be applied.
To apply this, you need a CRM and an integrated marketing system. You need to be a juggling genius to do this without these tools.
Why? Because you need to keep track of everyone that reaches out to you. You need to profile them and reach out to them at the right times. Lastly, you need to treat your ideal customers/leads like gold.
There are numerous platforms out there, but we chose HubSpot to do it.
We prefer HubSpot because its sales and marketing tools are so tightly integrated.
Oh, and I'm sitting writing this while overlooking the azure, blue ocean in the Maldives. With the right CRM and marketing system, the right leads just roll in and the business is just able to run - right.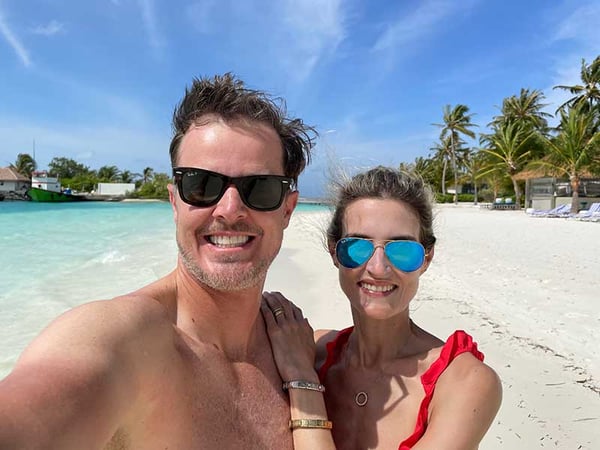 Just like I do, my team has perfect visibility on the entire business - whenever they need it. For example, we hit our monthly sales quota's on the 12th of the month. Great to know this while you're on holiday.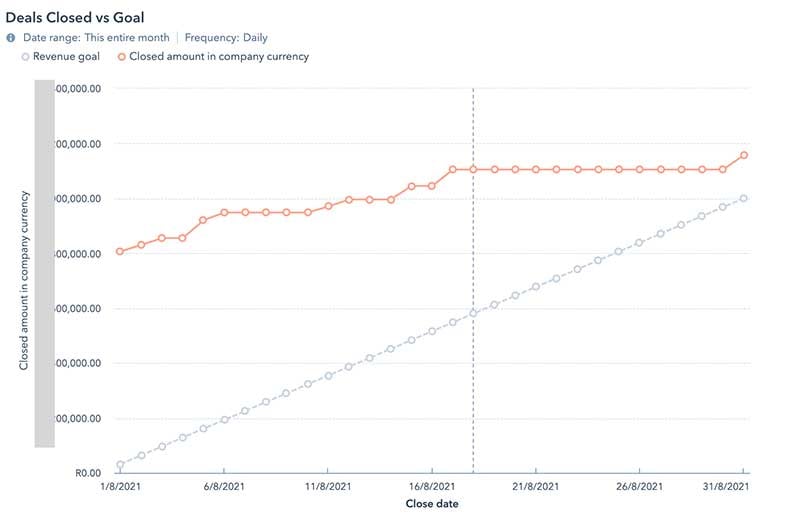 The sales team knows they can work on some nurturing and start sandbagging for next month's targets. You see, everything with the right sales and marketing systems in place just slows down - Keanu Reeves Matrix-style. You enable your team to make the right decisions because you give them the gift of time and foresight.
Ok, so you want this for your company too.
But you don't know where to start?
You don't know which CRM or marketing software to actually choose.
Trust me, I know this can be super difficult. You're already putting a lot of effort into your sales and marketing. Hey, maybe you already have HubSpot, and it's not working out.
That's why I've created this list.
7 essential HubSpot tips for HubSpot success to help you get the most out of your sales and marketing efforts when using HubSpot.
1. HubSpot Free CRM is a fully functional CRM
The free CRM solution from HubSpot can be used by many companies and they will never have to upgrade to paid.
Powerful contact management, with exactly the same view, that a paid CRM user gets

1 deal pipeline

Log all activities in the CRM including, meetings, calls, emails, and notes
Automated meeting tracking with calendar integration (Outlook and Google calendar)
Email logging to the CRM with a checkbox (Outlook and Gmail)
Email tracking to be notified when an email is opened

1 personal meetings link and l

ive chat for your website (with HubSpot branding)
3 reporting dashboards, but no custom reports (

10 reports per dashboard)

Quotes, but without a product library (with HubSpot branding)

10 custom properties
You might be interested in this blog that explains HubSpot Free CRM in more detail.
I'll cover why the free CRM works so well and how it combines with paid HubSpot Sales (CRM) licences.
2. Portal features vs seat features
Ask most HubSpot specialist agencies and consultants what the difference between a portal feature and a seat feature is - and they will stare at you blankly!
Let's use pipelines as an example. With HubSpot free, all your users have access to only one pipeline. This is a limitation of your portal features. Your portal is a free portal. If you were to purchase 5 x HubSpot Sales Professional licences, your entire portal and all users are upgraded to Professional portal features. This means that all additional free users you add to your portal now have access to the Professional portal features. For example 15 sales pipelines, calculated properties, multi-currency, target accounts and more.
The feature we leverage hugely for free CRM users is sales workflows. We can use sales workflows to deliver leads intelligently by geographic region, persona, product of interest, etc., to free CRM users too. Very powerful.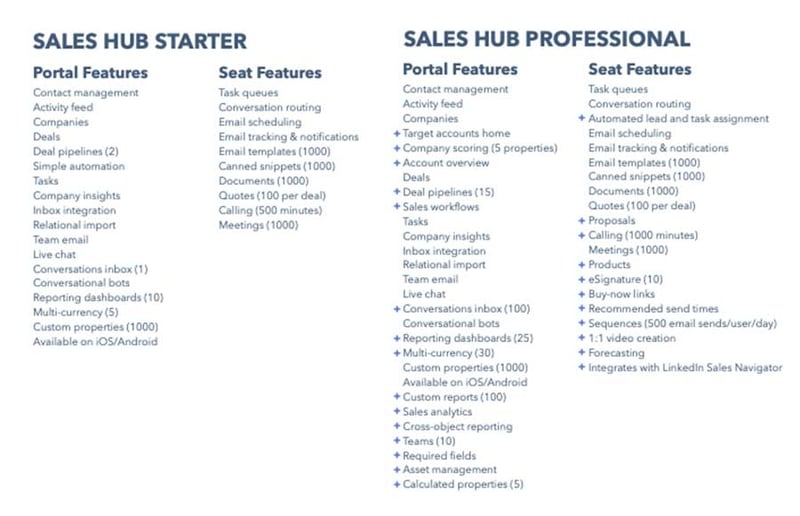 3. Marketable contacts
A relatively new feature in HubSpot Marketing Hub, you can choose which contacts you'll be billed for.
This is particularly useful if you are migrating from another CRM or email system and you have contacts that you want to keep stored but don't necessarily want to market to them right away.
In the past, if you had HubSpot free CRM all the way up to Sales Enterprise, you would not be billed for contacts. A million contacts in your CRM - no problem.
But add HubSpot Marketing Starter, Pro or Enterprise and all your contacts would be billed for. A huge expense.
Now you can decide which contacts to bring over to marketing and be billed for. These are called Marketing contacts vs Non-marketing contacts.
Basically - You can use HubSpot tools to markets to these contacts. But, they can't be set as marketing then non-marketing in the same month.
Tools that only work with marketing contacts:
Marketing emails
Follow-up emails after form submissions
Ads tracking, ROI and attribution
Marketing actions in workflows, such as,

Send email
Add to or Remove from ads audiences.

You can use workflows to move contacts around, allocate to sales, score and enrich the data.
4. Marketing Starter doesn't allow Google Ads & Tag Manager to be added to landing pages
Although HubSpot Marketing Starter has introduced landing pages and they work really well, you can't add a unique tracking code to them. So all your ad tracking needs to be in HubSpot - which basically does not work in HubSpot Starter.
Although this development limitation is centred around access to the header and body code for developers in HubSpot Starter - this also means limited landing page access for developers. HubSpot Marketing Starter is drag and drop for marketers only. And for that, it works great.
If you want to track conversions in an ads platform like Facebook Ads, Google Ads, and LinkedIn and more we advise you to build your landing pages in your Website CMS (eg. WordPress) with tracking codes from HubSpot, Google Ads/Tag Manager installed.
5. Sales and Marketing integration
This one may seem obvious to some, but it's so often overlooked.
Unless your sales are touchless, the marketing and sales teams need to interact seamlessly.
Marketers typically complain that the sales team don't follow up on leads when they should.
Salespeople complain that marketers generate poor quality leads that aren't worth following up on.
Far ahead of all of its competitors HubSpot has explored and solved this interplay between sales and marketing teams. Baked into the software, each team is held accountable and work together.
You can easily set up reports for marketers on the status of leads sent to sales. No follow up necessary.
Equally, sales can mark a lead a poor and give feedback on it from right inside HubSpot on the fly - as the lead is reviewed. In fact, marketing can actually review (read emails or listen/read transcribed calls) the conversation the salesperson had with the lead. Without bugging the sales team - they can adjust their campaign targeting.
6. When to upgrade to HubSpot Marketing Enterprise
HubSpot Marketing Enterprise comes with many additional features over Professional. That being said the number one reason what companies upgrade is the lower rate on contacts.
As your marketing improves, and your requirements to nurture and market to increasingly more contacts there is a breakeven point at which Marketing Hub Enterprise makes sense.
Enterprise costs €2,944/£2,624 p/month vs €740/£655 p/month for Professional.
The breakeven point depending on your discount with HubSpot is between 65,000 - 75,000 marketable contacts. At that level, it starts to make sense to migrate to Enterprise.
You'll also not be charged the Enterprise onboarding fee because you already onboarded for Professional - which was less expensive!
The other major reasons you might pull the trigger on the upgrade sooner are access to:
Custom objects
HubDB - read here if you want. to understand a HubDB use case.
Advanced user management and partitioning for large marketing teams working in different divisions of a large corporate.

Multi-touch revenue attribution
7. Custom Objects: What are they and do you need them?
To understand whether you need custom objects, you first need to have an understanding of the standard object in HubSpot.
The standard objects inside HubSpot are:
Contact
Company
Deal
Ticket
If you have any enterprise hub (it can be Sales, Service, Marketing or CMS Enterprise), you can create a custom object to customise your CRM to your businesses unique requirements.
If you are a property rental company, you can create a custom object for properties.
A record is a single instance of an object, where you can store information and track interactions.
Here is an example of a contact record
Name: Peter
Surname: Jones
Email: peter@acme.com
Date created: 21 July 2021
Lifecycle stage: Lead
You can also make associations between records to understand the relationships between them. Properties represent the different types of information you can store on a record.
Here is an example of Peter's associated company record:
Company Name: Acme Co.
Address: 123 Galaxy Drive, London
Country: United Kingdom
The association of the company and contact record show the relationship between the two. As Peter interacts with your sales team you can create and associate deals with Peter and his company. Your support team can associate tickets.
Below is HubSpot's Entity Relationship Diagram, it shows the relationships between the standard objects in HubSpot. Notice the Timeline Events - these are the next level of data that bring the interactions with your company to life.
Timeline events include activities like emails, calls, conversations, tasks, notes, website visits, email opens, ad clicks and more.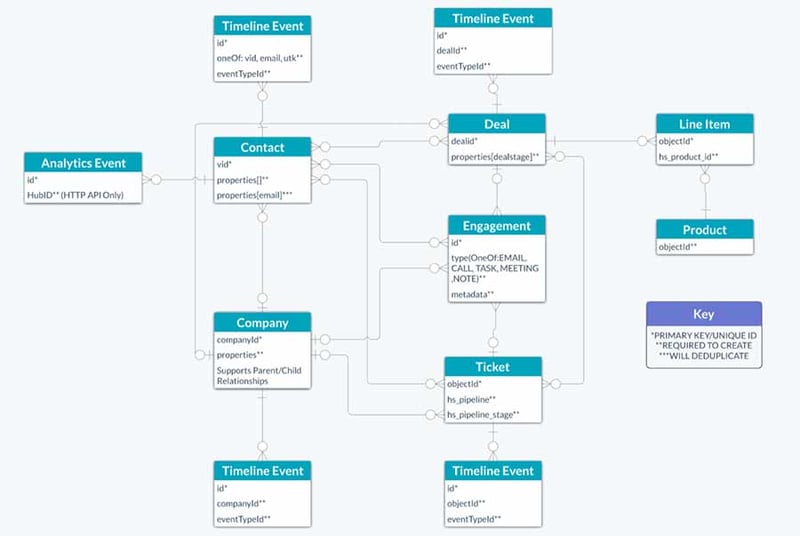 Timeline events can be associated with custom objects.
Only create a custom object if you absolutely need to. In the example of the rental company, custom objects make total sense.
Here is an example of a rental property object record:
Property Type: Flat
Address: 123 Rental Ave, London
Bedrooms: 2
Garden: No
Pets Allowed: No

A property called: 'Garden: Yes/No' just isn't going to work for a contact or company object. We could possibly add each rental property as a deal object. But what happens when we have multiple leads for this single rental property? It's going to be messy.
We can associate multiple leads (contact object) with a single rental property object. Much cleaner and more logical.
If you can justify that your custom object is going to provide a cleaner data structure and be easier to use - go ahead create a custom object.
8. Hacking HubSpot CRM Free to do email nurture journeys
Coming soon...
9. Remove HubSpot Branding from HubSpot forms
Coming soon...
Check back soon. I'll be updating this list shortly.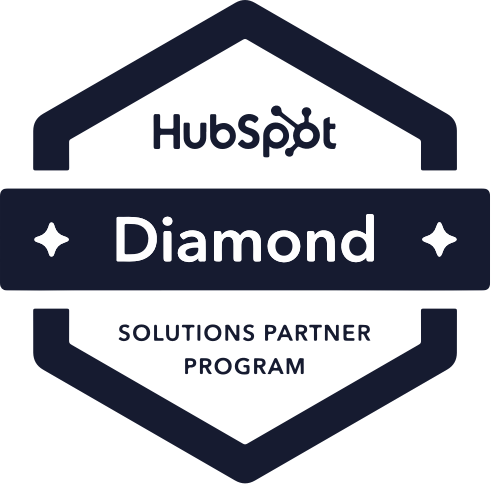 MO Agency supports visionary leaders to succeed with HubSpot