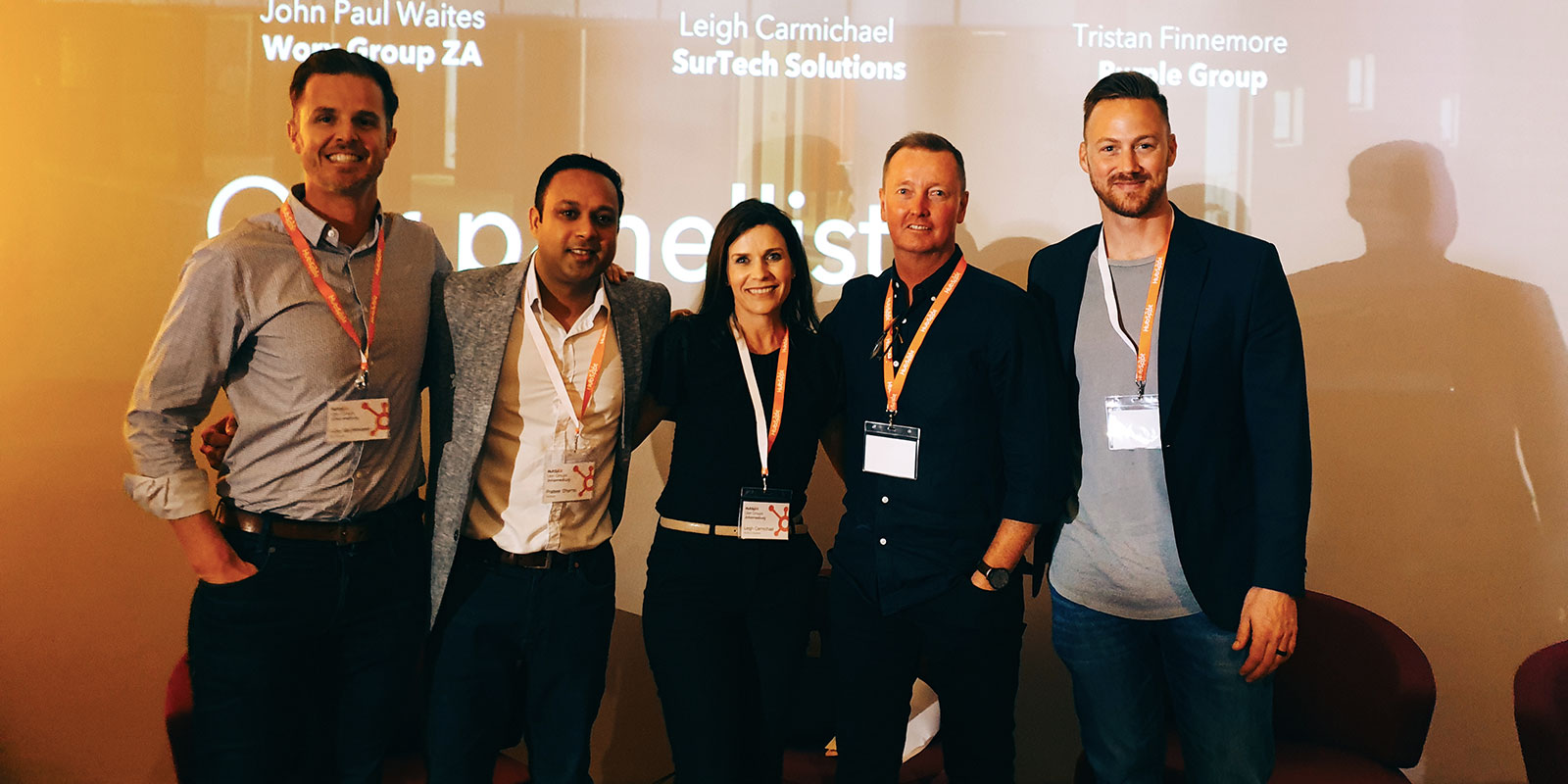 HubSpot
Sales and Marketing Technology in South Africa
MO Agency hosted the January HubSpot User Group (HUG) Event in the heart of Johannesburg, South Africa, on Friday, 31st January 2020. The event was attended by 90 Sales and Marketing Technology professionals.
The panel discussion focused on Sales and Marketing Technology:
How to implement and adopt it?
When is the right time to adopt it?
The challenges faced when implementing these systems
Our panellists for the event were:
Leigh Carmichael, Head of Marketing & Demand Generation, SurTech
John Paul Waites, CEO, WorxGroup
Tristan Finnimore, VP of Digital Assets, Purple Group
In case you missed the event or maybe just want to recap on what we went over, we've put together some key takeaways from our panellist discussion, enjoy!
When is it the right time to adopt an automated CRM system?
An automated CRM system is not a magical solution that will solve all your problems. It is a revenue tool to improve sales and marketing performance. Like any tool, it requires time to master.
Implementing an automated CRM system is a process that requires fine-tuning over time. This tuning needs to focus on both the business and the customer. Long term this allows departments to focus on activities that translate to revenue.
Do you consider an automated CRM system a threat or an opportunity?
CRM and marketing automation systems offer the opportunity to tailor your message to the individual by virtue of the data it collects and can still collect. You can automate nurturing to save time, keep track of your leads, personalise their journey and get a real-time overview of your sales pipeline in order to optimise for conversions.
Does up-skilling staff with this new technology pose a challenge? If so, how do you overcome this challenge?
The adoption of a CRM system brings about a lot of change (new processes, roles, responsibilities, control, etc.) and is always a tough task for staff to adopt.
Oftentimes, organisations ignore proper user training and effective communication in favour of quick implementation. Poor user adoption will create an unpleasant atmosphere where management or project owners drive adoption but the technology is resisted.
What is the adoption percentage of the CRM system amongst your staff?
Building an implementation team that includes all stakeholder groups is key to successful implementation. It provides high-impact opportunities for management to coach staff members throughout various processes to help them achieve their goals and affords them more freedom while improving accountability.
Are CRM systems inclusive of all business functions or are they applicable to sales and marketing only?
CRM systems are very flexible - they can perform a number of functions and integrate with a wide variety of external platforms for extended functionality. Everyone at Surtech uses the CRM system, except maybe for a few of the developers.
Welcome to the MO Agency blog. Here you can find resources on Digital Marketing, HubSpot Inbound Marketing, Web Development & Brand Strategy.