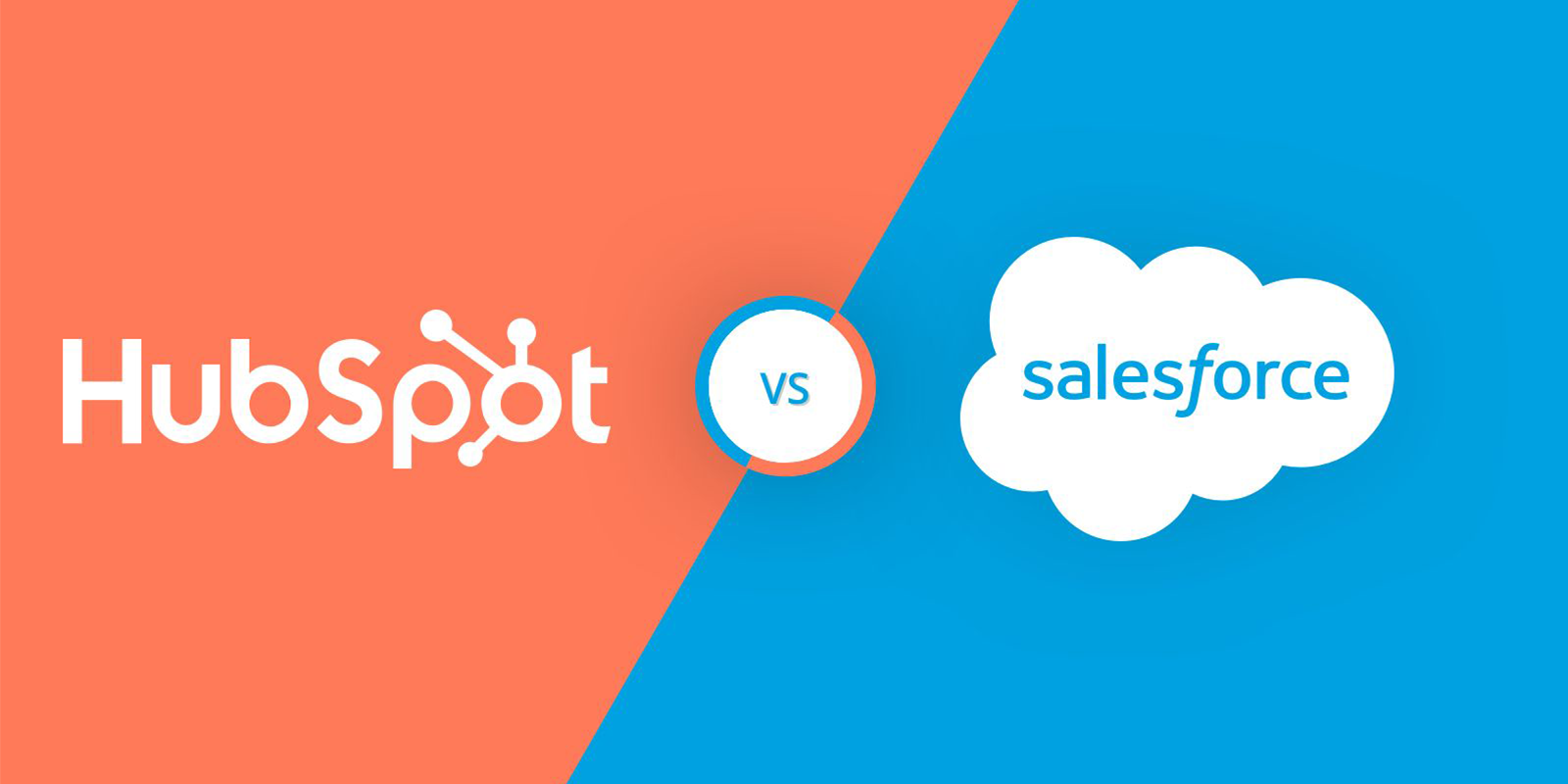 CRM
HubSpot vs Salesforce: Sales and Marketing CRM Solutions Compared
HubSpot and Salesforce have similar audiences and features, but the companies have had fundamentally different development paths that set them apart. Have you been wondering what the difference is between these CRM giants? Let's find out.
HubSpot markets its CRM as a free enhancement to the paid software for sales and marketing teams. In truth, the CRM has always been part of the marketing suite, but it's now been built out into a fully-fledged CRM that competes head-to-head with Salesforce.
For Salesforce, CRM has always been the core platform the company's thousands of apps, integrations and features interact with. Features like marketing are only now fully maturing. That means that both of these platforms are growing ever closer together, and it's becoming more and more difficult to distinguish the from one another.
One can argue cases for both development paths. But at the end of the day, the user will need to decide which is the best CRM for their own unique requirements. While each of these might be incredibly similar, there are still some important differences between them.
In the article below, we'll compare the similarities and differences between HubSpot CRM versus Salesforce CRM.
CRMs compared, the high-level considerations
HubSpot's CRM covers contact management, deal and task management. It also covers interactions with emails, marketing emails, website visitors and social media to track interactions with customers and leads. HubSpot is best known for inbound marketing, which is why their CRM excels in this area.
Deal and task management are shown on a Trello style board with each prospective deal or task assigned to a card that can be moved across the dashboard. Tasks can be moved in a drag-and-drop style making it quick and easy to move the project along to the next phase of the pipeline. Team members can leave notes, tag one another, and even integrate time tracking and G Suite tools into tickets.
HubSpot deal pipeline: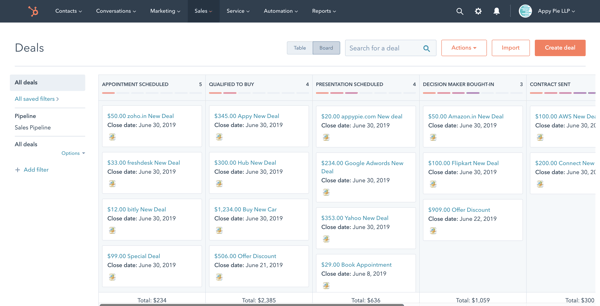 Salesforce deal pipeline: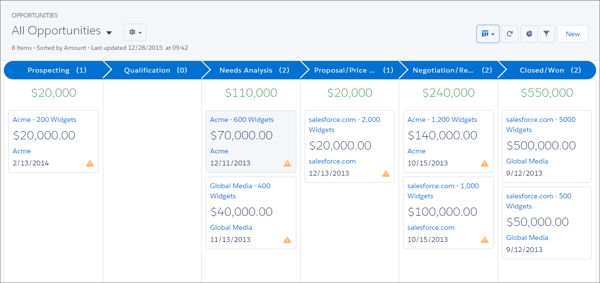 Salesforce CRM is anything but a basic CRM. Companies adopt it because of the advanced customisations available, and the extensive network of add-ons for sales, marketing and customer service platforms. While this might be massively beneficial to any given business, it also makes the CRM much more complex to deal with.
The basic component of the CRM is contact and account management with the ability to record contact and conversation details in a central hub.
HubSpot's CRM gives users access to lead, company and task reporting dashboards. The CRM is free forever for unlimited users and up to 1 million contacts, which is nothing to sneeze at. But analytics are somewhat limited on the free version. Nevertheless, it's rare to find a CRM of this size that can be used without paying a single cent.
HubSpot offers paid month-to-month plans on its Sales Starter, Sales Professional, and Marketing Starter plans. For Marketing Professional, Marketing Enterprise, and Sales Enterprise you'll need to commit to a full year.
Salesforce offers a 30-day free trial period. After the 30-day trial period, you'll need to commit to a full year of licence. Salesforce does not offer month-to-month plans.
One very important factor with HubSpot is that you can combine free and paid licences, and this is what makes Hubspot CRM stand out above all the others. This means sales users can use paid licences and anyone who doesn't need the bells and whistles can use free licences. They can still access all the reporting, pipelines and track activities in the CRM. Combining licences like this can save huge monthly costs. Salesforce requires one single paid licence to access the platform, which means that you're likely going to pay for features that you'll never use.
Dashboards & Analytics: What gets measured, gets managed
The basic HubSpot dashboards with the free plan are 'fine.' However, to gain the full features of HubSpot analytics and reporting, one needs to upgrade to paid versions. You'll want to upgrade to either the paid Marketing or Sales Hubs to get these reports.
HubSpot Sales Starter includes analytics with great dashboards, but the Professional plans offer more dashboards and a few more bells and whistles.
You can purchase additional HubSpot custom dashboards and reports for an extra fee. But in our experience, this is rarely needed as the standard dashboards are more than sufficient.
Salesforce has built reporting into the customisation of all of its tools. Each of the contacts and account settings can be fully customised with tags and custom objects that work with the way your company does business.
Salesforce dashboard: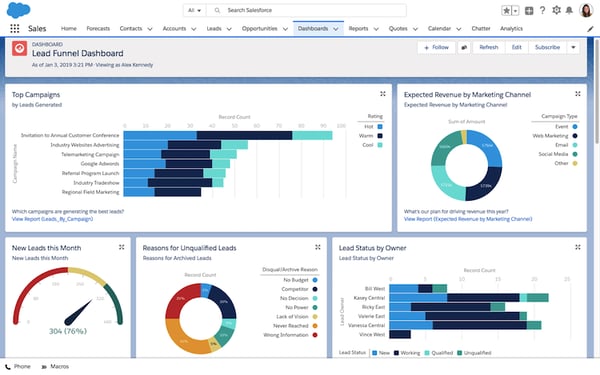 The Salesforce reporting module features several types of charts and graphs, including fuel gauges and line or bar charts. Like HubSpot, all of these can be built without the need to hassle IT or a Salesforce developer.
Anyone can build a dashboard or custom report to fit their needs, as long as they can drag and drop the metrics they want to report on.
HubSpot dashboard:
HubSpot Ads spend ROI dashboard: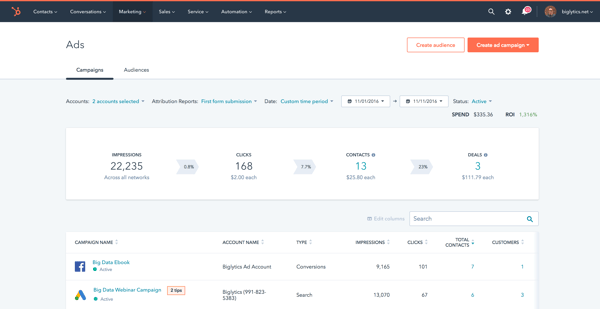 Included in HubSpot Marketing Starter and up, your paid advertising spend on platforms including Google Ads, Facebook Ads, and LinkedIn Ads can be tied back to closed deals for revenue attribution on your marketing spend.
HubSpot CRM includes a host of helpful marketing tools like this, including leading analytics, lead forms and lead flows. Each tool is meant to help build a lead pipeline that collects interested leads and starts moving them toward the sales team.
Upgrading and licences: What you need to consider
Marketing CRM
HubSpot offers basic marketing tools for free, including chatbots, email marketing and ad management, but upgrading to HubSpot Marketing Starter will give you access to:
Landing pages
Ad management
Live chat
Conversational bots
Forms
Contact website activity
List segmentation
Email marketing
Ad retargeting
To access powerful features like marketing automation, fully customisable landing pages, social media, social listening, and SEO tools, you'll need to upgrade to the HubSpot Marketing Professional. In our experience, the leap between these packages is massive, so it's absolutely worth upgrading to a higher package if you can do so.
Salesforce offers a multi-featured Salesforce Marketing Cloud with several bundles to choose from. Different feature and pricing packages are available for email, web and mobile marketing, social media marketing, advertising and B2B marketing automation.
Salesforce also offers social listening tools, which let you follow conversations on social media and the web.
The Advertising Studio connects CRM data with omnichannel marketing tools that ensure the right message gets to the right lead at the right time to tie it all together.
Salesforce Data Studio connects data from across the tools to help marketing teams visualise their success.
Salesforce Marketing Growth offers a full suite of marketing tools including,
Lead generation, qualification, and management
Email marketing and personalisation
Marketing and sales intelligence
Basic marketing automation
Salesforce Marketing Plus includes in addition,
Advanced automation, personalisation, and qualification
Advanced analytics and reporting
Salesforce Marketing Advanced brings in an additional layer of features aimed at large companies with different business units using the same Marketing Cloud.
HubSpot Marketing Professional levels up well with Salesforce Marketing Plus. Apart from the basic automation offered by Salesforce Marketing Growth, this package equates to HubSpot Marketing Starter, but at around $1000 more expensive.
Sales CRM
Users will find HubSpot Sales features within the free CRM slightly more limited in scope than the HubSpot Marketing tools.
Other than unlimited email scheduling, unlimited email tracking and contact logging, limited features include 5 saved email templates, a stream of up to 200 email notifications, 15 minutes per user per month, VOIP calling, 5 canned snippets, and 5 documents per account.
Like HubSpot, Salesforce comes with built-in contact lead and opportunity management tools.
Different pricing and feature levels mean that even SMBs can use the Salesforce Sales Cloud Lightning Essentials plan to take advantage of customisable lead flows, contact and account management, email and app integrations and other helpful features.
With Salesforce, you can choose from several pricing tiers and buy additional add-ons to expand the capabilities of your CRM.
The number of available integrations for HubSpot's CRM has steadily grown over the years.
You can now access over 500 powerful integrations, with several new partners joining each month. HubSpot CRM includes tools for lead management, data transfer apps, eCommerce integrations and more.
A recent acquisition of Piesync, allows easy integration of HubSpot with many new platforms from CRMs, to email marketing platforms and services platforms. An extensive HubSpot API allows developers to build multiple integrations.
Salesforce has hundreds of app integrations and built-in features that work together nearly seamlessly to extend the basic CRM capabilities of the tool. Some of these integrations plug right into the tools, but for others, you can use Salesforce as custom API connections or a full integration hub through Mulesoft.
Beyond the integrations offered by these two vendors, you can also integrate them with each other. HubSpot's CRM is good, but sales and marketing tools are their strong suit.
Likewise, Salesforce offers an industry-leading CRM but using the software for sales and marketing can get expensive for small and medium-sized businesses.
The integration Salesforce offers for HubSpot, and vice versa gives users more freedom to pick and choose the tools they want to use.
We have multiple clients using the class-leading CRM features of Salesforce, integrated into the class-leading features of the HubSpot marketing platform. With a native plug-and-play integration between HubSpot and Salesforce, this integration is as easy as a few clicks to set up and use.
Verdict
Salesforce and Hubspot are two titans in the CRM industry. As you can see above, the features that they offer are extensive and very similar. When it comes to user-friendliness and cost-effectiveness, Hubspot is the clear winner.
Salesforce on the other hand, comes into its own with customisation, analytics and advanced features. On top of that, they are also the most popular CRM providers, leading with a 19.6% market share.
So, in the end, you can't go wrong with either of these CRMs. It all comes down to what your business needs and preferences are.
Final thoughts
HubSpot and Salesforce are two very powerful CRM vendors. They both offer fantastic options for any size of company in any industry. The choice of which one to choose or a combination of the two depends on your unique requirements.
Feel free to reach out to us if you need help making this choice, we are always available to offer free cursory advice.
Transforming Business Through Marketing, Sales and Service Technology