Chances are you came across HubSpot when googling for help on a digital marketing issue of sorts, and you landed up on their blog. The HubSpot blog is second to none as a practical guide for digital marketing. Sure, there are some great specialist blogs out there like MOZ for SEO or Social Media Examiner for social media, but nothing comes close to the breadth of help and knowledge offered by HubSpot. True to their product's promise, their content leads you down a path to arrive at a sign-up or pricing page for HubSpot Marketing, their flagship product. In HubSpot language, we call this nurturing…
The Cost!
You are chomping at the bit to get going and then you spot the price point. It stops you dead in your tracks. Typically, HubSpot wants to charge you $800/month for a Professional licence, and unfortunately the less expensive Starter ($50/month) and Basic ($200/month) packages don't have what you need. Furthermore, if you also have a few thousand contacts in your database, they want to charge you $50/month per 1000 contacts! And get this - the final kicker(s) - you have no choice but to contract with HubSpot for 12 months, and pay once-off onboarding fee (Basic onboarding $600 / Professional onboarding $3,000). With these steep costs and a 12-month contract with no out, is HubSpot really worth it?
Disclaimer: HubSpot lit up our own digital marketing
It's important to state that MO Agency is a HubSpot partner. To this effect, we utilise HubSpot and a HubSpot inbound marketing methodology for our own digital marketing; and we manage a number of our client's digital marketing campaigns with HubSpot. We are advocates of the product and our results are always better if we have the opportunity to use HubSpot.
Take a look at our traffic since signing up with HubSpot in November 2016. As of the 24th of January 2018 while I write this blog, we've captured 350 new contacts in January, of which most are marketing managers and business executives, our primary target personas.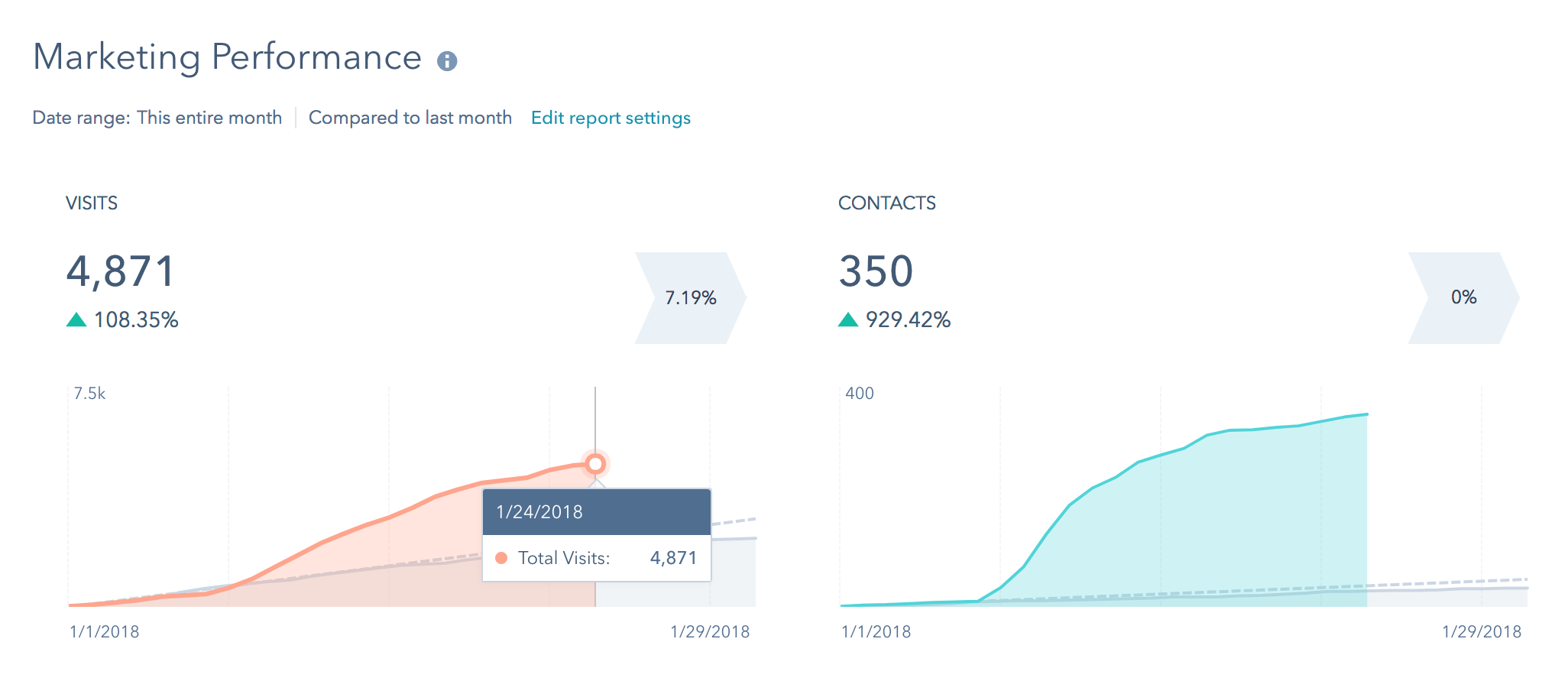 HubSpot Basic and CRM are designed to funnel you into HubSpot Professional
It's also worth noting that the HubSpot product set is a funnel. HubSpot wants you to purchase a Professional ($800/month) or Enterprise ($2400/month) licence. The starter licence isn't really going to move the needle on your digital marketing. The Basic licence will give you the CRM, social, content, SEO management, and limited contacts.
The next step up is HubSpot Professional, which will give you marketing automation. This is where nurturing your community of clients and prospects will truly come into play. Automation is only really necessary when your database is larger than +/- 500 contacts. Below that threshold, you can easily nurture the contacts manually and with a smile on your face save $600 p/month, and start with HubSpot Basic.
Minimum commitments for a company to take on HubSpot
HubSpot is worth the cost if you or your team/freelancers/agency can at a minimum commit to:

Regular content production (minimum two pieces per week.)

Social media content production and management on a weekly basis.

Some paid promotion on social media channels.


Complete and maintain the following HubSpot courses: Inbound Marketing (6 hours) & HubSpot

Marketing Software (20 hours)

You have a website with a blog, or are willing to set up a new blog on HubSpot.

A team member or an external freelancer/agency that can write regular and relevant content for your industry. We recommend no less than 2-3 pieces of content per month.

You have basic knowledge of SEO, can apply basic SEO learnings to all new content.


You can commit to regular once-a-month performance reviews of traffic, quality of contacts, and content engagement.
Final Disclaimer!
HubSpot is not worth the cost, if you can't commit to the above. Yes, there are exceptions, but in general, all these points ring true most of the time. Far too often, we come across clients who've already had HubSpot for 6 - 9 months and are in the '12th hour' looking for help to get the platform yielding results. This is a massive waste of money.
Often, 3 - 6 months is not enough time for even the best of HubSpot partners to drive the required results to get budget for the next 12 months of HubSpot licencing. Rather, spend the money on paid advertising or some other digital channel. Choose HubSpot wisely. Make sure you can commit to the work required.
And if you need a HubSpot Partner, give us a shout ;).
HubSpot Package Summary
Basic:
Onboarding once-off $600
$200/month over 12 months
100 contacts included
$100/month for each additional 1,000 contacts

Key features include a blog and landing pages.
You get most of the HubSpot modules, except from the automation tools.
Traffic tracking is limited to 3000 visits.

Professional:
Onboarding once-off $3000
$800/month over 12 months
1,000 contacts included
$50/month for each additional 1,000 contacts
Professional doesn't have site traffic limits, and gives you amazing email marketing automation tools.
Enterprise:
Onboarding once-off $5000
$2400/month over 12 months
10,000 contacts included
$10/month for each additional 1,000 contacts
Enterprise gives you stellar reporting functionality and A/B testing on all your pages.