Marketing automation creates a user information journey to fill the gap between initial enquiry and sales team efforts
Market research shows that 30-50% of users are not ready to buy when they first enquire about your business, but about three quarters of these leads will potentially become sales ready within 12 to 18 months.
Lead nurturing via automated email journeys allows a brand to stay top-of-mind throughout an entire sales cycle, with very little legwork involved.
Salespeople are quick to become disinterested, whereas marketing automation technology will keep nurturing irrespective of the length of time between lead and close.
Of all the communication channels available, 72% of consumers prefer companies to interact with them via email
The best approach for businesses is to use a combination of free resources and low-cost display marketing to build out a specific journey that a user begins when making an enquiry. This process should look something like this:
1. Find Your Tools
There's a whole stack of free tools that are available to the marketer. For the purpose of entry-level lead nurturing, Gravity Forms for your website is a great free tool. Tools like HubSpot Marketing Starter/Professional or Mailchimp for your email automation and the next step. These two services also have a variety of available add-ons that connect them to one another seamlessly and allow for users to be added to temporary mailing lists when they submit an enquiry. They both have free options.
2. Define Your Journey
This is where you map out different needs that a user has when filling in a form. A user who is enquiring for a new service requires a different response tone than a user logging a support ticket, or signing up for a newsletter. Automated response journeys should be built for each possible intent and need.
Commonly these journeys will follow the buyer's journey for your company. Below is a generic buyer's journey popularised by our favourite provider of marketing automation software - HubSpot.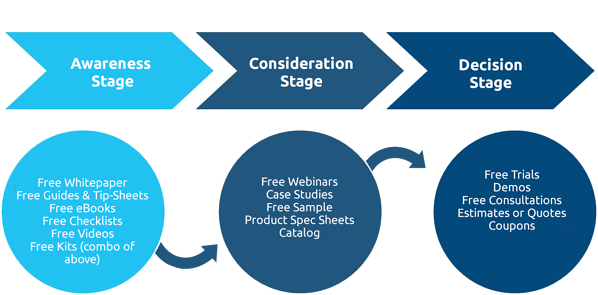 3. Add Users to Display Marketing Lists
Depending on your region, you'll have to get your POPI or GDPR compliance sorted for this one. A great way to maintain awareness with a user is to add them to a remarketing list when they make an enquiry or view a product.
Google Ads provides great resources to dynamically show ads to users based on specific offerings that they were looking at by using remarketing. This will keep your company top-of-mind throughout the decision-making process.
4. Welcome / Thank Your User
This is the first leg of your journey. After an enquiry on your site it is really important to instantly acknowledge that the user enquiry was received. A nice touch with this automated email is to indicate the maximum amount of time a user will need to wait for a response. If the user has signed up for a newsletter, send a thank-you message with links to interesting past blog posts and content.
Both HubSpot and Mailchimp offer a free (but branded way to do this). Pay a small monthly subscription and the branding can be removed. HubSpot Marketing Starter will do this for $50 p/m
5. Provide Goodies
Your welcome and thank-you messages are a great opportunity to provide resources for or gifts to your user. Whether it be an informative PDF or a small voucher for your online shop, this adds a great touch of professionalism to your brand.
6. Personalise, Ask for More
Using Mailchimp and HubSpot, you can dynamically schedule your email journeys. A couple of hours after your welcome message, schedule a message to ask the user more detailed questions about their requirements. Automating this gives the sales team a head start on their approach. This email should be personalised and set up as if it's from your Sales Director or CEO personally.
7. Book a Meeting
HubSpot has the ability to provide a link to website visitors which links into salespeople or key company contact's Outlook or Gmail calendars. This makes it really easy for website visitors to book sessions with company contacts and put prospects into your email list to nurture further.
8. Follow Up
Leads fall through the cracks, sales go cold, and users have all sorts of experiences. Follow up (and close off) your user journey with a service feedback email after a week or two. Alternatively, if the sale has gone cold, this is your final opportunity to find out if the user is still interested, and potentially make a special offer for them.
Marketing automation makes an easy to set up and low-maintenance way to nurture leads down the sales funnel before a salesperson takes over.
Using these eight marketing automation tactics will streamline lead nurturing, prevent lead neglect and bring credibility to your business, all while keeping your company top-of-mind.