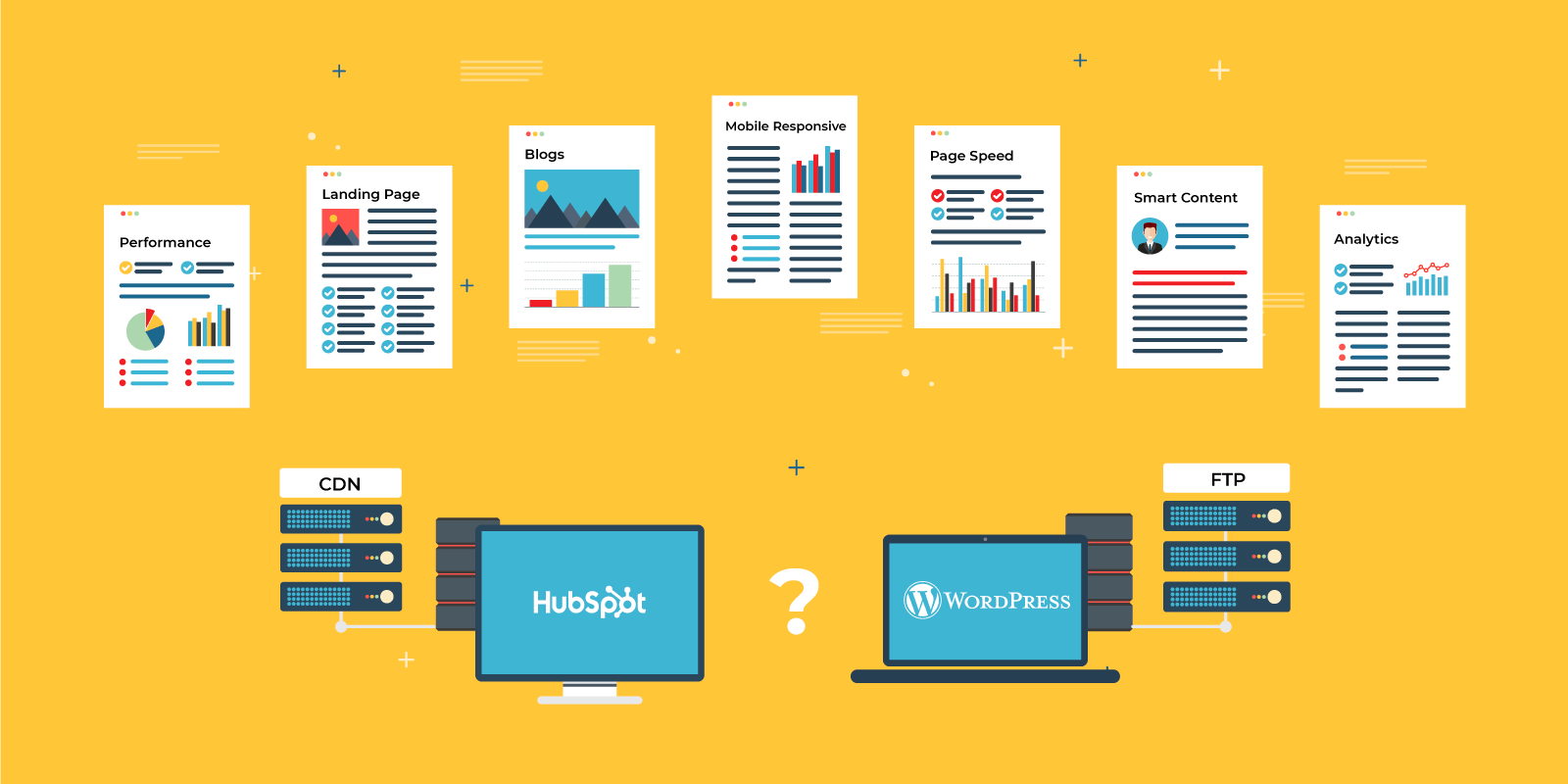 HubSpot
Pros and Cons of Migrating from WordPress to HubSpot CMS
Moving your website to a different content management system is quite an investment, especially if your website forms the backbone of your business.
Should you be switching to HubSpot CMS?
Here are the pros and cons of HubSpot CMS:
Pros:
Built-in features
Integrated marketing
Bulletproof security
Smart content
Responsive by default
In-depth analytics
HubSpot CRM connection
Cons:
Paid for service
Specialised developers
Limited plugin & theme ecosystem
No native e-Commerce


Below, I'll take you through all the details you need to know about migrating to HubSpot CMS.
Pros of HubSpot CMS
Built-in features
You will be able to say goodbye to pesky WordPress plugins and the constant updates.
Welcome a new era of optimised and native features and tools. Inbuilt A/B testing, smart content, integrated CRM, marketing and sales tools and custom reporting.
This and so much more come out of the box with HubSpot CMS.
Integrated marketing
CMS Hub has many marketing features available that are interconnected with the landing pages, forms, popups, SEO and more on your website.
To do this with WordPress you'd need to add the following plugins: Yoast SEO (paid), Gravity Forms or Contact form 7 for forms, a pop-up plugin and ask a developer to develop a landing page.
HubSpot CMS Hub has all of this out of the box. No integration and setup are necessary.
Bulletproof security
WordPress is vulnerable to attacks — we've seen countless WordPress sites being hacked as they are under constant attack. The slightest slip on a required update and hacks will take over your website and send thousands of emails or steal all your form submission contacts.
HubSpot takes security seriously. With HubSpot, you get a fast and secure service without any setup. Because of HubSpot's CDN (Content Delivery Network) that distributes your site worldwide and encrypts it with an SSL (Secure Sockets Layer) certificate, it is bulletproof.
With HubSpot CMS, you can rest easy knowing you'll never get hacked like open-source CMS's. Oh yeah, and you don't need to pay for web hosting. It is included in the cost of CMS Hub.
Smart content
Smart content is one of the best features of HubSpot's CMS. This feature allows you to customise content and calls to action on your website.
Let's say your pricing page needs to show the correct currency. No problem. Based on a visitor's IP address you can present them with the right currency for their region.
You can see this in action on our pricing page - Click here to view.
Personalising your visitors' user experience leads to more conversions. Most of your competitors provide a one-size-fits-all website experience. It's so easy to stand out with personalised content.
Responsive by default
Building your website with HubSpot templates using the drag-and-drop style Manager tool is responsive by default. This makes it incredibly easy to customise any website to your liking.
You can also have a developer build your website within HubSpot CMS and include custom templates that your marketing and sales teams can edit without any code.
In-depth analytics
HubSpot CMS gathers a massive amount of data on your website and customer engagements. This all-in-one system allows you to pull reports on every page, customer, and interaction with ease.
You never have to worry that your tracking codes might not be working. Analytics are baked into CMS Hub by default.
Nothing will fall through the cracks because there are none. Everything you need to know about your website and your customer's engagement is tracked, organised, and presented in custom dashboards and reports while integrated with your CRM.
HubSpot CRM connection
CMS includes and is directly connected to HubSpot CRM. Giving you full access to all the powerful tools provided by a CRM. With HubSpot CRM your site will be able to capture high quality leads through integrated lead capture forms, captivating landing pages and conversational bots.
Organise your leads with custom list segmentation and reach out to your leads with integrated email marketing tools and ads management. A truly all in one platform.


Cons of HubSpot CMS
Paid for service
CMS Hub is a paid-for service. It has a monthly subscription. $25 - $900 p/m! WordPress is open source and free.
Remember, WordPress is not as free as it seems. Plugins can cost money, advanced features you need are generally paid. And they need to be kept up to date every week.
Yes HubSpot CMS is paid, but you are getting all the advanced tools and features without the headache — ultimately, it's more value for money.
Specialised developers
The popularity of HubSpot has certainly attracted many developers to hone their skills on the platform rather than other CMS options.
That being said, most developers are not aware of the simplicity of working in HubSpot CMS. Those that are, don't like it because it means regular website update work dries up once the website is launched. The company marketing team can do it all themselves!
There are more developers familiar with WordPress than HubSpot.
Limited plugin & theme ecosystem
The HubSpot community is growing but it is not yet as widespread as the likes of WordPress.
When moving to HubSpot you will probably need to develop a custom theme as there are only a few good template options available.
HubSpot definitely has fewer apps (plugins) than WordPress, but the ones that are there are very stable and well developed.
No native e-Commerce
HubSpot CMS does not currently have any e-Commerce capabilities. However, you can integrate your Shopify within HubSpot pages.
This process is pretty seamless and can be styled to match your site. You are not limited to Shopify, though other systems will have to be integrated through custom code.


HubSpot CMS pricing & features
HubSpot CMS has three tiers available to cater for any size business and is easily scalable as you grow. Let's see what each package has to offer and which one is right for you.
Starter:
Starting out, the Starter package is feature-rich with all the tools you need to launch a beautiful, stable and advanced website - No matter your skill level. Starter is ideal for small to medium-size businesses that need a powerful but easy to use lead generating website.
Get started for just €23 per month.

Included:
Global CDN
Standard SSL certificate
15 website pages
Landing pages
Drag & drop page builder
Custom domains
Mobile optimisation
Forms
And many more
Stand out value-added features:
All features of HubSpot CRM
Email marketing tools
Ads management
Video hosting
In-page SEO recommendations
Professional:
The next plan up gives you everything included in Starter without the limits. Professional makes your smart site even smarter with an array of analysis, SEO and personalisation tools to improve and expand your website reach.
You can get professional for €368 per month.
Included:
Smart content & reporting
Traffic analysis
Password-protected pages
Dynamic content with HubDB
Google Search Console integration
And many more
Stand out value-added features:
Contact create attribution reporting
A/B testing
Calls to action
Content strategy
Enterprise:
Big businesses need the big tools. Enterprise includes everything in Professional with the addition of digital experience tools and extra features to help you manage your growing team and brand.
You can level up your business to Enterprise for €1,104 per month.
Included:
Web apps (powered by serverless functions) Memberships
Custom objects
Reverse proxy support
Adaptive testing
Additional root domains
Stand out value-added features:
Content partitioning
User roles
Custom CDN Configuration Site performance monitoring Activity logging
Code alerts
Multi-domain traffic reporting


Final thoughts
HubSpot CMS is a great all-rounder content management system with excellent stand out features that give your website and marketing team an edge in the online space. If you are looking for an easy to use while feature-rich CMS, HubSpot is the way to go. Give us a shout if you have any questions.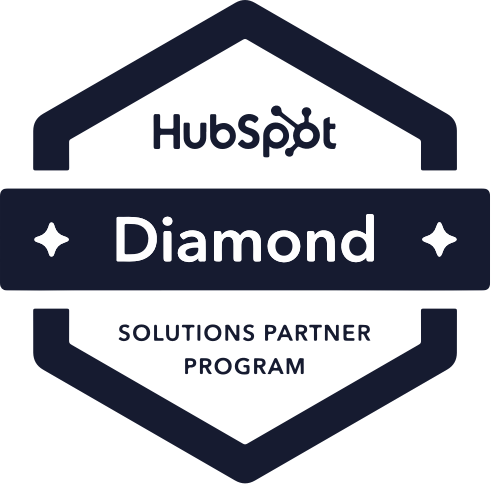 MO Agency supports visionary leaders to succeed with HubSpot