How do you choose the perfect HubSpot partner agency in the UK?
Summary
HubSpot is one of the leading CRM systems that can revolutionise your business.
However, while HubSpot is a user-friendly platform, it can still be challenging for some businesses to get started.
That's where a HubSpot partner comes in. A HubSpot partner is a certified agency or consultant that has extensive experience with the platform and can provide guidance and support to help businesses make the most of HubSpot's features.
Here are the 12 best HubSpot agencies in the UK:
MO Agency
Six and Flow
Bright Bull
Huble Digital
6Minded
Faben
Voodoo Marketing
Wave Marketing
Mission Drive
Method
Pixel Lab
Struto
Let's dive in and find out more about the top HubSpot partners in the UK.
How to find the right HubSpot partner in the UK
When it comes to finding the right HubSpot partner agency in the UK, it can be overwhelming to sift through the many options available.
However, there are some key factors to consider that can help you narrow down your options and find the right partner for your business.
Define Your Goals and Needs: Before starting your search for a HubSpot partner, take the time to define your goals and needs.

This will help you identify the types of services and expertise you require, as well as any specific features or functionality you need from the HubSpot platform.


Research Potential Partners: Once you have a clear idea of your goals and needs, start researching potential HubSpot partner agencies.

Look for agencies that specialise in your industry or have experience working with businesses of a similar size or scope.

You can also check out their websites and social media profiles to learn more about their services, approach, and client portfolio.


Check for Certifications: A key factor to look for in a HubSpot partner agency is their certifications.

HubSpot offers a range of certifications for partners, including inbound marketing, sales, and service, as well as specialised certifications for specific HubSpot tools and features.

Be sure to check that any potential partners have the relevant certifications for the services you require.


Read Client Reviews and Testimonials: One of the best ways to gauge the quality of a HubSpot partner agency is to read client reviews and testimonials.

Look for agencies with a track record of success and satisfied clients. You can also ask potential partners for references or case studies that demonstrate their expertise and results.


Schedule a Consultation: Once you've narrowed down your list of potential HubSpot partner agencies, schedule a consultation with each one to discuss your goals and needs.

This will give you a chance to assess their expertise, approach, and communication style, as well as get a sense of whether they would be a good fit for your business.
By considering these key factors, you can find a HubSpot partner agency in the UK that can help you achieve your sales and marketing goals and maximise the benefits of the HubSpot platform.
Top 12 HubSpot partners in the UK
Below, we'll look at the 12 best HubSpot partner agencies in the UK. These agencies have proven themselves to be leaders in the field of inbound marketing and have a wealth of experience in implementing successful HubSpot strategies for businesses of all sizes.
Whether you are looking to increase your website traffic, generate more leads, or streamline your sales and marketing processes, these HubSpot partners can help you achieve your goals.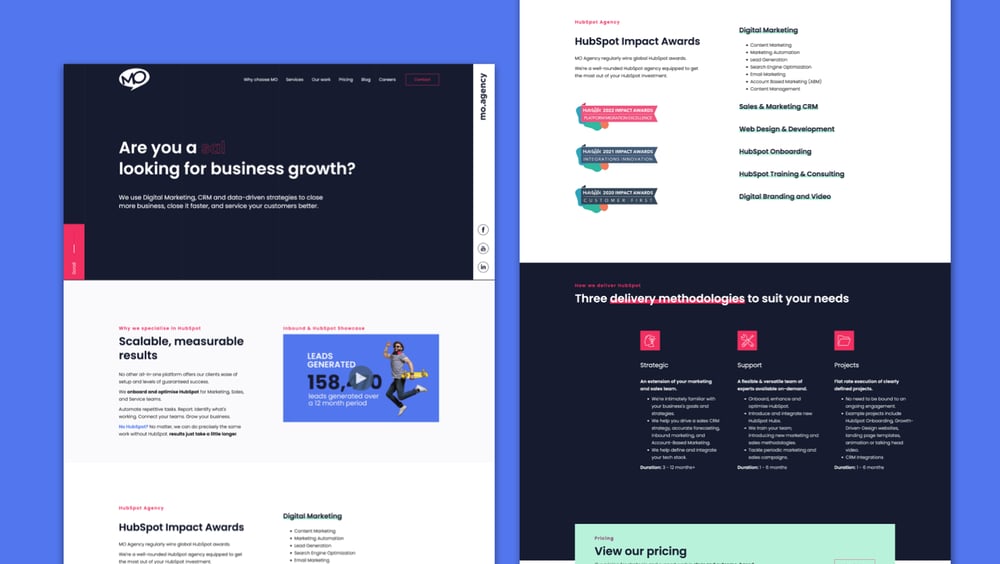 1. MO Agency
At MO Agency, we have achieved Diamond HubSpot Partner status, and our team has got a ton of HubSpot certifications under their belt.
As a HubSpot agency with 30 HubSpot trained specialists, we take pride in our team's expertise in utilising HubSpot's features to optimise business processes.
With staffed offices in Johannesburg & Cape Town, South Africa and London, UK, we can serve clients in different regions with ease.
Our agency is recognised by HubSpot as an onboarding specialist, which speaks to our ability to help clients successfully integrate HubSpot into their operations.
We leverage inbound marketing strategies, marketing software, HubSpot CRM, and system integrations to grow businesses, ensuring our clients get the most out of their investment in HubSpot.
Our expertise in complex data integrations has earned us the trust of HubSpot, who calls on us to integrate and migrate data for clients with intricate data structures.
With our team's extensive experience and knowledge, we can help clients overcome even the most complex data challenges, providing them with a seamless transition to HubSpot.
We've won three impressive HubSpot awards so far:
HubSpot 2020 Impact Awards: Customer First
HubSpot 2021 Impact Awards: Integrations Innovation
HubSpot 2022 Impact Awards: Platform Migration Excellence
You can see some of our latest work here.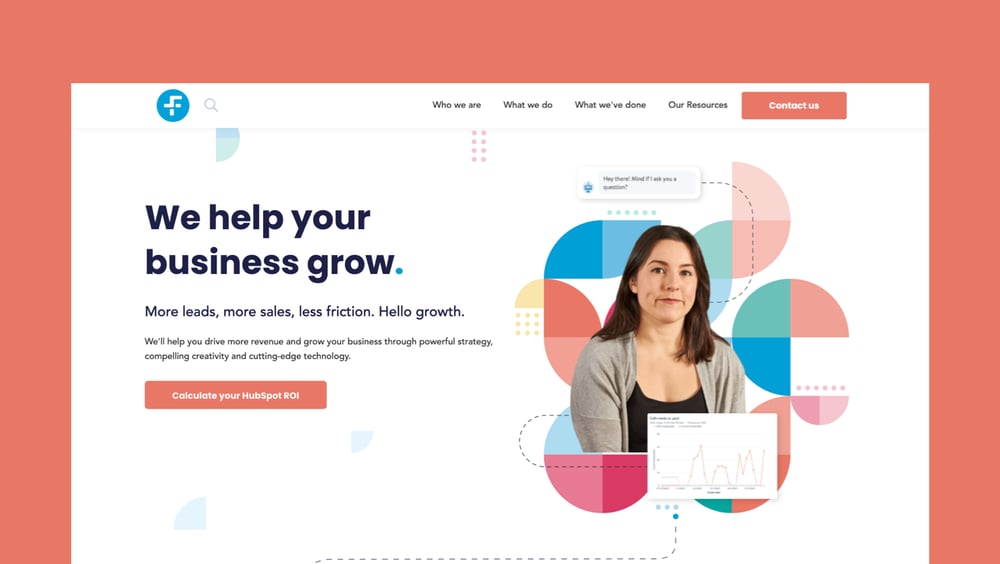 2. Six and Flow
Six and Flow, a HubSpot Elite Partner, has a strong presence across multiple locations including Manchester, Ireland, Canada, and London.
Their focus on conversational marketing through the use of chatbots has proven effective in establishing meaningful client relationships.
Along with a range of marketing services, they also offer HubSpot support and have successfully onboarded 103 businesses onto the HubSpot CRM platform with a perfect track record.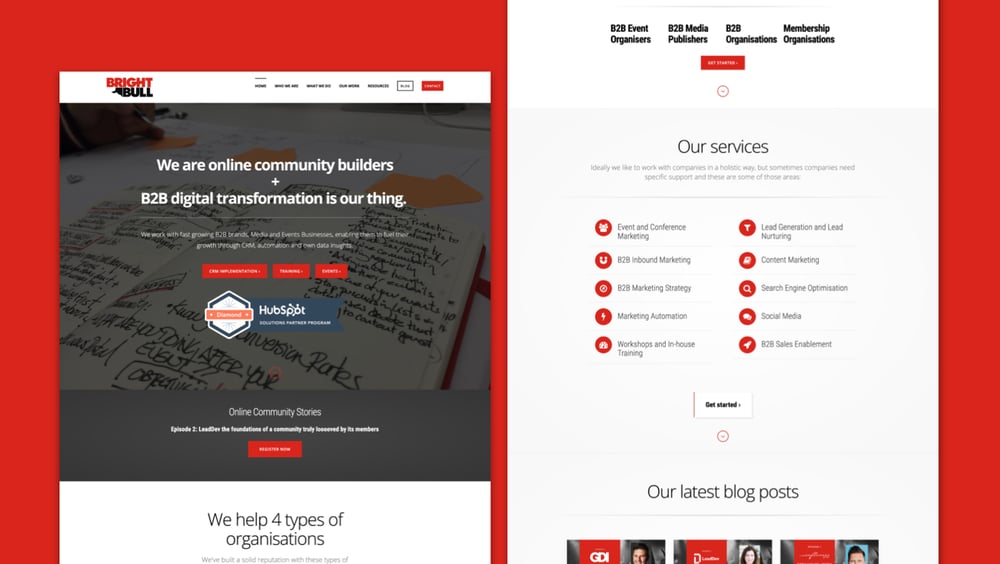 3. Bright Bull
Bright Bull is a Diamond-level HubSpot partner that specialises in assisting B2B media publishers, event organisers, B2B organisations, and membership organisations.
Based in London and Medellin, Colombia, Bright Bull prioritises community building and online brand development for their clients.
Their impressive client list includes prominent names such as the Wall Street Journal, Haymarket, Great Place to Work, and many more.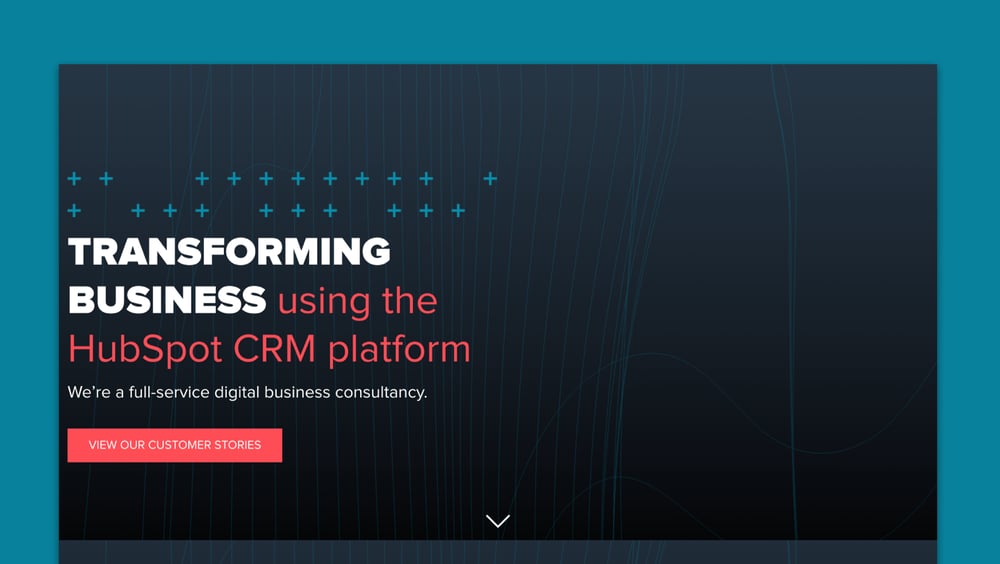 4. Huble Digital
Huble Digital is a renowned B2B agency formed from the merger of B2B Marketing Lab and MPULL, and recently, they've added Bubblebridge to their team.
This agency specialises in serving clients in real estate, SaaS, healthcare, travel, manufacturing & engineering, IT & comms, and professional services industries.
As a HubSpot Elite Solutions Partner, Huble Digital boasts over 400 successful implementations and more than 140 full-time employees worldwide.
Their clients include notable brands like Vodafone, Bupa, and Travelport, and they maintain an impressive average client NPS feedback score of 9+.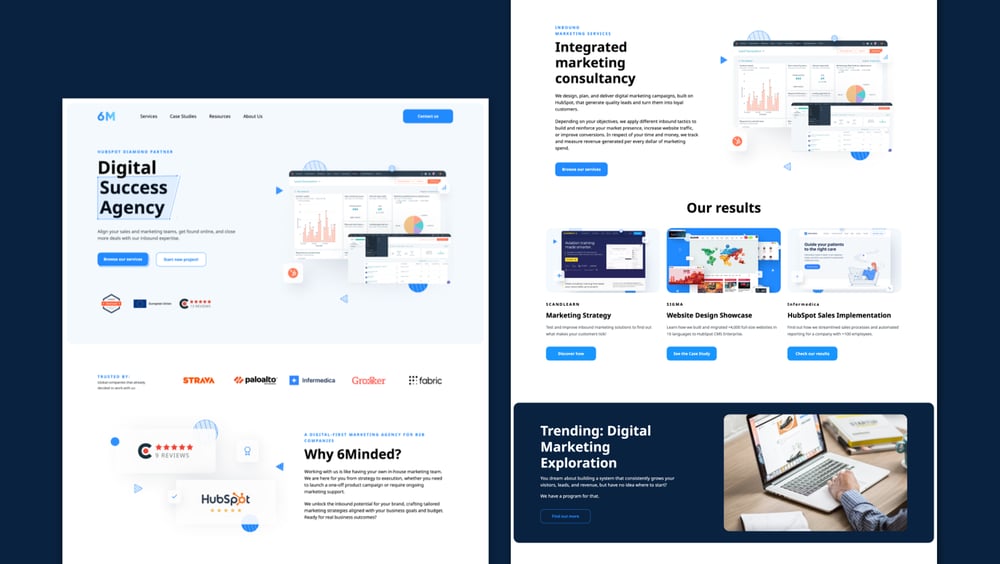 5. 6Minded
6Minded is a Diamond Solutions Partner with over 8 years of experience in HubSpot. They work remotely from their offices in London, Krakow, and Warsaw.
They describe themselves as a virtual in-house marketing team and specialise in working with growth-hungry startups and multinational corporations to help them maximise the benefits of the HubSpot platform.
Their services are available in both English and Polish and they cater to clients in the APAC, EMEA, North America, and South America regions who meet their client specifications.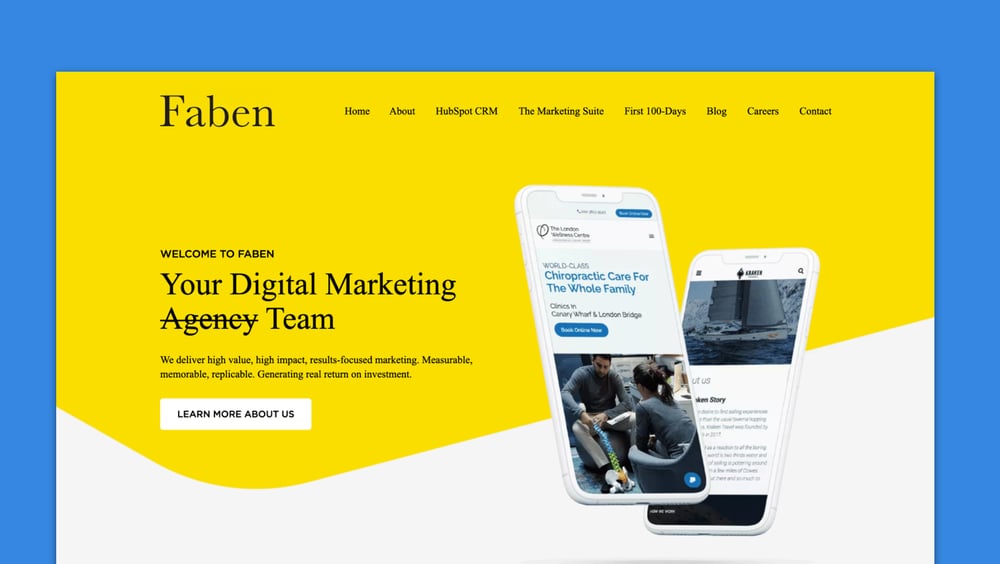 6. Faben
Faben is a HubSpot Gold Solutions Partner and a digital marketing agency that focuses on delivering high-value, high-impact, and results-driven marketing solutions.
They aim to be proactive, measurable, and memorable in their approach, and work with businesses of all sizes to help them accelerate their growth and establish a strong online presence.
One of their unique selling points is their outsourced marketing team, which they offer for the cost of one employee.
This provides businesses with access to a full team of experienced professionals who can handle various aspects of their marketing strategy, from content creation and lead generation to website design and analytics.
Faben's approach is based on data-driven decision-making and a deep understanding of their clients' goals and objectives.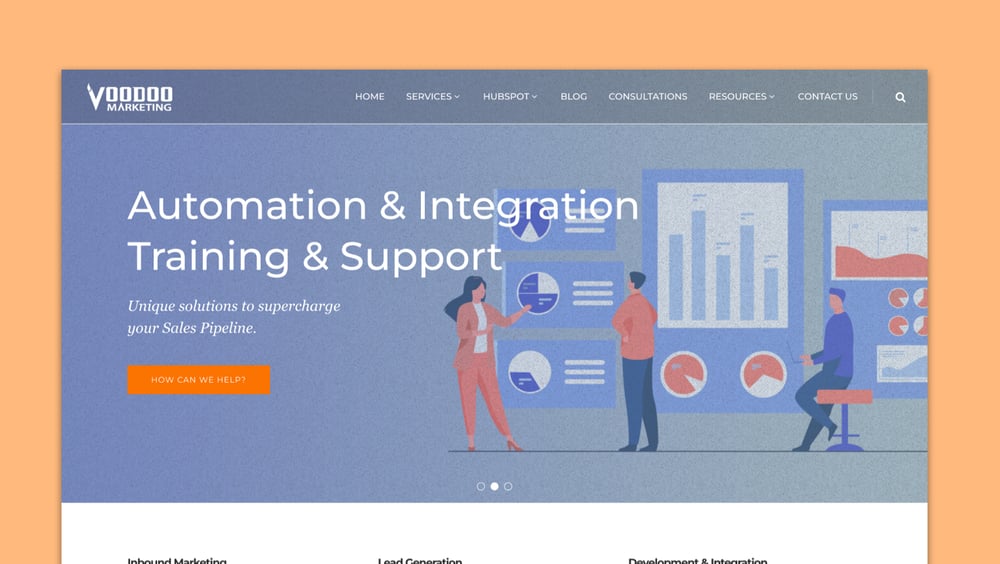 7. Voodoo Marketing
The London and Malaga-based team at Voodoo is dedicated to driving real growth for their clients.
Specialising in assisting real estate companies and marketing agencies, they help businesses succeed with their sales, marketing, and customer service procedures across the globe.
Voodoo is also a HubSpot Diamond Solutions Partner, offering a range of services such as inbound marketing, sales enablement, and CRM implementation.
Their expertise and focus on delivering results make them a go-to choice for businesses looking to expand their digital footprint and improve their bottom line.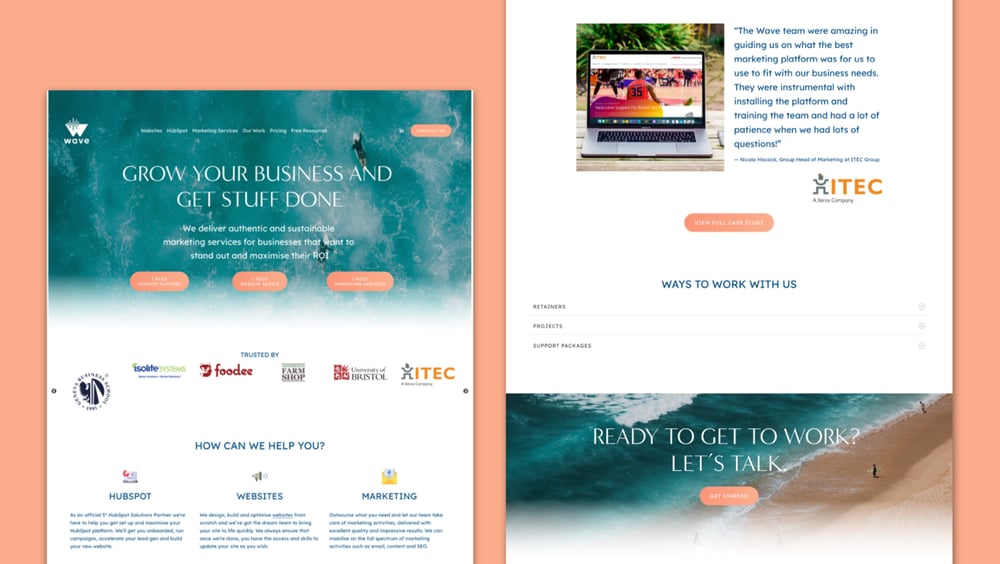 8. Wave Marketing
Wave Marketing is a Bristol-based HubSpot Solutions Partner with a track record of guiding over 50 companies to achieve new heights.
If you're comfortable running HubSpot but require occasional support during uncertain times, they have a support package that might be the perfect solution.
You can always rely on their expertise with priority access when needed.
Wave Marketing's HubSpot profile has built up numerous reviews, all of which have earned the agency a five-star rating.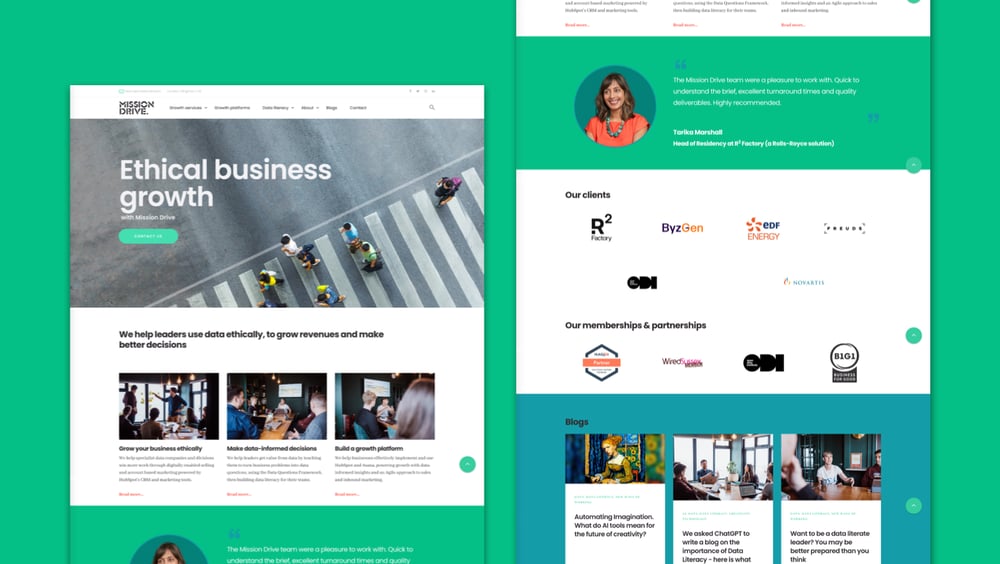 9. Mission Drive
Mission Drive is a HubSpot Solutions Partner that specialises in helping businesses build data-driven strategies to reach new audiences.
Their client list includes notable names such as Rolls-Royce, ByzGen, and Open Data Institute.
With their expertise in data-driven approaches and experience with notable clients, Mission Drive is a valuable partner for businesses looking to boost their online presence and drive growth.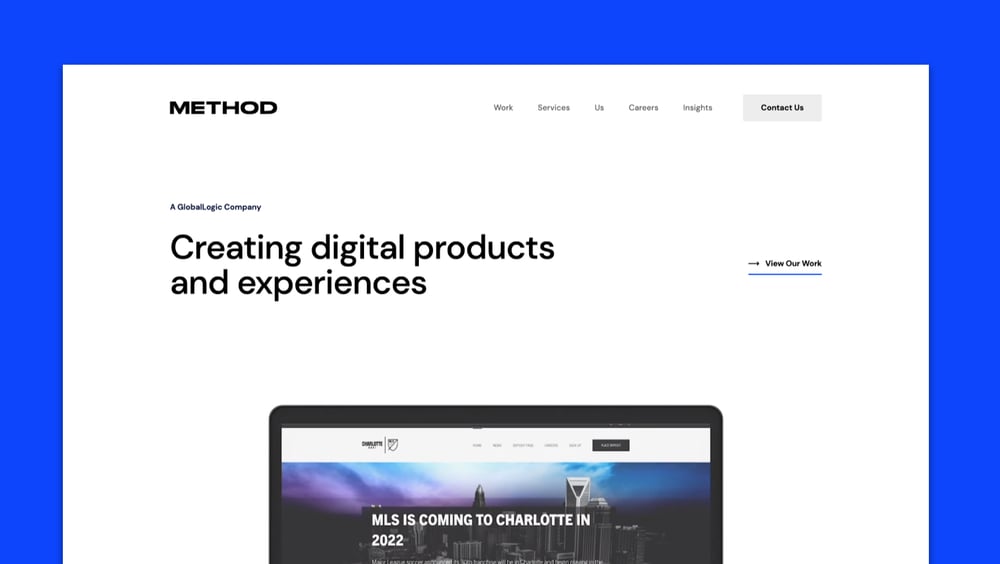 10. Method
Method is a HubSpot Gold Solutions Partner based in Worcester, UK, and they specialise in providing inbound marketing services to B2B businesses.
They take pride in their ability to work closely with clients in collaborative environments, ensuring that they have the expertise they need to succeed.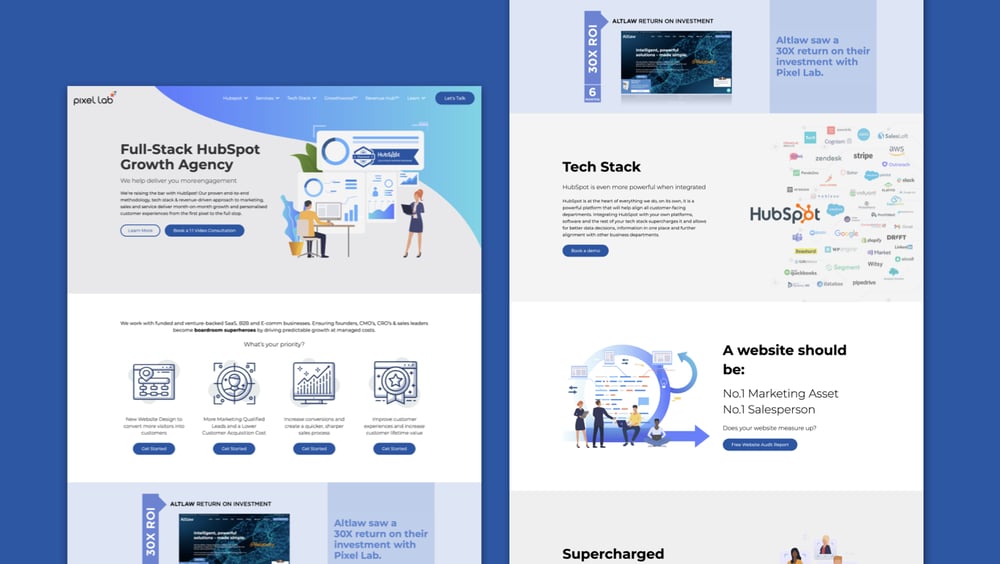 11. Pixel Lab
Pixel Lab, based in Bromley, specialises in working with funded and venture-backed SaaS, B2B, and e-commerce businesses.
They are known for their growth-driven practices and work closely with their clients to achieve business success.
The talented team at Pixel Lab is committed to helping businesses achieve their growth goals through innovative and data-driven strategies.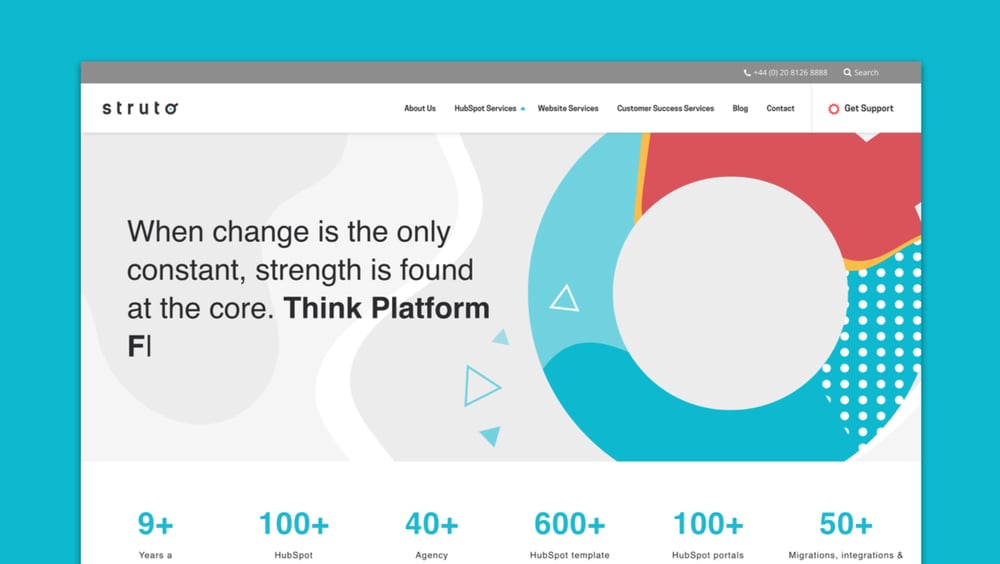 12. Struto
Struto is a seasoned HubSpot Solutions Partner with a physical presence in London, Horsham, and Cape Town.
With over 9 years of experience, they have successfully built more than 100 websites, formed over 40 agency partnerships, served 600+ HubSpot template customers, and managed 100+ HubSpot portals.
Key factors to look for in a UK HubSpot partner
When it comes to selecting a HubSpot partner agency in the UK, there are several factors to consider to ensure that you make the right choice. Here are the key factors to look for in a UK HubSpot partner:
1. Testimonials
Before you commit to a HubSpot partner, it's essential to look at their track record and see what their clients have to say about them.
Reading client testimonials and case studies will give you an idea of the agency's experience, expertise, and success rate.
2. Budgets
HubSpot partner agencies come in different shapes and sizes, and so does their pricing. It is crucial to choose a partner that offers a pricing structure that aligns with your business's budget and needs.
Some agencies may offer custom pricing packages, while others may offer more affordable fixed-fee options.
3. Range of services
HubSpot is an all-in-one CRM platform that offers a range of tools and features to help businesses streamline their sales, marketing, and customer service processes.
When choosing a HubSpot partner agency, you should look for an agency that offers a comprehensive range of services that align with your business goals and objectives.
4. HubSpot Certifications
A reputable HubSpot partner agency should have a team of certified professionals who are knowledgeable and experienced in using HubSpot's platform.
Look for an agency with HubSpot certifications that match your business needs, such as inbound marketing, sales, or service.
Final Thoughts
Choosing the right HubSpot partner agency in the UK can be a challenging task.
However, by considering key factors such as testimonials, budgets, range of services, and HubSpot certifications, businesses can narrow down their options and select a partner that aligns with their needs and goals.
It is important to find an agency that not only has a track record of success but also understands your industry and has experience working with businesses similar to yours.
Communication, transparency, and collaboration are also crucial factors that can ensure a successful partnership.
While the selection process may require time and effort, choosing the right HubSpot partner agency can help businesses unlock the full potential of the HubSpot platform and achieve their sales and marketing objectives.