In business, organisational silos refer to business divisions that operate independently and avoid sharing information. The term 'silos' also refers to businesses whose departments have siloed system applications, in which information cannot be shared because of system limitations.

Growing companies need to change, scale and integrate systems and processes regularly. With each department having its apps, spreadsheets, databases and communications, they tend to operate in silos.

The problem for these scaling companies is that silos create a reactive, misinformed and fragmented customer experience.

Enter Revenue Operations, also known as RevOps.
What is RevOps?
The RevOps function is responsible for the processes, systems and data that sales, marketing and customer success teams use every day. You need a unified, integrated system that connects teams and tools, cleans out junk customer data and automates business processes.
What does RevOps do?
RevOps brings together four key aspects of your business as one hub of information that seamlessly integrates and communicates throughout:
People
Your business is built on the people who work in it and people work best together when there are clear communication practices in place. RevOps sets these processes in motion and connects different teams who would normally work in silos.
Processes
Every department has its own set of processes, some of which cross over to other departments. This intersection is often non-existent or very basic and becomes a bottleneck in production. RevOps strengthens that cross over, providing better visibility to each department.
Data and technology
If each department is tracking their data independently, the margin for error increases. Without a centralised place for data storage, inconsistency creeps in, more mistakes are made and data will likely be lost after being spread across different apps that often don't talk to one another.
RevOps pulls all data from every department and every programme to build one central, consolidated hub of information that everyone in the business can rely on.
Customer experience
RevOps is built on the experience customers have with your business. It's about meeting the expectations of your customers and providing them with a frictionless experience throughout. At any point where your customer experience is flawed, the entire system is broken.

It's important to remember that the experience you offer your customers is about more than just providing them with access to your website or mobile app. It's about using all the resources and insights your business has to make your customers' lives easier.
Barriers to adopting a RevOps structure
Organisational culture
Most organisations have siloed departments, software, and processes. They tend to see overcoming inertia and getting buy-in from all departments as a massive challenge.
It may require starting with the major departments like sales and marketing and informing them of the benefits of their teams being interconnected and sharing data to get their buy-in.
With most CRM systems like HubSpot, the transition can be seamless. With migration, integration and onboarding, your teams can move to a fully connected RevOps CRM quickly and easily.
Siloed data
Collecting data on your customer journey, sales activities and marketing efforts is the key to a successful implementation of RevOps. Many businesses have trouble collecting this information, especially in one central hub.
Each department may be hesitant to give up the tools they are currently using or concerned they won't integrate with a new central hub like HubSpot.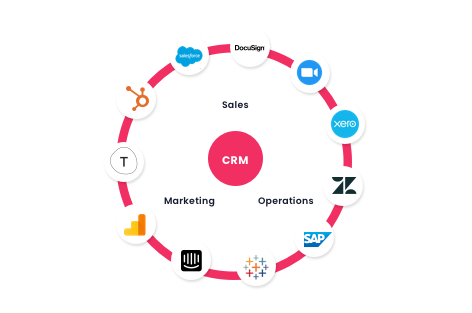 The good news is that HubSpot makes it very easy to integrate existing tools and share data between them both ways. Most CRMs have the tools and features that they may be using already built in, making it much easier to adopt.
Organisational maturity/complexity
Depending on how long a business has been running, habits would have formed and processes locked in and the thought of changing them may be worrying.
This is not something you will have to change overnight. You can simply transition your current processes over to the new system and once you are stable, begin making small changes as you go.
RevOps is not around to make things more difficult for your teams. It is about giving you and your teams clear and trustworthy data that can support and improve the processes your teams follow and implement.
Support from leadership
Getting full buy-in from management to implement RevOps may be a challenge, especially if the business has been running for a long time and legacy thinking has set in. If this is the case, MO Agency can help facilitate this important discussion with your leadership team to better understand the tangible value that RevOps will have for your business.
How to implement RevOps successfully?
1. Audit
HubSpot is an example of a system that collects, manages and reports on all three aspects of the buyer's journey and is an essential tool for any business looking to automate and effectively report on all touchpoints and activity data of their customers and leads.
2. Define and align your customer journey
By analysing your data to build a global view of your customer journey and every touchpoint, you will be able to formulate insights on where to focus your efforts. Sales representatives can then monitor that activity to assess the health of the pipeline in terms of what's working, and what's not.
3. Build and restructure
Now you know what you need to do, it's time to put that plan into action. Keeping informed on all activities within the business helps you stay proactive rather than reactive to challenges and follow an organised pipeline and customer journey.
Automating data collection and reports ensures you are always informed with less margin of error.
4. Maintain and optimise
Your business does not need to fully transition overnight. Start with small changes that can be easily replicated and progress from there. Once one aspect has been mastered, identifying what you are going to do next is much easier.
Final thoughts
Most of the barriers to adopting RevOps in businesses are based on assumptions that RevOps is complicated to implement and requires many resources to do successfully. This is not the case. We would love to take you through implementing RevOps in your business with HubSpot's Operation Hub and how it will help your business scale. Book a demo with us.