A strong digital marketing strategy needs to have a 360-degree view of the customer.
You have to think about which digital channels your target audience is using.
Where do they spend their time online?
What is the customer journey to your website?
How do you follow up and track leads once they arrive in your inbox?
How do you get feedback from sales on whether the lead was good or not?
A 360-degree view implies that you are leaving no gaps in your strategy for potential customers to fall through.
You could be emailing clients, sending them personalised content such as newsletters, scheduling social content and optimising your website's SEO to rank organically on search engine results pages.
All of these are areas of focus for your digital marketing strategy. However, if one critical element is missed you could be losing out on potential quality leads.
Eight essential elements of a successful digital strategy:
This information was collated from a number of different sources including Search Engine Journal, Social Media Today, Aberdeen, SalesForce, New Voice Media and Wheelhouse Advisors among others.
1. SEO (Search Engine Optimisation)
93% of online experiences start with an organic search via search engines, and 70% of links users click on are organic search engine results on search engine results pages (SERPs).
When you consider this, not having a presence in organic search engine results or not being on the first page of Google for a keyword or phrase makes finding your business difficult for your potential customers.
SEO helps you to gain both brand awareness and increase organic website traffic.
Your competitors and big businesses have already invested a lot of budget and time into optimising their websites for the likes of Google and are taking up top spots on SERPs. Your business also needs to be there.
SEO makes your website more visible in organic search engine results and naturally increases your website traffic.
By doing audience research and knowing the keywords and phrases your target audience uses, you can align this data to the services you offer, then you can start optimising your website content.
To do this research use free tools like Google Search Console, Google Analytics and Google Trends to see what your focus keywords are and then from there, you can determine your rankings. Track these rankings to see how you steadily improve and move up the ranks on target terms that drive valuable web traffic to your business.
If you have some budget available and we highly recommend a tool like SEOMoz or Ahrefs for your content and keyword research.
Important to note are the long-term benefits of embracing a monthly SEO strategy. For example, a well-optimised landing page will gain more and more momentum over time, as Google sees interest and engagement increase.
Additionally, a well-researched and SEO optimised blog strategy, involving back-linking and the use of pillar pages drastically improves organic traffic and conversions over time.
But be prepared to work at SEO weekly and for a few months before you see results.

For more on SEO, we recommend interacting with the digital audit linked below.
2. PPC (Pay Per Click Advertising)
Did you know that the top three paid advertising spots receive 41% of clicks in search engine results? Perhaps now is the time to get on board with PPC and mobilise it to effectively market your small business.
PPC include these type of ads:
Search advertising (circled in the image below)
Display advertising
Social media advertising
Remarketing
Google Shopping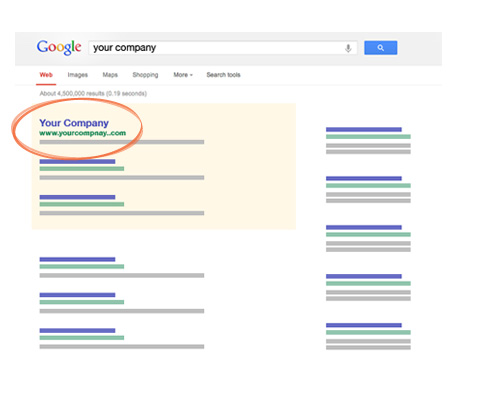 With PPC, you pay for every click your display banner or search ad receives on websites, social platforms and, of course, search engine results. The beauty of PPC is that you can easily and specifically target your audience and see results very quickly.
'Quick', however, means it is often a quick fix in comparison to SEO which takes longer to see results for businesses to gain online traction and brand awareness for their products and services.
With PPC, within a day you will have adverts appearing in search engine results for the keywords you wish to attract potential customers with.
However, once you run out of budget your ads will stop running. That is the only true downside to PPC. You are basically renting the traffic from Google. And most of us want to own.
PPC is a great way for businesses to put their best foot forward while bolstering the far more cost-effective SEO strategy for that long-term delight.
3. CRM (Customer Relationship Management)
The importance of after-sales service in any industry cannot be stressed enough. It is critical to delight your prospects in the sales process, but equally important to delight and retain your customers with an exceptional experience.
Maintaining strong customer communications should form part of your overall digital marketing strategy. Think about how you are going to continue delighting and retaining your customers so they stay contracted to your products and services for as long as possible.
The cost of client acquisition is high, so make retention a priority.
Effective retention after a strong sales process is down to two things.
An informed handover from the sales team to the client service and delivery teams.

Delivering what your client needs by knowing them really well.
To keep track of your clients you need CRM software. We recommend HubSpot CRM, but there are many CRM options to choose from.
So, make space in your digital strategy for dealing with customer communications and implementing effective customer service from end to end. This ties in directly with modern CRM platforms.
4. Outbound email campaigns
91% of consumers check their email on a daily basis according to recent research, which means that you should be including outbound email campaigns in your digital marketing strategy.
Perhaps email marketing is not as fashionable as it once was, but your business needs to take advantage of all digital marketing avenues to gain the upper hand over the competition.
Email campaigns are still an excellent way to communicate and talk to existing customers and to build trust and develop relationships with prospects. Email marketing allows you to nurture leads with customised and personalised content that speaks directly to their pain points.
This type of lead nurturing approach can be automated to happen 24/7.
While your sales and client service teams are busy, your email nurturing is proving value and keeping you top of mind.
However, be aware that bulk email can quickly become spam if your message is not tailored to your contacts. The most efficient email strategies make use of a CRM platform - enabling you to cleverly filter through all your contacts based on creation date, job title, persona and many more.
With filtered contact lists, you can send out tailored, automated emails that not only greet them by name but also serve up more relevant content based on their history of interactions with your website. Hello conversions.
5. Inbound lead nurturing
One of the biggest concerns for your business should be effectively nurturing your leads across all digital channels. A 360-degree approach to digital marketing implies that you are going to cater to the wants and needs of your prospects and clients across your digital marketing platforms.
Inbound lead nurturing involves providing leads in your contacts database with relevant, consistent and quality content to guide them further down the sales funnel so that they eventually convert and become repeat customers.
Do in-depth research on your audience and craft content (blog posts, eBooks, whitepapers, checklists, etc) that addresses customer issues at every stage of the sales funnel.
Embracing the Inbound Marketing methodology in tandem with CRM is first prize here because it guides and bolsters your marketing strategies. CRM does this by helping you resonate with the target persona, capture their information with smart landing pages & forms and nurture them with smart and automated emails.
Automated nurturing helps qualify incoming leads, empowering the sales team with higher-priority leads to focus on first - a far more efficient and data-enlightened way to convert.
If you are interested in reading more about this, marketing automation with an integrated sales and marketing approach is a great place to start.
6. Social Media
One of the easiest ways to mobilise your online presence as a small business is to take full advantage of the relevant social media platforms your target audience uses. By consistently focusing on your relevant social media platforms, you will be able to easily distribute highly targeted content to your audience.
Social media platforms like LinkedIn are powerful for generating higher-quality business and B2B leads, but can often come at a higher cost depending on how well you've set up the campaign objective (eg. Sponsored content or InMail) and targeting. But do not forget to invest time and money in other channels like Facebook, Twitter and Instagram, all of which appeal to different target markets, age groups and users. Twitter and Facebook are great tools for promoting your business with a low cost per click (CPC), and Instagram is great for promoting lifestyle brands.
7. Content and content marketing
Content is one of the most powerful tools at your disposal.
Use different types of content, test and see what works for you. Infographics, videos, tutorials, social posts, how-to guides, blog posts and eBooks are all ways to test what your audience responds to best and leads to more lead generation opportunities.
Create content that speaks to the needs and pain points of your customer.
The key to this is producing relevant and quality content, which will always attract people to your website, products, and services. Remember to produce quality, freely available content in the form of blogs and social posts that entices your prospects to download more in-depth 'gated' content requiring data capture to progress.
An example of this gated content can be seen by clicking the active CTAs we've embedded at the end of this blog.
8. Website
Keep in mind that the final destination that all your digital marketing campaigns lead to is your website. No matter if it is a landing page or a services page with a web form, you need to provide the visitor with an excellent and seamless website user experience.
Make sure that you place call-to-actions across all your highly trafficked website pages such as service pages and blog posts in order to capture leads to add to your CRM and lead nurturing process.
It's also imperative that your website content be SEO optimised from the get-go so that your brand is found organically when prospects are asking Google questions relating to the answers you provide.
As Google's machine learning has advanced, SEO has become a very interesting science that requires more attention. Interestingly, however, Google has become incredibly adept at recognising natural and valuable content.
So for the average digital marketer, all you need to do is add value to your prospects by sharing unique, information-rich content, and you will climb up the Google search engine results.
Lastly, don't forget that your website must be mobile responsive in order to scale well and be easy to navigate on an array of mobile devices. Mobile traffic as a percentage of all web traffic is on the up every year. A great website makes a good first impression with website visitors and always remember that usability trumps style when it comes to developing a website.
Final Thoughts
Once you follow through with all of the above recommendations, you can then start tying together the loose ends in your overall digital marketing strategy. If you need extra tips for improving your digital strategy, we also suggest reading this blog post on Inbound Marketing or downloading our Digital Marketing Audit Checklist & Notes. It's an excellent resource to update yourself on new best practices and industry-leading techniques.