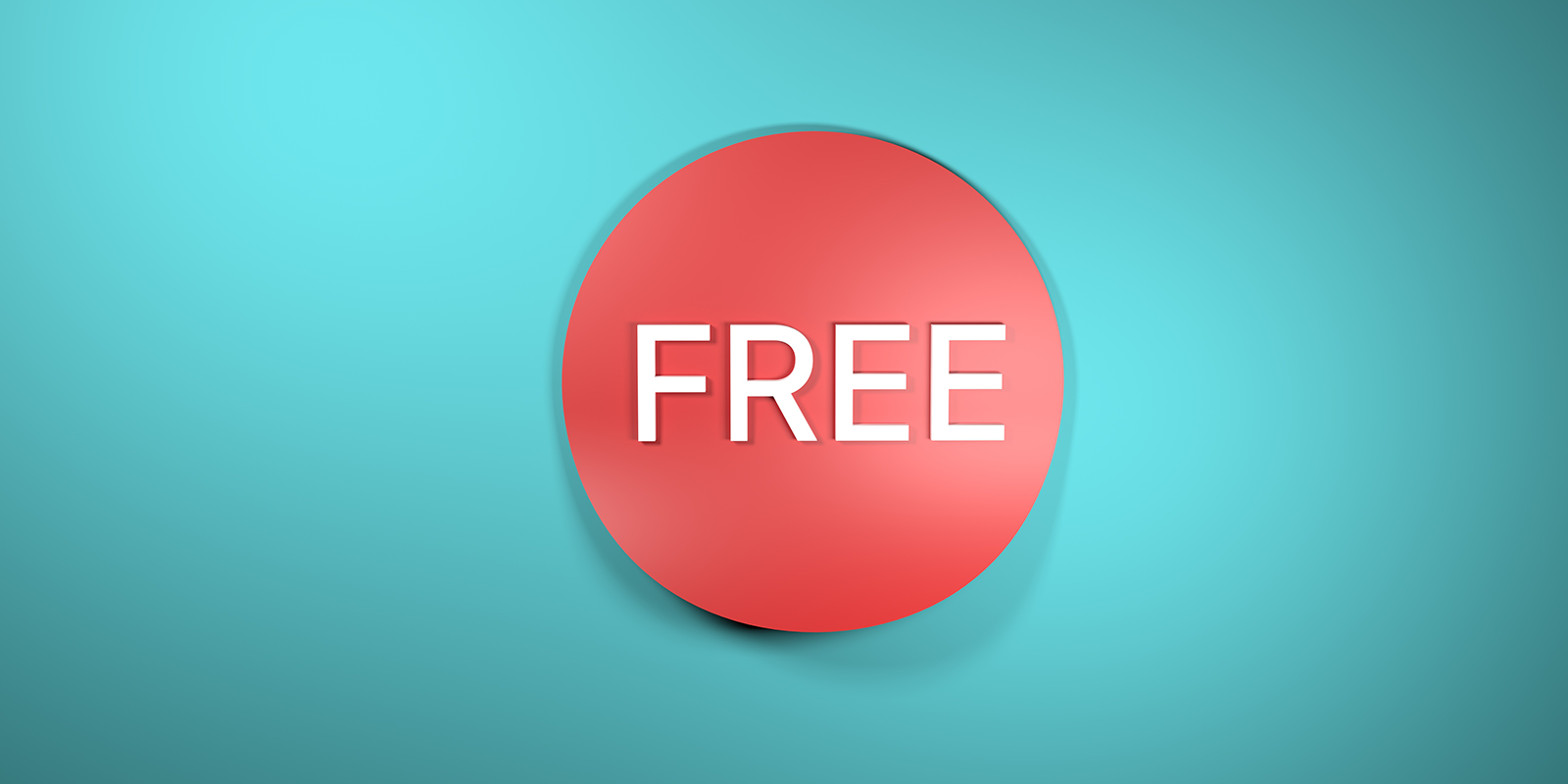 CRM
Free CRM: Is HubSpot CRM Really Free?
Seem too good to be true? Why is HubSpot CRM free when all the other CRM's on the market are paid? In this article, we'll outline three solid use cases for HubSpot Free CRM.
We'll also cover the core features to consider when considering HubSpot CRM for your business.
It really is free, but you need to understand the limitations
What if I told you that to hit your sales targets and keep all your customers happy - all you needed to do was:
Organize all your contacts, deal pipelines, and tasks
Get notified the moment a lead opens your email
Track and manage relationships with your customers and prospects
What if I told you that you could do all of this with HubSpot Free CRM? There's no need to shell out money for a paid CRM.
HubSpot's Free CRM is not a trial. You don't need to put your credit card in to start using the system. The CRM is 100% free, and you can continue to use it forever.
But there are limitations. So let's get going and help you make the right CRM decision.
What do you get with HubSpot Free CRM?
These are the most important features a salesperson or customer-facing employee will use on HubSpot Free CRM.


Powerful contact management, with exactly the same view, that a paid CRM user gets

1 deal pipeline

Log all activities in the CRM including, meetings, calls, emails, and notes
Automated meeting tracking with calendar integration (Outlook and Google calendar)
Email logging to the CRM with a checkbox (Outlook and Gmail)
Email tracking to be notified when an email is opened

1 personal meetings link

(with HubSpot branding)
Live chat for your website (with HubSpot branding)
3 reporting dashboards, but no custom reports (

10 reports per dashboard)

Quotes, but without a product library (with HubSpot branding)

10 custom properties

The list above is all you need to know, but if you want to check out the full list of features for free on the HubSpot website - click here - then on 'See all features'.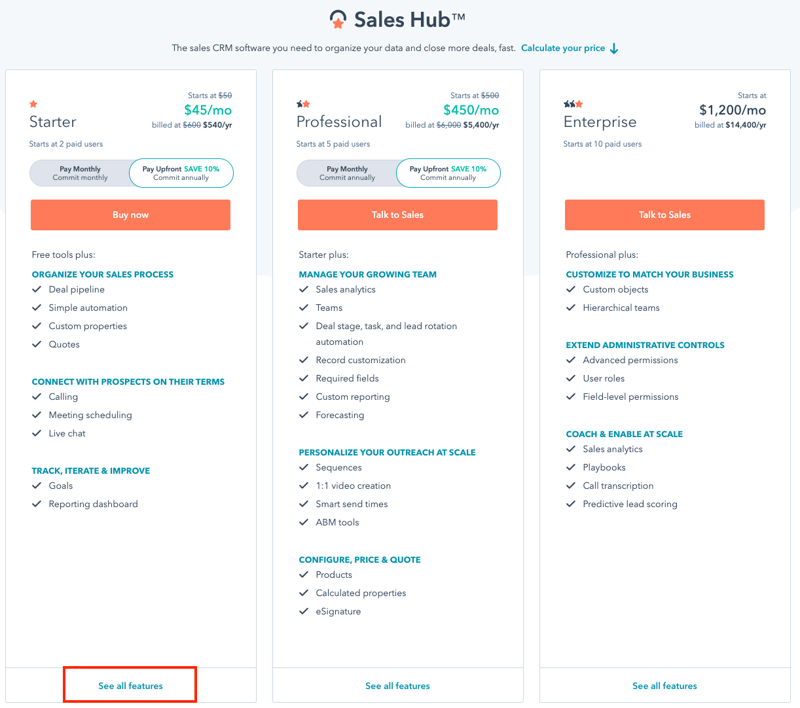 Screenshots of the most important of these features
HubSpot CRM deal pipeline
Fully functional pipeline. But remember you only have one pipeline. Upgrade to HubSpot Sales Starter or higher if you want two or more pipelines. Eg. 'Existing business' and 'New Business' pipelines.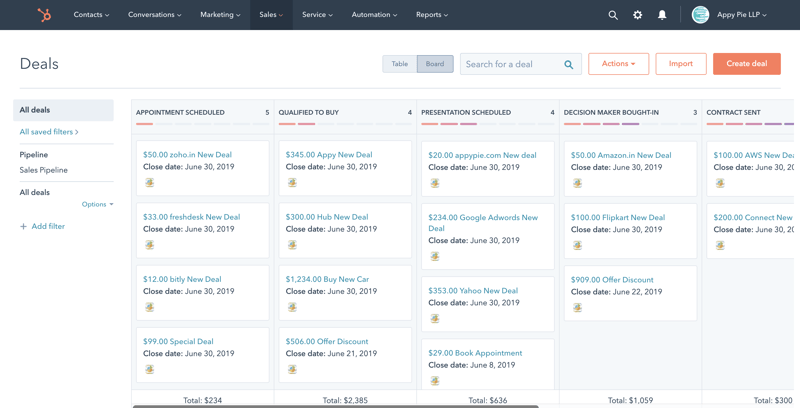 Email logging and tracking
from inside Gmail or Outlook, checking 'Log' saves the email and any responses into the CRM. Checking 'Track' notifies the sender when the email is opened.
Templates, documents, and snippets are limited to five of each with HubSpot Free CRM. Sequences require a HubSpot Sales Pro or Enterprise license.
In case you are wondering:
Templates: Saved email templates that can be selected to auto-populate an entire email.
Documents: Documents that are used frequently like product brochures or a company profile.
Snippets: Sections of content that can be inserted. Eg. payment details, a list of clients, etc.
Meetings: A personal meetings link linked to your Outlook or Google calendar.
Sequences: A series of emails that will send automatically if a client has not opened your first email. Great for outreach and prospecting.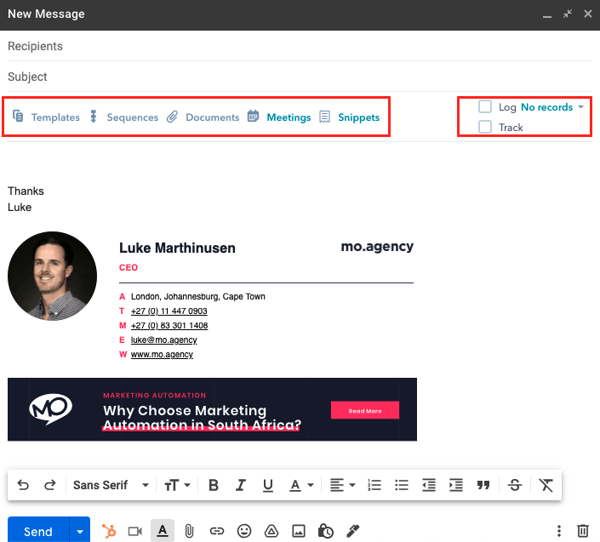 HubSpot quote template: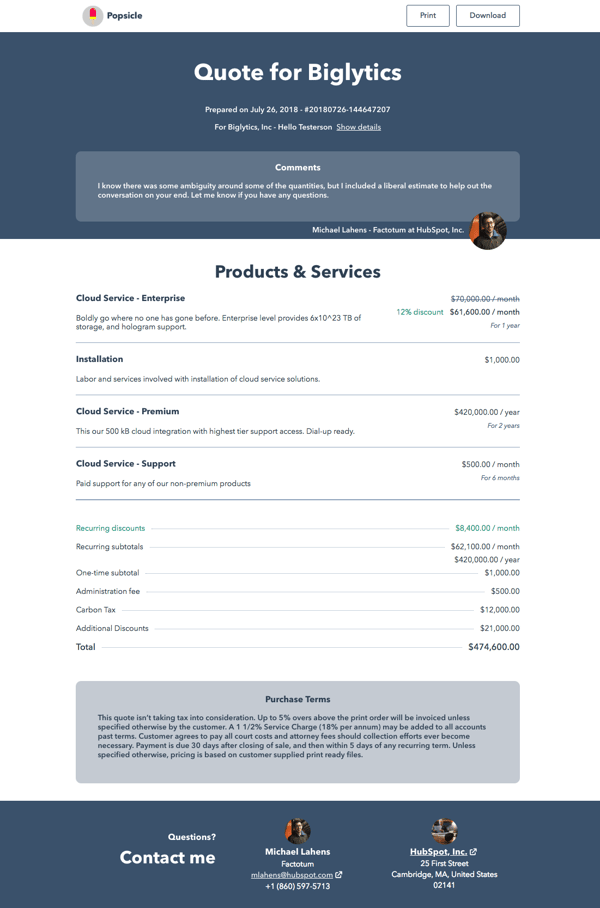 Personal meetings link:
Below is my meeting link embedded in this blog post with an embed code. Feel free to book a session with me. I'm always happy to talk shop and advise potential HubSpot users.
If you refer from this blog post, we'll do your onboarding for Sales Professional and Sales Enterprise for free! That's a saving of $500 and $3000 respectively! 🔥
It can also be styled like this. This is embedded on one of our service pages - CRM Integration.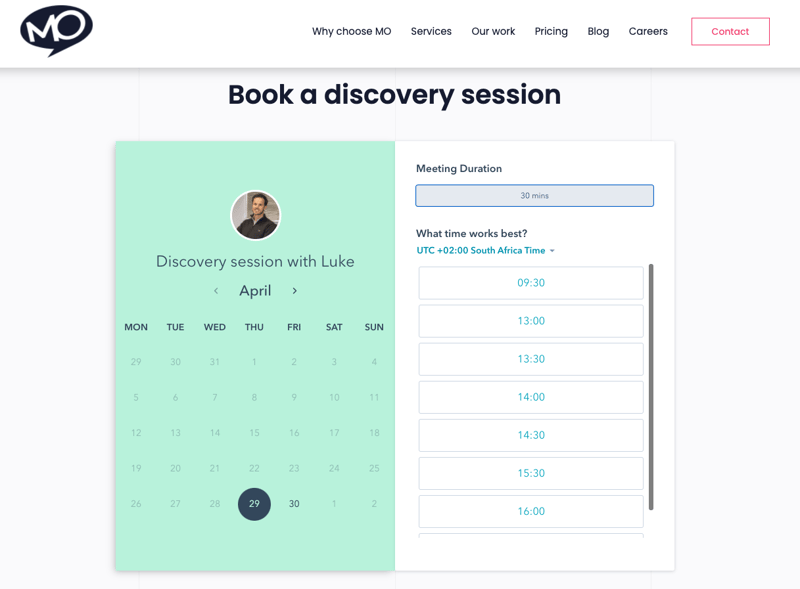 Here is another version of a personal meeting link styled differently.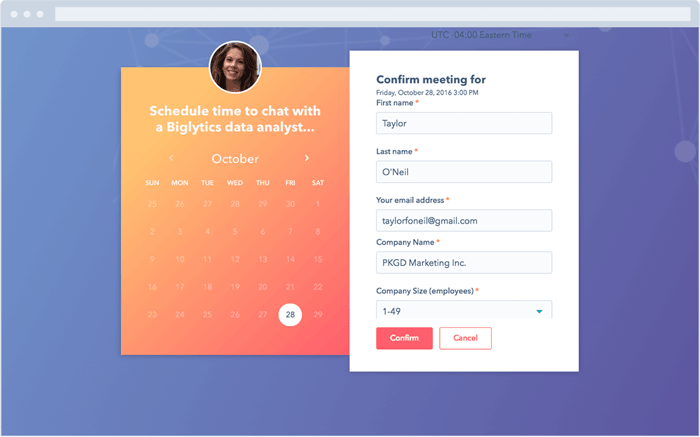 These features are all available in HubSpot Free CRM. The only caveat is that you will have HubSpot branding on the link. It is small and tasteful, but it's there. See the example of the HubSpot live chat below for how the branding looks.
Live chat in HubSpot Free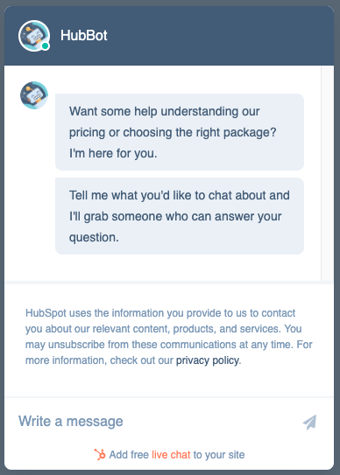 So with all that functionality why would you want to upgrade?
What do you get when you upgrade to a paid solution?
First off - a quick note - all the paid HubSpot CRM upgrades are called 'HubSpot Sales', and not 'HubSpot CRM'.
As mentioned, when you migrate to a paid solution, the HubSpot branding is removed. This is most relevant for the website live chat, meeting scheduling, and quotes.
Here's what you get as you upgrade to paid from HubSpot Free CRM.
HubSpot Sales Starter:
Starting at $50/month for 2 users, $45/month if paid annually upfront.
Everything in Free
Simple automation
Goals (Revenue only)
Conversation routing

Trigger tasks and email notifications based on deal stage only

Unlimited email open and click notifications

5 currencies
1,000 custom properties

Custom reporting: 10 dashboards, 10 reports per dashboard
HubSpot Sales Professional:
Starting at $500/month for 5 users, $450/month if paid annually upfront.
Additional users can be added one by one after the first 5 users.
Everything in Starter
Deal stage, task, and lead rotation automation
Sequences
Create teams, eg. Can use to report on a sales team's performance.
Full sales automation (Workflows)
Email Sequences
Sales forecasting
30 currencies

Custom reporting: 25 dashboards, 20 reports per dashboard

Phone and in-app support
HubSpot Sales Enterprise:
Starting at $1200/month for 10 users
Additional users can be added one by one after the first 10 users.
Everything in Professional
Custom objects
Predictive lead scoring
Quote-based workflows for automated quoting (great for software or contract renewals)
Playbooks
Goals (Multiple types)
Recurring revenue tracking
Free HubSpot CRM: Use cases
If you fall into any of the following use scenarios, then HubSpot CRM free might be a good fit for you. If you don't, take out your credit card and upgrade to HubSpot Starter, Professional or Enterprise.
Scenario 1:
You want somewhere other than Excel to safely store your contact database, including contacts and companies.
You want to segment your database, integrate your Gmail and Outlook email and calendars, and log your email conversations permanently in your CRM.
Scenario 2:
In addition to the above functionality, you want to keep track of opportunities and deals in a single pipeline, and manage your sales process by moving your deals down a sales funnel.
Scenario 3:
In addition to scenarios 2 and 3 above, you want your team to track conversations and meetings in the CRM. You want this to happen automatically and directly from their email and calendar applications. You also want to keep track of their sale activities (calls, emails, meetings, notes) and track their sales process by moving deals down the sales funnel.
All these scenarios can be managed with the free HubSpot CRM. HubSpot free CRM will run an entire sales team and company. It will do this with some very useful (and free) email tracking, reporting, templates, website pop-up forms, and website live chat.
Why is HubSpot CRM free?
HubSpot's additional products, including Marketing Hub, Sales Hub, Service Hub, and CMS Hub aren't just integrated with HubSpot CRM; the CRM is the underlying database (and foundation) that powers all of these products.
This means that when you add these products into the mix, they'll be seamlessly integrated with your CRM data and ready for super-fast deployment and success.
HubSpot presents its product set like this, with the CRM in the center: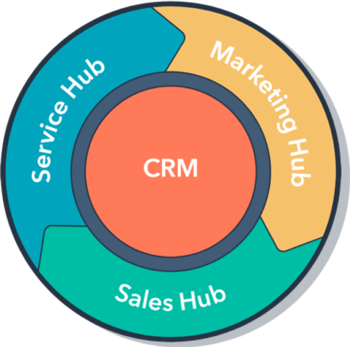 However, this is a better way to see how the products will fit into your clients' acquisition or sales process: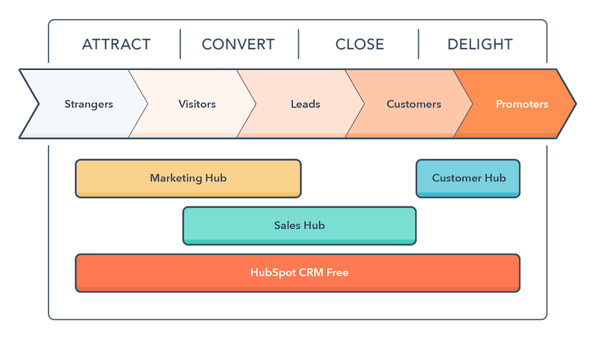 HubSpot offers their freemium CRM model because they know when their clients see the benefits from the free CRM, they will likely upgrade to a paid solution to gain even more functionality and benefits.
And for the clients that don't upgrade from HubSpot Free CRM - well, they become product advocates and drive more potential paid customers to HubSpot CRM.
Wrapping it up
This frictionless upgrade path from free to paid is a very clearly thought-out product matrix from a super slick software firm. However, this should not discourage you from using this really great free product.
Too many companies still use bloated Excel spreadsheets for sales pipelines and contact storage! Every single one of these businesses should scramble to use this free tool from HubSpot.
Need more info? Check out this article on What CRM should you choose?
Welcome to the MO Agency blog. Here you can find resources on Digital Marketing, HubSpot Inbound Marketing, Web Development & Brand Strategy.