Expert insights
Our blog
In our blog you'll find digital tools, strategies and best practices to improve operational efficiency, increase sales leads, and retain and up sell your clients by knowing them better.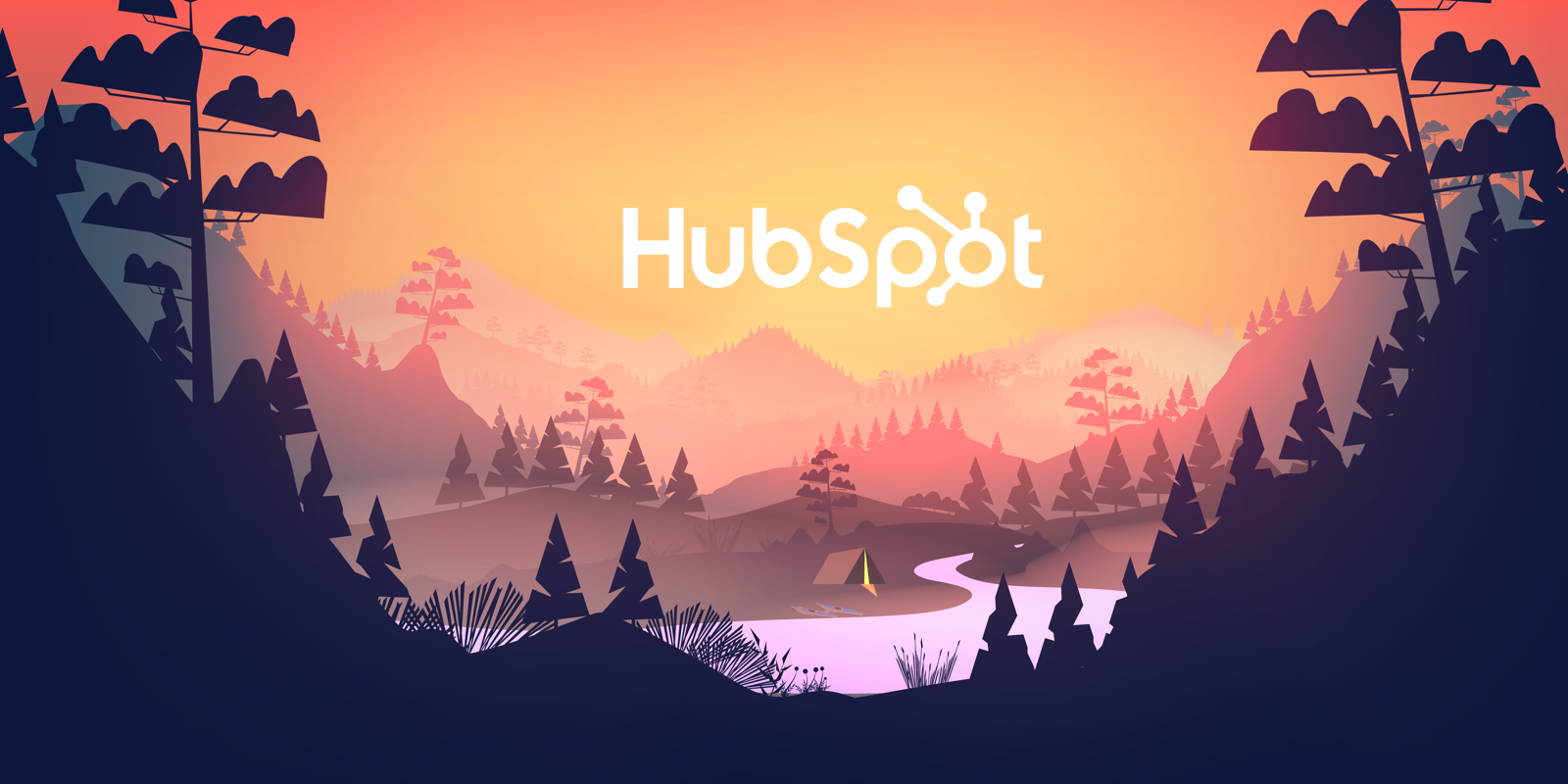 HubSpot
The Ultimate Guide to HubSpot, Not Written by HubSpot
Introduction
When I started with HubSpot in late 2016, I really had no idea what HubSpot really was. I thought I did - but I guess you don't know what you don't know. Fast forward to 2021, and my business is a different animal.
My margins are higher, my revenue is higher. Everyone has line-of-sight on client interactions and our clients are overwhelmingly happy.
At the core of this change is HubSpot CRM.
When we got the tool, we went ga-ga over the marketing automation, but in truth - the power of HubSpot lies in its interconnectedness.
In fact, I like to call HubSpot a Connected CRM.
Even though we bought into HubSpot as a marketing tool, today I spend most of my time as a business owner inside the Sales Hub which is HubSpot speak for the CRM.
Selecting the right HubSpot licences has always been confusing
Anyway, back to 2016...
I'd been thinking about moving to HubSpot for years, and loved the idea of how it could help build and manage interactions between my company, customers, and leads; but the cost of HubSpot licenses for my company always scared me.
Thousands of online articles by HubSpot do explain what HubSpot is and what it does - but they are very detailed. Its like using a 100x magnification microscope when all you want is a 1x lense.
So while these articles were really interesting they didn't give me the tools to I needed to make the business decision to go ahead with HubSpot.
In addition, HubSpot's product pages are scant on detail, and the product pricing tiers are not easy to understand. And that 'free' CRM? How can it really be 'free'? What's the catch?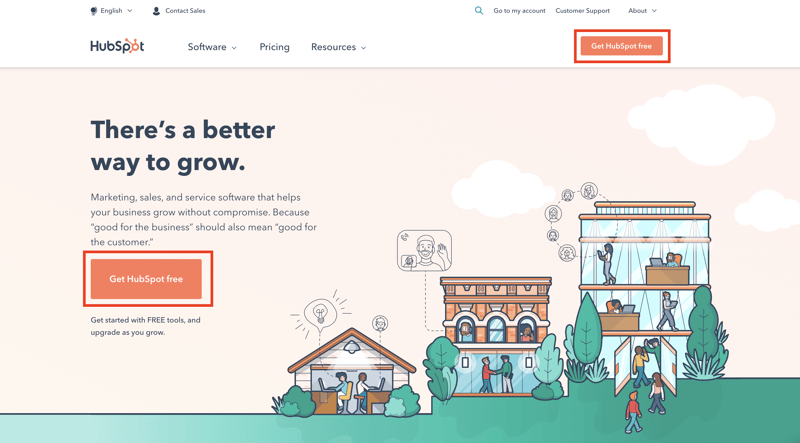 Basically, I found it difficult to get an accurate total cost of licensing for the company.
The truth is we took a leap of faith back then. Thankfully I bet on the right horse. And today more than four years later we are reaping the benefits.
Who is this guide for? What's inside?
This guide is a high level, but holistic view of HubSpot. It details the architecture of HubSpot, how much it costs, and what each part of the software is used for.
It is designed to give you an overview of the HubSpot's solution. You can take quick dives into the areas you need to connect the dots on. Remember, it's not designed to be an exhaustive resource. This is a 1 x magnification lense.
We stacked up a lot of time in the HubSpot saddle
At MO Agency, we set up 30 - 50 clients a year on HubSpot and even now, I personally sometimes have to check in with the product specialists at HubSpot to make sure the licensing we are suggesting is correct.
Our projects range from $1.5 k p/month in HubSpot licences all the way up to our largest install at $25k p/month, so the stakes are high if we make a mistake.
In addition, the product is developing so fast that from month to month, that there are product updates and licence capability changes all the time.
Our HubSpot team at MO Agency are all keeping an eye on these development and we have regular sessions where we share new product releases and applications at our clients.


We won a major HubSpot award in 2020
MO Agency was named winner in the Customer First category for Europe, the Middle East and Africa in HubSpot's 2020 HubSpot Performance Impact Awards.
There are thousands of HubSpot agencies in EMEA.
We were ranked 8th in the world by HubSpot in 2020.

So building on this base, in this guide, I'll cover the following:
1. What is HubSpot?
In the simplest terms, HubSpot is a CRM or Customer Relationship Management system. It is used to manage prospects and clients throughout their lifecycle with your business. As customers move from prospects to leads, to opportunities, and finally becoming clients - HubSpot can communicate, track, and retain them throughout this process.
HubSpot does this with a combination of CRM technology, marketing technology to manage your various marketing channels, reminders for sales and marketing teams, automated sales and marketing actions, and data-driven reports.
HubSpot is delivered via a web browser as Software-as-a-Service, so no installation of software is required.
All you need to do is create a login, and start using it. As you need more functionality, you can upgrade and pay as required.

2. Who is HubSpot for?
Originally designed for marketers, HubSpot is now for everyone in the business. The core product offerings cover everyone at your company:
Marketing
Sales
Service/Support
Operations
Business Owners
From the acquisition of clients by sales and marketing teams, through to retention and operations with the CRM, and then maintaining high levels of service from the support teams - HubSpot has you covered.
In terms of the size of the company, HubSpot will fit organisations from 1 person up to Fortune 500 firms
The recent introduction of Custom Objects and enhances in quoting and accounting package integration puts enterprise solutions like Salesforce and Microsoft Dynamics squarely in HubSpot's sights.
HubSpot is really for anyone who wants to build meaningful, and lasting relationships with prospects and customers. It is great for generating qualified leads, turning leads into customers, and customers into promoters.
3. HubSpot architecture overview: The HubSpot Hubs
Click on 'Software' on the HubSpot.com main menu and you will be presented with a dropdown menu that is headlined by the Free HubSpot CRM, and then the HubSpot Hubs. More on the App Marketplace later.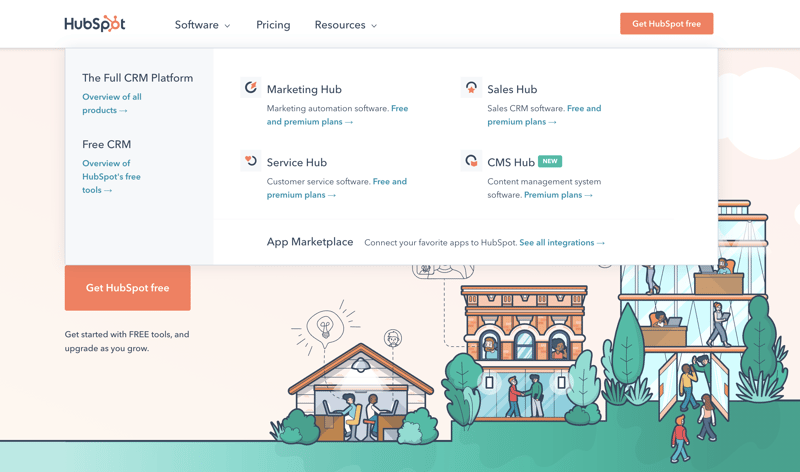 As mentioned above HubSpot covers the major teams at a business. And these teams are serviced by what HubSpot calls their 'Hubs'.
HubSpot has 4 x Hubs:
Marketing Hub
Sales Hub
Service Hub
CMS Hub
The major advantage of HubSpot is that the four Hubs are interconnected and essentially function as one.
This means that all your teams can see what other teams are busy with without the need for expensive integrations, multiple logins and data imports and exports.
HubSpot uses its free CRM to tie together these systems. This means that when you look at a contact or company record, all users can see all interactions including all communication, tickets, deals, notes, etc.
Why does an integrated single system matter so much?
Imagine you have an unhappy customer with a long, outstanding support ticket. The marketing department is about to send out a new promo to all the clients.
Do you think this customer is going to enjoy being sold to when they are only waiting for a resolution on their current issues? With a single CRM system that binds all the company's systems together, marketing can easily remove current clients outstanding support tickets for the email promo send.
HubSpot does a truly great job at aligning different departments, and reducing process inefficiencies that ultimately lead to increased friction and negative customer experience.

Bear this in mind while you review the HubSpot Hubs below:
The CRM is the backbone of each HubSpot Hub, and whether you implement one or all of the Hubs, you will be implementing a CRM system.
As I mentioned above - HubSpot is a connected CRM.
So let's dive into the hubs, starting with Marketing Hub.
4. HubSpot Marketing Hub
The HubSpot Marketing Hub is where it all started and HubSpot remains the top solution in this space. Two MIT students, Brain Halligan and Dharmesh Shah founded the company in 2004 when they noticed that the current status quo of outbound and interruptive marketing was on borrowed time. They founded the company on a methodology called inbound marketing.
Blogging, email marketing and marketing automation were the core tenets of this inbound marketing methodology that they used to develop the software.
Almost two decades of development later, the HubSpot Marketing Hub is the Ferrari of marketing solutions.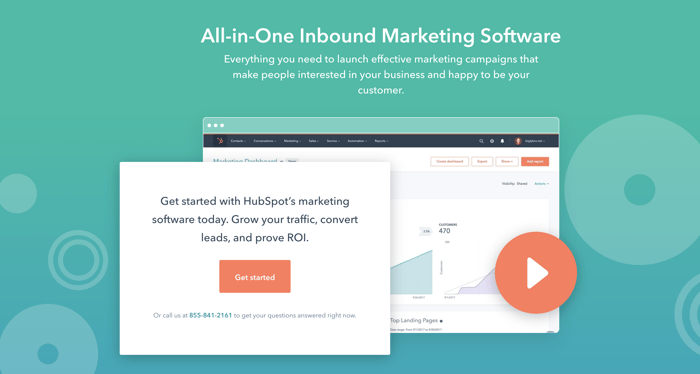 The platform manages marketing automation, landing pages, email marketing, social media, content, SEO and more. This all happens behind a single login, so no flipping between multiple systems and exporting data from disparate systems to create performance reports.
Marketing Hub will give you everything you need to run an inbound marketing campaign. Even the entry-level HubSpot Starter will allow you to run a full-fledged inbound marketing campaign. Jump up to HubSpot Marketing Professional and you can layer in automation, deeper analytics, A/B testing, but Starter will get you going.
Key features of HubSpot Marketing Hub:
Landing pages
Email marketing
Marketing Automation
Social media management
SEO management
Paid spend management and attribution reporting for Google, Facebook, LinkedIn Ads.
Website chat and bots
Lead scoring
3 Reasons you should consider HubSpot Marketing:
You have no idea what your ROI on marketing and lead generation is.
You are using multiple systems to run your marketing campaigns. This takes time to flip between systems, and cobbling together a performance report is nigh impossible, and you doubt its accuracy.
You are concerned that you are not communicating with your entire customer base and are worried about client retention.


In essence, Marketing Hub will give you everything you need to run a digital marketing campaign.
Even the entry-level HubSpot Marketing Starter will allow you to run a great digital marketing campaign.
Just remember that if you want automation, deeper analytics, A/B testing, and customised landing pages and email templates - you'll need to upgrade to HubSpot Marketing Professional.
HubSpot Marketing Starter vs Professional: When to go Pro?
When you'd like access to the doors that workflow automation (marketing automation) opens.
Including:
Automated marketing emails based on form submissions, website revisits, and many other potential triggers.
Dynamic email sequences that automatically react to and nurture your prospects' depending on interactions.
Internal notifications of marketing actions (if someone abandons cart, or views your pricing page).
Smart lead scoring.
Below is an example of a workflow in HubSpot Marketing Hub in its most basic form.
Enrollment trigger: Contact has submitted a form on a specific landing page.
Automated action: Send an email immediately. The link in the email has a 52.5% click rate.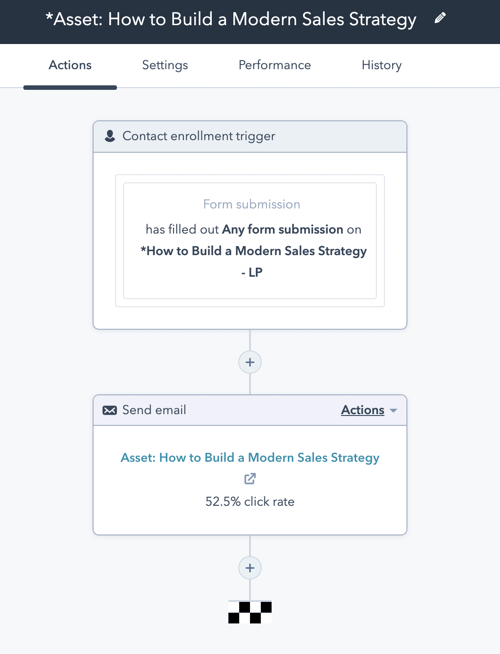 Now, while many marketers associate HubSpot with marketing automation only. In reality it's so much more. Upgrading to Marketing Hub Professional gives you:
Deeply customise the layout of your landing pages and email templates.
The choice to move you blog over to HubSpot CMS. But you can also keep it in WordPress or any other CMS.

Create smart website content on your landing and blog pages that can dynamically change according to referral page, geographic location, or lifecycle stage.

Create smart call-to-action buttons and images.

Create smarter chatbots with intuitive custom branching logic.

Have easy social media scheduling, planning and posting tools.

Need enhanced reporting capabilities.

Effectively A/B test emails and landing pages.
You might be interested: Overview HubSpot Marketing in this article of mine, Is HubSpot Worth the Cost?
5. HubSpot Sales Hub
After building the best inbound marketing software on the market, HubSpot realised that without great hand over and follow up by the sales team - leads generated weren't closing as they should.
HubSpot's answer was to integrate cutting-edge sales features into the platform to:
Up conversion rates
Get some real synergy going between marketing and sales departments (crazy right!?); and ultimately,
Track bottom-line improvements to a tee.
By integrating sales features into their marketing suite, they could increase the conversion rates for marketers.
Gone are the days of poor lead to customer conversion rates, following late responses to leads that weren't properly qualified in the first place.
So, following the path set by the likes of Salesforce.com, HubSpot engineered a set of sales and pipeline management tools. This is what we now call HubSpot Sales Hub.
Now sales teams have digital pipelines to use, where comms are tracked automatically and actions (like dragging a deal from one stage to the next) can trigger automations like creating internal tasks or email reminders, adjusting deal properties or even notifying the associated contact of something.

Sales Automation
Taking it all a step further - automation systems HubSpot created and perfected in the Marketing Hub were re-engineered to truly supercharge sales teams...
Features like automatic lead rotation, automated email sequences, and website visit notifications to salespeople came straight out of marketing and gave salespeople on-the-fly data about their prospects so they could close them quicker.
A connected CRM: Sales Hub + Marketing Hub
HubSpot found that the automation systems they had created and perfected in the Marketing Hub were able to supercharge sales teams.
The image below is a sales automation workflow. Notice its exactly the same user interface as the marketing automation. But in this workflow, we're creating a deal in a pipeline and then allocating it to a sales manager.
Enrollment trigger: Contact has submitted a form on any page. And there are no other deals allocated with this contact.
Automated action 1: Create a new deal i the sales pipeline.
Automated action 2: Assign the deal to sales manager (Team Lead), and rotate the deals/leads between the sales teams.
Automated action 3: Send an email notification to the allocated sales manager with all the details.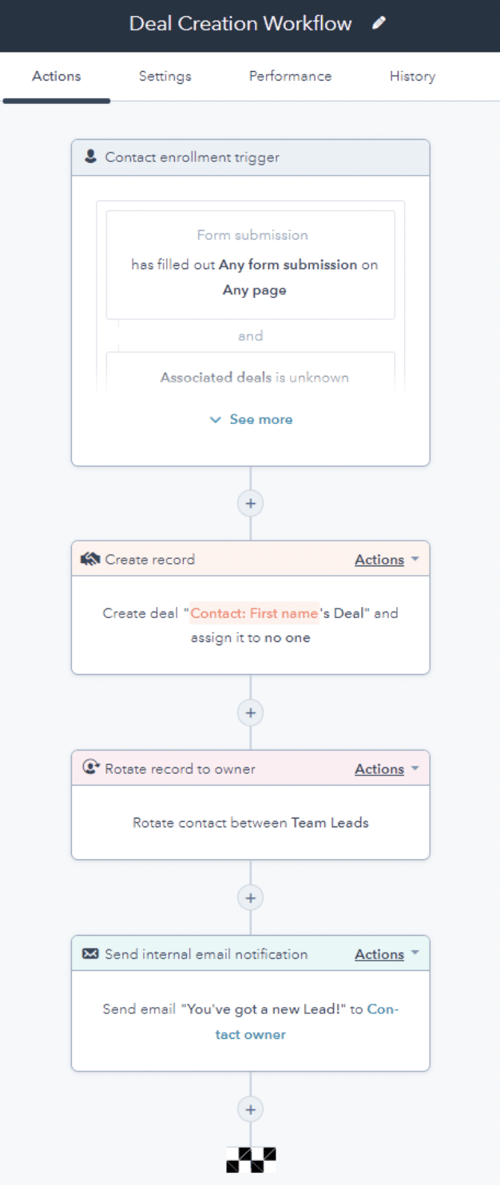 Features like automatic lead rotation, automated email sequences, and website visit notifications to salespeople gave salespeople on-the-fly data about their prospects so they could close them faster.
The sales side of HubSpot has become so robust, it's competing with and in many ways outperforming the likes of Salesforce.
Here is an automation we built for one of our fintech clients.
This automation automatically closed deals in a sales pipleine.
We're taking away the mundane work that salespeople really aren't good at. Leaving them more time to do what they are good at - sell.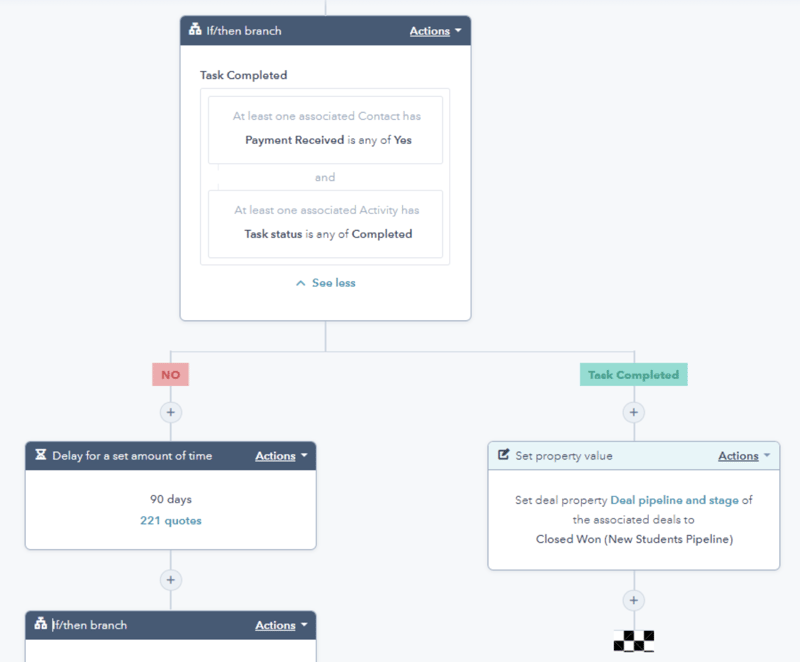 HubSpot Sales allows salespeople to focus on what they're good at - strengthening relationships and closing more qualified leads.
The upside of this for sales managers and executives, is that:
There's nothing slipping through any cracks.
Everything is tracked, organised and visualised in HubSpot reporting dashboards to assist in continuous improvement.
Salespeople become more inspired, competitive and effective - strengthening the company's bottom line.
Below is a screenshot of a 'push report' inside HubSpot Sales Hub. This is really useful report for sales manager and business owners. It indicates how accurate your sales team peoples pipeline is. And/Or how effective your salespeople are. at closing.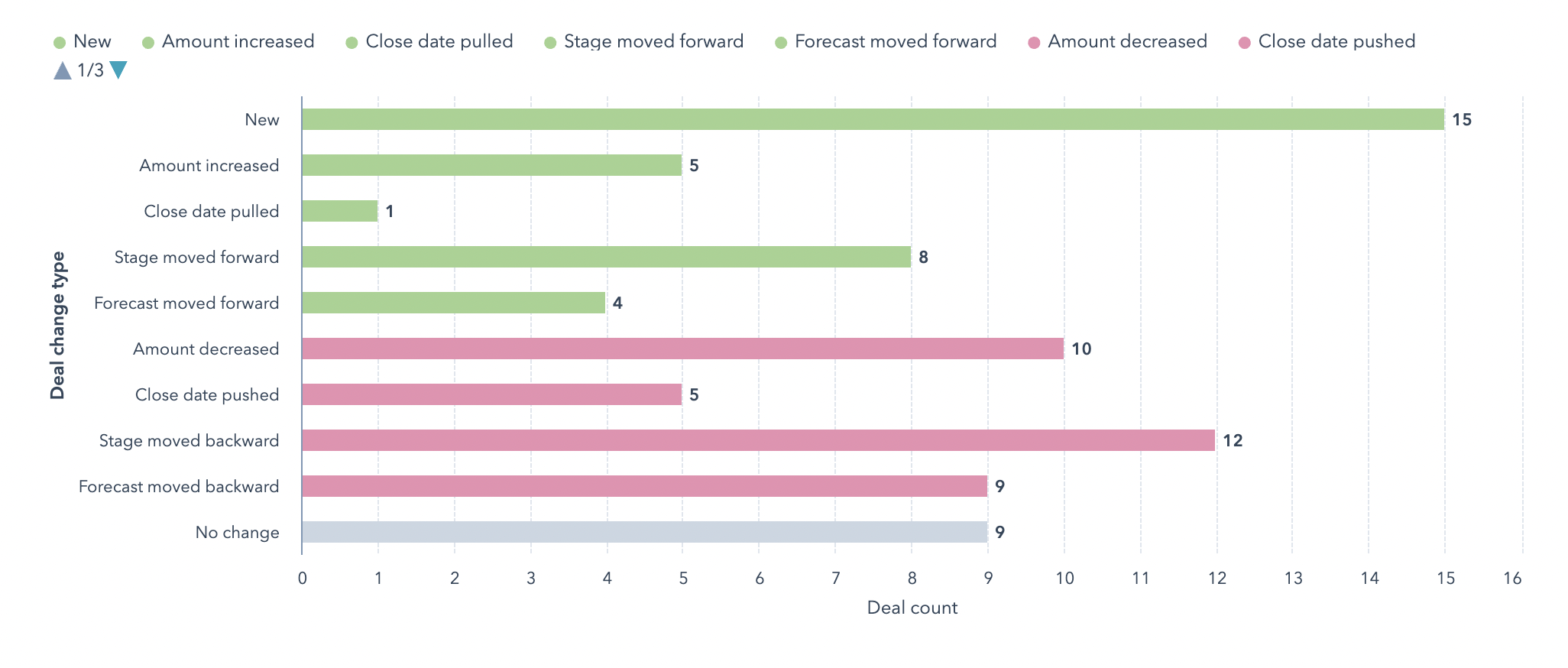 And one last screengrab from one of our clients HubSpot portals. If anyone from Salesforce or Microsoft Dynamics tells you HubSpot can't do the heavy lifting that they can. Show them this...
This client has nine sales teams, and between them they have logged 27,400 calls and emails in one month! That's some heavy lifting right there!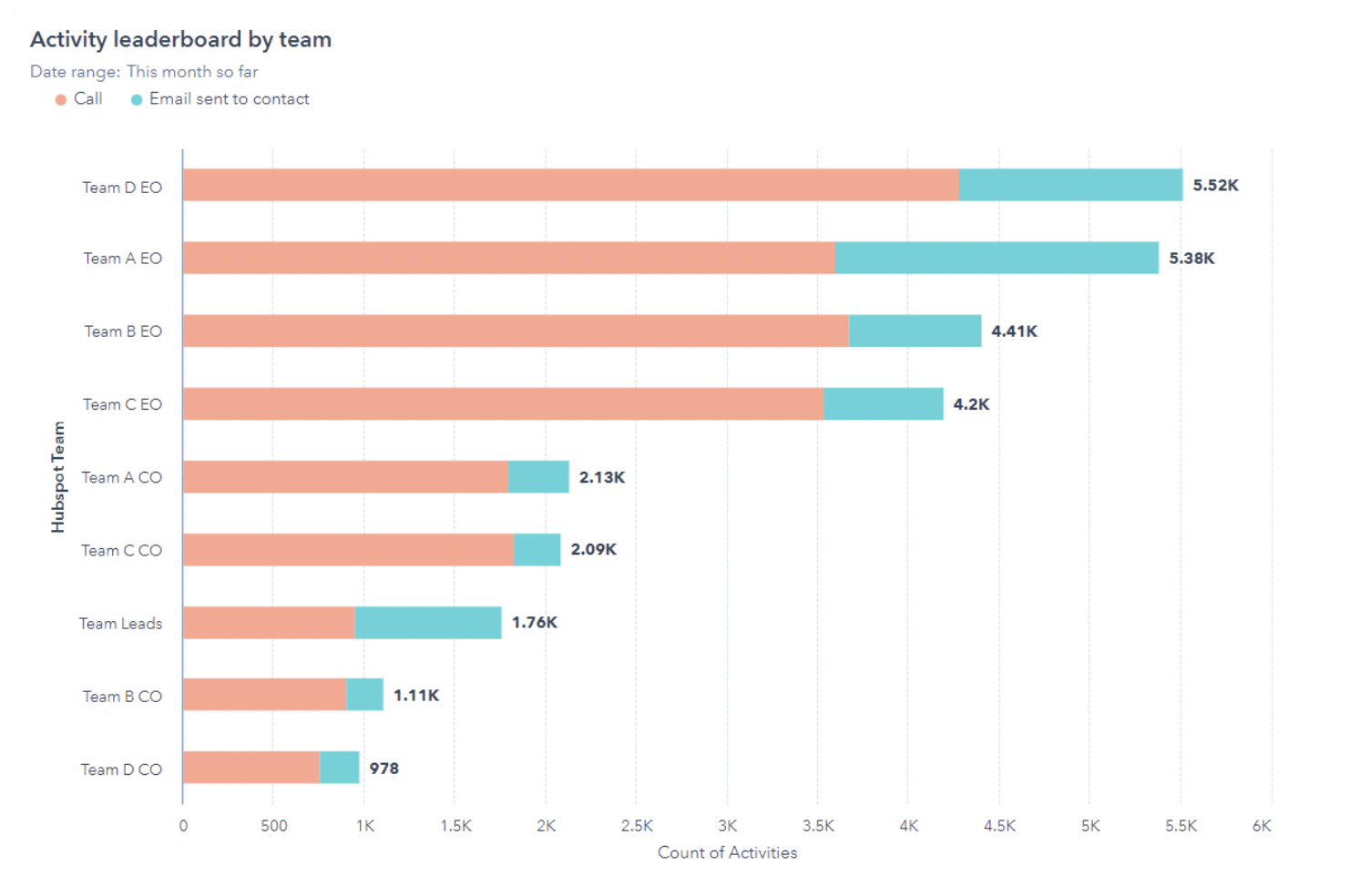 So what do you get with HubSpot Sales Hub?
Key features of HubSpot Sales Hub:
Pipeline & deal management
Automated email and meeting-tracking in CRM
Lead rotation and sales automation
Email sequences
Meeting scheduling
Website chat and bots
Sales forecasting
Sales analytics

Product line items

Calculated properties (eg. for auto calculating commissions)
eSignatures
Custom Objects (Enterprise only)
Why go HubSpot Sales Hub?
3 Reasons you should consider HubSpot Sales:
Your sales team find your current CRM hard to use, and don't track anything. HubSpot has the best automated email and meeting tracking in the industry.
You have no realtime line-of-sight of future sale/revenue.
Your current sales management and contact lists live on Excel.
Your current CRM is very expensive and you feel like you don't need all the enterprise-grade features (e.g. Salesforce.com and Microsoft Dynamics).
Your current CRM has reached the limits of its functionality (e.g. Pipedrive, FreshSales, and Insightly).
You want notifications sent to your sales team when an old quote is opened, or a prospect visits your website.
Warning
Important Consideration: If you are a HubSpot CRM, Sales Hub, or Service Hub user, you can add up to 1,000,000 contacts to HubSpot portal for free. If, however, you add HubSpot Marketing Hub to your portal you will need to pay for the contacts in your portal at the following rates:
Marketing Hub Starter: 1,000 contacts included. +$45/month per 1,000 additional contacts.
Marketing Hub Professional: 2,000 contacts included. +$225/month per 5,000 additional contacts.
Marketing Hub Enterprise: 10,000 contacts included. +$100/month per 10,000 additional contacts.
A quick note on bundles where you take 3x Hubs: Marketing, Sales, and Service
Growth Suite bundle prices are the best deal on cost per 1,000 additional contacts, but you then have to take all three Hubs from the start. So, HubSpot CRM, Marketing Hub, Sales Hub, and Service Hub are bundled.
Marketing Hub Starter: 1,000 contacts included. +$16.67/month per 1,000 additional contacts.
Marketing Hub Professional: 12000 contacts included. +$187.50/month per 5,000 additional contacts.
Marketing Hub Enterprise: 10,000 contacts included. +$75/month per 10,000 additional contacts.
You might be interested: Overview HubSpot Sales and the free CRM in this article of mine, HubSpot CRM vs. HubSpot Sales
6. HubSpot Service Hub
Once you've acquired a customer with HubSpot Marketing and Sales Hubs, you'll need to retain them and provide a great customer experience.
We all know that acquiring a customer is far more expensive than retaining one. So it makes sense to make sure your customer support is quick and issues can be escalated to the right person quickly.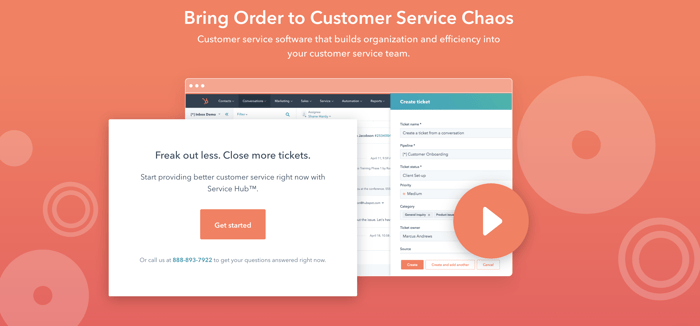 The core of the HubSpot Service Hub is the ticketing system.
The ticketing system is a pipeline of tickets that can be customised to suit your business.
A ticket can be raised automatically or manually when a customer has a problem.
Tickets can be prioritised according to the severity of the support issue, or even the importance of the client.
Service and operations managers can then track tickets through the system to make sure no clients issue is forgotten.
In addition to this, HubSpot Service Hub gives you access to survey tools that can be automatically fired off via email.
You can survey your sales process, or the last support ticket your team assisted with.
You also get an NPS (Net Promoter Score) tool that will fire off automatically to your client base to see how likely they are to recommend you to a friend or colleague.
Below is an image of a very typical support ticket pipeline in HubSpot. Notice the colour coding for priority. The number of days each ticket has been open. And the pipeline dropdown selector on the right, so that the user can switch between multiple support pipelines.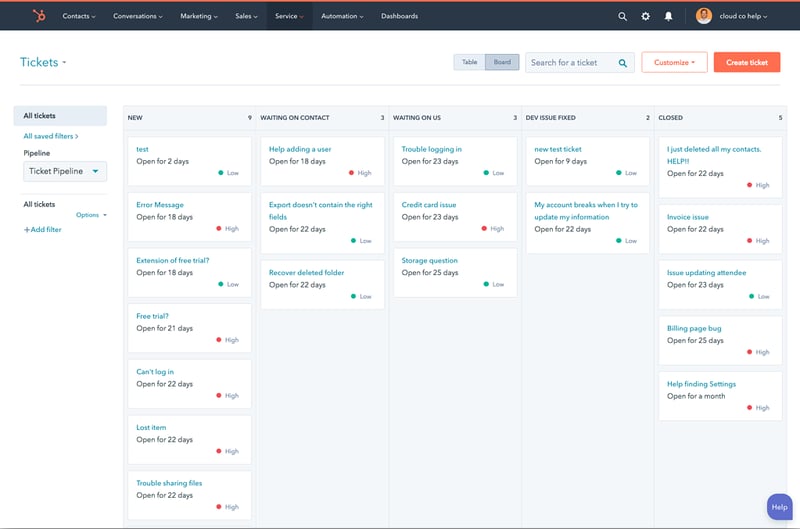 Image source: HubSpot
And clicking on a ticket in the ticket pipeline takes you to a holistic view of the client. The support agent can see all previous interactions with the client. This could be interactions with another support agent, or even the sales team.
From this view the agent can send an email to the client, update the ticket, or even call the client directly. The beauty from working in this window is that everything is tracked.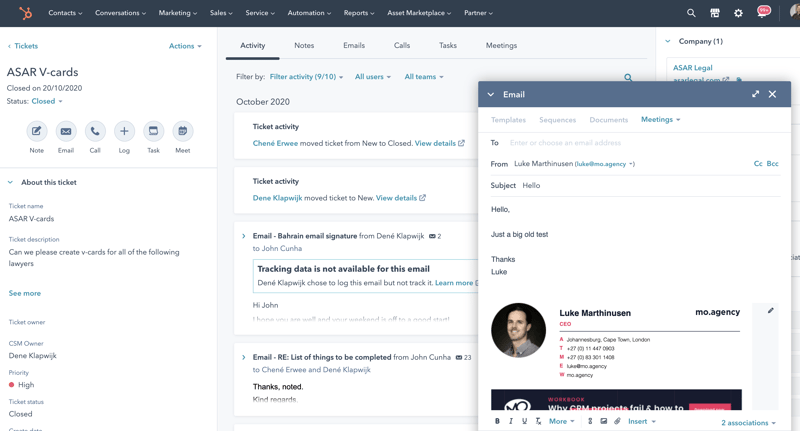 Automation and ticket routing
HubSpot's automation tools allow a myriad of optimisations within a support team.
Especially when the support requests come thick and fast to large teams. It's easy to let one slip through the cracks. To puck these up you can use HubSpot workflows to do the catching for you.
Below is a basic automation to do just that.
Enrollment trigger: Create date is more that 2 days ago, and the status is still 'New'. i.e not 'Open' if a support agent had accepted and opened it.
Action 1: Create a task and assign it to a support agent.
Action 2: Change the ticket priority to 'High'.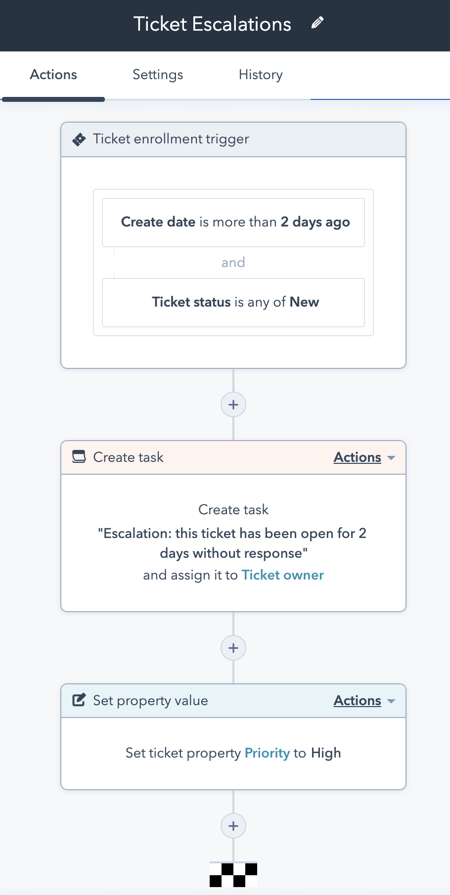 Knowledge base will work for you 24/7
Lastly, with HubSpot Service Hub you get access to the Knowledge Base tool. This tool is designed to improve your efficiency when dealing with tickets.
The knowledge base tool allows you publish articles with answers to common questions that you can easily direct the customer to. This tool also integrates directly with the chatbot and email functions found in HubSpot.
The integration with the chatbot allows users to ask questions and receive answers from the knowledge base directly in the chat. This frees up your support agents to work on the more complex support queries.
Customers will also then be able to search for common queries and be directed to articles which may assist them. The knowledge base tool becomes a self help tool for your customers.
Here's a great example of a knowledge base from well known notes too - Evernote.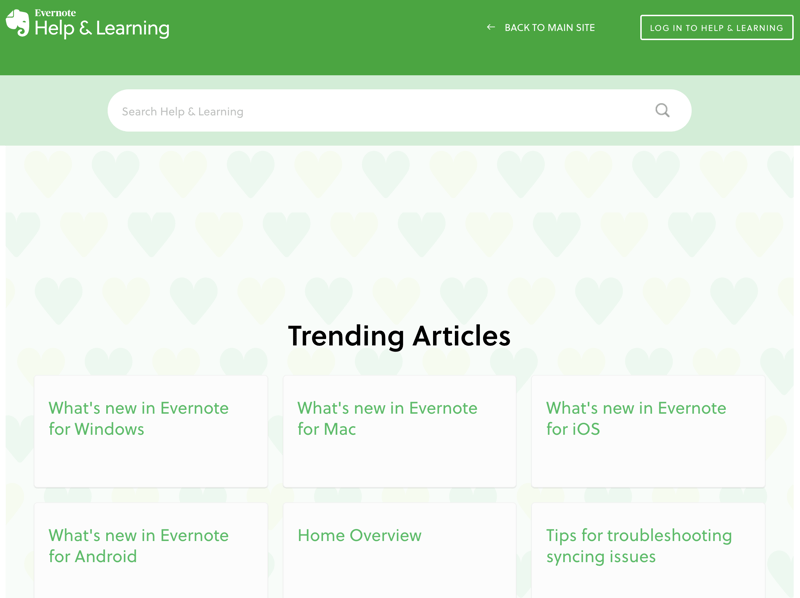 Image source: Evernote
So what do you get with HubSpot Service Hub?
Key features of Service Hub:
Multiple customisable ticket pipelines
Ticket routing and automation
Communication tracking from a central support inbox that aggregates, emails, chats, calls, and social media based support requests.
Knowledge Base / Help Desk tool
Extensive reporting to improve customer service
Why go HubSpot Service Hub?
3 Reasons you should consider Service Hub:
You need a way to measure and respond to customer support requests.
You need to automate customer support requests to reduce the size of your current support team or enable the support team to handle more support requests.
You want to route support tickets between teams, track and log all support, communications, and decrease support ticket resolution times.
7. HubSpot CRM
As mentioned above, HubSpot's CRM is the glue that ties all of the HubSpot Hubs together. HubSpot CRM is built on 4 core objects: Contacts, Companies, Deals, and Tickets. By keeping a record of each of these, the CRM is able to keep track of basically anything in your company. The image below is of my contact record on our HubSpot CRM.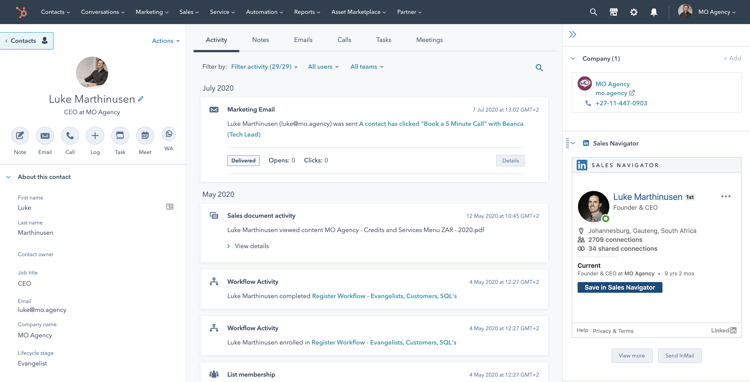 One of the best, but also the most confusing things about HubSpot CRM is that it's free. Some clients will be get away with the free version forever, but most clients will require the strong functionality of tracking communications, multiple deal and support pipelines.
Be aware that you will be tempted to upgrade to a paid sales solution to enhance the CRM functionality for some users; 'some' being the operative word here. You can give your team leaders and/or salespeople paid licences, and your admin staff and account managers free licences. For example, of our team of 20, only 5 use the sales enterprise licenses. The rest of our team uses HubSpot Free CRM licences.
Technical update: In Sept 2020 the introduction custom objects opens up the scope of HubSpot CRM and it starts competing head-on with the likes Salesforce.com, Microsoft and other expensive 'enterprise-grade' CRM's. This means that if you are a property rental firm, instead of only having Contact and Company objects in your CRM, you can now have custom ones like Landlords, Tenants, and Managing Agents. This really opens up the scope to customise the CRM extensively.
Note: The key features and reasons you will want to go with HubSpot CRM are mostly covered above in Marketing, Sales and Service Hub sections. Focus primarily on the Sales Hub section if you are just looking for a CRM to track sales teams.
8. HubSpot CMS Hub
HubSpot CMS allows you to build your website entirely inside of HubSpot. The CMS can replace open source CMS's like WordPress. So the question is: Why would you want to do that? Isn't WordPress sufficient?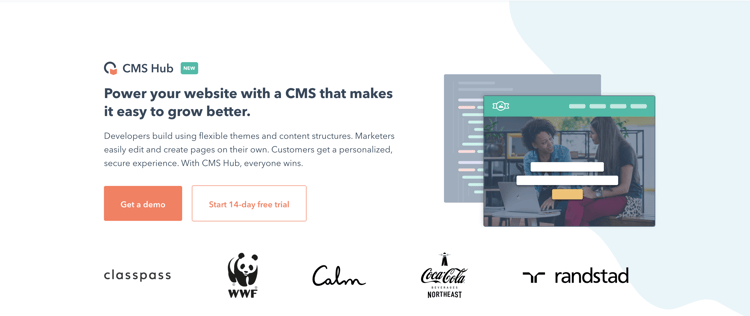 Let's talk about how HubSpot CMS came about because it will help understand why HubSpot CMS can provide gains over a traditional free CMS like WordPress for your website. An integral part of the early HubSpot Marketing solution was landing pages and the blog. It is still part of Marketing Hub today.
To create and manage the blog and landing pages HubSpot built a basic CMS. To make landing pages convert better, HubSpot built in technology that allowed A/B testing of content and images on landing pages. They also built in smart content that will dynamically change according to where the contact is in the world, their lifecycle stage in your CRM, and extensive tracking to identify a returning visitor to your landing pages or blog.
It was a natural step to extend this functionality to website pages. So they did, and HubSpot CMS was born. HubSpot CMS turns every page on your website into a dynamic lead generating page. This step meant that your marketing, sales, support, CRM and now website were all accessible behind a single login.
Key features of HubSpot CMS:
No plugins, every tool from forms, SEO, A/B testing, hosting, and more are built-in.
Easy to create and edit content and pages. Drag and Drop. No coding necessary if it is set up correctly.
Fast, 100% uptime, with dynamic content designed to convert your leads.
3 Reasons you should consider HubSpot CMS:
You don't know why your current website is not delivering leads. You need ROI on your website investment. So you need to test and optimise the site.
You want to lower administrative burden and the total cost of ownership on your website with a single login for your entire marketing, sales, support and website system.
You operate in different regions and need multiple languages or different offerings per region.
9. HubSpot API
In today's world of SaaS solutions (HubSpot is a Software as a Service (SaaS) Solution), API's or Application Programming Interface's are the way that we allow SaaS solutions to talk to, and share data with each other.
HubSpot's API is extensively documented and allows a developer to integrate HubSpot to any other system with its own API. You might want to connect HubSpot CRM to your ERP systems, like Syspro, Microsoft ERP or even Salesforce.com. You might want to connect HubSpot to your accounting system or even an eCommerce website.
The HubSpot API was entirely overhauled in Sept 2020. If you are a developer, you can view the HubSpot API Documentation here. HubSpot's API is structured as follows:
Analytics API
Automation API
CMS API
CRM API
Event Marketing API
Webhooks API
10. HubSpot Apps (App Marketplace)
Although the HubSpot API allows you to integrate just about any system with an API into HubSpot, there are over 500+ systems that have ready-built integration. These are available inside the HubSpot App Marketplace.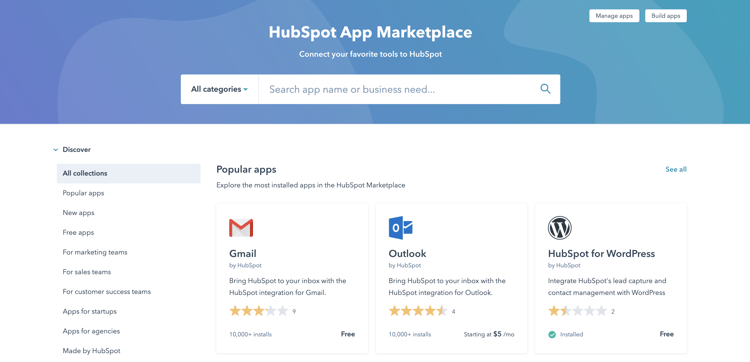 These integration apps available will seamlessly keep your customer data in two-way, real-time sync.
The most popular integrations include:
Productivity:
Gmail
Outlook
Google Calendar
Outlook Calendar
WordPress
Mailchimp
Zoom
GoToWebinar
Piesync
Eventbrite
Shopify
Woocommerce
SurveyMonkey
Hotjar
Salesforce
Social media & paid ads management
Facebook
Facebook Ads
Facebook Messanger
Google Ads
LinkedIn
Linkedin Ads
LinkedIn Sales Navigator
Twitter
Instagram
The apps above are all free, but you would have to pay for HubSpot and/or the software you are wanting to integrate.
Piesync
In November 2019 HubSpot acquired PieSync. PieSync is a paid integration app that allows you to connect the API's of various apps without coding skills. Essentially, it exposes the common API objects/properties of the two systems you wish to integrate into a drag and drop layout.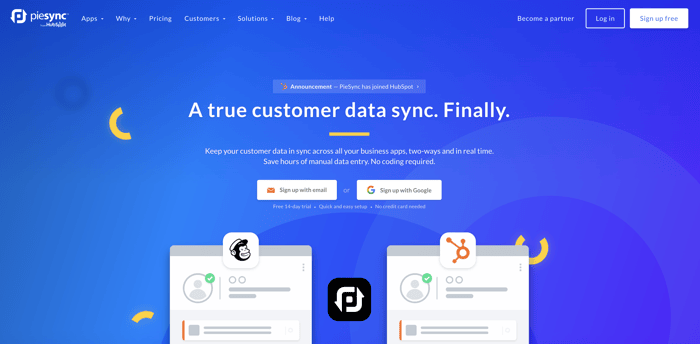 The caveat with PieSync is that it only allows you to do this with the 'common API objects.' These objects generally include the basic properties of contacts and companies. You won't be able to integrate complex API objects with PieSync. For example, Xero accounting can sync your contact and company properties into HubSpot, but don't expect to sync financial data in as well. This particular Xero integration is limited to contact and company data at the time of writing. I have no doubt that these integrations will be built out over time and as HubSpot continues to support its development. Keep an eye on this one.
10. Competitors and Alternatives
This is a complex section to write, but a topic I have already written a lot on, so I'll link to a few of my guides in this passage. There are lots of great purpose-built software out there, but when you choose them you can be faced with disparate systems and data pools.
The most important factors to take into consideration when weighing up competitors and alternatives are:
What you need the software to do now?
What software will support the future goals of your company?
As detailed above, HubSpot is built out into Hubs, so I'll use this architecture as a proxy to explain the competitive landscape. The beauty of HubSpot is that you can service your CRM, Sales, Marketing, and Support requirements out of one platform. The only other platform that does this as well as HubSpot is Salesforce. In some cases, it actually does it better, but only if you can tolerate the price tag, and have enterprise-grade (large organisations with deep system integrations) requirements.
The top support solutions are Zendesk and Freshdesk, but...
There is also the option of using leading support solutions like Zendesk and Freshdesk.
These solutions are significantly better at support desk operations than HubSpot Service Hub. They've been purposefully built to deliver better support services.
That being said, if Zendesk needs to be integrated with a CRM - and without a doubt, it should be - certain concessions will need to be made. It is not going to integrate perfectly with your CRM, sales or marketing solutions, and over the people of ownership, some compromises will need to be made.
Freshdesk has developed a fairly solid CRM, but it does not have a marketing solution and the sales enablement tools are limited. In fact, we migrated a fintech company that provides credit card machines with 30 support seats and 30 sales seats over to HubSpot in late 2019, and they haven't looked back.
Technical Note: For this customer, we built a customised synchronisation between Freshdesk and HubSpot so that we could progressively migrate the teams over in real-time. A user can sit on a Freshdesk/FreshSales seat one day and then a HubSpot seat the next and the data would be perfectly mirrored in each system). This type of integration is the type of API integration that can't be handled by a PieSync and needs to be custom-built. Be aware: it's time-consuming and often fraught with unforeseen challenges.
There are very real advantages for going with systems like Salesforce.com and HubSpot because they are complete systems. The only other system that maybe comes close is Microsoft Dynamics with a solid CRM, support and ERP capability. Unfortunately, the marketing tools are limited, and most MS Dynamics users opt for a third party system called Click Dimensions to do the marketing automation, nurture journeys and social media management.
Recommended competitors to investigate
Below is a list I would recommend reviewing. These solutions are the best fit-all solutions. In some cases, an industry-specific solution is a better fit. For example, one of our clients - Werksmans Attorneys, uses a marketing tool and CRM that is purpose-built for legal firms. Such tools are not included below.
All in one CRM, marketing, sales, and support solutions:
CRM, Sales, support:
Microsoft Dynamics
Freshsuite (Freshdesk and Freshsales)
Zoho
CRM:
HubSpot CRM and Sales
Salesforce.com
Microsoft Dynamics 365
Zoho CRM
Insightly
Pipedrive
You might be interested: I wrote this article to compare in detail the different CRM available and supported in South Africa: What CRM Should I Choose?
Support:
HubSpot Service
Freshdesk
Zendesk
Salesforce Service Cloud
Marketing:
HubSpot Marketing
Salesforce Marketing Cloud
Pardot
Marketo
Eloqua
ActiveCampaign
Mailchimp
11. HubSpot Pricing
Update coming soon...
(Including tiers)
12. HubSpot Onboarding
If you read through the HubSpot pricing pages, you'll notice that some of the solutions include Onboarding. For example:
Includes required, one-time Professional Onboarding for a fee of $3,000.
HubSpot Onboarding is a mandated feature when you purchase HubSpot software at the Professional and Enterprise level. Setting up a HubSpot portal at the Professional and Enterprise level can go wrong if the correct steps are not followed. It is easy to handicap a HubSpot portal for months and even years to come with an incorrect setup. Understanding what needs to be prioritised and completed is the quickest way to a positive ROI.
Onboarding can be done by HubSpot themselves or by a certified HubSpot partner.
But what's the difference between HubSpot delivered onboarding and HubSpot Partner delivered onboarding?
HubSpot delivered onboarding
HubSpot Onboarding is available for all three HubSpot Hubs, as well as HubSpot CMS. The below is directly from the HubSpot onboarding page on their website. (In the next section we'll discuss HubSpot partner delivered onboarding.)
Marketing Hub Onboarding
Technical and strategic guidance on setting up and using Marketing Hub to grow traffic, convert leads and achieve your marketing goals.
Sales Hub Onboarding
Technical advice on how to set up Sales Hub, plus actionable advice to help you simplify and scale your sales process so you can close more deals.
Service Hub Onboarding
Technical direction on the implementation of Service Hub, along with strategic guidance on ways you can serve your customers better using HubSpot.
CMS Onboarding
Get your website set up and integrated with the HubSpot CMS, and gain confidence in how to optimise your site, manage data, and improve your content strategy.
HubSpot partner delivered onboarding
Why Onboard with a HubSpot partner? A HubSpot partner will give you will the technical guidance to properly configure your HubSpot platform, just like HubSpot will. However, you'll also receive campaign creation assistance to leverage the HubSpot tools and learn the inbound marketing, sales and CRM methodology.
Whether it's initial hand-holding or continuous ongoing support - onboarding can be customised to address the specific goals that are pertinent to you industry or region. HubSpot partners often have very specific knowledge and specialities that make them a better choice than HubSpot onboarding. For example, HubSpot will often recommend us to do onboarding on behalf them in at large fintech and financial services customers because we know this industry so well.
An experienced HubSpot partner has made their mistakes already, learn from them and fast track your results. Ask your HubSpot partner what kind of onboarding they have done in the past, how large have the portals been, what industry experience do they have? Do they specialise in CRM, Sales, Marketing, Service setup?
You can view what is included in our MO Agency HubSpot onboarding here: Request to view the MO Agency Onboarding outline.
Onboarding Costs
Below are the costs for onboarding from HubSpot. Your HubSpot partner will customise what is delivered as well as pricing to your specific requirements.
Get the onboarding pitch from both HubSpot themselves and your HubSpot partner. There are advantages and disadvantages to going either way. HubSpot offers a consistent and time-honed method of onboarding. It can however be too generic for some. HubSpot partners can offer regional or industry insights that can give them the edge. Listen to both pitches and choose what is right for you.
Below is HubSpot's costing for onboarding. Partners typically charge the same - give or take. Read the fine print in what they might offer over and above HubSpot's own onboarding.
Marketing: Pro ($3000) & Enterprise ($6000)
Sales: Pro ($500) & Enterprise ($3000)
Service: Pro ($500) & Enterprise ($3000)
Growth Suite: Pro ($3500) & Enterprise ($12000)
13. HubSpot Partners
HubSpot partners come in all sizes and specialities. Some are generalists and some specialists. Some are 100% focused on HubSpot, and others do HubSpot as a line of business. Because HubSpot is a complex and deep product, you should choose a Platinum, Diamond or Elite partner if your budget will allow.
The only reason to select a Gold or untiered partner is an existing relationship where they know your business inside out, or as I mentioned - budget. The investment in HubSpot software can be steep, so going with an underprepared partner can hamstring you from the start.
It takes a few years of experience to build in the processes and know-how to implement HubSpot right the first time. And don't forget that HubSpot requires knowledge of marketing, sales and support to implement. The software is so much more than just marketing automation now.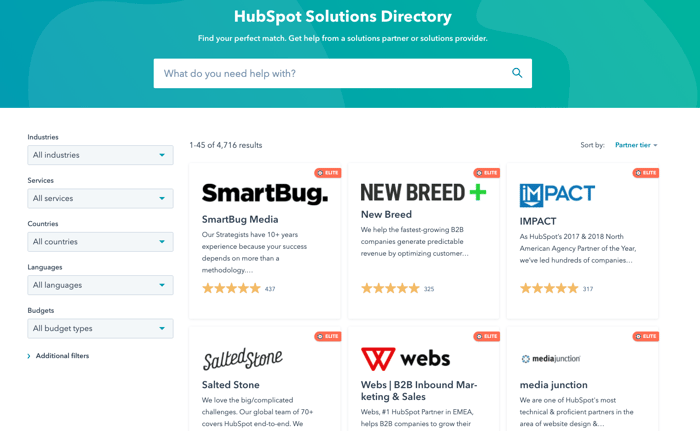 Go over to the HubSpot Solutions Partner Directory and sort for your country to see who is available to help you. Beware, not all partners have physical presences in the listed country. So make sure they do, or that they are in the same time zone for effective remote work.
In some cases, it is worth working remotely with a HubSpot partner because they have experience in your industry, or a specific skill like great web development as well as CRM and marketing automation skills.
Although you can search the HubSpot partner directory, I'll mention a few of the recommenced HubSpot partners in the UK and South Africa, as we work in these regions extensively. If I haven't mentioned someone, I don't know them personally or haven't interacted with them. It does not mean they are not a good HubSpot partner.
HubSpot partners in the United Kingdom:
BableQuest
Blend
Digital 22
Huble Digital
MO Agency
Prodo
Six & Flow
Struto
Quattro
HubSpot partners in South Africa:
Huble Digital
MO Agency
Spitfire Inbound
Struto
14. HubSpot Academy
One of the best things about HubSpot is that you gain access to an enormous library of educational content and certifications inside the HubSpot Academy. These certifications cover CRM, marketing automation, social media, service technology, inbound sales strategy and more.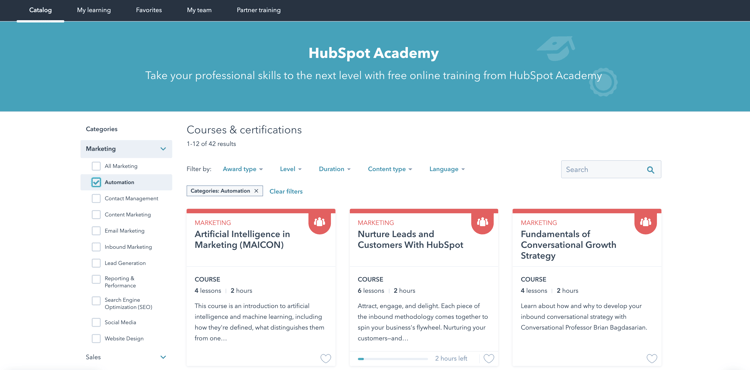 If you want to learn how to digitally transform your business - this is one of the premium sources on the internet. HubSpot will also give you a great tool to track how your team is progressing on their certifications.
Final thoughts
HubSpot is an extensive tool that is only going from strength to strength. If I can leave you with one main advantage - it is this: The interconnected Hubs linked by default to a central CRM, and the removal of the need to have multiple logins to multiple systems, and multiple data sets is the major driver of efficiencies and success with HubSpot.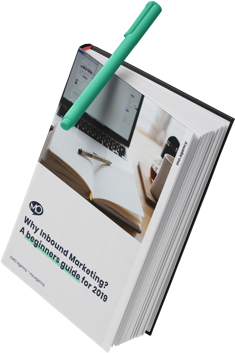 Inbound Marketing
Get more out of your digital marketing
Fill in the form and learn why Inbound is the only way to get high-quality leads.
Transforming Business Through Marketing, Sales and Service Technology