EasyEquities is South Africa's most used low-cost investment platform. We built the EasyEquities main website in HubSpot CMS, so the team at EasyEquities approached us to promote a new offering. The brief: To enable customers and potential customers to investigate and compare different exchange-traded funds (ETFs).
The Brief
EasyEquities needed a unique platform to display live fund information on their new exchange-traded funds (ETFs) investment offering.
A number of exiting websites and financial institutions in South Africa offer ways to investigate ETFs, but none of them allow you to compare them.
Although buying ETF's is simple using the EasyEquities trading platform, the team at EasyEquities wanted to empower users to make informed investment decisions. Comparing different ETFs is key to this. The EasyETF portal was needed to bridge this gap.
Below is the microsite landing page for the final product. You can view and test drive the EasyETFs microsite here.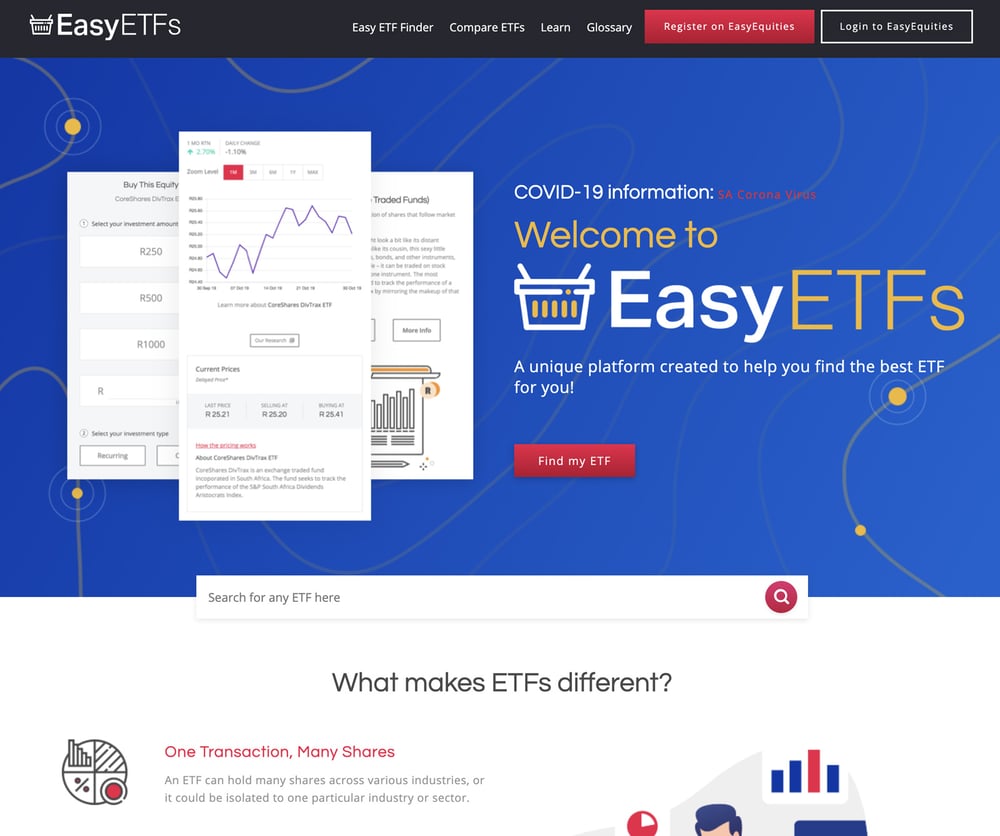 What is an ETF?
An exchange-traded fund, or ETF, is a fund that can be traded on an exchange like a stock; meaning it can be bought and sold throughout the day. ETFs often have lower fees and a lower risk profile than other types of funds. Because of this, they are ideal investments for most investors.
Primary Goals
Design and build a helpful inbound resource for ETF investors.
Compare different ETF data, including current price, 1 week, 1 month, YTD performance, etc.
Display live market data comparison information on EFT Investments.
Educate potential users on using the EasyEquites application to start investing.
Help users find the best ETF for themselves with as little effort for the end-user to navigate and utilise.
Challenges
Challenge number 1: Distilling the brief and all the data required to provide a utilitarian investment tool into an easy-to-use and accessible microsite.
Challenge number 2: Pulling dynamic data from two different live financial data sources, combining it in HubDB, and using HubDB to render unique pages displaying live fund data.
Solution
We built a custom web-based portal on a HubSpot CMS microsite. Designing custom modules and templates that rendered unique data leveraging HubDB ensured quick load times for pages rendering 100's of unique lines of financial data. Additionally, live data was synced into HubDB from two separate financial data services.
Mobile was top of mind and the site is perfectly mobile responsive across devices.
The microsite needed to be designed with SEO in mind to help generate organic traffic and unseat the primary competitive source of ETF data in South Africa at the time of launch.
Below is a screenshot of the key page in the microsite. It shows three different exchange-traded funds being compared. Note the extensive historical data and the graphs that can be visualised over different time frames. This is all rendering from HubDB.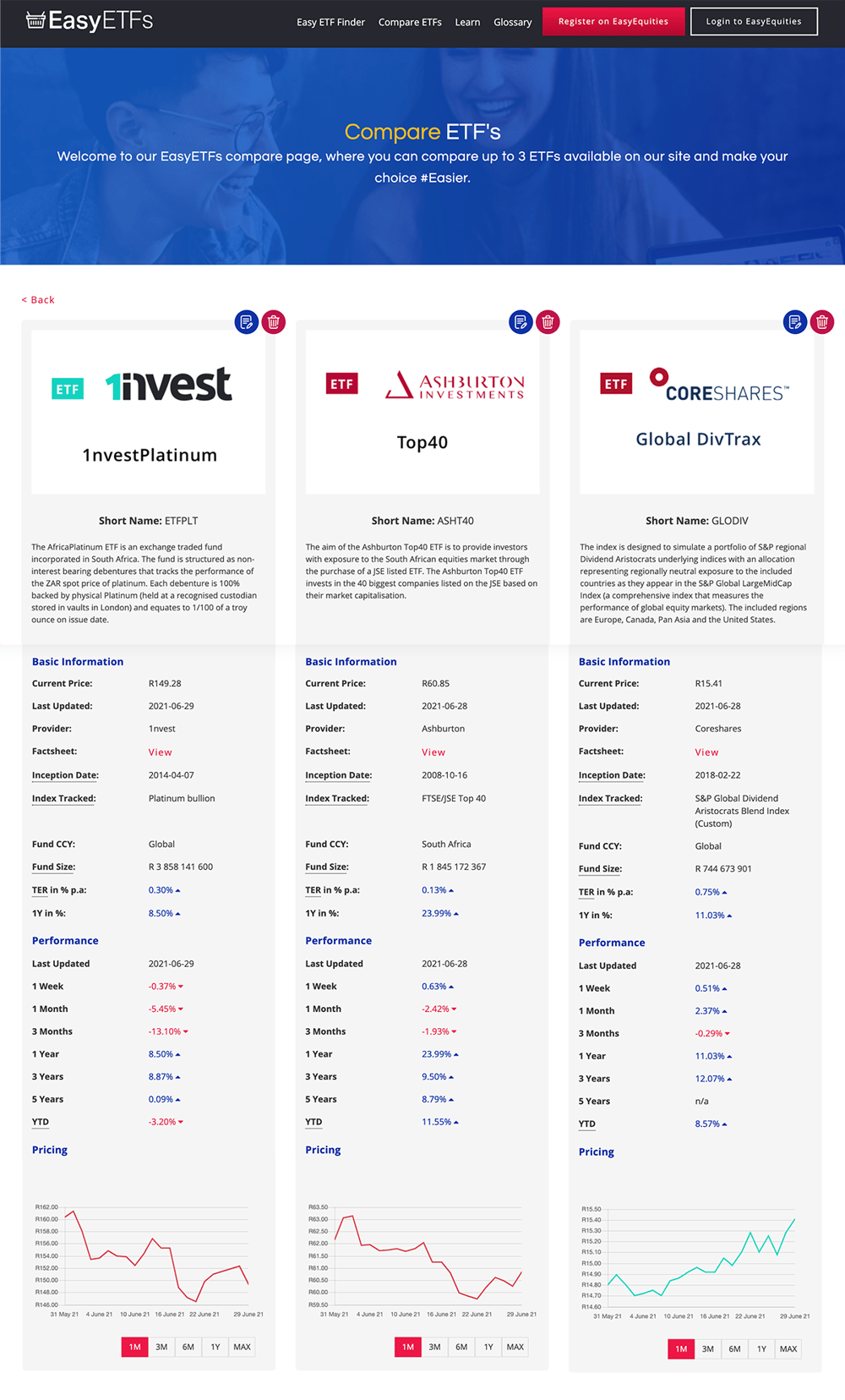 Multiple data sources and HubDB to render dynamic pages
We solved the challenge of displaying live ETF data from multiple data sources with custom scripts that our developers coded. These scripts sourced and pushed live financial data into HubDB.
The fund data including the financial institution, fund name, fund description, inception date which can be seen in the first two sections of the image above doesn't change very often. This data sync with the provider was structured for low sync frequency.
On the other hand, the pricing and performance data needed to be updated hourly, from an entirely different data provider. Our developers built this regular sync into HubDB to be as light on computing and API usage as possible.
Below is a sample of one of the HubDBs we sync performance data into and then utilise with HubSpot CMS to render pages of the microsite with up to date fund data.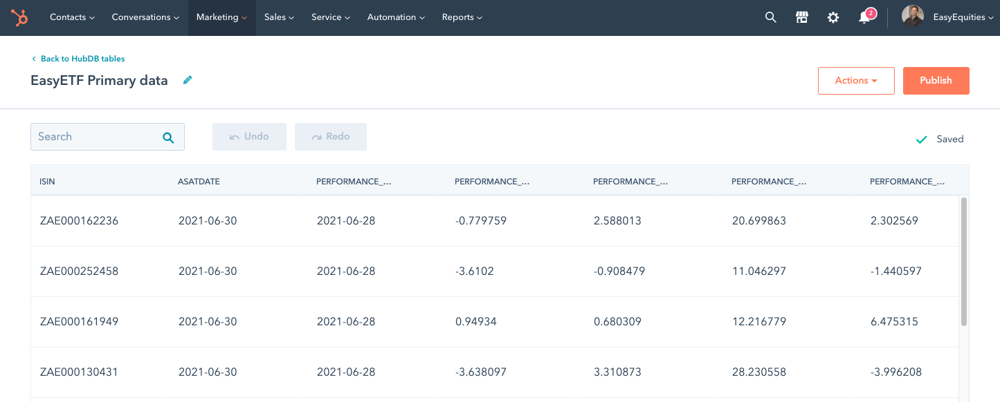 Usability
The portal is easy to use with a built-in comparison tool and filters. Sorting functions allow users to compare ETF's and find the perfect ETF for their requirements. Once a user has used the filters below to select up to three ETF's, they click 'Compare ETFs' and are taken to the compare layout we showcased above.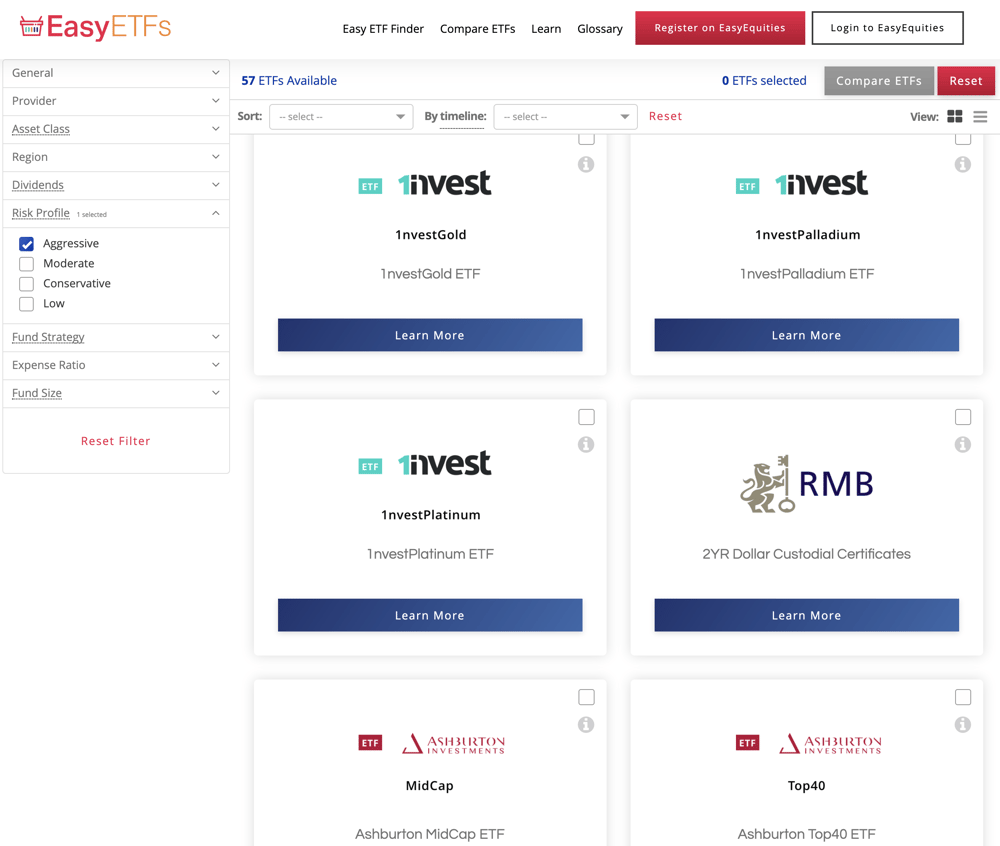 Educational content
The portal also holds a learning centre with videos, how-to guides, webinars and an E-mag for all the information a new user may need to get started.
Below is one of the two animated explainer videos we created for the microsite.
Results:
By providing a unique portal for users who are interested in ETF investments, we've helped EasyEquities convert more than 3,459 users into customers!
3,459 of EasyEquities current customers started their journey with EasyEquities on the EasyETFs microsite.
There are multiple inbound lead generation and nurturing channels we utilise inside the EasyEquities HubSpot portal, so conversion to a customer takes a lot more than just this great tool. But we can certainly attribute these first touchpoints to the EasyETFs microsite.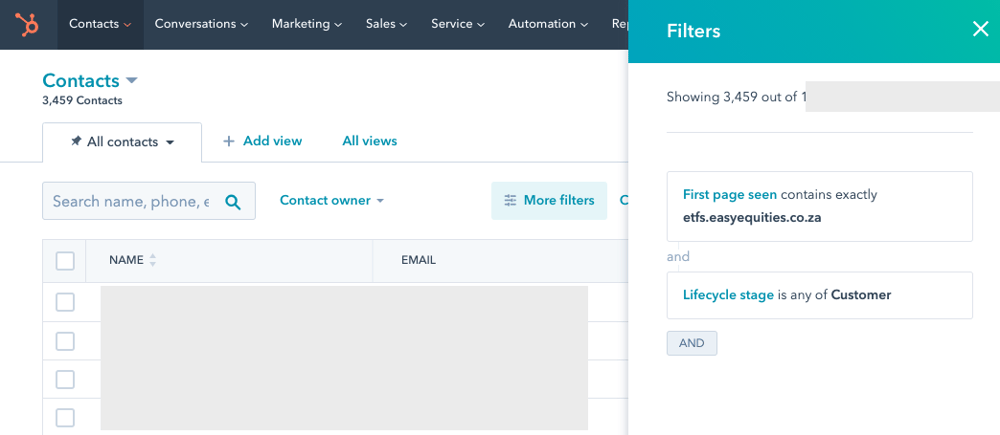 Impact
EasyETFs is now the number one source for exchange-traded funds (ETFs) data in South Africa. There are still some gains to be made on the organic search front, but so far so good. All good things take time; and inbound and digital are driven by constant improvement and innovation.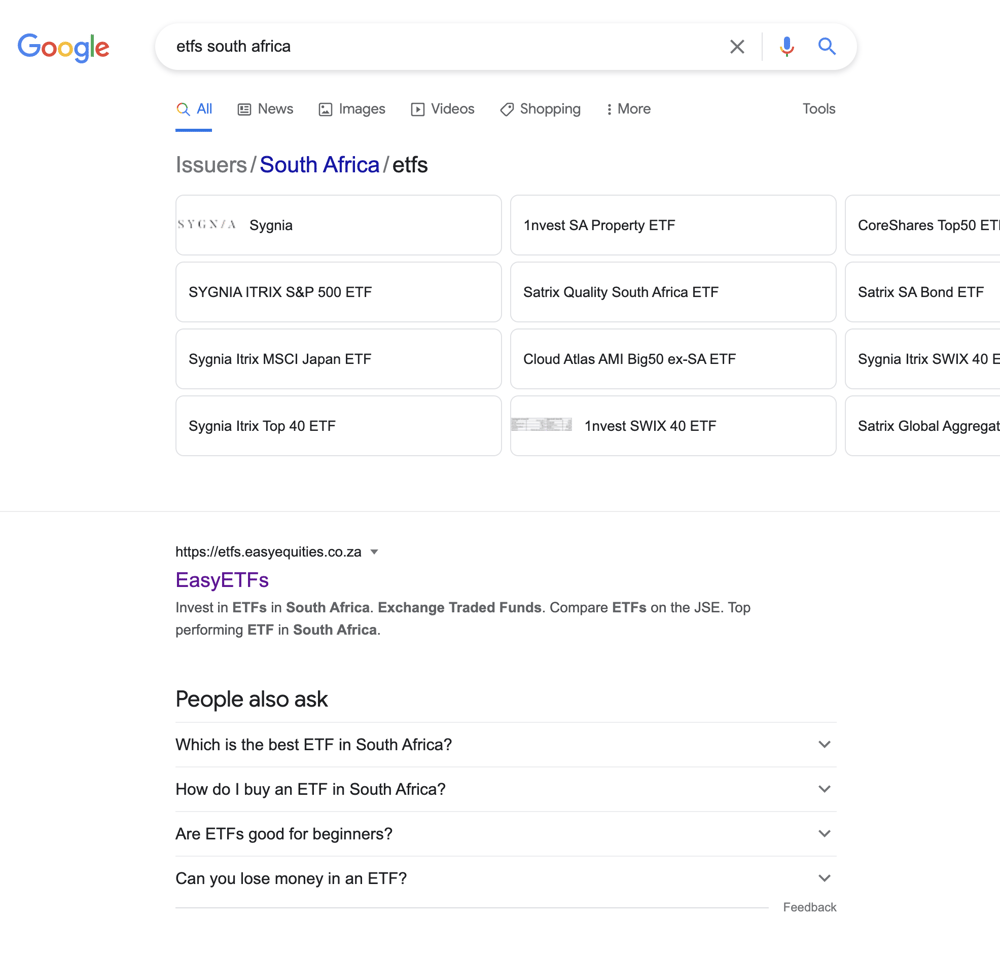 A big thank you to Tristan Finnemore at EasyEquities. He's a visionary client with big ideas and high expectations, and we love pushing limits.

"We've been using HubSpot for the past 4 years and while implementation has gone well, there is always room for improvement. In steps MO Agency. These guys have taken our [HubSpot] instance, in fact, 3 of them, and utilisation of HubSpot to the next level, from blogging to website design and implementation, technical integrations, workflow and lead nurturing. There is no job too big or small, too easy or challenging for this 'always willing to help' team. Cannot recommend them more highly."

Tristan Finnemore, VP Digital Assets, EasyEquities