The Student Hub provides online courses from South Africa's leading TVET colleges, through private resources and the latest learning technology. Their selected courses equip students with the in-demand skills they need so that they can qualify for the job they want.
This is an award winning project!
MO Agency won an award for this project - Integrations Innovation. 🚀
HubSpot awards this to a partner who has showcased a mix of custom development work, custom integrations, customising HubSpot, APIs, or bridging multiple systems into HubSpot.
It is only awarded to four partners every year in all of EMEA (Europe, Middle East and Africa.)

The brief
The Student Hub has a large number of students all at different levels and taking different courses through a number of colleges. The Student Hub came to MO Agency in need of a system that could help them manage their students and help their student advisors provide timely and relevant support. Before we stepped in, The Student Hub was using Excel to keep track of each application, student, individual qualification criteria and payments.
Additionally, The Student Hub built their own learner management system(LMS) for their students to log into and get access to all the content and assessments for their learning. This system needed to be integrated with their new CRM to guide potential and enrolled students throughout their learning journey.
The initial brief was to set up a HubSpot portal for The Student Hub to use as they have not had any CRM before. After analysing their situation and needs, we discovered all the areas of their business that could benefit from HubSpot and thus our brief expanded to a full-stack HubSpot package.
The challenge
The first challenge was their lack of CRM. The teams at TSH had to work really hard to keep track of each applicant and their enrollment journey.
The second challenge was to integrate TSH's custom-built LMS, ERA, with HubSpot. Since their ERA was custom-built, we needed to make use of HubSpot and ERA's API for the two systems to speak the same language and share data.
Our next challenge was to set up and integrate a local payment portal as they only accepted EFTs that had to be manually attributed to each student.
Their sales team was using a third-party tool to make calls with their prospects, they needed these calls to be recorded and their activities documented and connected to the CRM for management to keep a record and monitor performance.
Finally, TSH offers brilliant support to their students, reminding them of upcoming assessments, check-ins on their progress through their curriculum and general day to day assistance. This was all being kept track of in spreadsheets…
Primary goals
Set up a brand new HubSpot portal for TSH, this includes Sales, Marketing and Service Hubs
Integrate HubSpot with their LMS
Run onboarding sessions with their teams
Integrate a local payment portal
Set up an automated qualification process for registering students.
Set up automated welcome and payment workflows.
The solution
The setup
We set up a full stack HubSpot portal that makes use of all the HubSpot hubs to solve their unique challenges. We, therefore, imported all their existing data - Student records, colleges and their campuses, and through custom objects, captured the required fields of qualification data needed to automatically qualify prospective students.
Their website was connected to HubSpot through forms designed to capture new applicants and populate that data into custom objects to form their qualification data ready for HubSpot qualification.
Automated qualification process
Using the provided data collected on the website, applicants were added to workflows that qualified and disqualified applicants compared to the custom objects of qualification rules set up within their portal. The forms even capture address information and compare it through Google Maps to assign the applicant their nearest campus.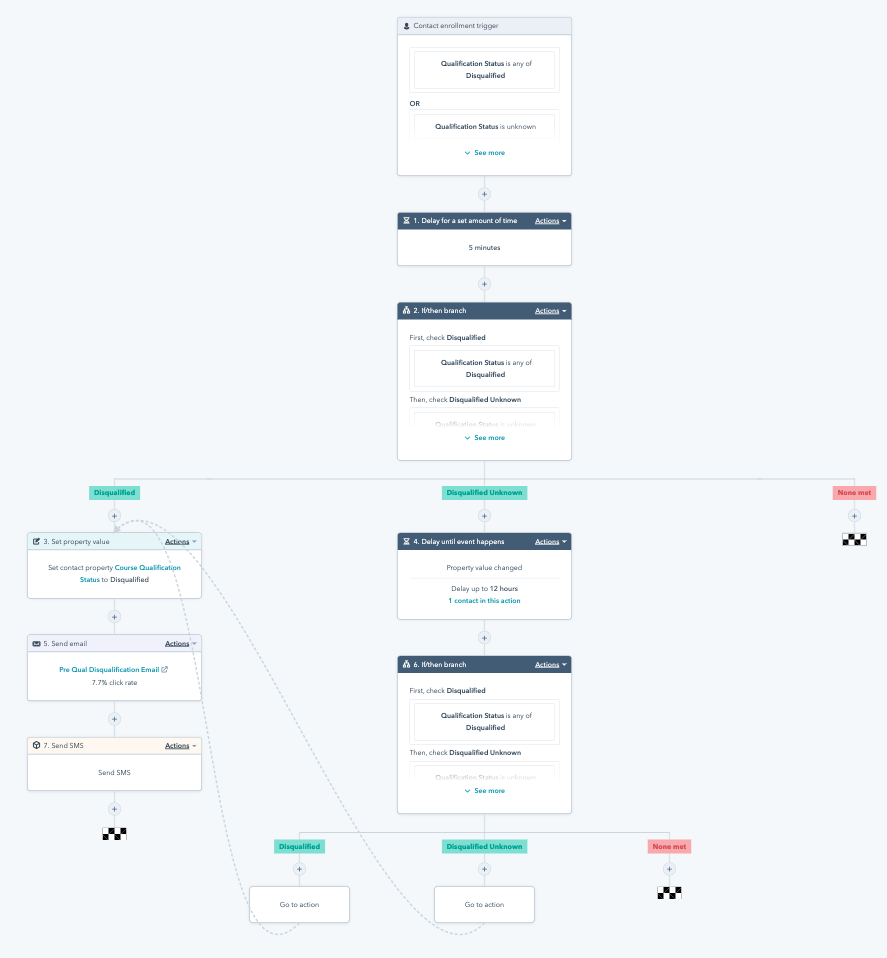 Integrating systems
Through API integration we connected HubSpot to their LMS. Qualified applicants would then be automatically registered on the LMS and the respective college once qualified.
Their students require regular contact and support from their lecturers and student advisors so we connected their call management system to HubSpot so that all communications would be tracked and attributed to the correct student. Through HubSpot Service Hub, all tickets and support requests were easily manageable and accurately attributed.
We integrated their new online payment portal to HubSpot and their LMS so that students could pay for their courses via once-off or subscription-based instalments in addition to their EFT payment option.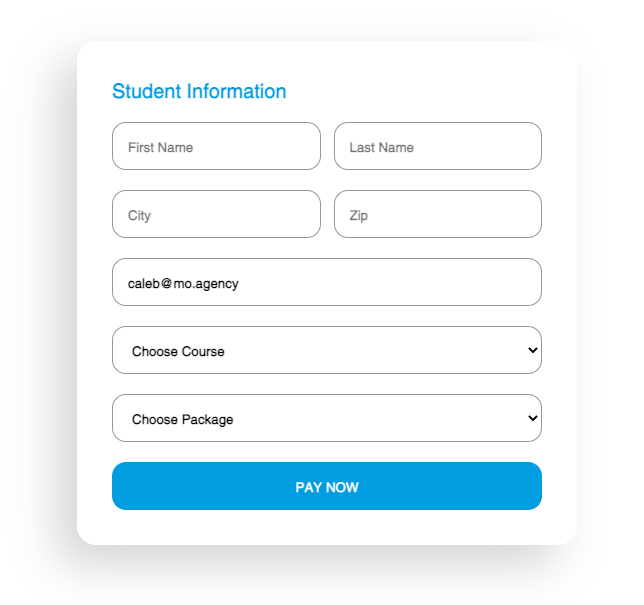 Automated nurture and payment reminder workflows
Once a student was qualified and their payment plan chosen, students were enrolled in automated workflows that welcomed the new students with relevant information and regularly reminded them of their upcoming payments based on the integrated systems and custom objects captured in HubSpot. Providing each student with a personalised and relevant experience.
The results
Systems and management
With HubSpot in place, the entire student journey was connected, tracked and automated. Every system The Student Hub was using is now integrated or replaced with HubSpot to keep information in sync and manageable within one central hub.
With HubSpot managing contacts, The Student Hub team no longer needed to use spreadsheets or manually import contacts into different systems individually. If a contact is added in one system, it reflects in the others.
Their website has HubSpot forms that automatically add contacts to HubSpot and other systems, an activity timeline for each student communications and a well-structured database of student information.
The entire enrolment process is streamlined and automated enabling students to apply, be qualified, accept, pay and be enrolled in just 15 minutes.
Tracking and automation
Through the newly implemented automations and workflows, on average 3310 manual tasks are now automated every day, giving their teams more time to aid students. With over 285 possible variations in qualification criteria, the workflows can easily sort and manage a student step by step.

Through the HubSpot database, they are able to add or remove qualification criteria/ requirements for each course within a few seconds and have them reflect globally without any interruption.
All marketing and sales activities are centralised and attributed to the appropriate student in real-time. Providing accurate reports on sales activities, targets and revenue.
Our impact
We will continue to work with The Student Hub and provide support for their teams. We plan to implement phase 2 soon which will provide advanced student and student advisor notifications and transition more systems into HubSpot.
"An all-around great team to work with you. I was a bit hesitant about working with an agency based in Johannesburg as I am based in Cape Town, however, they are efficient and were able to assist us in developing a great solution! Definitely recommended!"

Brandon Le-Chat | Head of Commercial Growt, The Student Hub