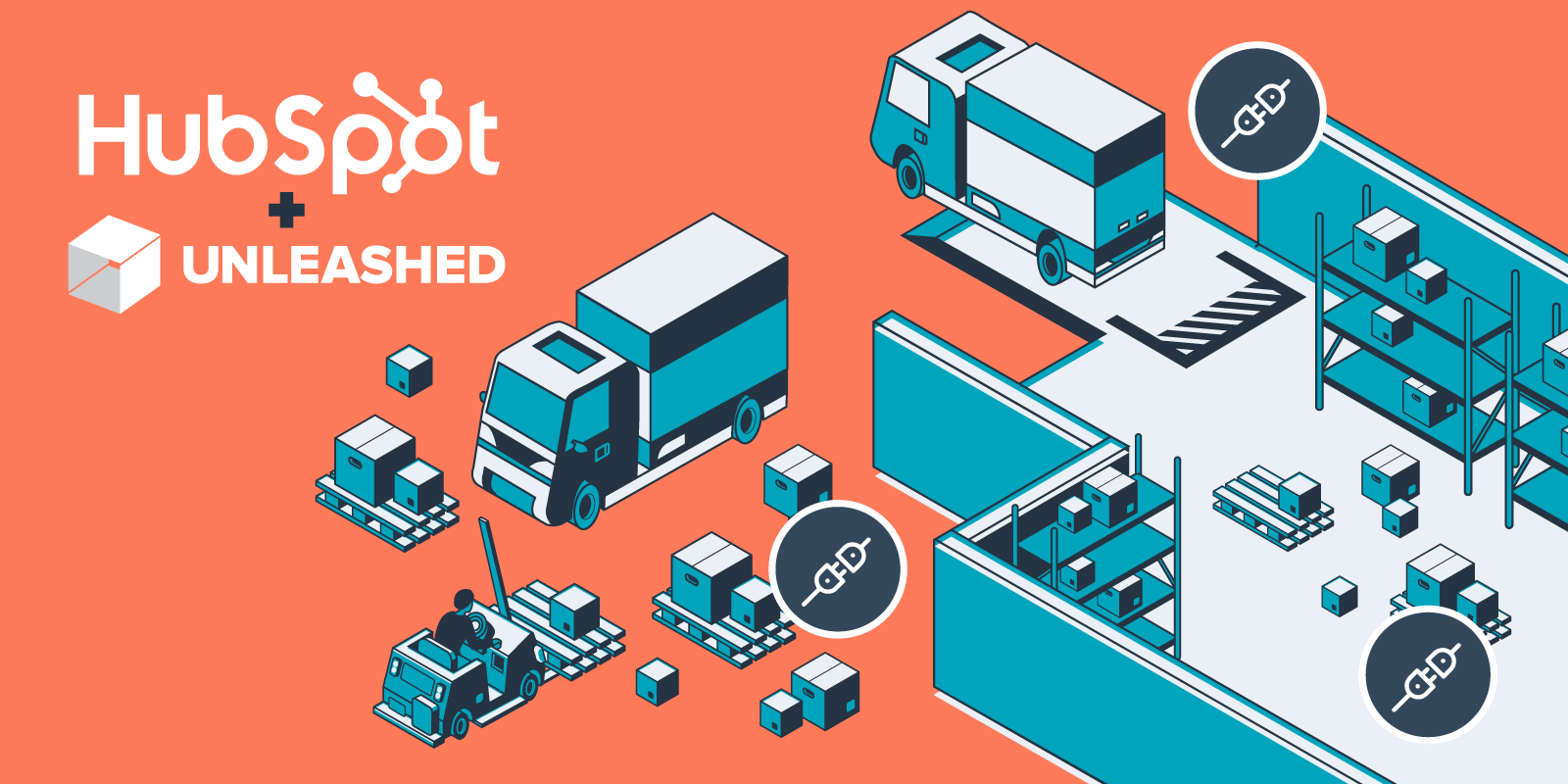 HubSpot | Integration
Integrating HubSpot with Unleashed Inventory Management System for Quantum Cryogenics
The Brief
Quantum Cryogenics was facing issues managing their data between their inventory management system and their CRM. They came to MO Agency to help them bridge the gap between the two systems and improve their business processes.
About Quantum
Quantum Cryogenics formed designs and manufactures quality electronic solutions for the cryogenic and transport industry. Their products are designed, built and tested in-house with their production facilities, experience and focus on constant development. They are able to integrate the most up to date electronic concepts with reliable and tested cryogenic techniques.
The challenge
Quantum uses Unleashed, an inventory management system, to manage all the stock within their facilities. When new contacts require Quantum's services/products, new contacts and companies can be created within Unleashed and HubSpot. Ordinarily, this would not be an issue but Quantum was looking to move to a single hub for all their data that is always in sync. This required syncing of contacts, companies, quotes and other data between their CRM and Unleashed.
They wanted to transition to HubSpot as their main CRM and central hub but Unleashed does not have a native integration with HubSpot. Quantum really wanted to avoid regular manual updates and missing or duplicated information that leads to confusion and inaccurate data tracking.
To resolve this we needed a custom solution to integrate the two systems and their data.
Primary goals
Set up the Quantum HubSpot portal
Onboard their team on HubSpot
Conduct a data cleanup and sync between HubSpot and Unleashed
Create an integration between both systems with 2-way data sync capabilities
Create deals in HubSpot when quotes were created in Unleashed.
Progress deals in HubSpot as quotes are converted to invoices in Unleashed.
Set up a connection on their website that syncs accounts created and managed on their website with Unleashed and HubSpot.
The solution
HubSpot setup
Quantum was not utilising HubSpot before so we needed to set HubSpot up from scratch for them. This required a data cleanup of their existing data to ensure all data was imported correctly formatted and accurately.
Once their data was imported, we created a streamlined pipeline for them to manage their leads, contacts, companies and quotes. We also ran a number of onboarding and discovery sessions to help get their teams familiar with the platform and how their process would be represented and managed.
High-level process design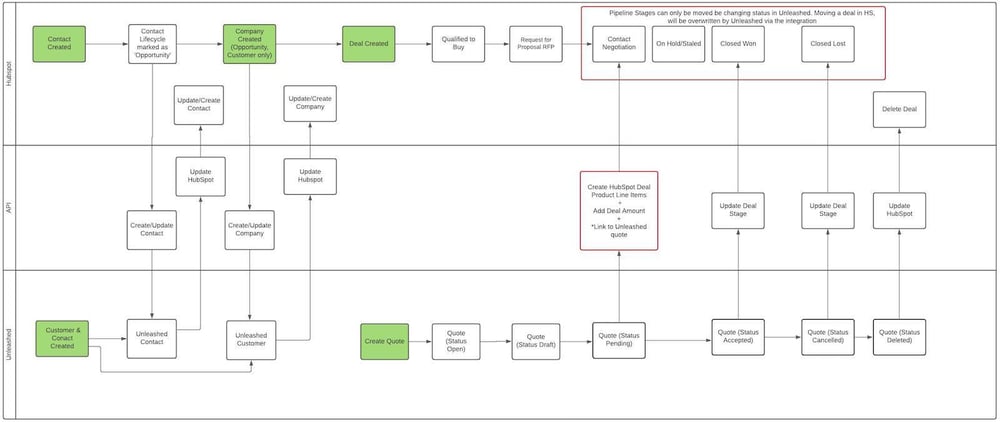 The integration
Initially, the integration seemed as though it would be quite complex and challenging without native integrations. Fortunately, both systems have great API capabilities helping us bridge the gap with automated flows.
Through custom flows, custom fields and API tools we were able to create 2-way data sync between HubSpot and Unleashed. As fields are updated or created on one platform, they would run through the flows and reflect on the other system.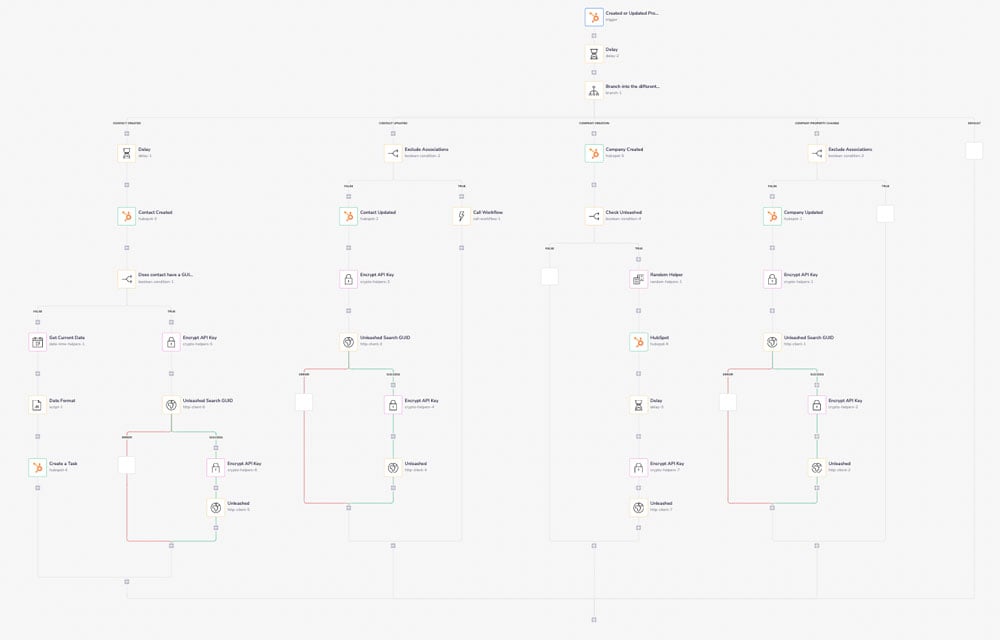 How HubSpot was utilised
For HubSpot to become Quantum's all in one hub for total data management, we made use of pipelines for sales deals management, tracking and reporting.
We set up workflows to automate certain mundane and repetitive tasks to provide their teams with more time to focus on important tasks. We also automated select marketing and sales activities, ensuring timely, consistent, and personalised messaging across all their communication channels.
In addition to their standard data capture and management, we set up custom fields for their businesses unique requirements. These fields contained information from Unleashed to further enrich contact and business information in HubSpot.
Problems we ran into
As Quantum discovered the advanced capabilities of HubSpot they requested additional fields which meant updating the automations. HubSpot made these changes easy to manage.
Unleashed has very specific crypto helpers which we needed to get into HubSpot - We built additional automations and workflows to get that information into HubSpot.
Quantum made use of unique quote statuses and fields which needed to be incorporated into the sales pipeline and integration with Unleashed.
The results
When data is created in either system it triggers the automation to collect, sort and replicate it within the other system. With our custom integration and automated processes, we are currently automating more than 950 tasks a day.

Our impact
We were able to push and pull more data than we originally thought. So we were able to create an even better integration for them and add more useful steps to automate just that little bit more of their sales process.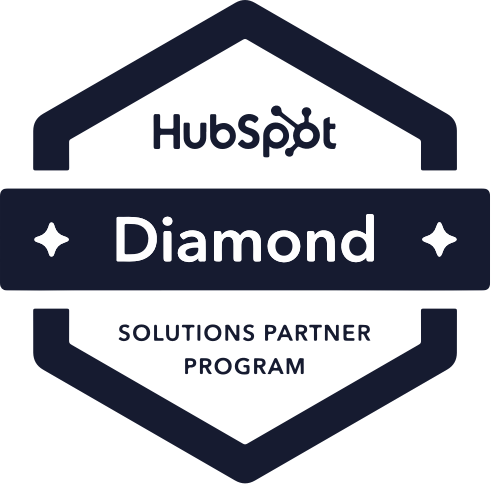 MO Agency supports visionary leaders to succeed with HubSpot