Everest Packaging is a South African firm that specialises in corrugated cardboard research, design and production.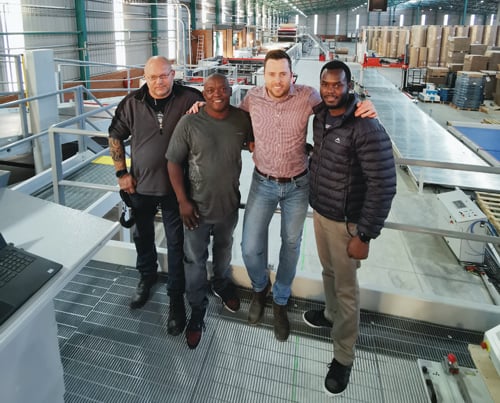 The brief
Everest Packaging came to MO Agency to update its sales business processes. Their team was keeping track of company contacts in their own contacts lists. We were over the moon to be helping them get set up on HubSpot CRM and say goodbye to their retro contact lists.
Everest Packaging needed a way to have a complete overview of all their pipelines and have every step in the process communicated to the relevant departments as they progressed.
They used a packaging industry-specific business management software called Abaca to manage their business processes which they needed to include in their deal and quoting process.
The challenge
Processes
Everest Packaging has many steps within their business, from initial sales to manufacturing and client satisfaction. Our challenge was to connect these processes and different departments and their shared data without adding administrative tasks or manual data entry.
Data management
As their sales team did not have a CRM to manage their contacts and were reliant on each individual's personal mobile phone contact lists, contacts ran the risk of being lost or mismanaged.
We needed to bring in a CRM that made it easy for sales to manage their leads while integrating the rest of the business processes and departments. We needed to prevent the duplication of contacts and the loss of any activity data.
Reporting
Their management teams needed to keep track of their sales teams activities, targets and revenue reporting. We needed to implement data collection processes and analytics tools that build reports, providing a holistic view of the business.
Primary goals
Set up HubSpot CRM and HubSpot Sales portal
Consolidate and migrate their existing databases to HubSpot
Integrate Abaca packaging industry software with HubSpot Sales
Onboard and train the Everest Packaging team on the new system and processes
The solution
HubSpot portal setup
We set up a HubSpot Sales Hub for Everest Packaging with a few pipelines that follow their production and sales processes. This meant that sales could keep track of all their contacts within the same portal, add deals to a pipeline, and record all sales activities automatically.
We needed to consolidate all their existing data and ensure it was formatted to import accurately. Once imported, sales could immediately begin managing their leads and deals in HubSpot.
Automation, reporting and integration
Once a deal reaches a particular stage in the sales pipeline, workflows connect the data to the production team. These automations notified each department within the business that the deal had progressed and the next stage of production could begin.

Keeping the sales and production departments in sync was one of the primary goals of this project.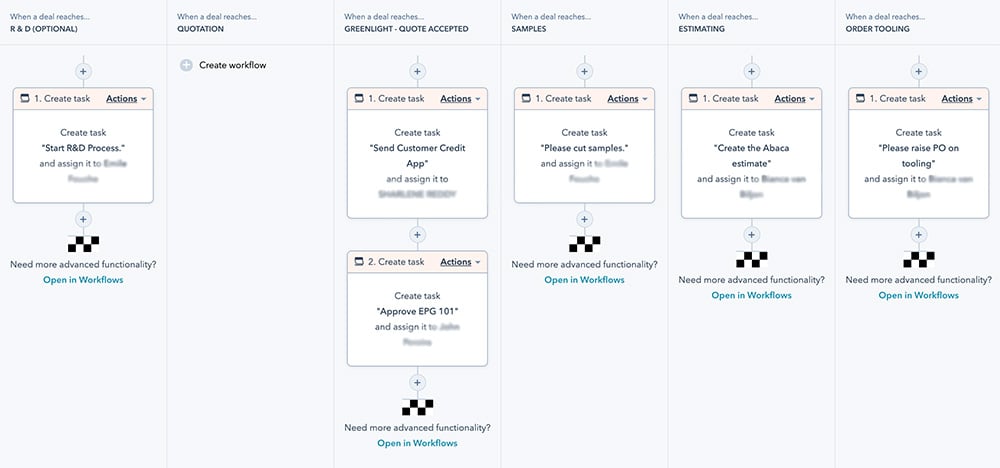 Next up, connecting their production management system Abaca to HubSpot to eliminate manual deal, contact and company creation. We created a form that sales could use to create the contact and all of their details in both HubSpot and in Abaca in one step.
Onboarding
Once the HubSpot portal and all of its workflows had been set up, we connected with the team at Everest Packaging for several sales onboarding sessions which helped them all transition to the new platform and understand how it works.
The results
Sales
Their sales team grasped HubSpot Sales Hub quickly and were able to continue exactly where they left off while quickly and easily adding deals to HubSpot through a 2-way sync with Abaca. Their sales team is now able to manage a large number of leads easily and without any errors or lost data.
Production
With a solid pipeline in place, Everest Packaging was able to keep their entire business in communication and break down the department silos, improving efficiency, ending delays and reducing lead times.
Reporting
With the entire sales process captured in HubSpot through tracked emails and engagements and deals process monitoring in place, they were able to generate detailed reports with HubSpot's analytics tools. They were even reporting on production processes and management.
Our Impact
Everest Packaging has a few senior members of their team who were a little tentative about adopting a new system they may not understand, but once they started the onboarding, it did not take them long to utilise HubSpot effectively. We were very impressed by their team for mastering HubSpot as quickly as they did.
We will continue to support their team with HubSpot and hopefully expand their portal in the future.