Here is what we've done
Our case studies
A showcase of the latest work we've done for our clients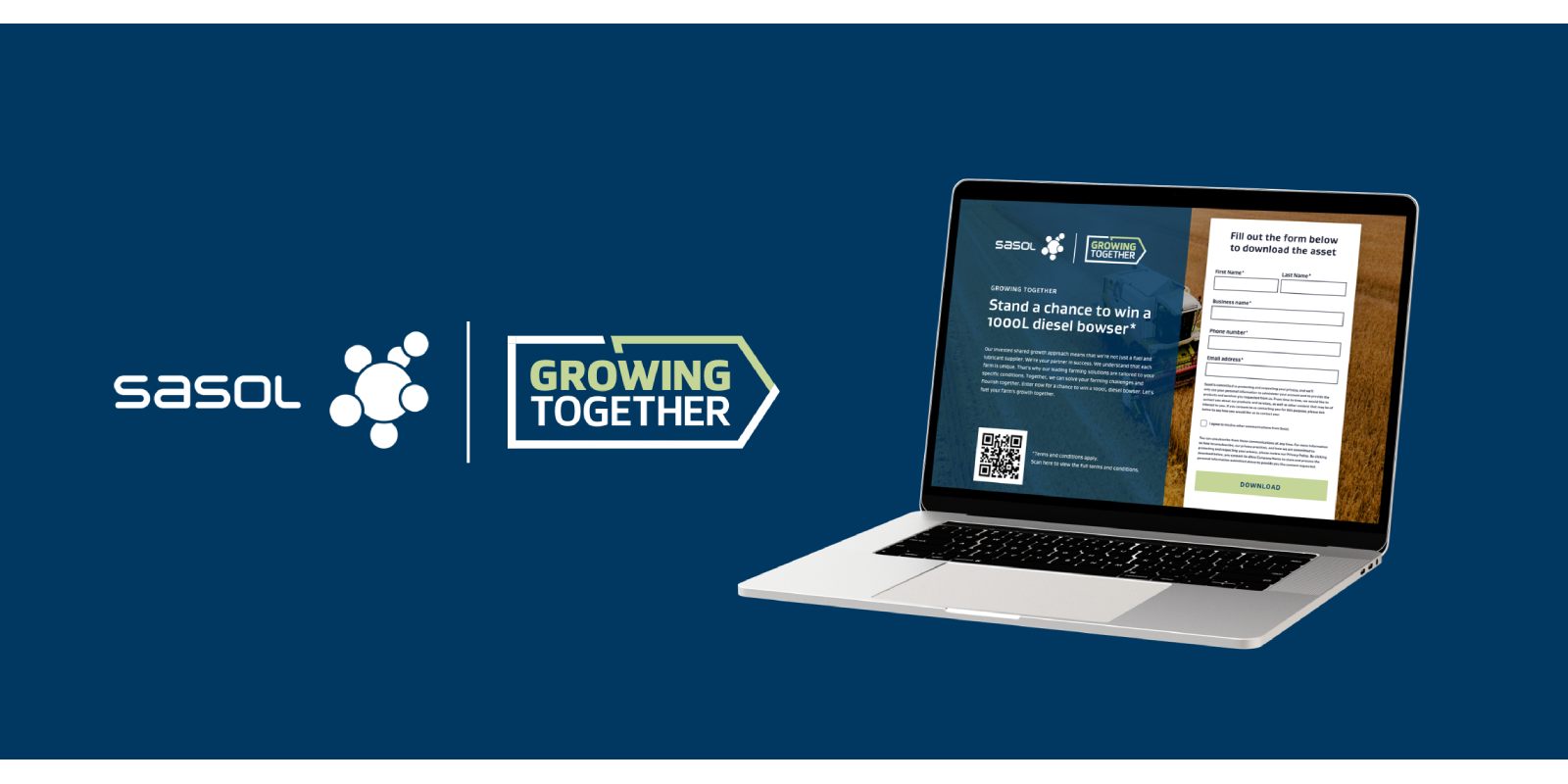 ← Back to case studies
Fueling Sasol's Lead Generation Campaign
Digital Marketing
Sasol is a global chemicals and energy company that provides premium fuels and lubricants that meet or exceed stringent specifications. The company sources produces and markets a wide range of high-quality products safely and sustainably in 22 countries. The company is listed on the Johannesburg Stock Exchange in South Africa and the New York Stock Exchange in the United States.


The brief
Sasol is venturing into the business-to-business (B2B) space in South Africa. Their goal is to start selling directly to the industry with two essential products in mind:
Fuel - for vehicles, tractors, and trucks.
Lubricants - for farming machinery, implements and equipment.

During the NAMPO Agricultural Trade Show — the largest agricultural trade show in Africa, Sasol's new offering was launched alongside the latest farming technologies and products.
MO Agency was approached by Sasol to strategise and build a paid lead generation campaign around the key message of 'Growing Together' — using NAMPO as the key starting point with on-the-ground activities.


The challenge
MO Agency faced several unique challenges with the Sasol lead generation campaign.
Firstly, this campaign had a concise timeline — creating added urgency for everyone involved in the project. While our team would normally scope a month to build a successful campaign, we were given just four days to strategise and execute the entire campaign.
Secondly, the on-platform build and the optimisation of the campaign were managed by another agency. This meant that the clearly defined roles and responsibilities, as well as the division of accountability, were needed.
Additionally, the internal product departments did not receive quality leads or ROI from previous events and projects that Sasol collaborated on — putting further pressure on MO to deliver excellent results in a short space of time.
There was no awareness of Sasol's B2B offering, as it was a brand-new offer that had been developed. Sasol's target market would traditionally engage with local co-ops. To establish itself as a direct partner in the market, Sasol needed to win over the market as a trusted partner.
Although Sasol's brand and products are used within the target market, there is no direct relationship between them and their customers. Furthermore, there is no awareness of the opportunities to foster a B2B relationship with Sasol.
As such, venturing into this B2B space requires Sasol to establish awareness and trust as a direct partner, and reposition themselves as one.


Primary goals
Launch Sasol's B2B offering to market.
Generate a higher volume of digitally derived leads.
Deliver higher quality leads.
Create a roadmap for B2B lead generation campaigning best practices for Sasol.


The solution
MO built a lead generation strategy that involved using Facebook, YouTube and LinkedIn. These social media platforms were used to generate leads through paid content. Below you can see the lead generation roadmap that was developed for Sasol.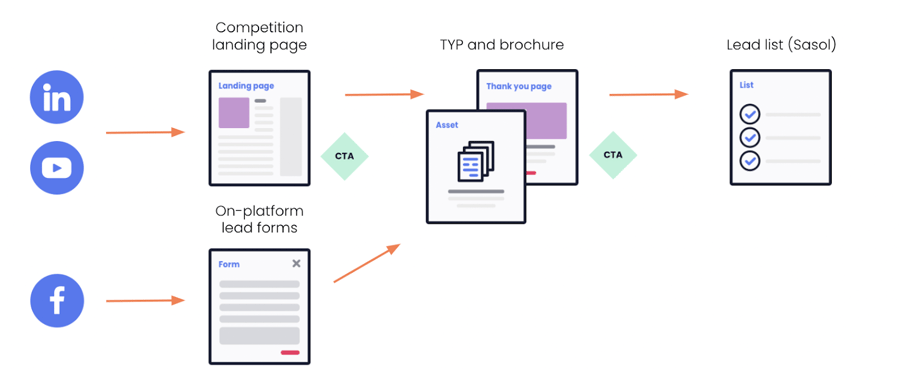 All campaign messaging was crafted around "Growing Together" and "Invested Shared Growth". To achieve both awareness and repositioning, this brand message positions Sasol not only as a fuel and lubricant provider but also as a strategic and technical partner to the progress of South African farms. Below you can see some of the key assets used in our lead generation campaign.

Sasol's lead generation campaign was meticulously set up with a focus on targeting specific agricultural audiences across various channels. The MO team took great care in crafting the targeting strategy, ensuring that the campaign reached the right audience segments. Recognising the diversity of the audience, campaign collateral was developed in both English and Afrikaans, catering to the vernacular preferences of the target market.
A key aspect of the campaign's success was the creation of creative assets in various formats, based on the best-performing formats per channel. The team experimented with static imagery, responsive components, and video content to capture the attention of the target audience effectively.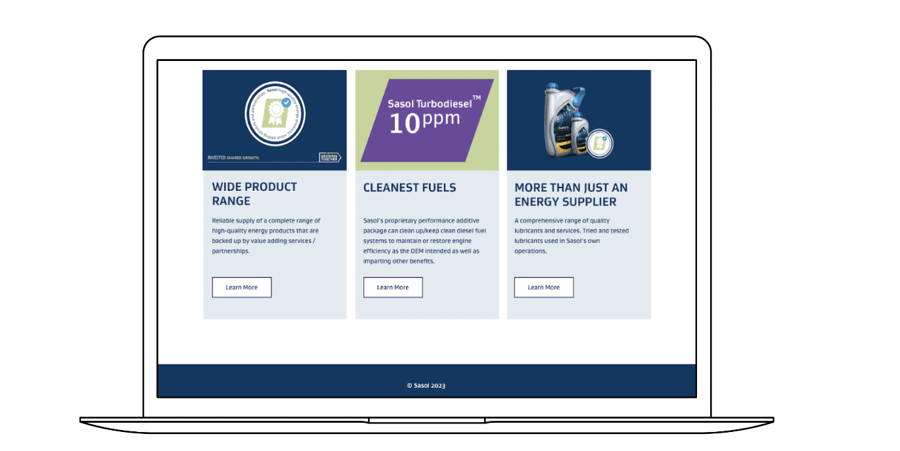 To generate leads, the campaign incorporated a giveaway competition as the primary mechanic. This strategic choice incentivised potential customers to participate and provided an opportunity for Sasol to capture valuable lead information. To facilitate this process, a well-designed landing page was created, guiding visitors through the competition entry process while ensuring a seamless user experience.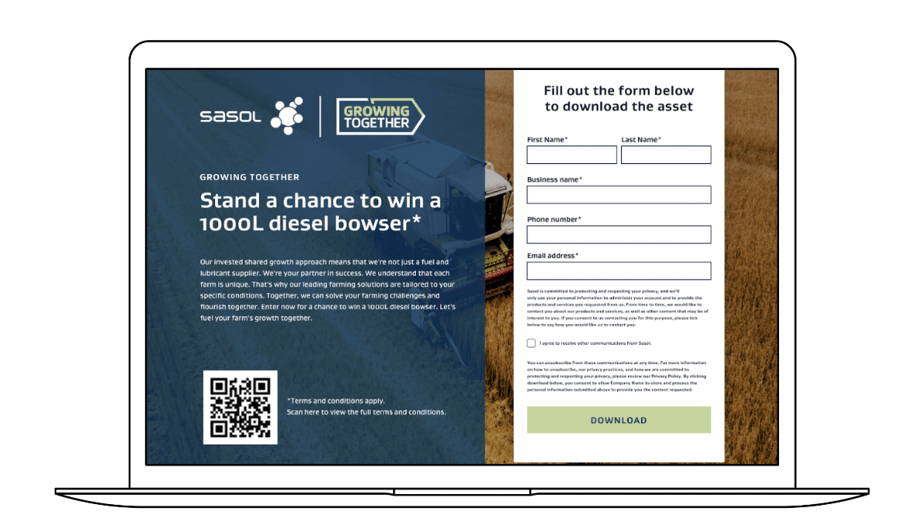 The importance of providing additional engagement opportunities and touchpoints for Sasol's audience was also leveraged. As a result, MO made its B2B brochure available for download on the campaign's thank-you page. This thoughtful inclusion not only enhanced the user experience but also allowed Sasol to establish a stronger connection with leads by providing valuable content that aligned with their interests.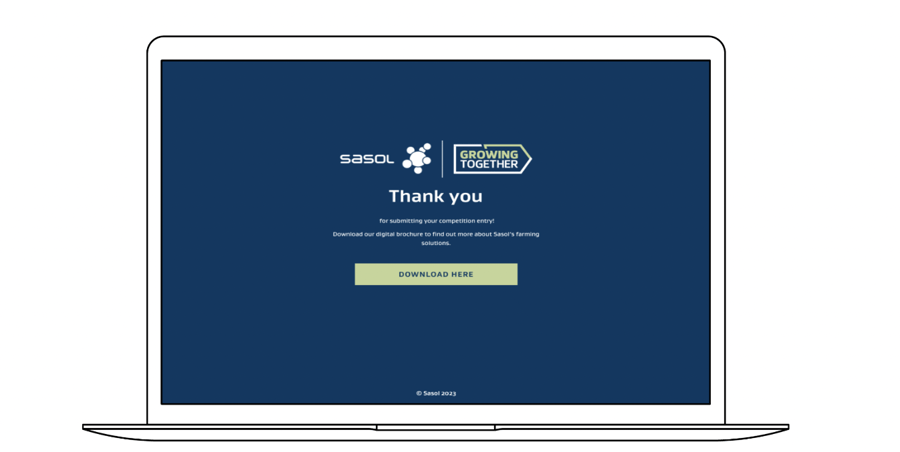 The results
Overall, the campaign generated excellent results considering the short timeline and urgency of the project :
Impressions: 4 205 490
Engagement: 208 832
Leads: 194


Our Impact
Sasol's precisely executed lead generation campaign made a profound impact in a short timeframe, delivering exceptional results. With a comprehensive targeting strategy and carefully crafted collateral in multiple languages, the campaign successfully reached specific agricultural audiences across various channels.
The campaign's impressive metrics, including millions of impressions, significant engagement, and a substantial number of quality leads, demonstrated the campaign's effectiveness in driving awareness, engagement, and ultimately, Sasol's successful entry into the B2B market.
Clients
We've got your industry covered
Pricing
View our pricing
Our pricing for strategic and support work is based on a credit system, which means you'll never be asking your agency again. Only pay for deliverables and not the time it takes us to deliver them.