What is Account-Based Marketing?
Account-based Marketing (ABM) is a focused growth strategy in which Marketing and Sales collaborate to create personalized buying experiences for a mutually identified set of high-value accounts.
In other words, ABM aims to unite marketing and sales teams in their efforts to improve lead quality, increase conversions and improve customer experience.
ABM does this through highly targeted efforts on key accounts that will generate the best ROI for the business.
What are the benefits of Account-Based Marketing
Targeted and goal aligned
When target accounts are clearly defined, marketing can easily align their targeting and qualification criteria to improve lead quality.
Sales can focus their efforts on these qualified leads and put more effort into the sales process because the leads tend to be of high quality because of the laser focus.
Personalised
Knowing who you are talking to allows you to personalise every touchpoint along their journey.
Marketing ads speak to key account needs and pains.
Websites can be personalised with smart content that presents relevant content to the right people when they need it most.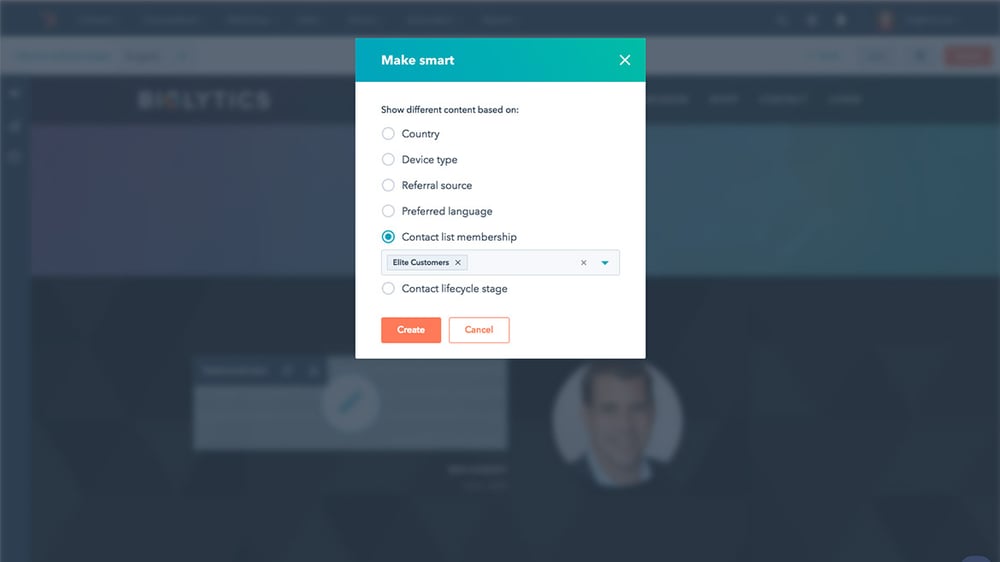 Sales follow-up and sales messaging whether one-to-one or via automation can be aligned and targeted with ease.
Sales and marketing alignment
Marketing and sales need to be integrated and aligned. Honestly, this is the holy grail of digital marketing. It's just so hard to get both teams to play nice!
With ABM the goals, targeting and understanding of marketing and sales teams are aligned. This is because the teams set out together and consult each other on how to achieve the business goals together.
Have you ever heard the statement - "many hands make light work"? It is much easier to achieve goals together. ABM is by its very nature a collaborative effort between sales and marketing.
Clear ROI and accountability
You have the goals, all that's left is keeping an eye on the results. Again the collaborative nature of ABM drives accountability. Sales will very quickly shout if the leads generated from the ABM campaign are off-target.
Equally, marketing will jump up and down if their hard-earned leads are not followed up briskly and to plan.
This process helps keep your teams accountable and ensures that efforts are being spent on the right accounts.
Because of the baked-in accountability and feedback process, you will very quickly be able to tell if your adjustments are bringing in the right business long-term and help you identify and attract similar accounts.
How to start with Account-Based Marketing
Identify key accounts
Key accounts are not necessarily your biggest accounts. Identifying who your business should focus on should be based on a set of criteria. Look at your existing clients. What criteria does your favourite client possess?
We recommend around 3 - 5 key criteria, where you evaluate each account and score each a 1-10 in each category. The accounts with the highest scores will be your key accounts.
Here are some criteria ideas:
Revenue potential
Cost to serve
Demand stability
Product fit
Solvency
Existing relationships
Possibility of becoming a channel partner
Cultural fit
Geographic alignment
Purchasing process
Conduct research
Once you have built a list of your best current accounts, expanding that list out to potential customers is the next step.

Based on your qualifying criteria, identify which other businesses would be the ideal next accounts.
Strategic account planning
You should know your customers, their needs and the challenges they face. They pay your bills and you interact with them daily!
Build out a profile that outlines what keeps them awake at night, and what makes them happy.
Here are a few key factors you can use to help in your account planning and the goals you hope to help them achieve.
Business overview
Key business initiatives
Short and long-term goals
Key business issues faced
Competitor analysis
Sales opportunities, targets & risks
Build the team
You will need a dedicated team to manage your accounts and ensure key accounts get the attention required. Your team should consist of a minimum of one marketer and one sales rep who will be completely dedicated to the accounts you work with.
These people will create and publish content for accounts as well as work to manage and close business deals with each account's buying committee.
Depending on the size of your business you may need more sales reps and marketing implementation specialists or even just one all-rounder for smaller key accounts.
Set up weekly check-ins and a monthly review between sales and marketing. These meetings can never be missed. Feedback and collaboration is the key to ABM success.
Analyze lead and pipeline data
While working through your Account-Based Marketing strategy and as data starts flowing in, you'll identify any gaps or parts of your strategy that need to be changed.
This constant improvement cycle will allow you to make your strategy agile. Agile and constant improvement drives the effectiveness of campaigns and ultimately business goal achievement.
Here are some examples of common account-based marketing KPIs that provide insight into how you're doing:
Deal creation
Account penetration (net new contacts added to an account)
Account engagement
Account revenue growth (individual accounts and total account growth)
Number of new accounts
Deal time to close
Net new revenue
Percentage of deals closed
Account-Based Marketing Examples
ABM to synergise sales and marketing teams
MO Agency worked with Teraco to digitally transform their marketing and sales departments to work together and execute an account-based marketing strategy. Once leads came into the portal they were put into a marketing workflow to nurture the MQL's. This helped their marketing team keep track of leads as soon as they entered the CRM and provide instant responses.
The engaged contacts and unengaged contacts were separated and reached out accordingly. The whole process was automated as much as possible before notifying sales to qualify the leads. This process automated the lead handover process helping marketing and sales work together seamlessly.
ABM in Marketing campaigns
In one of our own marketing campaign efforts at MO, we created a Linkedin Inmail Campaign, targeting technology companies - aimed at the Sales Manager/Director within those organisations. This approach ensures we reach the members of the right organisations that are potential customers that would qualify to be our target accounts.
ABM with email marketing
With sales template emails in HubSpot with customised and relevant messaging, our sales team could immediately engage a lead once they entered our CRM. This added a personalised feel to our engagement with prospects with messaging that is relevant and targeted.
ABM that organically reaches target accounts
The same process of marketing campaigns can be applied to organic campaigns. Through the right keywords, you can reach the right people searching for content relevant to a product or service you would provide to your key accounts.
With the addition of marketing email workflows, leads can be qualified and key accounts identified and transferred to sales.
ABM applied to social media campaigns
We recently helped Greenpeace generate new donors to help the environment through social media campaigns. These ads targeted their top personas built on the location, interests, role models in the industry, charity/ causes, and demographics to bring in their ideal target donors.
The campaign offered an infographic that was locked behind a form on a strategically designed landing page. The form collected prospect names, email addresses and the environmental issues they are most interested in supporting. This form helped further qualify the leads and identify the key accounts.
Account-Based Marketing and Inbound Marketing
Account-based marketing is a highly targeted approach to ideal target accounts.
Inbound Marketing is a foundation on which to attract customers with valuable content on thier own terms and at a time when they are most receptive to your messaging.
The two work beautifully together.
With the highly targeted direction from ABM, you can attract potential customers with meaningful inbound content that is curated specifically for them.
Inbound content will also help you to enrich your relationships with your existing customers and grow your accounts while guaranteeing retention.
Final thoughts
Account-based marketing doesn't have to be overwhelming. By working through the tactics we've listed above you can get an ABM strategy up and running and even optimised and generate business in 2 - 3 months.
BTW, we highly recommend using CRM software to manage your ABM campaigns.
A great option is HubSpot's ABM software — for your marketing and sales team to use together. Identifying and managing valuable accounts become easier with the right tools.
The goal is to work more efficiently and reduce friction in your sales cycle - HubSpot is just that. You can read how to set up account-based marketing in HubSpot here.