Facebook is one of the largest social media platforms with over 2.32 billion active users globally. With the platform servicing more than half of the world's internet-using community, which currently stands at 4.39 billion, advertising on the platform has become an essential part of many marketing campaigns. Facebook has accomplished a lot and… that's enough for a convincing intro, right?
Anyway, we've put together this crash course on how to set up your own advertising campaign on Facebook to get actionable results for your business.
Understanding the campaign structure
Firstly, it is important to understand Facebook's campaign structure so we can get the most out of our advertising efforts.
Each campaign corresponds to a single advertising objective that depends on the stage of the buyer's journey you want to target - whether it be raising awareness, driving consideration or making conversions.
Each campaign consists of ad sets where you can set your budget and schedule for each ad set. Here, you can also define your targeting, placement and bid settings at the ad set level.
Each Ad set then contains one or more ads with different images, text, call-to-actions, links or videos aimed at the group targeted at an ad-set level.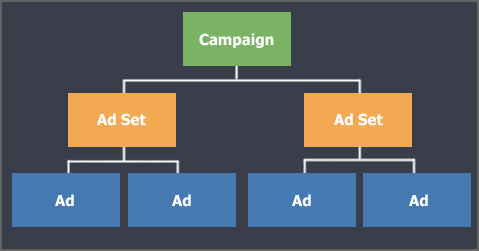 1. Creating the campaign
Now that we understand how Facebook Ads is set up, we can start planning our campaign. As mentioned above, each campaign can only focus on one objective, so it is important to know what you want to achieve at the end of our campaign. Facebook has several options to choose from depending on the stage of the buyer's journey you want to target.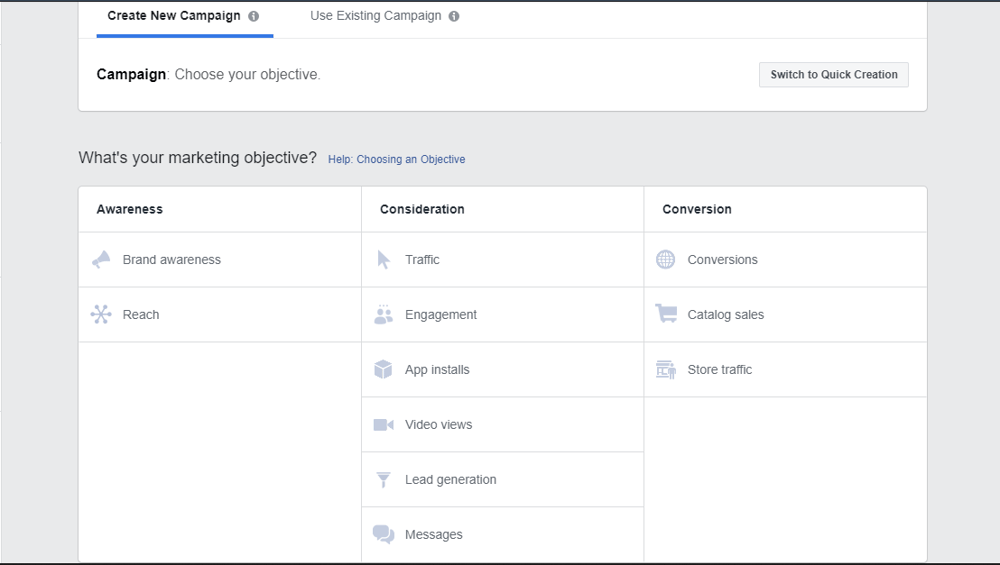 Note: To get to this window, click on the drop-down arrow in the upper-right corner of any Facebook page and choose "Manage Ads" from the drop-down.
Awareness
These objectives are designed to grow your audience. You can either cast a wide net by showing everyone your ad using the Reach objective or refine your search by targeting people who are most likely to be interested in your brand through the Brand Awareness objective.
Consideration
These objectives aim to drive consideration from your audience. You can do so by having people like your page or interact with a social post, visit your website or fill out a form to claim an offer – all this using the Traffic, Engagement or Lead generation objectives respectively. Note, however, that it is not advisable to spend on page likes – while it shows social proof, getting people on your list after they claim an offer provides a higher ROI.
Conversion
This set of objectives aims to drive actionable results from your audience. If you're looking to drive purchases on your website or to have people come to your brick-and-mortar store, then the Conversion and Store Traffic objectives, respectively, can do the job.
After choosing an objective, you have to name your campaign and decide on creating a split test and/or optimizing your campaign budget.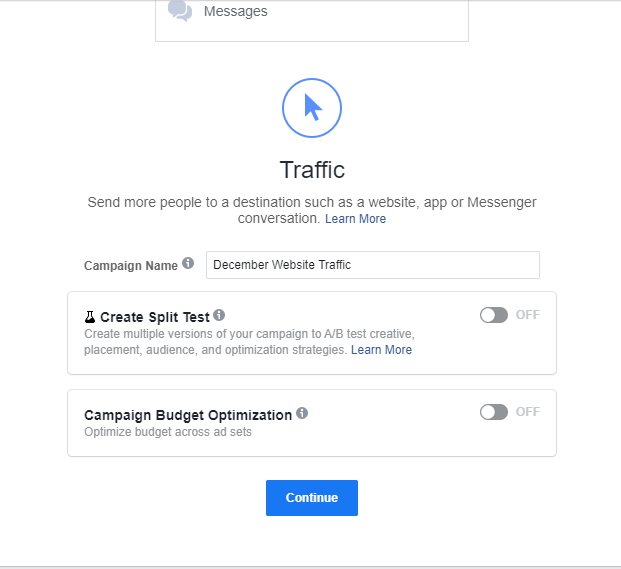 2. Creating the ad set
Audience
All targeting parameters are specified at the Ad-Set level and include location, age, gender, and other demographic and psychographic information you may have on your preferred audience.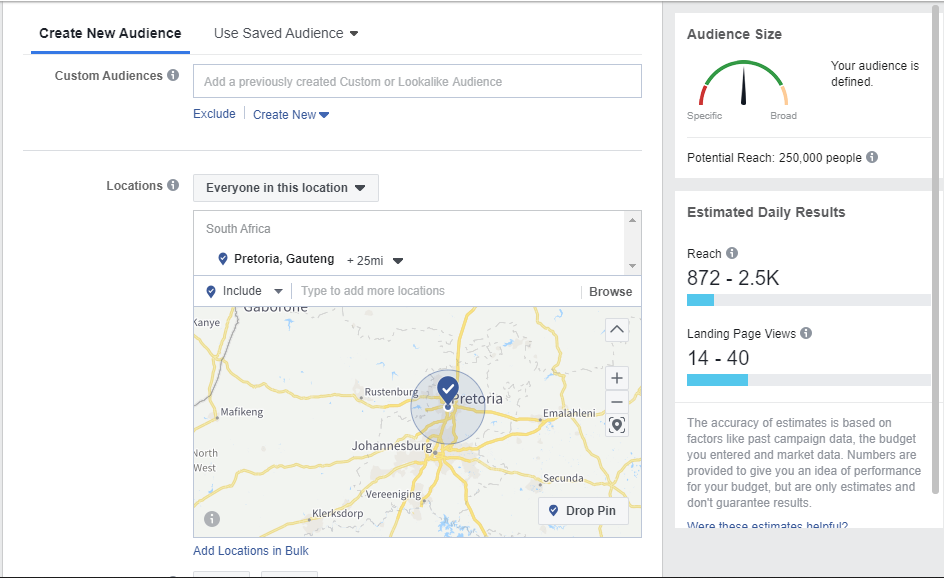 Using your buyer personas to specify targeting in your campaign would be a good place to start as this is information which is, most likely, already available to you.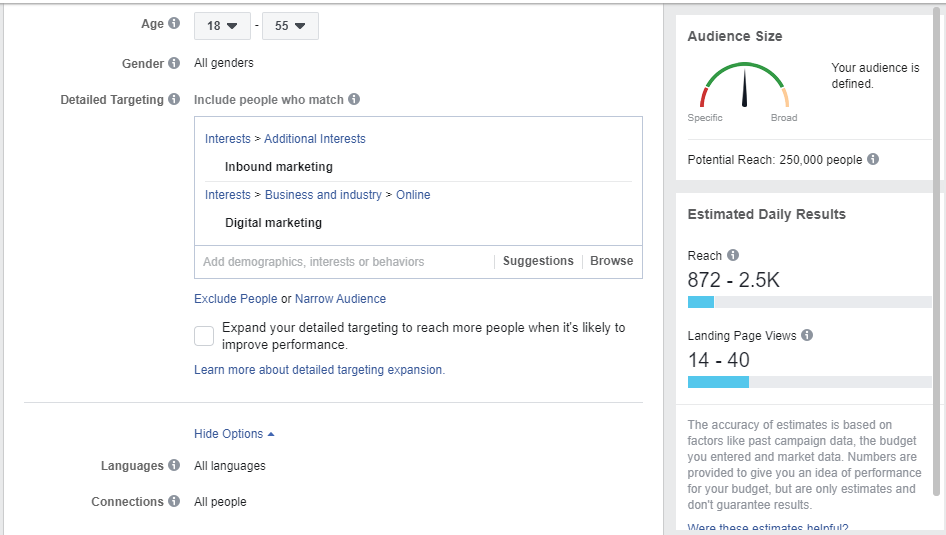 Placement
The placement section is where you specify where your ad will show up on Facebook and its other platforms – Facebook Messenger and Instagram – and where it will show within those platforms (stories, feeds, etc.).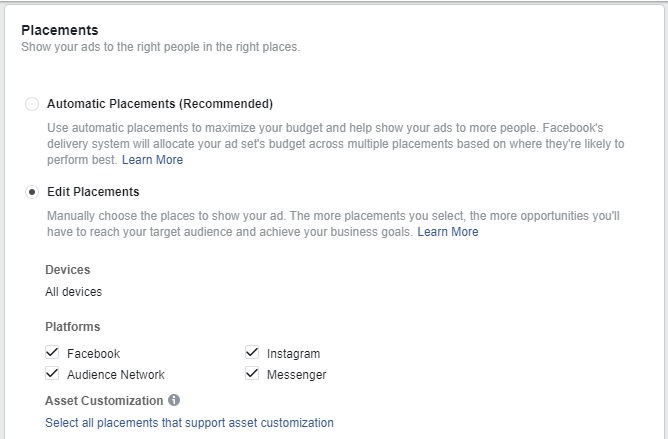 You can get even more granular by targeting operating systems (iOS or Android) and whether they are connected to Wi-Fi or not.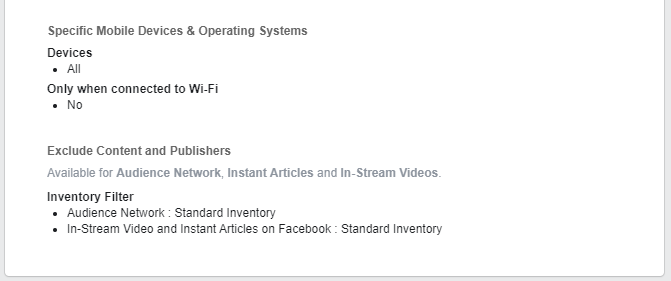 Be sure to choose platforms that are relevant to your audience and avoid using the audience network as one of your placements.
Budget
Determine how much you are willing to spend on your campaign. All your targeting parameters will determine the minimum budget you will need to set for your ad to run. You can either set a daily budget if you want to run your ad on an ongoing basis or you can set a lifetime budget for an ad that is set to run for a set duration.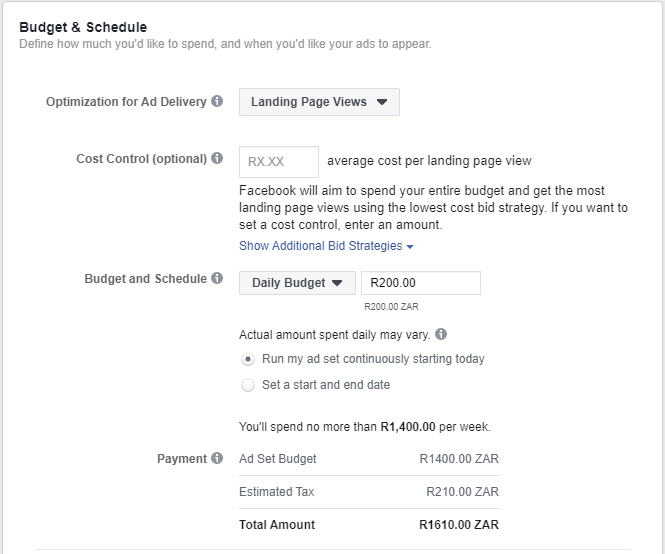 You can also specify when you get charged and how your ad will be delivered – your ad can run be delivered evenly over the life of the ad or you can accelerate delivery to get results as quickly as possible. Do some research and decide which option will be best for your ad campaign.

In the end, you want an audience that's just about the right size as indicated by the needle being just about in the centre of the arc. Should your targeted audience be too narrow, Facebook will be kind enough to let you know and make suggestions on how to improve your chances of getting the results you're aiming for.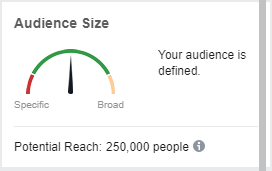 Spend time doing proper research before deciding what kind of user you want to reach through your campaign. Facebook will adapt the costs involved with your ads set according to your chosen target market. Targeting the correct market on Facebook is very important, as the goal is to have a relevant audience on your page.
3. Creating the ad
First things first: name your ad and choose the Facebook page associated with the campaign – and the associated Instagram page if applicable. Stick to a naming convention applicable to your business in case you want to run multiple ads in a single ad set and being able to differentiate between them is important, especially when testing different creatives.

For the ad, you can create one from scratch or use an existing post. To create an ad from scratch you can upload images or videos from your desktop or search for stock images, or you can create a slideshow using templates from the video creation kit tool on Facebook.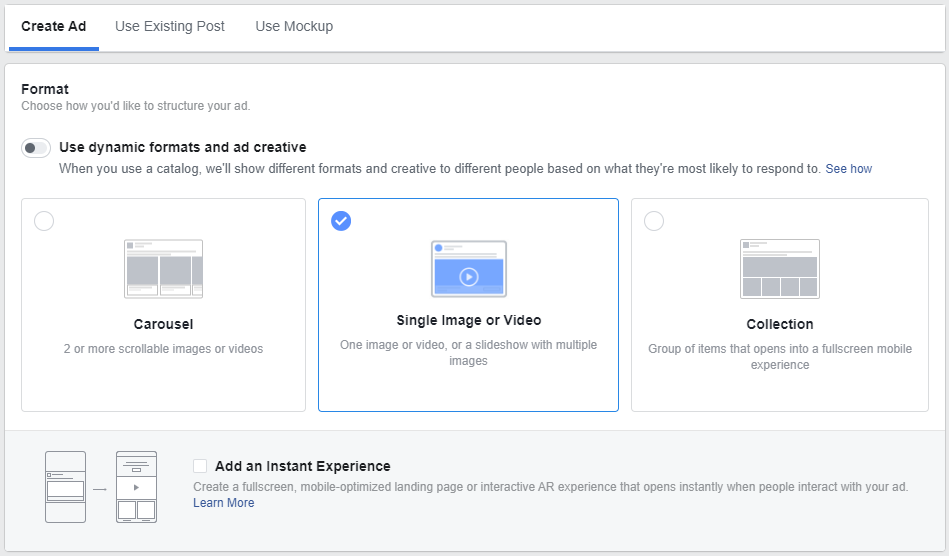 Finally specify a headline (max. 40 characters to avoid it being cut off) for the image and a catchy caption (max. 125 characters) if you've created an ad yourself, and add a call-to-action to entice people into claiming your offer.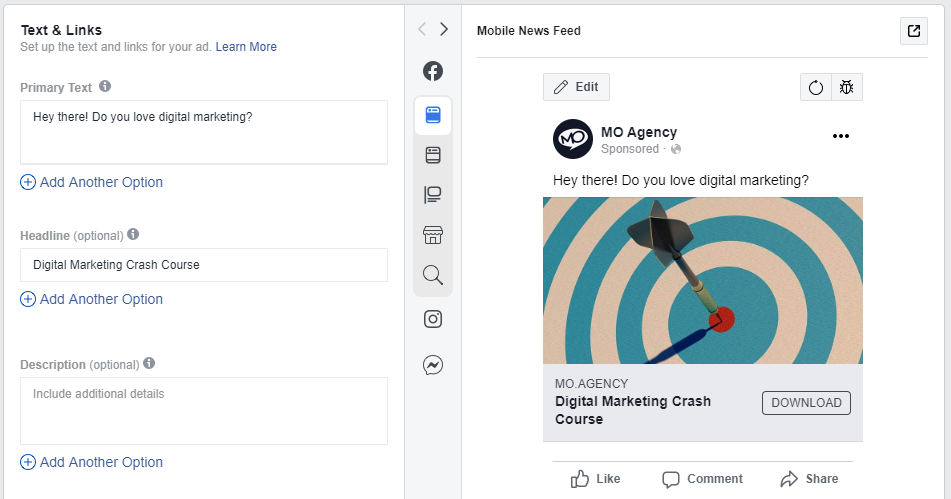 Tracking is an important part of the reporting process. Using tracking and pixel codes, special coupons and custom landing pages, we are able to understand what our audience is interested in, where they are coming from and what actions they are taking on the destination page.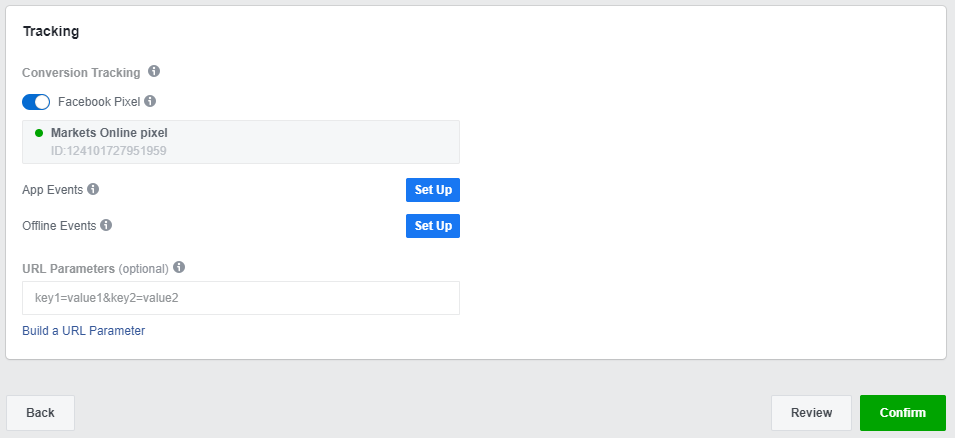 Once you're done setting up your ad you can review your entire campaign and fix any errors before sending your ad for approval by Facebook. Once your ad has been approved, you'll get a confirmation email as well as daily notifications on the spending and performance of your ad.
4. Reporting
Accurate tracking helps determine the campaign's performance when assessed against pre-determined KPIs. This will allow you to make changes to your advertising campaign as needed. Be careful, however, not to make too many changes as it could lead to your ad no longer delivering.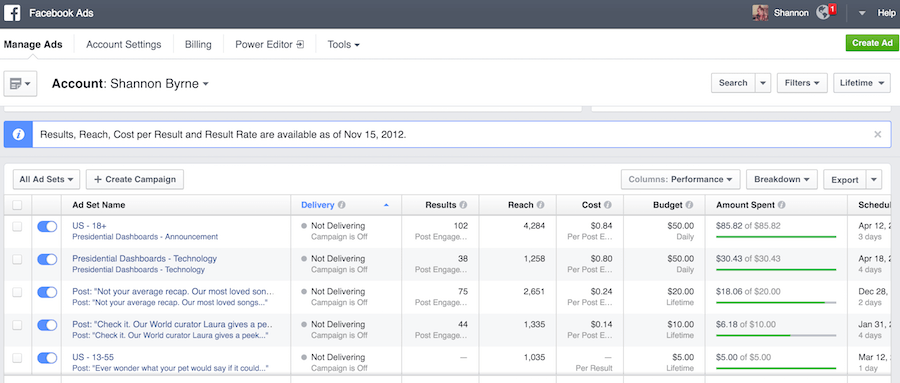 Final thoughts
Done right, ad campaigns can bring in leads you wouldn't have otherwise acquired through traditional advertising means. At MO Agency we have a fantastic team that can assist you in running Facebook advertising campaigns that produce actionable results. Simply hit the contact button in the top right corner and complete the form and we will contact you to discuss how we can set up and run a successful Facebook ad campaign for your business.