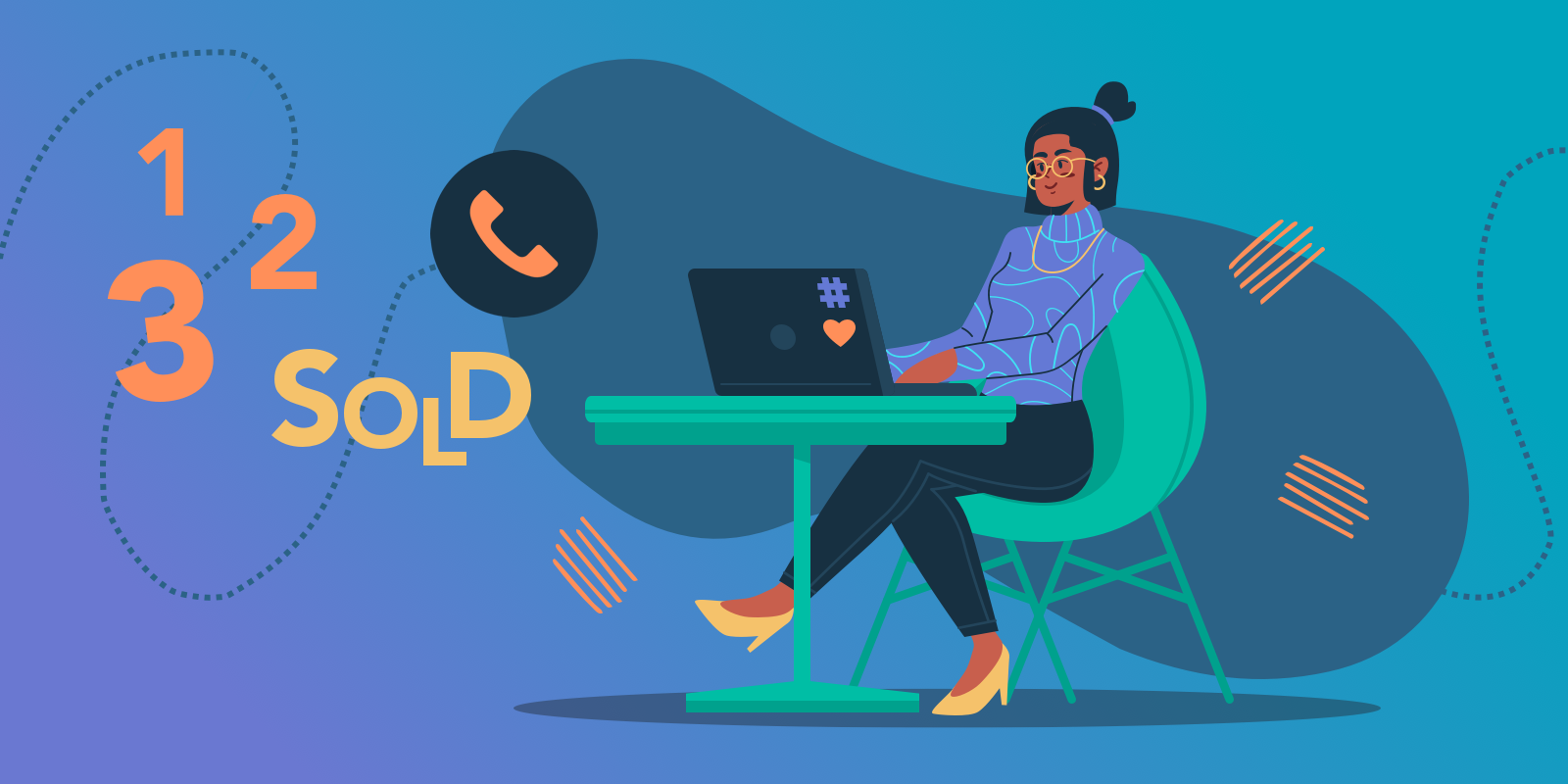 Sales Enablement
What are the top priorities for UK salespeople in 2023?
The most critical priority for sales professionals is hitting those sales targets. No one will dispute this.
However, the remote working revolution has changed the way that sales work.
HubSpot, one of the world's leading Sales CRM vendors, asked a global audience of 6,399 professionals across 141 countries what their company's top sales priorities are for the next 12 months.

We dived into the data and filtered it for the sales priorities in the UK. Here's what the UK data said.
1. Converting more customers
The challenge
Naturally, the top priority for sales reps is converting prospects into customers. However, closing a prospect can take a long time.
Lead quality is the most significant factor influencing the conversion rate and cycle in sales pipelines. Commonly, a salesperson puts in a lot of time and effort to move a lead through the sales funnel only to find they were the wrong lead from the start.
The solution
Proper qualification criteria have to be set upfront. This is true for both sales and marketing teams. Both teams need to unilaterally agree on their criteria for this to work.
These criteria are called ideal buyer personas. They define what a perfect lead for your business looks like.
Make sure both sales and marketing teams agree on what an ideal prospect is.
For example:
Revenue: £10m+ p/a
Industry: Financial services
Position: CEO, CFO, or CIO
Only once that is done can marketing create forms that capture the right lead information to qualify leads upfront. Poor leads should never be passed on to sales to qualify. Only qualified leads reach sales, saving time and a lot of frustration between the sales and marketing teams.
In addition, salespeople can refer to this ideal buyer persona to ensure sales outreach is equally effective and time is spent wisely.
2. Improving the efficiency of the sales funnel
The challenge
A solid sales process is at the heart of a solid sales strategy. One of the best ways to ensure a solid sales process is by measuring the efficiency at each sales funnel stage.
Pinpointing inefficiencies at each stage helps marketing and salespeople spot the leaks and plug the holes in the sales pipeline.
Most prospects entering the sales funnel will not convert into customers, resulting in stagnant leads and precious sales waste time.
Equally, something in the sales process might be scaring away good leads at a certain point.
For example, if the product demo isn't done within two weeks of connecting - the prospects seem to go cold.
The solution
Based on the needs and personas you identified, build a sales cycle that addresses these needs while still fitting within your business and its processes. Customise your CRM to work with you and even for you.
Using the demo example above, many salespeople intuitively know when to position a demo in the sales process, and maybe that's you. But here's the thing, the vast majority of salespeople don't have this intuitive feel. I'm sure you've heard the statement: 'Sales is a numbers game'. Sales managers say that to their salespeople who don't have that level of intuition.
Give these salespeople a playbook to follow. Identify the inefficiencies in your sales process. Use pipeline data, and figure out who are the most successful salespeople in your team. Chances are, they have intuitively made sure demos happen within a few days of the first connection. Build this into your sales process so all your salespeople can do this too.
Additionally, we suggest automating some of the processes if you can. Send reminders to salespeople based on deal stages and metrics. Most good CRM's allow you to do this.
3. Social selling
The challenge
When asked to prioritise their most important communication channels, salespeople ranked social media as fourth on the list, which is unusual because social media is where most people spend their time online.
Email is still the primary tool for sales and marketing professionals. Email is followed closely by face-to-face contact and the traditional telephone.
While lower down on the list when it comes to preferred communication methods, the report noted an increase in social media's usage and priority for the UK sales professional. But it still came in fourth on the priority list.
The value of social selling is increasingly being recognised. The report anticipates that the role of social selling in the UK will keep increasing.
We believe that prospects will rely more on social media to receive buying recommendations and make buying decisions.
The solution
Sales and marketing professionals in the UK rate LinkedIn the best, followed by Facebook and Twitter.
The trick is to engage in social media and not get caught behind the curve when it takes even higher precedence. We believe that prospects will rely more on social media to receive buying recommendations and make buying decisions.
Social selling provides a unique opportunity to be more personal with your prospects and expand your reach across countries without the need for face-to-face meetings.
4. Training the sales team
The challenge
As mentioned earlier, working in sales and marketing is an ever-evolving landscape. The pandemic reshaped the way we sell, and UK sales teams had to adapt quickly to hit the numbers.
Sales teams that were able to adapt quickly, managed to get back to normal sales numbers faster than those that didn't. Remote selling and the reliance on great quality leads from digital marketing efforts brought about a requirement for a level of understanding of the digital marketing process. Sales need to dovetail with the marketing teams to get this synergy right.
Methodologies like inbound marketing, lead nurturing, email marketing and marketing automation work. But they need sales to understand how they work too.
When a salesperson can identify a prospect in the company's marketing funnel as ready to be contacted by a real-life person, they have a high probability of building trust and making a sale.
The solution
The new tactics in social selling, inbound marketing, marketing automation, CRM, and more, require regular training. If sales teams understand how to talk digital marketing with the marketing team generating the leads - they can closely align with them to generate higher volumes of quality leads.
HubSpot Training Academy is a wealth of knowledge. Even if you are not a HubSpot user, it has a wealth of knowledge to share in a quick and easy format to review.
Click here to view the courses. We recommend these three courses for all salespeople who require a solid footing in the new digital landscape of sales.
Taking Your Business Online With HubSpot
Inbound
Frictionless Sales
5. Reducing the length of the sales cycle
The challenge
For salespeople, the early phases of the sales cycle are the biggest challenge. Of the whole cycle, with proper lead qualification, closing seems to be the easiest part.
The solution
This again demonstrates that marketing teams need to place importance on the accurate qualification of the leads they generate.
By implementing better lead qualification criteria that focus on targeting their paid ads, content and nurturing at only the best quality, the sales cycle will shorten. Only sales-ready or highly qualified leads must be passed onto the sales team, not every single lead that is generated - let sales spend their time on quality leads only.
Again, this talks to marketing and sales teams working together. The starting point of this is understanding how the marketing team generated leads (See solution 4).
6. Embracing the remote work revolution
The challenge
The pandemic sped up the implementation of the remote work model, and it's here to stay. With remote work becoming more and more popular in the modern world, it's essential for sales teams to get to grips with the advantages of working away from the office.
However, salespeople have found it challenging to make a smooth transition into selling remotely. Even a couple of years after the pandemic, sales teams are still struggling to hit their targets.
The problem is that they get less guidance from sales leaders, and they have fewer opportunities to sell face-to-face — rated the second most powerful sales channel.
The solution
Sales leaders need to use remote working to their advantage. It's an excellent opportunity to develop powerful sales teams through coaching. Sales leaders no longer need to be in multiple places at once to guide their reps, they can provide oversight using remote tools like Zoom, Google Meets, and Slack.
Salespeople need to implement remote:
One-on-ones
Pre-call strategies
Post-call debriefing
Ad-hoc coaching
Plan reviews


63% of sales leaders surveyed by HubSpot said virtual meetings were just as or more effective than in-person meetings.
Final thoughts
These priorities are nothing new. They're all variations of the same goal to provide prospects and leads with a personalised and supportive experience that will educate and help them make the right purchase decision for their needs.
These are all easily achievable. Start with the one that resonates the most. Happy selling.
Welcome to the MO Agency blog. Here you can find resources on Digital Marketing, HubSpot Inbound Marketing, Web Development & Brand Strategy.