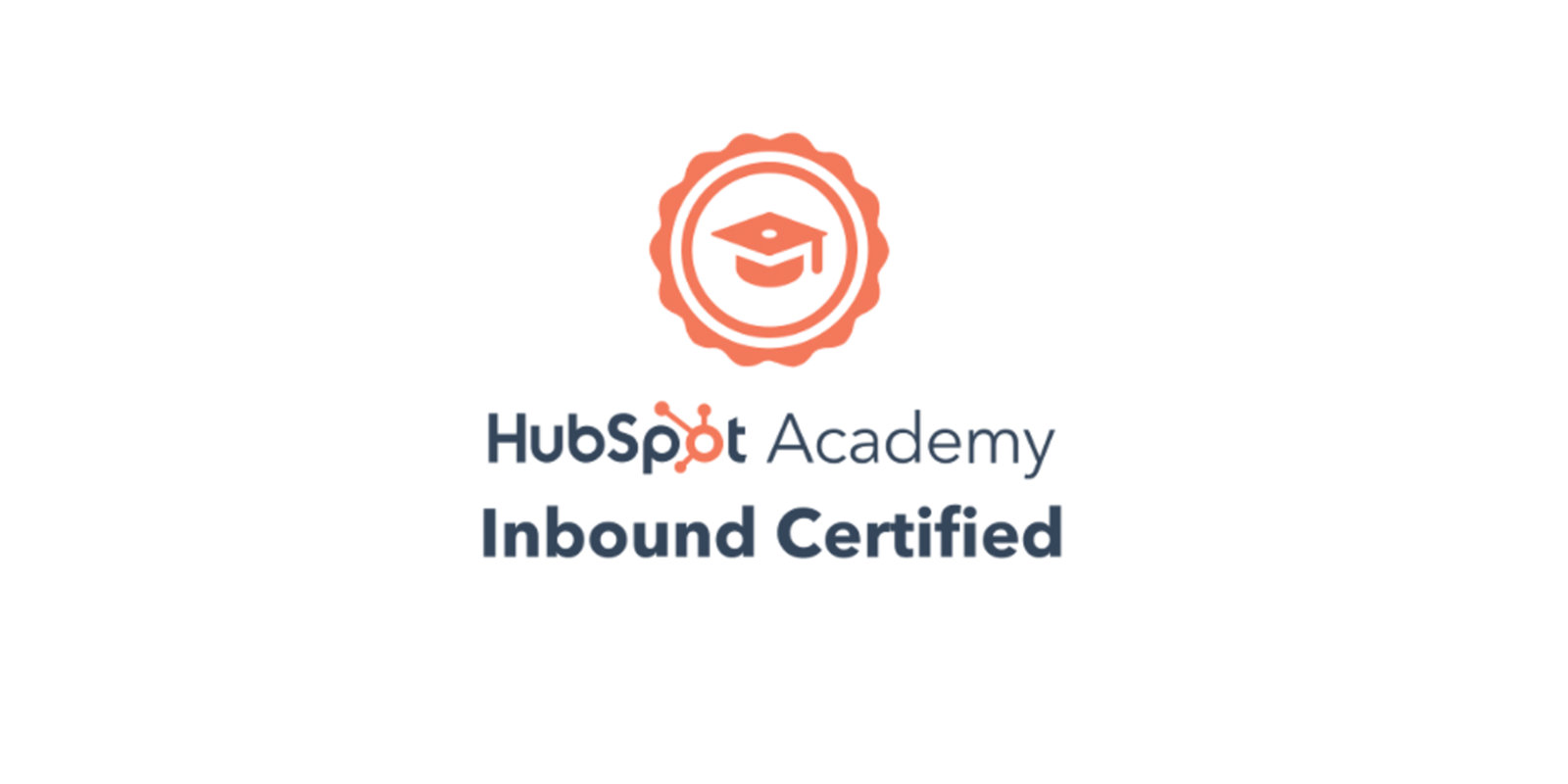 Inbound Marketing
How to get your HubSpot Inbound Certification in South Africa
Ready to level up your career?
For marketers, constantly learning new skills is the key to success.
Whether you want to take your career to the next level or try out new marketing strategies, you'll need to learn from the best.
As far as inbound marketing goes, that title belongs to HubSpot. You can earn an Inbound Certification from HubSpot without paying a cent.
Follow these steps to get your HubSpot Inbound Certification:
Create a HubSpot account for free.
Enroll in the Inbound Certification course (also free).
Complete all 7 lessons (total of 3 hours).
Pass the certification exam and practical exercises.
Earn your Inbound Certification.

That's it. It's really that simple — and the best part is that it's completely free!
If you want to learn more about the Inbound Certification and why it's critical in the modern marketing world, keep reading to get all the details and head into your course fully prepared.


What is the HubSpot Inbound Certification?
Completing HubSpot certifications is one of the best ways you can grow your career. There are hundreds of certifications to choose from, which makes it difficult to find a place to start!
Some of these courses are free, while others can only be unlocked by signing up for a premium HubSpot account.
As a marketer, you're probably always on the lookout for ways to hone your skills, learn new strategies, and become a more powerful asset for your organisation.
Well, the HubSpot Inbound Certification might just be the answer you're looking for. This free certification will equip you with powerful knowledge of the inbound methodology — pioneered by HubSpot itself.
You'll learn everything there is to know about the famous HubSpot ethos: attracting, engaging, and delighting customers.
We'll dive further into the details of what this course covers below, but first, here's a quick overview of what the Inbound Certification entails:
Lessons: 7
Total time: 3 hours
Quizzes: 4


Who is this course for?
The Inbound Certification is aimed at three different types of personas:
Inbound professionals looking to implement a more customer-centred strategic approach.
Business owners looking to build trust with their target audience
Marketing and sales teams seeking alignment and creating buyer personas for their ideal customers.


That being said, this course will equip anyone with powerful inbound marketing strategies that can be put to use in any industry, and in any profession.
Even if you don't fall under one of the personas above, this certification is still a worthwhile investment of your time.
What you'll learn in this course
The Inbound certification is all about how you can attract, engage, and delight customers using inbound marketing strategies.
Implement a customer-centered

inbound strategy

for business growth and trust
Use the flywheel model to accelerate your company's growth
Understand your ideal customer with a buyer persona to create great content and increase organic traffic.


These are the key elements you need to start leveraging inbound marketing in your business.
The course has been designed to be easy to follow with guided video lessons that take you through the topic. At the end of some lessons, you'll have the opportunity to complete an optional quiz to reinforce what you've learned in the lesson.
At the end of the course, you need to complete an exam to officially earn your certification.


Course professors
As with any course, the teachers have a massive impact on your learning experience.
Luckily, HubSpot has gathered some of the best lecturers for their Inbound Certification lessons. Below are the profiles of each course professor.
Jorie Munroe
"Hailing from the wintry north of Vermont, Jorie is a data nerd in perpetual search of cheeky banter and caffeine. When not exploring with their husband and aussiedoodle, they're typically trying to keep their houseplants alive (and probably failing) and listening to a podcast about ghosts and ghouls. Sour candy connoisseur and wannabe mead-maker." - HubSpot Academy
Kyle Jepson
"Kyle teaches sales and CRM courses at HubSpot Academy. He is best known for his work on the HubSpot Sales Software Certification and the Sales Enablement Certification. He is the father of three children, the lucky husband of an equally lucky woman, and aspires to be the author of one of those paperback novels you see in grocery store check-out lines" - HubSpot Academy
Courtney Sembler
"Courtney hails from San Francisco, CA, and moved to Boston, MA to work for HubSpot in 2015. She currently works as the Senior Team Manager for HubSpot Academy Education dedicated to leading the inspiring and passionate Inbound Professors. She was a previous Inbound Professor focused on email marketing, GDPR, and contact management. She is devoted to education, environmental programs, and a true email geek." - HubSpot Academy

Step-by-step Guide: How to earn a HubSpot Inbound Certificate in South Africa
The process of earning your Inbound Certification from Hubspot is straightforward. The most difficult part is successfully completing the exam at the end!
As long as you focus during the lessons, take notes, and complete the quizzes, you won't have any problems.
Keep in mind though, if you fail the exam you will need to wait 12 hours before you can try again.
Let's dive into the step-by-step process of earning your Inbound Certification.
Step 1: Go to HubSpot Academy

First things first, head over to the HubSpot Academy website. Once you're on the home page, you can explore the academy and take a look at all of the courses and certifications that are available.
Step 2: Create your free HubSpot account

In order to enrol in any of the certifications on HubSpot Academy, you need to create an account. Simply click on the orange tab in the top right of the screen that says "Sign up for free courses".
From there, all you need to do is follow the instructions on the screen to create your account. Once you're done, go ahead and log in with the credentials you just created.
Step 3: Enroll in the free Inbound Certification course
Next, you need to find the courses you want to enrol in. You can either find them using the home page, or you can use the search bar at the top of the screen to find a specific course. To find the Inbound Certification, you can just search 'inbound'.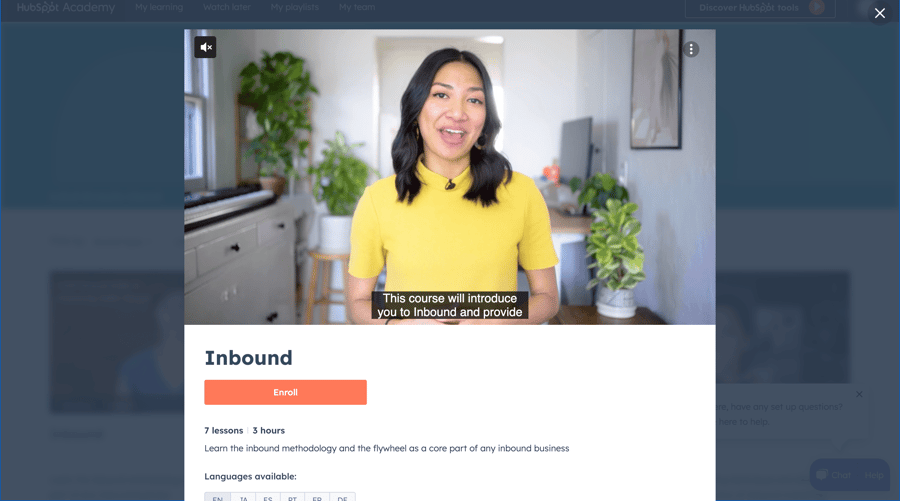 Once the results page loads, click on the Inbound Certification course and then click on 'Enroll' to get started.
Step 4: Complete all 7 lessons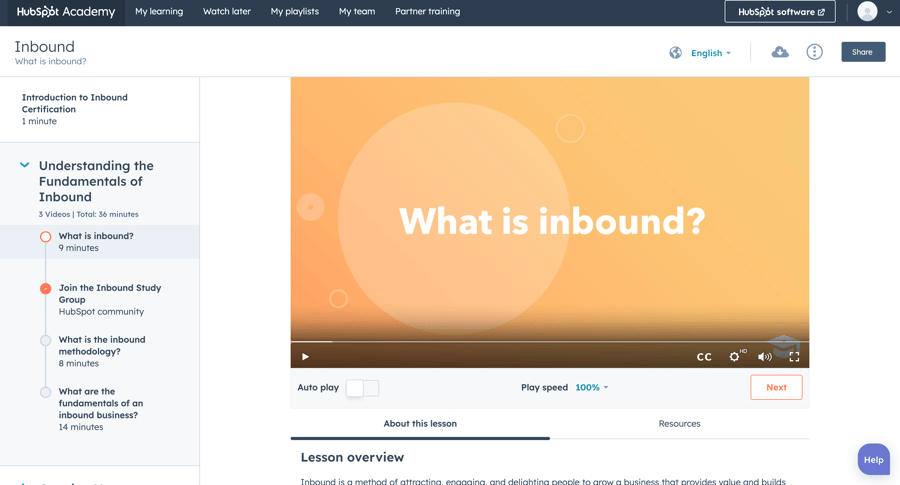 Now you're ready to start learning some of the most powerful inbound strategies in the marketing industry.
Each lesson is a short video with engaging visuals and voiceovers from one of the three course professors.
You can use the autoplay feature to seamlessly move on to the next lesson — with this feature on, the course will only stop when there's a quiz for you to complete at the end of a section.
Make your way through each video until you reach the end of the course.
Step 5: Pass the certification exam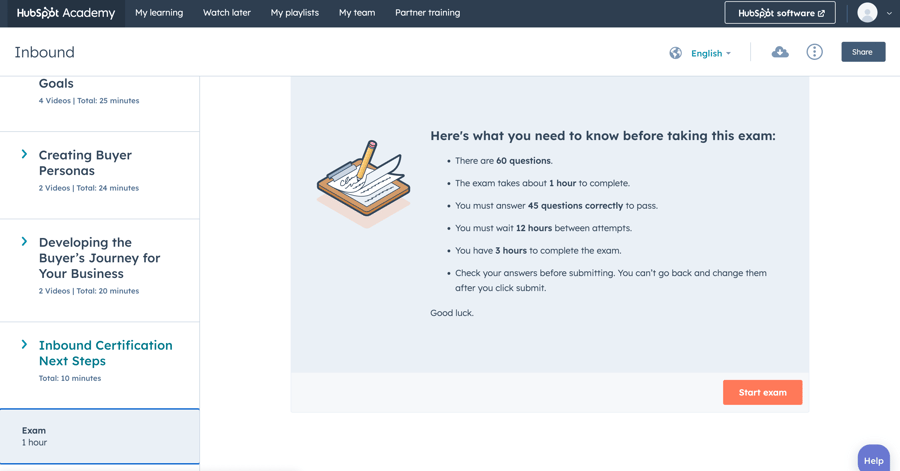 Once you're ready, start your final exam for the Inbound Certification course.
There are a total of 60 questions in this exam, and you need to answer at least 45 of them correctly to pass the exam.
You'll have a total of 3 hours to complete the exam — that's more than enough time!
Step 6: Unlock your Inbound Certification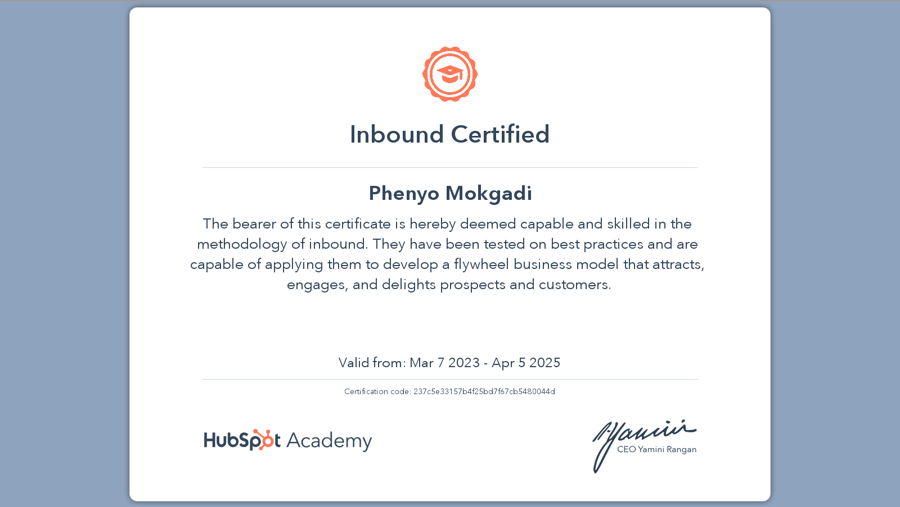 Congratulations, you've passed the exam and earned your very own Inbound Certification.
It's time to put it up on your LinkedIn profile and start implementing the powerful strategies that you've learned in the process.


Conclusion
HubSpot is the pioneer of inbound marketing — why not learn from the best?
The Inbound Certification will teach you how to attract, engage, and delight customers using the best inbound strategies in the industry.
The best part is: this course is completely free and it can be completed in just 3 hours.
Welcome to the MO Agency blog. Here you can find resources on Digital Marketing, HubSpot Inbound Marketing, Web Development & Brand Strategy.