Why HubSpot Operations Hub?
Growing companies need to change, scale and integrate systems and processes regularly. With each department having its own apps, spreadsheets, databases and communications, they tend to operate in silos.
The problem for these scaling companies is that silos create a reactive, misinformed and fragmented customer experience.
Enter Revenue Operations or RevOps.
Contents
What is RevOps?
Key features of HubSpot Operations Hub
Data Sync
Programable automation
Data Quality automation
Features for operation teams
Use cases for Operations Hub
HubSpot Operations Hub Pricing
What is RevOps?
To scale, a modern business needs the following teams/systems to operate in perfect sync:
Marketing Operations
Sales Operations
Customer Success Operations
Systems
To scale and quickly evolve to market changes. RevOps is the key.
RevOps provides a centralised function that consolidates these historically siloed operations teams.
The RevOps function is responsible for the processes, systems, and data that sales, marketing, customer success use every day. You need a unified, integration-focused system that connects teams and tools, cleans out junk customer data and automates business processes.
Key Features of Operations Hub
HubSpot Operations Hub combines an ops team's full toolkit into a CRM platform, bringing all your customer data to one platform.
Moving your company to one hub of information gives your teams the opportunity to align their efforts, reducing friction for their customers, ops team, and a friction free customer experience.
It's a centralised function that consolidates these historically siloed operations teams. It is a single team that serves all revenue generating business units.
With Operations Hub, you have:
1. A CRM that is connected to everything
Say goodbye to third party integration tools and begin syncing your data across all your business apps two ways and in real-time. Save hours of manual data management, and empower and align your teams with consistent and up-to-date data they can rely on.
2. A database that's clean and easy to use
A clean customer experience requires clean data. With Operations Hub, ensuring data quality isn't just easy; it's automatic. Declutter date properties, capitalise names, clean up phone numbers, and more. Fast and simple.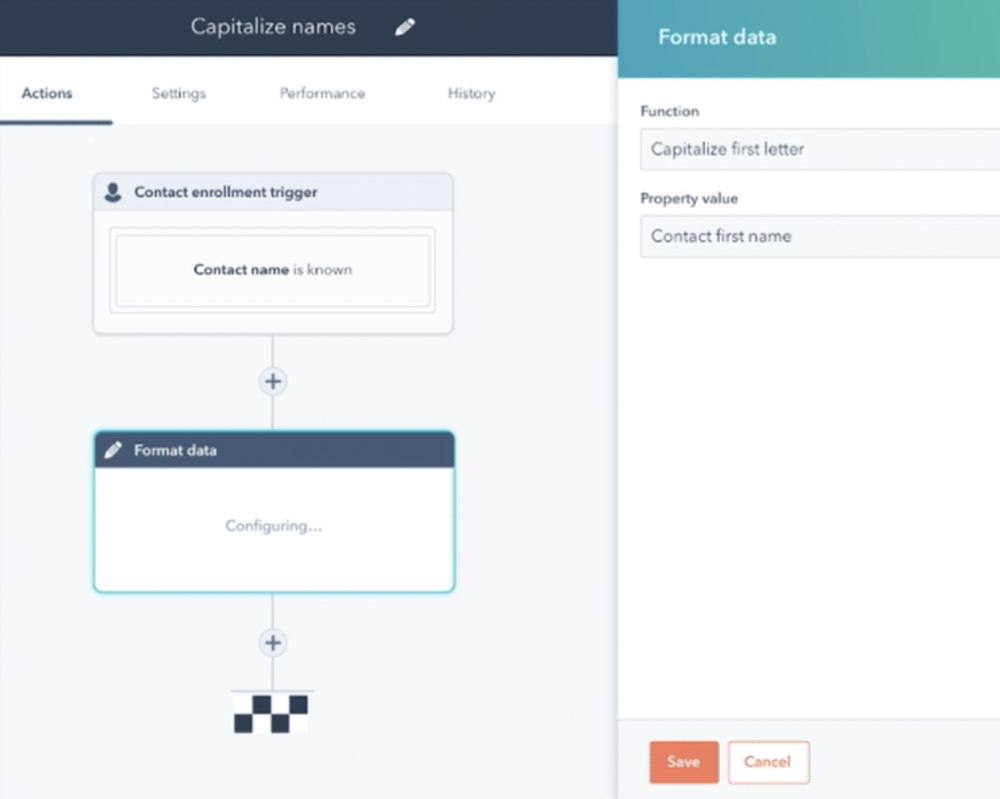 3. Automation that shifts as your business does
Keep your team efficient and your customer experience consistent, even as online touch points multiply through automation.
With HubSpot Operations Hub, reduce delivery friction and create custom automation actions for every business process — from territory management to time management notifications to NPS.
As your company changes, so do your customer needs, create an easy flow to keep you aligned and adaptable.
Data sync
As your company scales, every employee adopts their favourite SaaS app; and the number of tools you have to manage multiplies. This creates a web of apps that are out of sync and inefficient.
Your customers expect a smooth delivery and communication process, OpsHub enables this by removing friction, and providing one mighty connected tech stack.
Data Sync by HubSpot is an automated way to share data between HubSpot and other apps without manual data entry or time-consuming imports and exports. With native integrations, although easy, they end up being rigid and inhibiting. On the other hand, custom solutions bring results but are expensive and code orientated.
HubSpot's data sync packs all the punch of a custom-built connector — bidirectional sync, custom field mappings, filtering, historical syncing — in an easy, code-free package.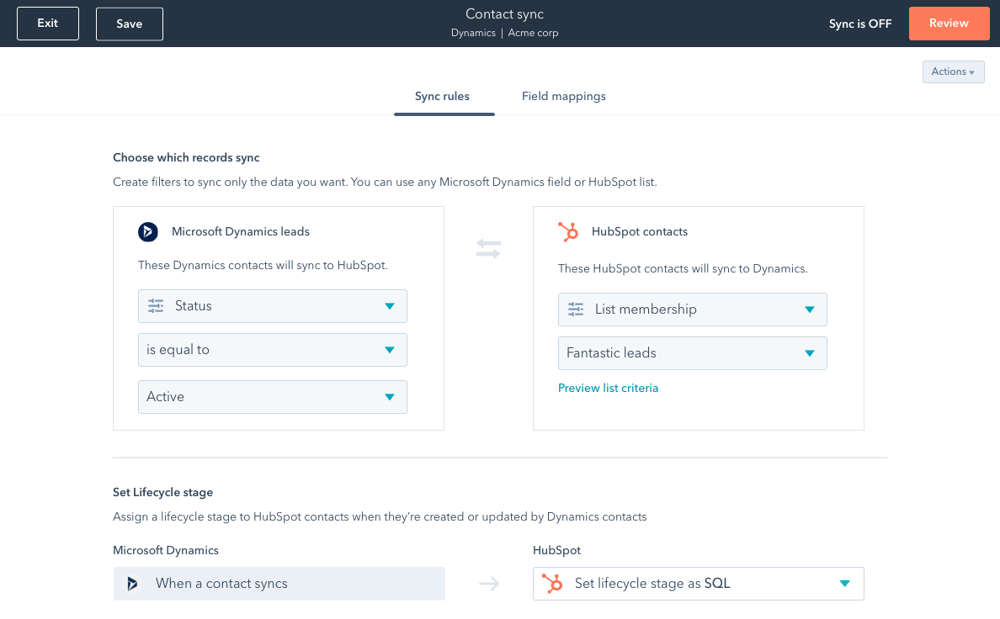 Source: HubSpot
Here's how it works:
Standard trigger based integrations, like that of Zapier, follow the rule that when an action happens in one app, it sends a piece of information to the other app and tells it to take a certain action with the information.
Data Sync follows the rule that Instead of an action triggering something in the other app, you simply define which data fields you want to be synced and which to leave out of the sync. This method works great for providing an up-to-date look at any synced record, no matter which app you're looking at.
Having your business apps connected and syncing data across teams your company will have less data mess and loss. Your teams will be empowered with all the data they need to create a frictionless customer experience.
Programmable automation
Your company isn't stock standard, and neither should your automation be. With HubSpot Operations Hub your company can create custom automation actions for every business function. The only limit is your imagination.
See the example of code in automation below.
Break the mould and set your automation free. With Operations Hub your company automation processes are no longer limited to the standard triggers, actions and endpoints. Here are a few example use cases:
Clean up CRM company data
When certain field conditions are met, automation can pull data from external sources to populate the record or enrich the contact with more context and should there be a need for manual correction, to automatically notify the team responsible.
Run advanced calculations
Automations can pull information from deals, products, line items, and custom objects to calculate commission for sales members and even allocate leads based on custom criteria.
For example send 20% of the leads to John, 40% to Sarah and 40% to Pete, because they're stronger sales reps.

Manage capacity-based ticket assignment
Automatically assign tickets to team members based on their capacity to assist promptly not just on their online status.
Data quality automation
No one likes messy data, out of order and dysfunctional, your teams especially. Getting deep into your data and finding the issues, and updating the small details and micro faults takes a huge amount of time and resources.
HubSpot Operations Hub helps you clean up your data, especially during an import or migration process and ultimately keep it that way.
With HubSpot workflows, your data will be clean and under control, automatically, so your Operations team can focus on growing your business and not keeping it from catching fire.
Features for operation teams
Workflow integrations
Trigger actions in third-party systems — a Slack message, a Zoom webinar invite, an Asana task, and dozens more — from your HubSpot workflows.
Custom objects
Store and customize all the data you need to support your customers. Create single-object, cross-object, or custom funnel reports to monitor the health of your business.
Team Management and Permissions
Manage your users and ensure only the right ones have access to your account, keeping your assets secure and your team efficient.
Use cases for Operations Hub
1. Integrate everything.
Set up HubSpot as your source of truth. The one-stop hub of information and data across all your teams and departments. With Operations Hub you can:
Sync your CRM with your ERP
Integrate marketing apps
Sync your marketing campaign data
Sync contacts with reps and your CRM
Keep your CRM connected with your custom apps
2. Migrating to HubSpot
Changing systems has always had its difficulties, until now. Your company will be able to change its CRM, marketing apps, campaign management programs and more to one central hub with ease. No data loss, no messy data, even historical data. Everything you need, where you need it.
3. Make your data shine
Your customer data should be easy to find and understand by your entire company. Clean up your existing data with automations that look for common mistakes that would normally take your team hours to edit, instantly.
4. Create custom automations for more complex business processes
Processes can pile up and your teams can miss leads, diminish service quality and opportunities get lost. Custom automations come in and ensure procedures are followed and nothing gets lost or missed. With custom automations you can:
Rotate leads with custom logic and third-party queries
Enrich leads and accounts with third-party data
Monitor and automate service or sales-based SLA
Complete renewal management
Create complex calculated properties
HubSpot Ops Hub Pricing
Free
Hubspot sync
Two-way data
Default field mapping
Ecosystem integrations
All 3rd party integrations
Starter - $50/mo
Everything in free+

HubSpot Sync

Custom Field Mappings for data
Professional - $800/mo
Programmable Automation

Custom Code Actions in Workflows

Custom Coded Actions in Bots

Webhooks
Additional Portal Capacity
3,000 additional reports
300 additional dashboard
100 additional lists
100 additional Workflows
Final thoughts
HubSpot Operations Hub is a mighty tool for any company looking to align their teams and systems with Data Sync, adopt a better business process with Data Quality Automation and help their teams adapt and become more efficient with Programmable Automation.
We welcome you to reach out If you would like to know more about Operations Hub and if it is right for your business.