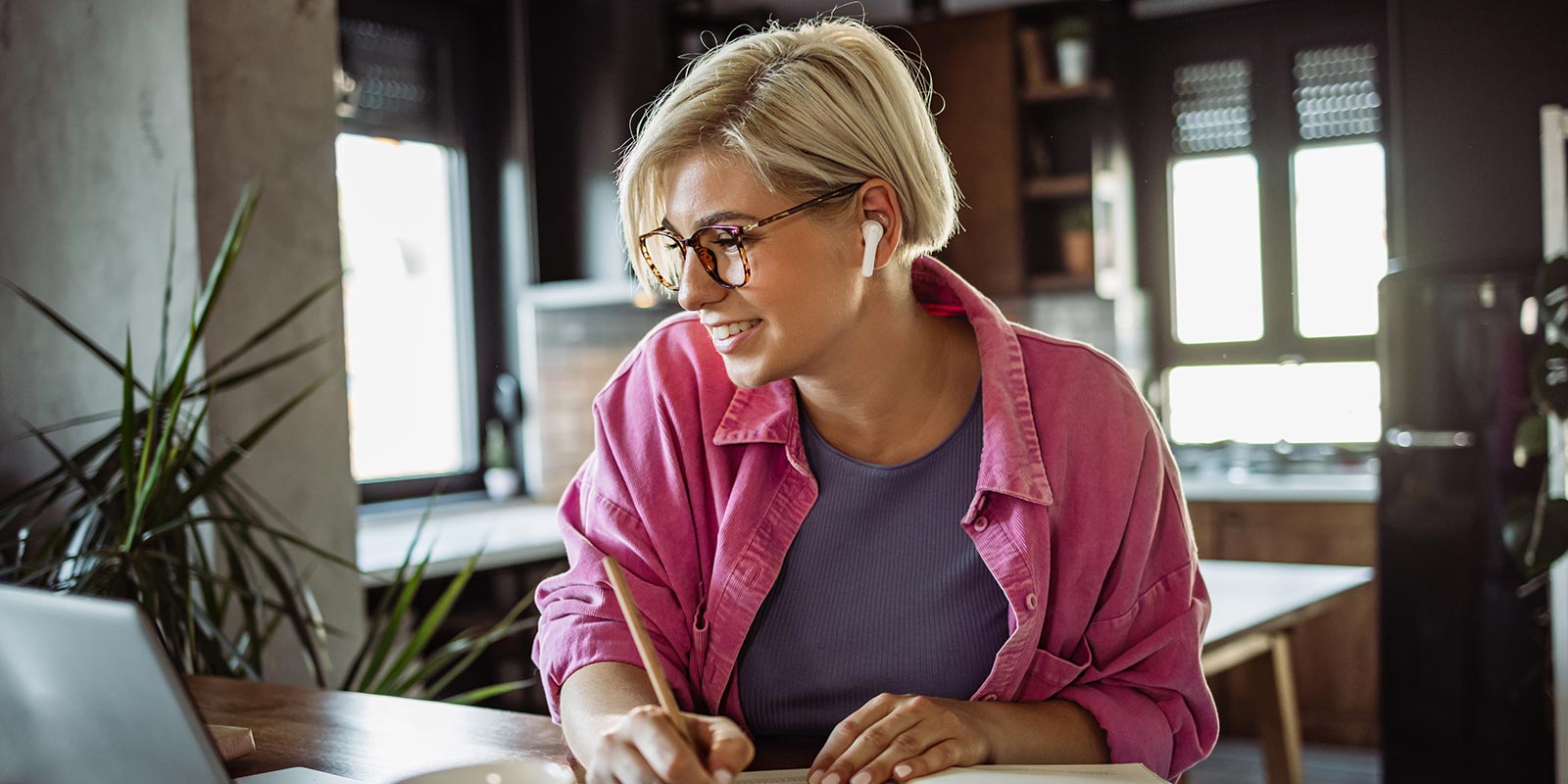 HubSpot Training: HubSpot Academy vs Partner-led Training
Most businesses suffer from CRM implementation failure because they are unable to train their team members properly. HubSpot has several training options available for both marketing and sales teams.
HubSpot is a powerful CRM tool for businesses that aim to attract new customers, engage with their existing leads, and delight their customers in today's digital age.
But in order to truly unleash its full potential and maximize your business strategy and the inbound methodology. It's essential for the business and the entire team to have a deep understanding of the platform and its capabilities.
That's where training and the inbound methodology comes in. By learning how to use the HubSpot CRM effectively, businesses can achieve better results, streamline their operations, and drive exponential growth.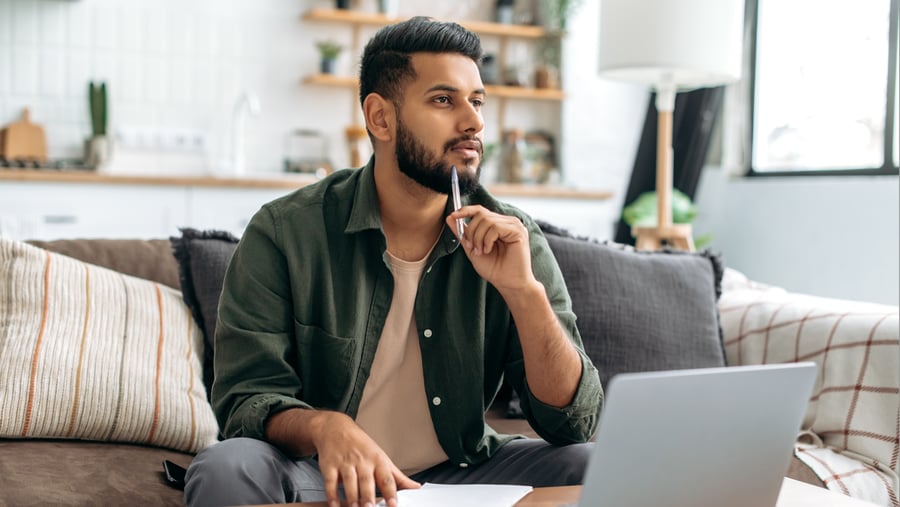 However, with so many training options available, it can be difficult to know where to start. HubSpot has its own academy that businesses can use to learn and grow, but there are also plenty of excellent partner-led training programs available.
In this article, we'll compare two popular HubSpot training options – HubSpot Academy and Partner-led Training – and help you determine which is best for your business.
Make sure you get the right training to unlock the full potential of this revolutionary business tool.
HubSpot Academy
HubSpot Academy is the official online learning and training platform of HubSpot. Their free academy comes with your HubSpot CRM package, which allows anyone on your HubSpot platform access learning resources.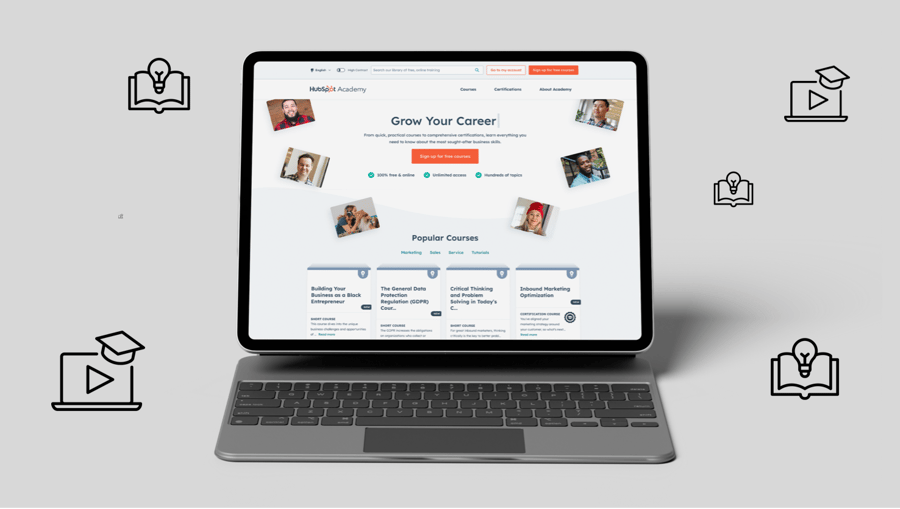 HubSpot Academy offers a wide range of practical courses and certifications to help businesses get the most out of their use of the HubSpot platform.
The Academy provides both free and paid courses covering topics such as inbound marketing, sales, service, and operations, all of which are designed to help companies grow.
The training platform also offers certification exams that enable digital marketing users to demonstrate their proficiency in using HubSpot.
These comprehensive certifications are an excellent way to get your team to build their knowledge and experience with the entire HubSpot platform and other crucial marketing strategy planning elements.
Many businesses have found success using HubSpot Academy for training.
For example, a small payment solutions business — Ikhoka, was able to use HubSpot's sales, marketing, and service packages with excellent results. Ikhoka generated 158,470 leads over 12 months and acquired 70,000 new customers since implementing the system and completing their training.
Following marketing strategy training on HubSpot, Greenpeace Africa used LinkedIn InMail, Google Ads, and Facebook to achieve an industry-leading conversion rate with 2.3 million impressions across thousands of actionable data points.
These success stories demonstrate the value of using HubSpot Academy to improve your business's performance and achieve your goals.
About HubSpot Academy and certifications
HubSpot Academy offers a wide range of certifications for marketing, sales, and customer service professionals looking to improve their skills and knowledge.
These options include beginner, intermediate, and expert levels, covering everything from sales enablement to email marketing strategy, marketing tools, content writing, the buyer's journey, and even customer retention.
Each certification comes with an optional course that includes a series of short on-demand videos that are packed with valuable information and expertise from the Academy's Team.
These videos are also available on-demand, allowing your team to learn at their own pace. In addition to the on-demand videos, the courses also provide study guides, practical exercises, and quizzes to help you test your knowledge as you go.
Once you complete all the lessons, you'll be able to take the final certification exam — which is the end goal.
If you pass the exam with over 75% correct answers, you'll receive a HubSpot certification and badges to showcase your accomplishment on your LinkedIn profile.
With HubSpot Academy's comprehensive and flexible certification options, you can boost your skills and advance your career in the marketing, sales, or customer service field while learning how to get the most out of the HubSpot platform.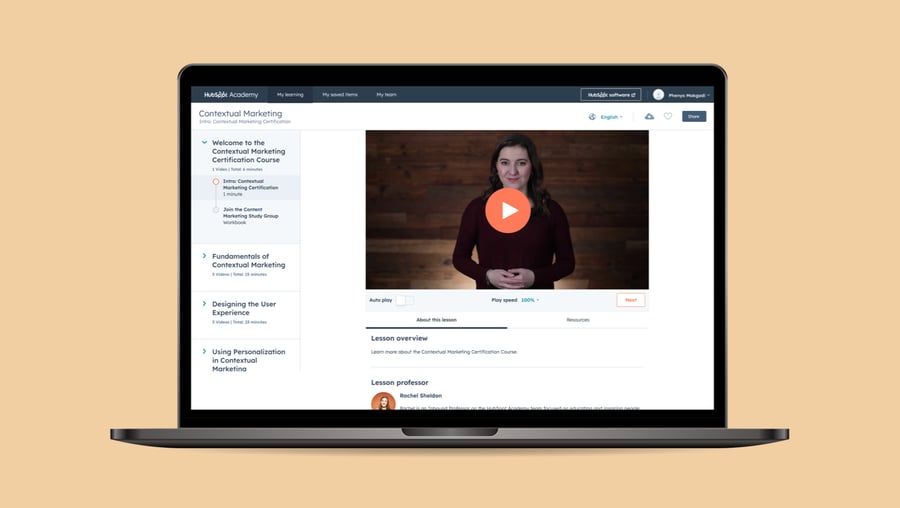 Available courses and certifications
HubSpot Academy offers a variety of courses and certifications for individuals and businesses of all skill levels.
This ensures that you can always learn something from the academy whether you're a complete beginner with HubSpot software, or even if you're an expert.
Below are some of the most popular courses that HubSpotAcademy offers:
Inbound Marketing: HubSpot is the pioneer of inbound marketing, so it's no doubt that this is one of their most popular courses.
This course is comprehensive and covers the fundamentals of the inbound methodology, including SEO, blogging, social media, marketing tools, the buyer's journey, and more.
This course is essential when it comes to attracting potential customers to your business.
HubSpot Marketing Software: Building on the foundation set by inbound marketing, HubSpot Academy also offers a series of courses focused on using HubSpot's marketing strategy and tools, such as email marketing strategy, lead management, and analytics.
These tools can be extremely powerful as long as you understand how to use them correctly — this course guides you in the right direction and improves your marketing efforts.
Sales Enablement: Not only is HubSpot great for marketing, but it also offers some excellent sales tools in its Sales Hub.
This course is designed to help sales teams use HubSpot to improve their productivity, manage leads, and close more deals.
Taking advantage of this course can be a game-changer for businesses that need to supercharge their sales teams.
Service Hub Software: For businesses who need to boost their customer service and delight their customers, HubSpot Academy has a series of courses covering the features and functionality of HubSpot's service tools, such as ticketing, feedback, and knowledge base management.
These are only a few of the most popular courses and certifications that are offered by the HubSpot Academy.
There are over 50 certifications available for your team to benefit from.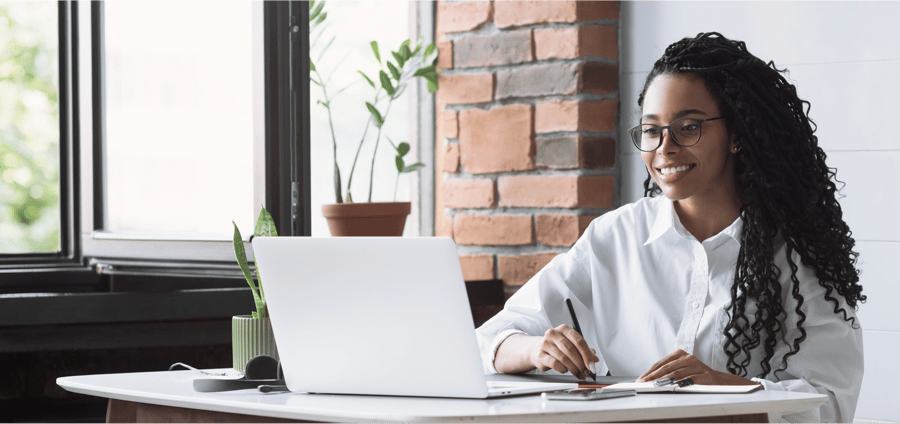 The good and the bad of HubSpot Academy
If you want to determine whether your business needs to take advantage of the HubSpot Academy online training, you need to make sure that you understand both the pros and cons of this learning resource.
Pros
So, what's good about HubSpot Academy?
Completely free to access:

With no hidden fees or costs, HubSpot Academy is a great option for businesses and individuals who may be operating on a tight budget.
Extensive learning: HubSpot Academy provides a

wide range, of course, topics

to choose from, covering various aspects of marketing, sales, and customer service — all the elements you need to make the most of this powerful CRM system.


Self-paced learning:

Allowing users to complete courses at their own pace with on-demand videos.

This is particularly useful for businesses that may have employees with different schedules or levels of availability, as it allows each individual to complete the training when it is most convenient for them.
Certification exams:

Enhance

professional credentials

and demonstrate knowledge of HubSpot. These certifications are recognized by many industries and can be a valuable addition to a resume or LinkedIn profile, showcasing the team's expertise in the field.


Cons
While HubSpot Academy offers several critical benefits, there are also some potential drawbacks to consider as well.
Detailed and technical:

The courses offered may be overwhelming for some learners — especially if they're in the beginner phase. This can make it difficult for individuals with limited experience or background knowledge to follow along and fully absorb all the information.
Limited interaction with instructors: The courses are designed to be self-paced and on-demand, which means that they are all pre-recorded. This also means that there is little opportunity for users to ask questions or receive feedback. This might make it more difficult for people who prefer a more hands-on and interactive learning experience.


Keep in mind that these drawbacks are not relevant to everyone. Some people might not consider these drawbacks deal-breakers.
For some, the technical depth of the courses may be a valuable challenge, while others may prefer the flexibility of self-paced learning.
Partner-led training
Partner-led Training is provided by a network of certified HubSpot partners.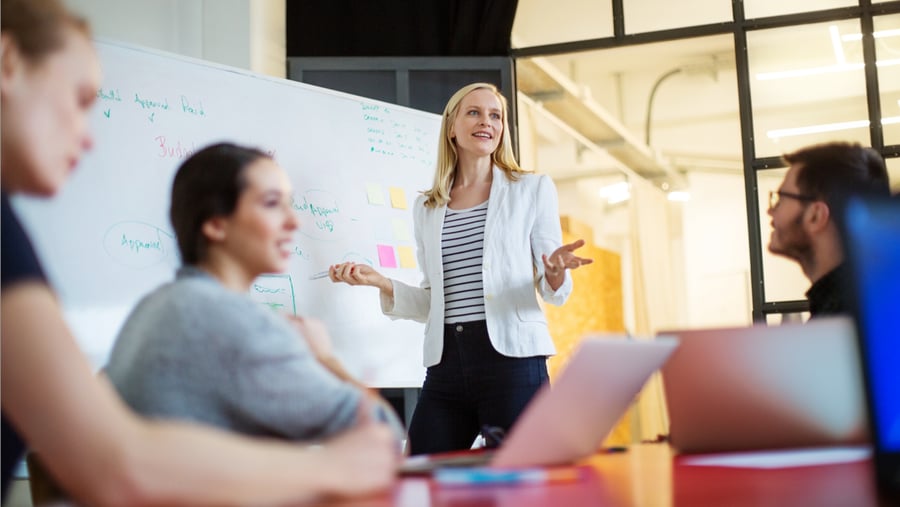 These partners are approved by HubSpot to provide training services to other users and businesses looking to improve their use of the HubSpot platform to supercharge their digital marketing.
Unlike HubSpot Academy, Partner-led Training is led by instructors who are experts in the HubSpot platform and can provide personalised guidance and support — which is the main differentiator between these two training methods.
Partner-led Training options
HubSpot's network of certified partners offers a variety of training options, ranging from one-on-one sessions to group workshops and online training programs and webinars.
These training sessions can be tailored to meet the specific needs and goals of individual businesses.
If you want to find out more about partner-led training options in your area it's best to look around on LinkedIn or Google for HubSpot partners near you.
The benefits and drawbacks of Partner-led Training
Partner-led training is different to the HubSpot Academy, and therefore there are unique pros and cons that you need to consider before you make your decision on which training method you want to invest in.
Pros:
HubSpot partner-led training offers several benefits that may make it a better option for some businesses.
Personalised support:

HubSpot experts guide the lesson and provide and provide support to learners based on their current knowledge and experience.
Direct interaction with instructors:

Instructors provide hands-on guidance and answer questions as learners work through their course.

Flexibility:

Programs are customised to meet the specific needs of each business, and learners can tailor their training to

focus on the skills and knowledge that are most relevant

to their roles and goals.

O

pportunities for networking and collaboration:

By connecting with other people in their field, individuals can share best practices, exchange ideas, and build relationships that may be valuable in their future work.


Cons:
Of course, partner-led training also comes with some downsides.
More expensive than HubSpot Academy courses:

Businesses will need to pay for the services of a certified partner. This may be a challenge for smaller businesses with limited budgets.
Limited availability: B

usinesses in certain areas may have fewer options for partner-led training. However, online training has become more popular.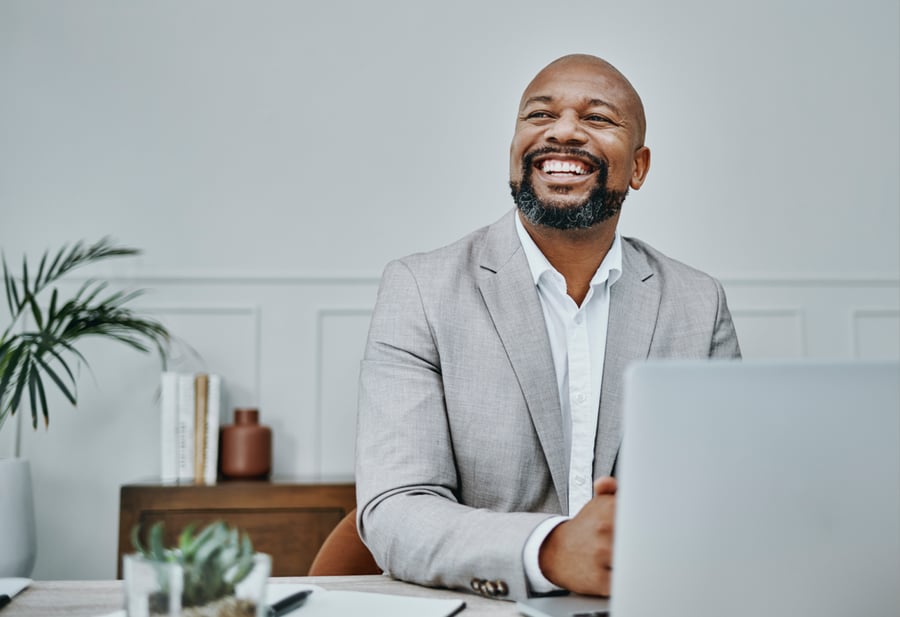 Which option is best for your business
Determining which option is best for your business ultimately depends on your specific needs and goals, as well as your available resources and budget.
HubSpot Academy may be a good fit for businesses that are looking for free, self-paced training options and want to build their knowledge of the HubSpot CRM platform.
On the other hand, Partner-led Training may be more suitable for businesses that prefer personalised guidance and support from expert instructors and want to customise their training to their specific business needs.
Before making a decision, take the time to carefully consider your business's unique circumstances and weigh the pros and cons of each option.
To get the most comprehensive training experience, you may want to combine HubSpot Academy and Partner-led Training.
HubSpot training success depends on continuing to learn and exploring new ways to optimise the platform for your business.
Let's quickly summarise the pros and cons of both training methods to help you make your decision:
HubSpot Academy
HubSpot's official online training platform offers a wide range of courses and certifications.
Pros:
Free to access, with a variety of courses available.
Self-paced learning, allows you to complete courses at your own speed.
Certifications that can benefit your career credentials and prove your knowledge of HubSpot.


Cons:
Courses can be detailed and technical, which may be overwhelming for some users.
Limited interaction with instructors or other learners.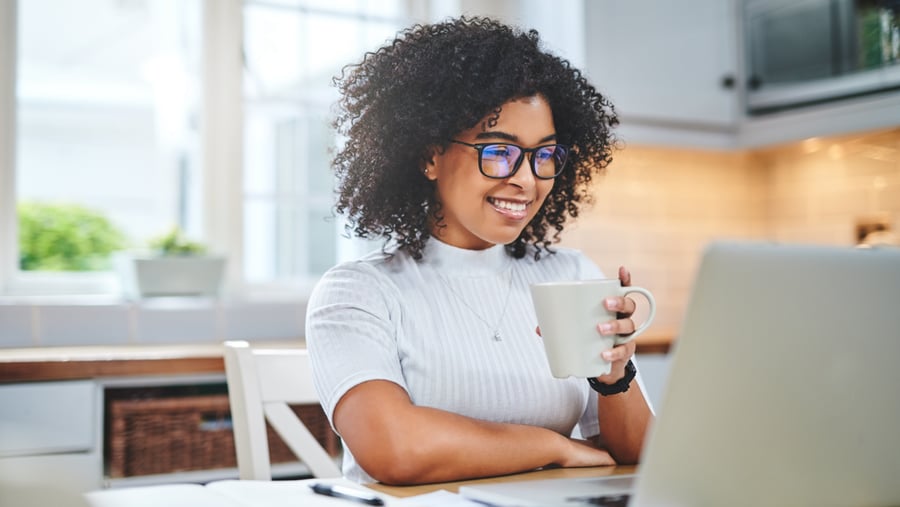 Partner-led Training:
Training programs that are offered by HubSpot's network of partners, including agencies and consultants like MO Agency.
Pros:
Personalised training from experts with real-world experience using HubSpot.
Flexible scheduling and customised lessons based on your business-specific needs and goals.
Opportunity to receive ongoing support and advice from your partner.


Cons:
More expensive than HubSpot Academy, as the cost of the training is set by the partner.
May require more time and commitment, as training sessions may be scheduled over several weeks or months.
Training may be restricted to specific areas limiting partner options.
Overall, the choice between HubSpot Academy and Partner-led Training comes down to your business-specific needs, budget and goals.
HubSpot Academy is a great option for businesses with limited resources who are looking for a cost-effective way to learn about HubSpot.
Partner-led Training is a better choice for businesses with more complex and specific needs or who require personalised attention and guidance from experts.
Conclusion
In conclusion, both HubSpot Academy and Partner-led Training can provide valuable resources for businesses looking to improve their use of the HubSpot CRM platform and make the most of this powerful system.
HubSpot Academy offers a wide range of free courses and certifications that cover various aspects of the platform, while Partner-led Training provides personalised guidance and support from expert instructors.
Ultimately, the key to success with HubSpot training is to continue learning and exploring new ways to optimise the platform for your business strategy needs and close more deals.
Whether you choose to use HubSpot Academy or Partner-led Training, investing in ongoing education and training can help ensure that your business is getting the most out of this powerful marketing and sales platform.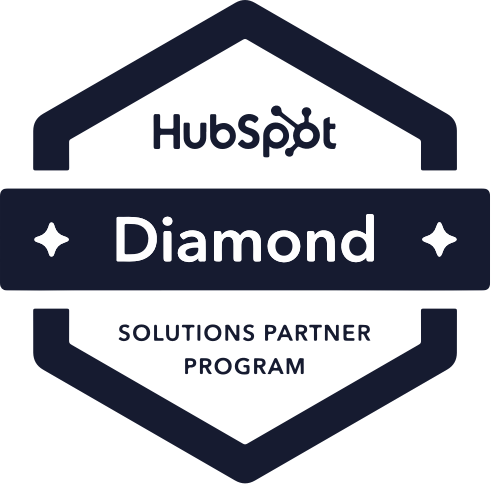 MO Agency supports visionary leaders to succeed with HubSpot