Email is sometimes criticised for being too difficult to track and optimise for, too expensive, and contact segmentation too difficult and time-consuming. The truth is, however, that up-to-date email technologies handle much of the legwork these days, and the trick to email marketing is finding the right service provider.
Email marketing, we believe, is in fact not dead and is here to stay. And we're not the only ones who think so! We've collected some proof from leading companies that prove that email is still a viable digital marketing channel and an essential tool for any marketer wanting to attract leads and keep customers engaged.
Email use is still on the rise
The reality is that more and more people are using email in their everyday lives. According to the Radicati Group, worldwide there are over 6.32 billion email accounts. The number of accounts is expected to reach 7.71 billion by 2021, showing a growth of over 22% in the number of email accounts. In terms of overall users, there are expected to be 3.7 billion email users globally who send around 269 billion emails per day.
The appeal of email stretches across generations as people have gotten into a habit of checking their emails daily be it in bed, on the way to work or during lunch. With the rise of mobile devices and smartphones, 55% of emails are opened on mobile devices and 88% of millennials open emails on their mobile devices. As a result, there's no stopping the rise of email with the spread of smartphones.
Consumers actually prefer email over other platforms
In today's world, the preference for business to customer communications is of course email. Consider that 77% of customers prefer marketing communications to come through email. By comparison, we see that 5% of customers prefer text messaging and 6% prefer social media platforms.
Furthermore, take a look at this graph below showing the preferred method of contact by brands and you'll see that email marketing is not going anywhere soon.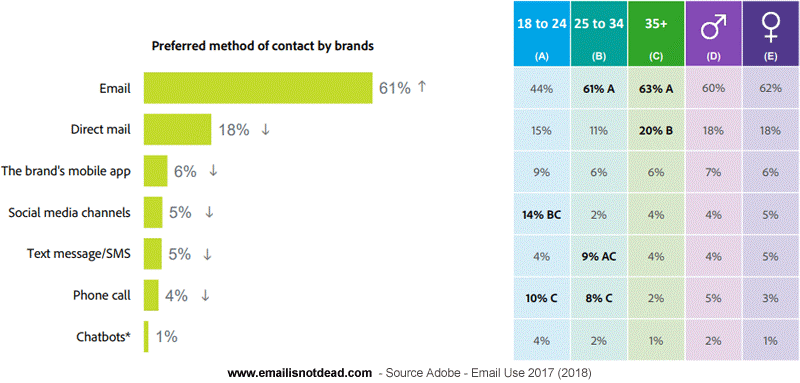 Email is still very much the preferred method of contact by brands because it appeals across numerous age gaps, such as 18 to 24, 25 to 34 and even 35+ age groups. Social media doesn't even compare to the power of email marketing.
Convince & Convert revealed in a recent panel discussion that consumers who have made a purchase via an email promotion spend up to 138% more than other consumers who didn't receive emails. Not only that, McKinsey & Company revealed that email marketing still remains the second best approach to new customer acquisition followed by organic search traffic.
The future of email marketing is powerful and fully automated
There really is no stopping email marketing in its tracks. Going into the future, email marketing campaigns will remain integral parts of any digital marketing or integrated marketing strategy. Email marketing is essential for any type of communication for companies, products, promotions and anything in between.
In fact, email marketing is evolving beyond a simple way to connect with your target audiences. The rise of marketing automation has changed the future of email marketing drastically. Currently, there are a range of email marketing automation software solutions, which make creating email campaigns quicker, simpler and easier to scale.
Email campaigns can now be more complex with detailed reporting, analytics and data on your target consumers. Identify the best times to email recipients, personalise email content to fit the needs of a particular segment of your contacts database and automate emails to be triggered when a lead does a particular action on your website.
The insights provided by the data-rich analytics of marketing automation solutions allow you to refine your email marketing campaigns. With all this data in-hand, you can increase the open rates and click-through rates of your marketing emails through the optimisation of your campaigns.
Conclusively, it's pretty evident that email marketing is a no way on its deathbed. Rather, we're seeing email marketing evolving from simple text-based emails to fully automated marketing campaigns. The future is indeed bright and bold for email marketing.