Contents:
1. What is Salesforce?
Salesforce is one of the world leaders in cloud computing, and one of the world's leading CRM solutions. Salesforce started as a Software as a Service (SaaS) CRM company. Today, the company offers a wide range of solutions, but CRM remains its core product and the solution it is best known for.
Salesforce's product set allows businesses to connect with customers, partners and prospects.
Customers are at the core of all businesses. In today's modern digital world of today, customers are becoming more difficult to acquire, and in some cases retain. Salesforce is a tool that helps businesses to acquire and retain customers.
Salesforce is a cloud-based CRM. Founded in 1999 by former Oracle executive Marc Benioff. Salesforce is widely regarded as the world's No. 1 CRM. When most people think of Salesforce, they think of tools for sales teams to manage leads, opportunities and sales pipelines. However, the company has vastly evolved its product set in recent years to become more expansive than ever before.
2. What is Salesforce used for?
Businesses use the Salesforce suite of clouds and apps (products and services) to better understand their customers, connect with them, and increase their customer base.
The cloud-based software assists with marketing, tracking sales and spending, analysing performance, customer success and support, customer complaints and a variety of other client focused functions and analytics with easy cloud storage and access.
The different clouds allow Salesforce users to analyse various data, maintain communication with customers, implement sales strategies and more.
Salesforce is a holistic, one-stop-shop for companies to manage, maintain, communicate with and increase their customer base and revenues. On its home page, Salesforce positions itself with the following statement:

Salesforce sees itself as a 'CRM platform', and not just a 'sales CRM'. This distinction is important to note, as there is a big difference between the two. Salesforce CRM is a platform for managing all interactions with customers, from sales to marketing, service and retention. Or as Salesforce would put it: "a 360 customer experience".
What are the Salesforce Clouds?
In the Salesforce language, the term 'cloud' is defined as a loose collection of features that help a user effectively manage and execute types of activities such as selling products or supporting your customers. These features are often shared across multiple clouds.
A Salesforce cloud refers to the basic service packages. Salesforce currently includes the following clouds:
Sales
Service
Marketing
Commerce
Engagement
Platform
Integration
Analytics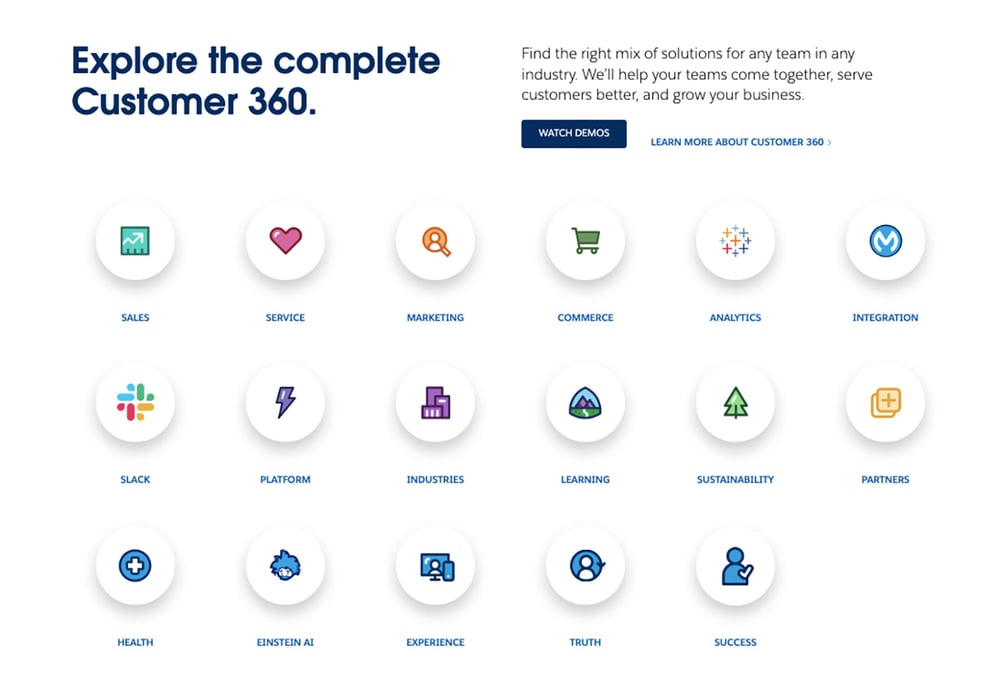 As a simple, single-source overview of Salesforce, this section is limited to all the products, services and clouds. This is simply a quick overview of the most important Salesforce offerings in one place, rather than a deep dive into too much detail, which can become confusing.
The Salesforce website is a well of information, once you have understood the basics from this guide, you can head over to their website and go into further detail where necessary on the Salesforce products.
The Salesforce clouds that most business owners, executives, sales directors and marketing directors are interested in are:
Sales Cloud
Marketing Cloud
Service Cloud
3. Salesforce Sales Cloud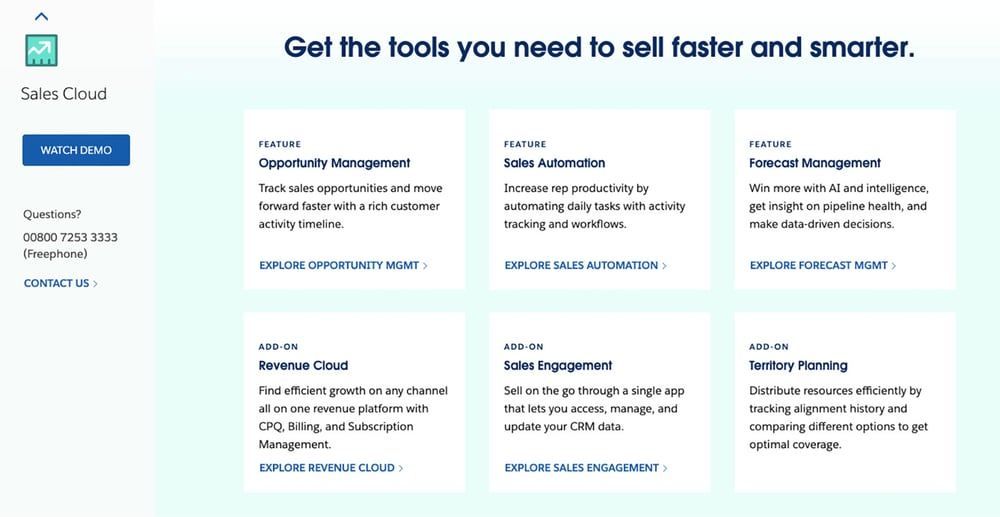 Sales Cloud helps empower your sales teams to guide your customers from leads to loyalty. Sales Cloud can manage this entire lifecycle all the way from when someone raises their hand as a hot lead to when they become an opportunity. And from there all the way to when they become a closed deal and a lifelong advocate. Salesforce does this all on one platform.
"Convert more leads, close more deals, and understand the health of your entire business with Sales Cloud." Salesforce website
Salesforce Sales Cloud is a customer relationship management (CRM) platform or tool, depending on how you want to see it. Sales Cloud is engineered to support sales, marketing and customer support in both the B2B and B2C spaces.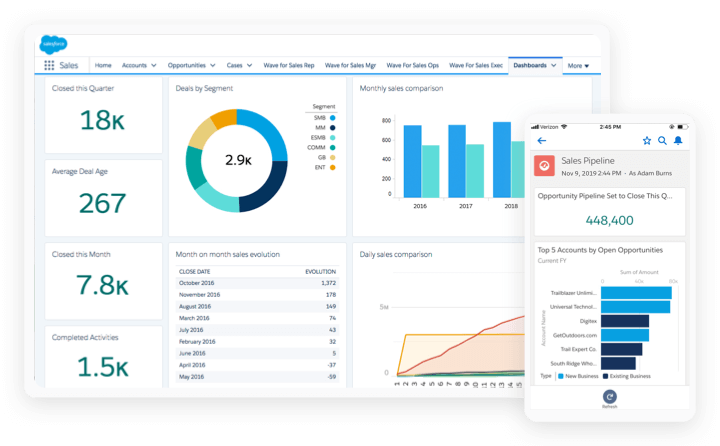 Sales Cloud is highly customisable, allowing businesses to tailor the system to their needs. It brings customer information together into a centralised platform that incorporates lead and pipeline management, lead generation, sales, customer service and business analytics and provides access to thousands of applications through the AppExchange.

The platform is provided as Software as a Service (SaaS) for browser-based access; a mobile app is also available for users on the move. This includes offline usage for sales activities out of network range.
Opportunity management in Sales Cloud gives sales teams the tools they need to close deals. Intelligent alerts keep your sales team aware of what needs attention. This stream of notifications gives insight into every deal, so forecasts are kept up to date and remain hyper-accurate.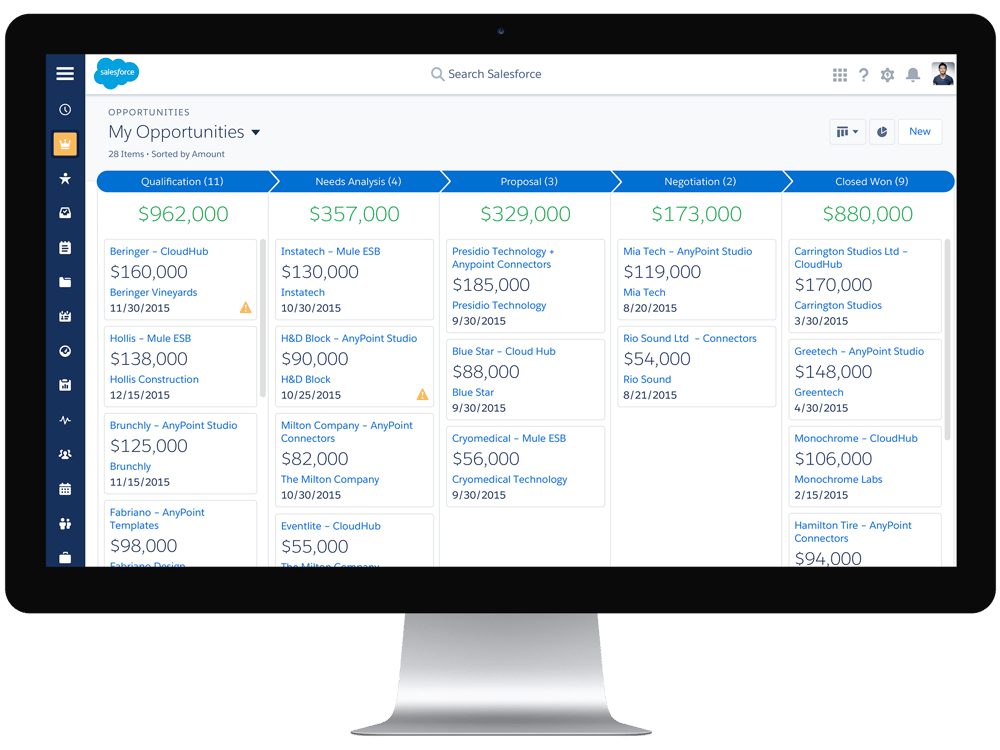 Sales Paths keeps your team aware of where prospects are in the sales cycle. They also help your sales reps adopt and adhere to your company's sales processes without getting sidetracked. Paths guide your sales team and help them stay focused on important sales tasks so they can close their deals quickly.
Your team will get tips on how to push deals forward at every stage. You can easily view open items and recent activities, managing what has been done and what needs doing.
Stay on top of recent development with a quick view and collaborate with your sales teams so that everyone has what they need to close more deals.
Another great feature of Sales Cloud is its sales performance management software. For sales leaders, this helps highlight team-wide insights that can guide the overall sales strategy. It creates a holistic view of individual and team performances. This helps managers to plan and optimise resources within the sale process. This includes incentives, commissions, quotas, territories/regions, goal setting, training, performance evaluation, and forecasting.
Salesforce offers the following versions of Sales Cloud, each with different levels of functionality.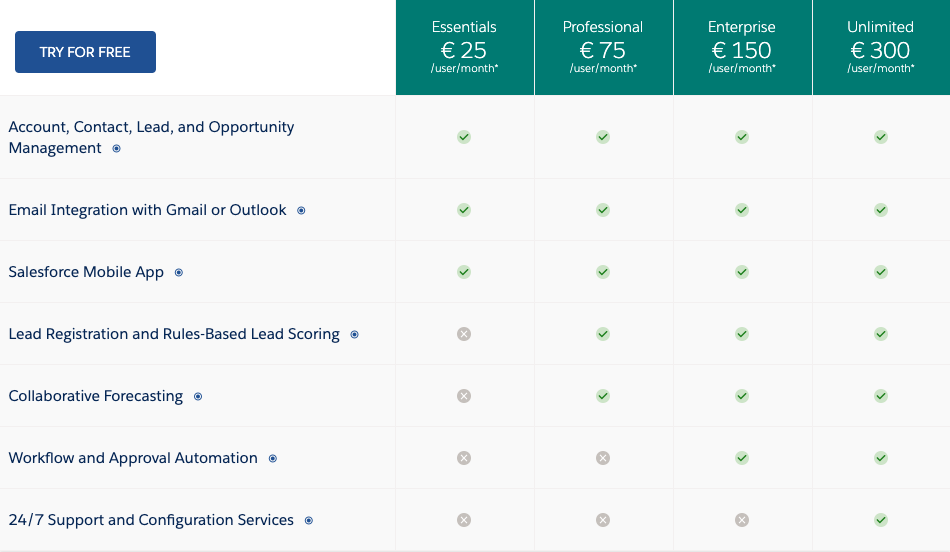 Click here to view the full pricing for Sales Cloud
Sell smarter with Salesforce
If you are interested in the practical sales capabilities of Sales Cloud, the 25-minute video below is worth watching.
00:00 - Overview of modern sales and how Sales Cloud fits in.
07:15 - SVP of Capital One, on how Salesforce has enabled business transformation at Capital One.
13:20 - How to use Salesforce to sell and close deals faster.
16:50 - Demo of how a sales rep would use Sales Cloud on a daily basis.
4. Salesforce Marketing Cloud
Salesforce Marketing Cloud helps businesses manage all parts of their digital marketing strategy. Because Salesforce is focused on customer-centric sales and retention, bringing the marketing elements into the Salesforce product set makes complete sense.
As the modern customer acquisition process has moved online and into the digital realm, the marriage of sales and marketing functions is more important than ever.
Salesforce has recognised this, and as one of the world's most powerful CRMs now with one-to-one digital marketing capabilities, the Salesforce marketing cloud is a powerful albeit very complex option to manage the marketing space.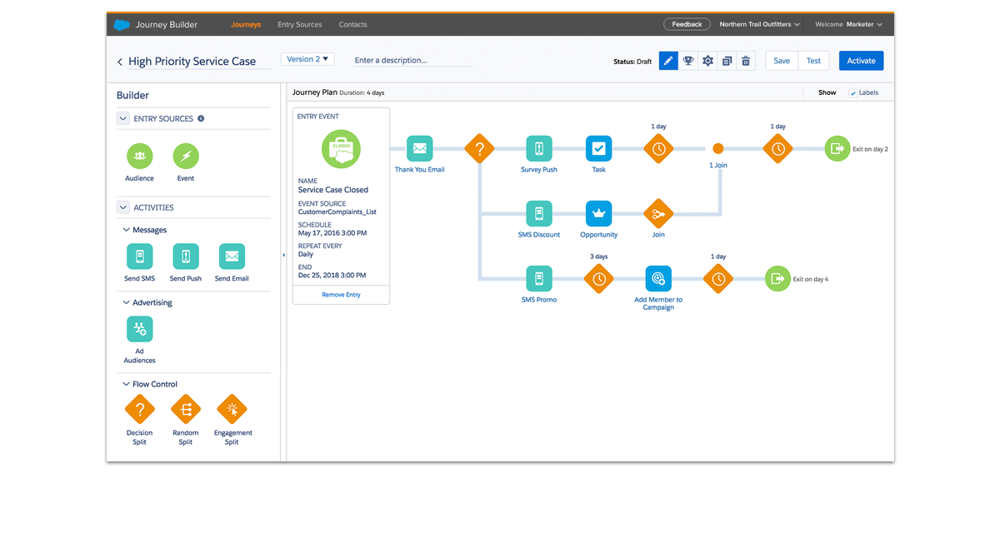 Marketing Cloud enables businesses to personalise consumer and prospect experiences across multiple channels. It enables brands to do everything from basic email marketing to sophisticated cross-channel campaign management.
Salesforce Marketing Cloud toolset includes:
Journey Builder
Create 1-to-1 consumer journeys across all channels and departments. Get a single view of the customer with data that filters in from email, website, advertising and sales interactions. Segment your data according to the interactions and target customers with pinpoint messaging.
Email Studio
Email Studio helps you get the best ROI from email marketing by creating targeted one-to-one email communications at scale. Automate your email based on customer interactions, and manage campaigns with intelligent content delivery capabilities.
Audience Studio
Capture, unify, and activate your data to strengthen consumer relationships across every touchpoint with a powerful data management platform. Segment your audience more intelligently.
Data Studio
Capture and activate data from any source on a unified platform. Salesforce Marketing Cloud Data Studio allows marketers to integrate these audiences into marketing channels. Segment your audience and reach them where they are.
Social Studio
Salesforce Marketing Cloud Social Studio is a powerful social media management platform. It connects with social data and platforms to bring social activities into a centralised view for everyone from the sales team to the marketing team.
Identify individual posts that drive ROI and monitor customer's interactions. Social Cloud streamlines social media processes and it allows for social media management at scale.
Advertising Studio
Target 1-to-1 advertising using your CRM data to acquire and re-engage consumers. Manage digital advertising across Facebook, Google Search, Google Display, Instagram, and Twitter. Manage ad campaigns at scale, and launch directly from the Journey Builder.
Mobile Studio
Salesforce Marketing Cloud Mobile Studio helps you create and send highly targeted mobile messages. It allows you to target your audience, automate message delivery, and analyse and track engagement.
Interaction Studio
Salesforce Marketing Cloud Interaction Studio helps visualise, track, and manage real-time consumer experiences — driving valuable engagement at the right moment, just the way your audience prefers. Importantly interaction studio allows you to coordinate online and offline customer experiences with real-time interaction management.
Pardot
Pardot provides B2B marketing automation for Salesforce. Connect with prospects at the right time, generate more pipeline, and empower sales teams to close more deals.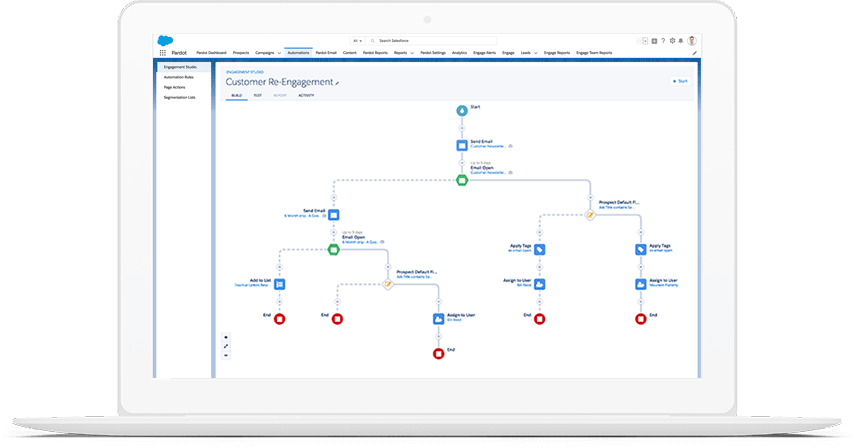 Salesforce Pardot Engagement Studio
Marketing Cloud guided tour
The image below is a screenshot of this great tool you can use to work through the different elements and their functions within the Marketing Cloud. View the tool by clicking here.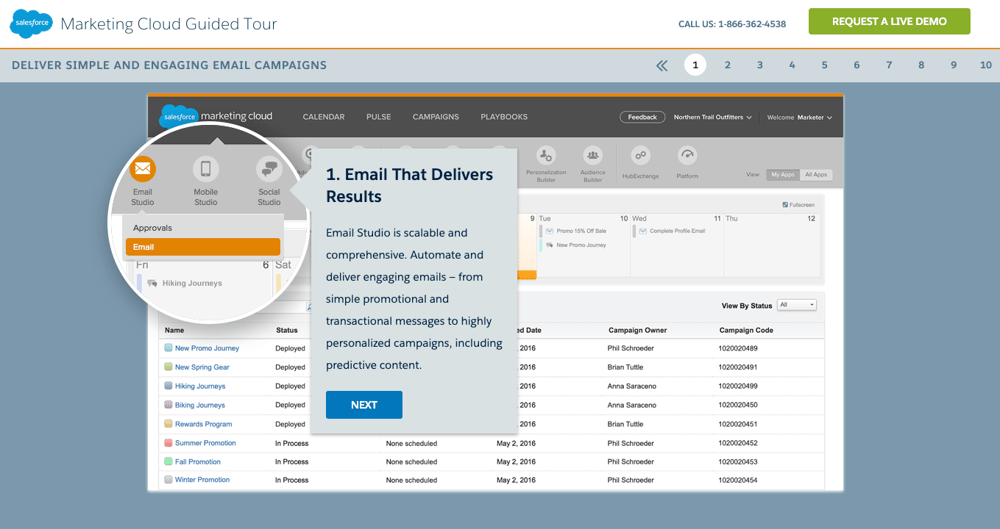 5. Salesforce Service Cloud
Service Cloud in Salesforce is designed to allow you to support current and future customers. It is focused on providing support and help to customers which will help with retaining them and increasing their satisfaction.
Service Cloud enables a company to provide individual and customised attention to each customer's unique requirements. It allows customer support to take a proactive, rather than reactive approach.
What does Service Cloud enable?
Personalised Service: Give each customer a great service experience based on their unique problems, and their history of purchases and complaints.
Always on Service: Provide service to your customers 24/7.
Multi-channel Support: Meet customers on their preferred channels, like mobile, desktop, social platforms, telephone and email.
The video below gives a very general marketing style overview of what Salesforce Service Cloud does.

Salesforce offers the following versions of Service Cloud, each with different levels of functionality.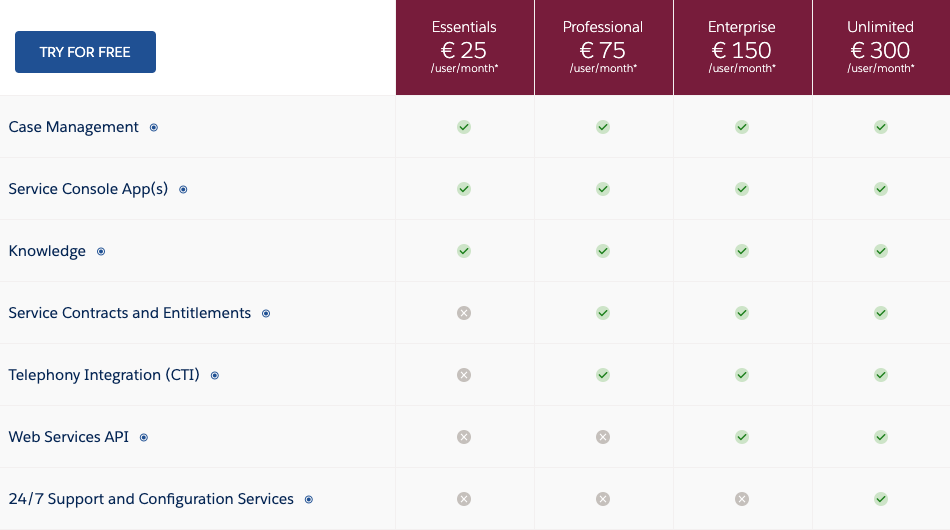 Click here to view the full pricing for Service Cloud
6. Cost of Salesforce
If you've been diligent and read the entire article up until here, you are probably wondering why I'm going into the 'cost of Salesforce' because I've covered it above. However, there are a few overarching concerns on pricing that extend past the licensure cost for each cloud. These "hidden costs" can catch out unsuspecting customers who aren't aware of them.
The first thing to consider is that paying on a month-to-month basis is not an option. The plans are all billed annually. This has major implications for cash flow, specifically for large teams that require the upper tiers of functionality (licences).
Salesforce does not offer a free plan. However, if you are concerned about buying the software for an entire year without having a chance to take it for a spin first, don't stress. Salesforce offers a trial of 30 days. This is one area that limits the platform.
Expect to pay between $25 to $300 per user per month, but factor in the costs for implementation, maintenance and CRM functionality enhancements. The cost of implementation and maintenance is something that many businesses do not consider, and they are caught out when these expenses arise. Be cognisant of the fact that time spent on these tasks whether internal or outsourced has a cost.
Salesforce is well known to cost a pretty penny to implement. The customisations that Salesforce partners sell can cost a fortune, however, in many cases businesses can use the solution out of the box. Be aware that the deeper you get into a CRM the more interconnected you want it to be. ERP, telephony, accounting systems, and many more are ideal systems to integrate into your CRM. Budget for the costs to do this work down the line.
Typical costs per user, per month
Sales Cloud
Service Cloud

Salesforce Essentials

$25

$25

Standout features (Salesforce Essentials)

Account, Contact, Lead, and Opportunity Management

Email Integration (Gmail, Outlook)

Mobile App

Cross-company collaboration

Customisable Reports

Mobile App

Lightning Professional

$75

$75

Standout features (Lightning Professional)

Lead Registration

Rules-Based Lead Scoring

Sales Forecasting

Developer Sandbox

Orders Management

Asset Management

Lightning Enterprise

$150

$150

Standout features (Lightning Enterprise)

Workflow Automation

Approval Automation

Field Service Tools

Process Automation

AI Tools

Lightning Unlimited

$300

$300

Standout features (Lightning Unlimited)

24/7 Support and Configuration Services

24/7 Support and Configuration Services
Source: Tech.co
If you are about to fall off your chair at the cost of Salesforce, you might want to consider Salesforce vs HubSpot CRM. HubSpot CRM is a viable alternative to Salesforce CRM for many businesses, especially in South Africa. Although not ideal for highly customised environments, HubSpot can be a strong alternative to Salesforce if you find the Salesforce licence costs eye-watering. HubSpot also offers a free package, which is where it has an edge over Salesforce.
7. Salesforce alternatives
There are numerous alternatives to Salesforce with a range of price points and features. However, not all of these solutions provide a holistic solution. That being said not all businesses require all these features.
It's always better to invest in a system with features that you will be using, rather than spending money on features that you won't use. Even if you're investing in the best CRM on the market, you might not use every feature it has on offer — which means it's a waste of money.
Below is a high-level comparison of some of the most popular CRM solutions in South Africa, including capabilities and their local support.

Here is an article I wrote on Salesforce vs HubSpot CRM, that might be useful if you are considering HubSpot CRM as an alternative to Salesforce CRM.
8. Salesforce consultants in South Africa
Thanks to the way technology is advancing, it's becoming easier to work with companies outside of your own country. This is especially true with cloud technologies like Salesforce. But be careful to do your homework on the companies even before you invest into their products or services.
If you are going to select a remote partner, you need to make sure you have a good internal capability to map your business processes that need to be implemented in Salesforce. Salesforce and CRM projects in general that don't go as planned can normally attribute this failure to poorly specified requirements and business processes, not Salesforce.
Why utilise a partner to implement?
Implement faster with proper advice.
Utilise experts with this process/platform to have a smart strategy and structure.
Help navigate options. Buying the wrong licences can cost unnecessary money.
Start on the right foot. Backtracking can take time and be costly.
Don't tie up internal resources to learn and set up.
Experience in your industry
Ask the potential partner for two or three case studies from their clients in similar industries to your own. If the Salesforce partner has done similar types of work, it's a great sign they know what they are doing. This is especially true if their customer is willing to provide/agree to a case study.
Overall technology capability (excl. Salesforce)
With CRM and Salesforce projects, it is important to automate the exchange of information between systems. Salesforce provides strong integration capabilities.
That being said, depending on the information to be exchanged, varied integration approaches and tools need to be evaluated and selected.
With prior experience with relevant integration products and technologies, the Salesforce partner can deliver guidance and support during this selection process. In turn, this leads to efficient delivery and a strong integration experience for the users.
Project implementation approach
Agile is the preferred implementation methodology for Salesforce projects. Requirements gathering and implementation both exist in each stage of the project.
Integrating feedback allows for continuous alignment with customer expectations and product delivery. This adaptive approach reduces the overall risks of the project. It promotes project visibility, transparency and is a great way to see value being delivered at a high frequency.
The 5 Salesforce consulting partners in South Africa are:
9. Salesforce DIY implementation
Salesforce has evolved to enable non-technical users with the capability to meet requirements by making changes without using code. Many Salesforce functionalities can be delivered via configuration in the platform.
Because of this companies should explore different implementation options.
Businesses may;
execute internally to save money;
execute internally maintain more control over the project;
outsource to an external implementation partner.
DIY Implementation Considerations
The main reasons to consider the DIY implementation of Salesforce can be categorised into four areas. Based on these considerations an approach can be selected.


CONSIDERATION

APPROACH

There is an in-house capability to carry out the required tasks because they have set this up previously.

Full Internal Team: If the internal team is well established and fully capable.

There is time and resources internally to be trained to carry out the project.

OR

The implementation is small and is mostly out-of-the-box functionality.

OR

There is a limited budget to spend on the project.

Self-study / Training Approach: Salesforce provide lost of material online for user to self-train and there are many paid courses let by certified instructors. If the company is willing to dedicate time and resources, this is a potential option.

OR

DIY + Implementation Partner (mentoring and thought leadership): The internal team is tasked to carry out the implementation. The selected partner role is to provide support, guidance and ideas. This combination works really well as it is both cost-effective and the most effective way to bring the internal team up to speed.
10. Final Thoughts
Salesforce is a very strong platform, and it has evolved far beyond its beginnings as a CRM. That being said Salesforce is still all about Customer Relationship Management and driving a customer-centric approach for their clients. More than a CRM, Salesforce is now a CRM platform that can manage all customer-focused functions.
The Salesforce clouds are an effective way to group features that help users effectively manage and execute types of activities at their businesses.
However, beware, adding multiple clouds into a business can become a costly exercise. Salesforce is most effective when clouds are used together, so do an exercise on the long-term licensure costs and cost of ownership before you dive in.