A brief history of live streaming on social media
Live streaming or live videos began life in 2011 with the live streaming app YouNow. Eventually, in 2014, we saw the launch of Snapchat. In 2015, Twitter acquired the live streaming app Periscope which was eventually integrated with the social platform in 2016.
In April 2016, Facebook launched Facebook Live to all their users. Following this YouTube announced live streaming for mobile devices. In 2017, live streaming is available on YouTube, Facebook, Instagram and Twitter to name a few social platforms.
Who does live streaming appeal to?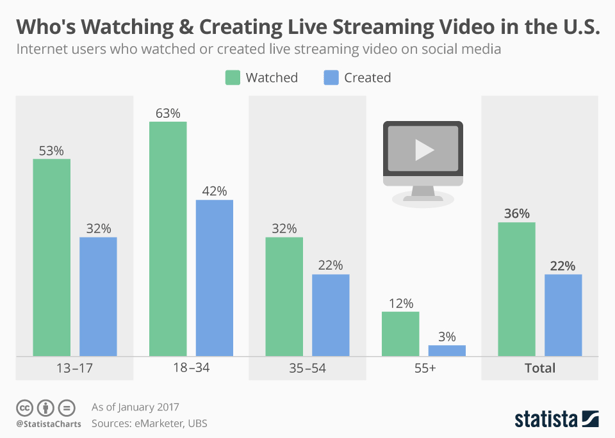 Although the above statistics are from U.S. audiences, the data gives us a good overview of the age groups interested in live streaming video. Interestingly, in the U.S., we're seeing much older people engaging, interacting with and creating live videos. This shows us that live streaming is a viable social media marketing channel for engaging people across age groups from 13 to 17-year-olds and 35 to 54-year-olds.
The most popular live streaming platforms
According to Statista, these are the most popular live streaming platforms from November 2016: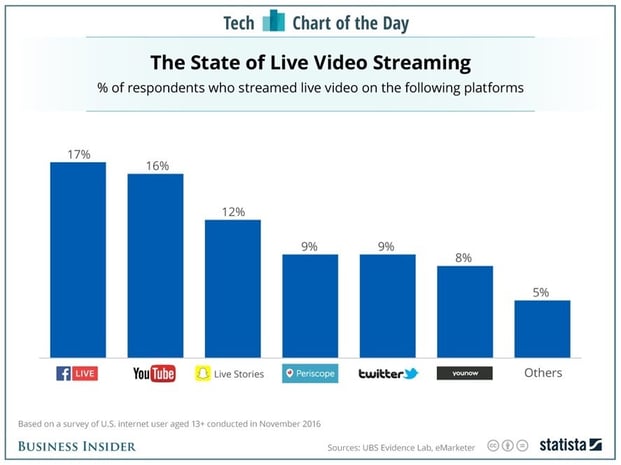 Why are viewers drawn to live streaming?
According to Yahoo's "Tune In To The Live Video Opportunity" (2016) report online viewers are drawn to the feeling of excitement, immediacy and connection live streaming offers. Live streaming also provides a number of benefits when compared to traditional TV, which is illustrated below: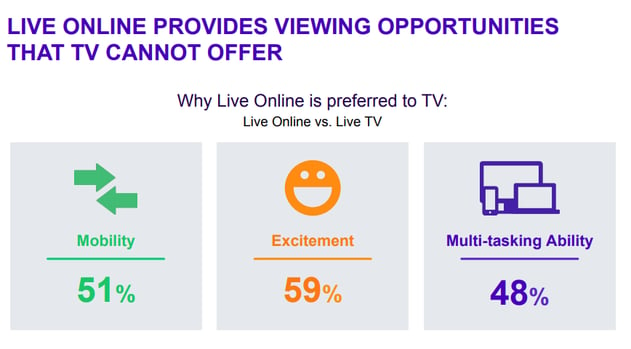 In 2018, live streaming will get far wider acceptance within both social media applications and even within the television industry. Live streaming creates active engagement with audiences because it's a real-time experience and is preferable for modern consumers who are on-the-go and multi-tasking. With nearly all social media platforms adopting live streaming in some form, we will see more brands and businesses make use of live video in the future.