When it comes to choosing a customer relationship management (CRM) platform for your business, there are many options to consider. Two of the most popular platforms are HubSpot and Zoho.
Both HubSpot and Zoho offer robust feature sets, intuitive interfaces, and a range of customisation options. However, some key differences between the two platforms are worth exploring before making a decision.
In this article, we will provide an overview of HubSpot and Zoho. We will compare their pricing structures, ease of use, customisation options, and integrations with other tools. Whether you are considering switching from one platform to the other or are new to both, this article will help you make an informed decision about which CRM platform is right for you.
How to decide between Zoho and HubSpot
On the surface, both systems do the same thing. Additionally, Zoho is seemingly less expensive. As such, Zoho is a compelling offer for a small, medium or growing business. But we need to look at the finer details to make the right decision
Implementing a CRM is a time-consuming and costly exercise. You don't want to invest time and money only to find out you hit a limitation that means your chosen solution is not what you assumed in either price or functionality (or both!). Starting over is expensive!
If you pop over to both the official Zoho and HubSpot websites, they present pages which lay out their arguments for their software. These are cleverly worded pages but very one-sided, and you need to read between the lines.
Zoho vs HubSpot vendor articles
From HubSpot: HubSpot vs Zoho CRM: Which is better?
From Zoho: Zoho vs HubSpot | Why HubSpot is the Best Zoho Alternative
I'm going to highlight some areas you need to be cautious of as you read these vendors' glowing evaluations of their software vs the competitor! I won't go into all the details - just the important parts you need to be aware of.
A quick comparison of HubSpot and Zoho
Both HubSpot and Zoho offer similar functionalities. The obvious differences below are the pricing and the availability of free users. Zoho pricing is much lower than HubSpot's. But Zoho requires all users to have a paid licence, while HubSpot allows free (non-paid) users alongside paid users.
| | | |
| --- | --- | --- |
| | HubSpot | Zoho |
| Free Plan Available | ✓ | ✓ |
| Starting Price for Paid Plans | $18 - $120 user/month | $12 - $45 user/month |
| Free users | Yes | No |
| Monthly and Annual Billing | ✓ | ✓ |
| Purchase Commitment | Combination of month-to-month and annual commitment | Combination of month-to-month and annual commitment |
| Free Trial | 14 - 30 days | 14 days |
| Contact Management | ✓ | ✓ |
| Sales Pipelines | ✓ | ✓ |
| Sales Forecasting | ✓ | ✓ |
| Customer Service | ✓ | ✓ |
| Email Marketing | ✓ | ✓ |
| Automation | ✓ | ✓ |
| Reporting | ✓ | ✓ |
So let's jump into what I would suggest you be aware of when choosing either of these solutions.
1. Pricing
When it comes to pricing, both HubSpot and Zoho CRM offer a range of plans to choose from.
Free seats
This is probably the least understood fact about HubSpot pricing - 'portal features' vs 'seats'. Each level of Hub has its own portal feature and seat features.
Seat features: A paid seat gives the allocated user access to all the seat features.
Portal features: Unlimited free users have access to portal features.
What this means is you can purchase HubSpot Sales Professional, which includes five seats for $450, and then add additional unlimited users with portal features. See below.

HubSpot's pricing
HubSpot's paid plans start at $22.50 user/month for Sales Hub Starter and go up to $120 user/month for Sales Hub Enterprise.
For small businesses, the HubSpot Sales Hub Starter plan may suffice, while the HubSpot Sales Professional and Enterprise plans are more suitable for larger businesses with more complex needs.
The above pricing is for HubSpot Sales Hub only. You still need to add HubSpot Service Hub seats for Customer Service. You will also need a HubSpot Marketing Hub to manage marketing functions like marketing emails, social media, landing pages, forms and marketing automation. Marketing Hub is not seat-based but contact based.
Example HubSpot Marketing Costs
HubSpot Marketing Hub Professional (including 2000 marketing contacts) $800 p/month (unlimited users)
Add an additional $225 p/month for 5000 marketing contacts (7000 in total)
CRM contacts are unlimited, but if you want to market to these contacts (e.g. send them a marketing email), they are regarded as 'Marketing Contacts'. These need to be paid for. Contacts can be marked as marketing contacts and non-marketing contacts periodically, depending on your requirements. You can have 100k contacts in your CRM but only choose to market (and pay) for 10k of them.
Zoho's pricing
On the other hand, Zoho CRM's paid plans are much more budget-friendly, ranging from $12 to $45 per user/month when billed annually. Even with its most expensive plan, Zoho CRM's pricing is comparable to HubSpot's Starter plan.
Additionally, Zoho CRM's free plan offers more than HubSpot's, making it an attractive option for businesses that are just starting out.
It's worth noting that both HubSpot and Zoho CRM offer limited-feature free plans, which can be helpful for those on a tight budget. However, these plans are designed to be a starting point, and businesses that want to take full advantage of the platforms will need to upgrade to a paid plan.
Monthly billing plans are available for both HubSpot and Zoho CRM, but keep in mind that you'll pay around 30% more when paying monthly for Zoho. To get the best value, it's recommended to choose an annual billing plan if you can afford it.
You will need to do the calculations. If you are a smaller business and don't require too many users - Zoho may be a good option. Larger businesses can have their Zoho licence costs scale quickly, and anyone who needs access to the CRM system requires a paid licence.
When it comes to Zoho Campaigns (comparable to HubSpot Marketing Hub), the Zoho product is much cheaper. You are limited to seats but not contacts. You also get unlimited email sends.
2. Ease of Use
Ease of use is an important factor to consider when choosing a CRM platform. HubSpot and Zoho CRM both offer intuitive interfaces that are easy to navigate, but there are some differences worth noting.
HubSpot's interface is clean and modern, with a user-friendly design that makes it easy to find what you're looking for. The platform is organised into different hubs, such as Marketing, Sales, and Service, each with its own set of tools and features.
This makes it easy to manage your contacts, track your sales pipeline, and automate your marketing efforts all in one place; and across different teams. Additionally, HubSpot's platform has a clever balance between being highly customisable and being able to work well directly out of the box with little to no customisation.
Zoho CRM's interface is also easy to use, with a similar layout to other popular CRM platforms. The platform is organised into different modules, such as Leads, Contacts, and Accounts, each with its own set of tools and features. While Zoho CRM's interface may not be as visually appealing as HubSpot's, it is still intuitive and easy to navigate.
With regards to marketing, HubSpot is the leader in marketing CRM and marketing automation. They basically created the entire marketing automation and CRM industry. You get class-leading ease of use, but as mentioned above, you pay significantly more for it.
Overall, both HubSpot and Zoho CRM offer easy-to-use interfaces that can be customised to fit your business needs. However, some users may prefer HubSpot's modern design, while others may prefer Zoho CRM's more traditional layout.
3. Customisation Options
Customisation options are important when it comes to selecting a CRM platform that fits your business needs. Both HubSpot and Zoho CRM offer a range of customisation options, but there are some differences worth noting.
HubSpot's platform is highly customisable, with a wide range of options to tailor the platform to your business needs. This includes the ability to create custom fields and properties, as well as the ability to create custom objects and workflows. Additionally, HubSpot offers a range of ready-built integrations with other tools and platforms, making it easy to connect with your existing tech stack.
Zoho CRM also offers a range of customisation options, including the ability to create custom fields and modules. However, Zoho CRM may not be as flexible as HubSpot when it comes to customisation. Some users have reported limitations in the platform's ability to customise workflows and automation.
This is particularly true when customisations go south and actually inhibit Zoho CRM from offering its core CRM function. We have seen a few cases of Zoho being customised to a point where it no longer functions.
Overall, both HubSpot and Zoho CRM offer a range of customisation options, but HubSpot may be the better choice for businesses that require more flexibility, stability and integration options.
4. Integrations
Integrations are an important factor to consider when choosing a CRM platform. Both HubSpot and Zoho CRM offer a range of integrations with other tools and platforms, making it easy to connect your CRM to your existing tech stack.
HubSpot offers integrations with a wide range of tools and platforms, including Salesforce, Shopify, WordPress, and more. Additionally, HubSpot offers its own suite of marketing, sales, and service tools, making it easy to integrate your CRM with these tools and create a seamless customer experience.
Zoho CRM also offers a range of integrations, including popular tools such as Microsoft Office, Mailchimp, and G Suite. However, Zoho CRM does not offer nearly as many integration options as HubSpot, and many of the applications integrated with Zoho CRM need to be designed by Zoho, which gives you less flexibility in using third-party apps of your choice.
5. Documentation
HubSpot's documentation is well known to be the best in the industry. The HubSpot Blog covers sales and marketing content and strategies, and the HubSpot knowledge base details how to use HubSpot down to microscopic detail if you need them.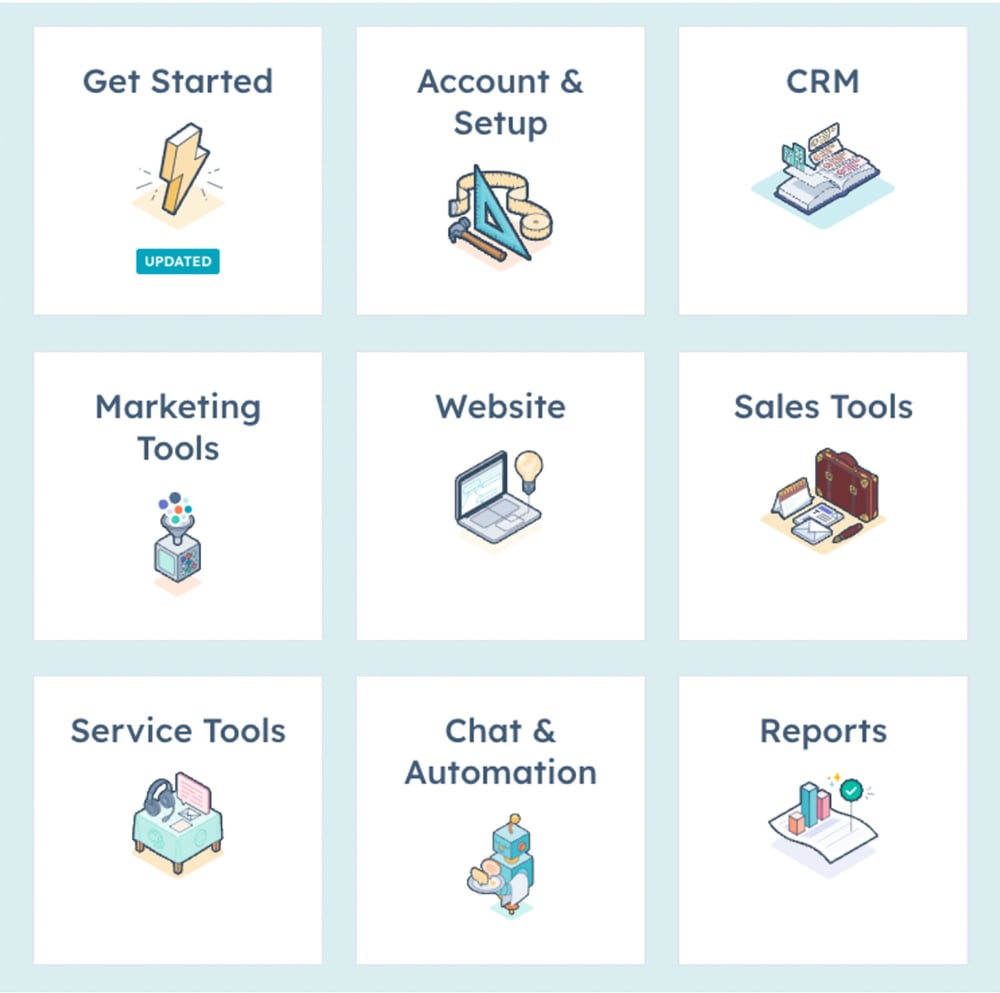 What's really useful is that each of the knowledge base articles is clear about what HubSpot licences you require in order to use the knowledge base article. With Zoho's articles, you are never quite sure if you have the correct licences.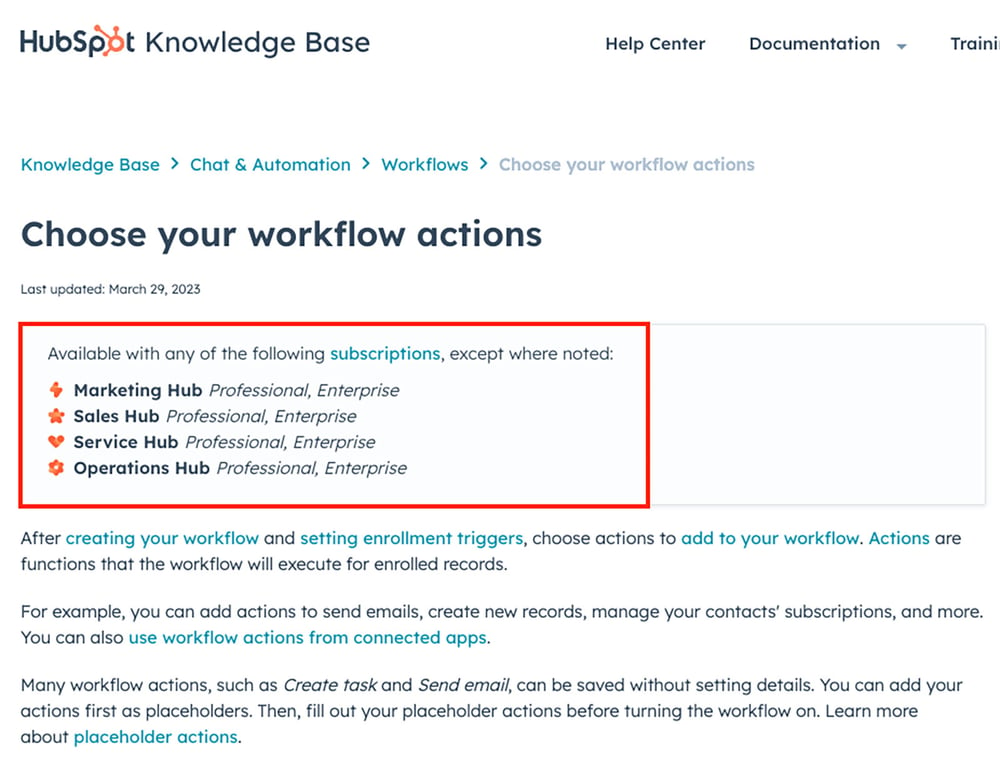 6. Support
Everyone needs support sometimes. CRM implementations and the required enhancements over their lifetime at your business require support. Support comes in three different forms.
Internal Support
Every business needs an internal champion to own its CRM. In a small business - it's often the owner. In a larger business, it can be a person dedicated to CRM. Either way - someone needs to be the CRM champion. Very broadly, these champions can upskill themselves in three ways: First-hand experience from the software vendor and from an implementation partner.
Partner Support
Partner support for Zoho is limited. Zogo is more focused on selling directly to its customers. HubSpot recommends working with one of its HubSpot partners. They have experienced that working with a partner creates happier long-term clients.
Partner support is delivered by consulting firms like our company. We mostly work on HubSpot and Salesforce CRM. We employ specialists in the area of CRM implementation. We know how to implement CRM systems for various industries and learn over time how CRM systems should be implemented best for your industry.
HubSpot pushed us through intense training to ensure we are highly trained. Between 35 of us, we have well over 200 HubSpot certifications.
Using this knowledge, we share our insights and suggest ways to solve your business problem with your chosen CRM system.
Although you can set up both HubSpot and Zoho CRM by yourself, we always advise using an implementation partner to get things working quickly.
Vendor Support
Finally, the software vendor offers support. Some vendors require you to pay for support; with others, it's free. Then the free support has a range of efficacy.
HubSpot support is driven entirely by native language speakers. I'm a native English speaker, and every single support query I've had with HubSpot has been in perfect English.
Zoho's support is not by native English speakers. This can be challenging at times.
The free Zoho Classic support has an 8-hour Acknowledgement & initial response time SLA. This means most issues are solved in at least 24 hours or more. Not ideal if the system is business-critical. Or pay 20% of your subscription fee for 24 hours/day, 5 days/week support. 3-hour acknowledgement & initial response time SLA.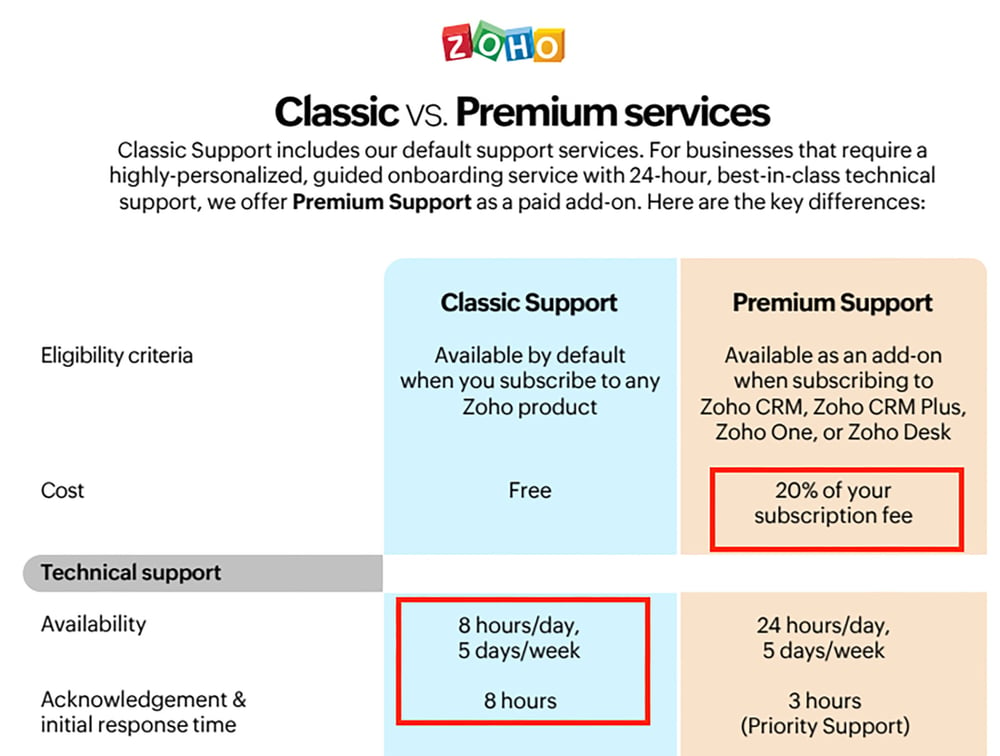 HubSpot support is 24 hours/day, 5 days/week support on all plans - included in your pricing. This is why HubSpot does cost a little more. Acknowledgement & initial response time is mostly within a few minutes during weekdays.

Conclusion
In conclusion, both HubSpot CRM and Zoho CRM offer powerful features and capabilities to help businesses manage their customer relationships effectively. While they have similarities, there are also important differences to consider, such as pricing, ease of use, customisation options, and integrations.
Ultimately, the best choice between HubSpot CRM and Zoho CRM will depend on your specific business needs and priorities. Consider factors such as the size of your business, your budget, the level of customisation you require, and the specific integrations you need.
Personally, I've never seen a successful Zoho implementation. But take that from whence it comes - I'm a HubSpot partner. And we generally get poorly configured Zoho systems coming to us to migrate over to HubSpot. I'm sure they are out there!
Whichever CRM platform you choose, it's important to take the time to evaluate your options carefully and make an informed decision that will help you manage your customer relationships effectively and drive business growth.