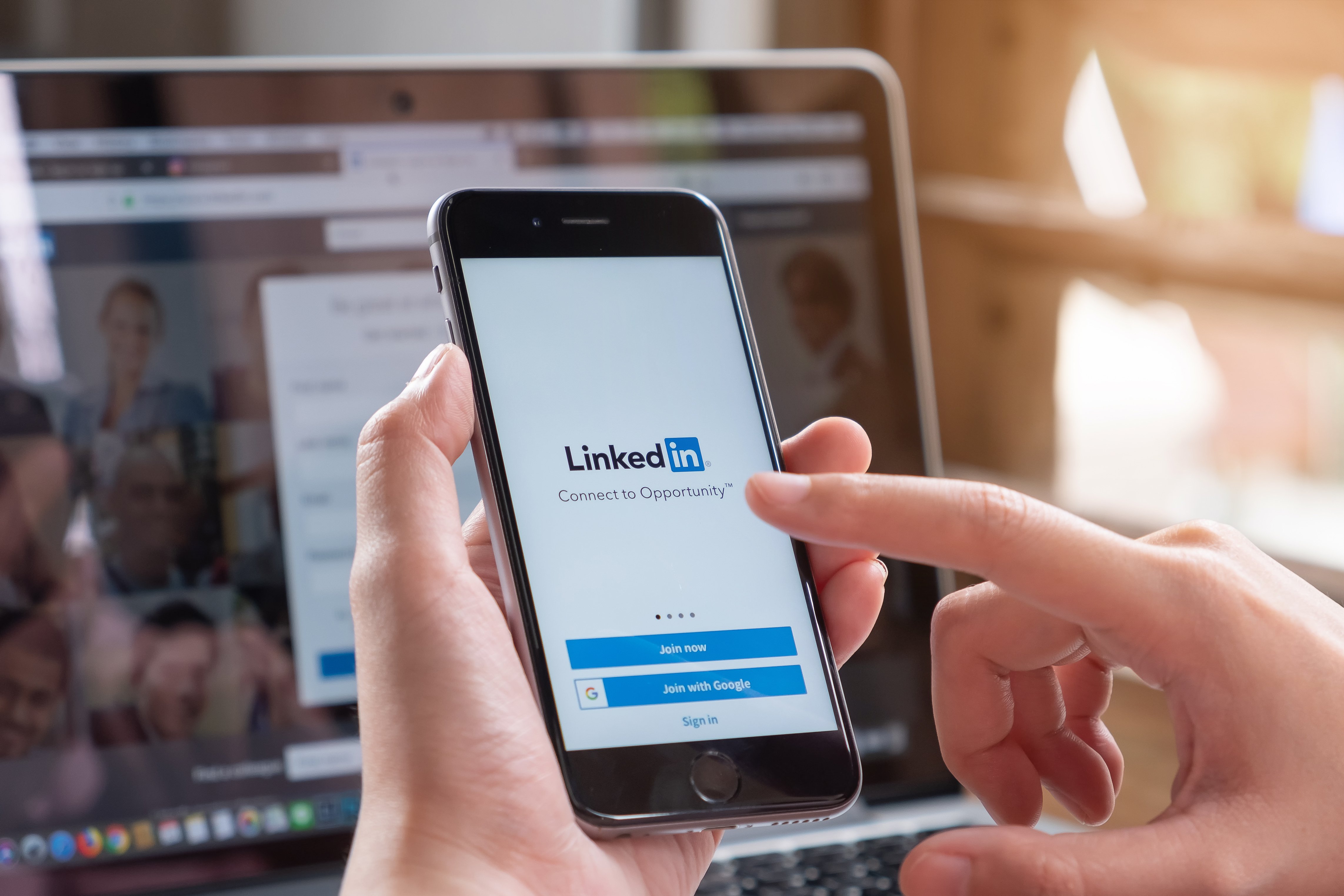 Digital Marketing
LinkedIn Lead Generation Strategy
LinkedIn has risen to one of the world's leading social media platforms. Thousands of businesses are turning into lead generation superpowers using LinkedIn, and you can do the same.
If you're not using LinkedIn as a lead generation tool, then you could be missing out on hundreds of high-quality leads every single day.
The social media platform turns 20 this year, and according to the statistics, it's a hidden gold mine of top leads.
However, the problem is that LinkedIn users don't often follow businesses — they follow people.
That's why business executives are turning their LinkedIn profiles into powerful landing pages that sell their business 24/7, all year round. Whether you want to build a following of "loyal fans" or sell directly to your target market, you need to make sure that your profile is optimised for the modern LinkedIn landscape.
But how?
In this article, we'll dive into the details of how you can prime your LinkedIn profile to magnetise your lead generation and convert them into paying customers.


1. Learn How to Beat the Algorithm
Predicting changes in the LinkedIn algorithm is incredibly difficult. Just like with Google, there are constant updates on how content is pushed to your feed.
What might have worked a year ago will have no impact right now. That's why it's critical to learn how the LinkedIn algorithm works, and how you can keep up with the latest trends.
If you're not keeping up with the trends, your profile and content will get buried underneath those who are using the algorithm updates to their advantage.
Keeping up with the latest LinkedIn updates is tiring. But, as long as you stick to LinkedIn's best practices, you'll stay ahead of any algorithm updates.
Here's a breakdown of how the algorithm works:
LinkedIn will categorise your posts into one of three baskets:
Spam
Low quality
High quality


To bypass the 'spam' filter, you need to make sure that you meet the following requirements:
Don't use bad grammar.
Don't use multiple links.
Don't tag more than 5 people.
Don't post more than every 3 hours.
Don't use words like "follow," "comment," or "like."


However, getting your content separated from 'low quality' and moving into the 'high quality' category is more challenging:
Use a maximum of 3 hashtags.
Use niche content rather than broader topics.
Use engaging posts that encourage a response.
Use formatting to make your content easier to read.
Don't use outbound links (put them in the comments).


Later on, you'll learn more about how to create valuable and engaging content that attracts leads to your profile. But, first, you need to convert your profile into a landing page that will captivate your followers.


2. Build a Personal Brand
LinkedIn profiles are unique compared to other social media platforms. Not only are they set up differently, but they also serve a different purpose.
Whether you want to become a thought leader in your industry or make some sales, you need to make sure that your profile stands out from the crowd.
On LinkedIn, this is better known as a 'personal brand'. You're essentially turning your profile into its own business asset that can help you to market to your target audience.
Leading IT and networking company Cisco has already jumped onto this trend. They've been training 84,000 employees to become LinkedIn influencers.
Why should you have a personal brand? Here are the key benefits:
Attract investors
Attract top talent
Make more impact
Increase your prices
Generate more leads
Close more sales deals
Increase your brand awareness


Whether your personal brand will be associated with your business is up to you — many business executives separate their personal brand from their business on LinkedIn. However, this doesn't mean that you'll be stopping your business from generating leads!
At the end of the day, LinkedIn users are more interested in the personalities compared to the brand. The platform is used to connect with the people within a company, rather than following the company itself — that's why building a personal brand is the most effective marketing strategy on LinkedIn.
Optimising your profile
The first thing you need to do is establish the goal of your profile. Are you trying to generate more leads, hire top talent, become an industry leader, or something else entirely?
Establishing the primary goal of your LinkedIn profile gives it a single purpose — allowing you to fine-tune it to your target audience.
If your profile is tweaked to the correct audience, you might not be getting the most followers, but you'll be getting the right followers.
It's important to get the right followers because they're more likely to engage with your content, and you can guide them through the sales funnel to convert them into customers. Every element of your profile should speak to your target audience.
Improve your visuals
The visuals of your profile are crucial because it's the first thing that your page visitors are going to see.
Your profile banner is the most important — banners are the new business cards! It's right at the top of your profile, and you can use this visual space to create a powerful CTA for your target audience.
LinkedIn users design their banners in different ways — whether you want to showcase your most impressive results, tell people what you do, or show them what your profile is all about.
The banner needs to convey information in a way that your visitors can instantly understand. Here are some good examples: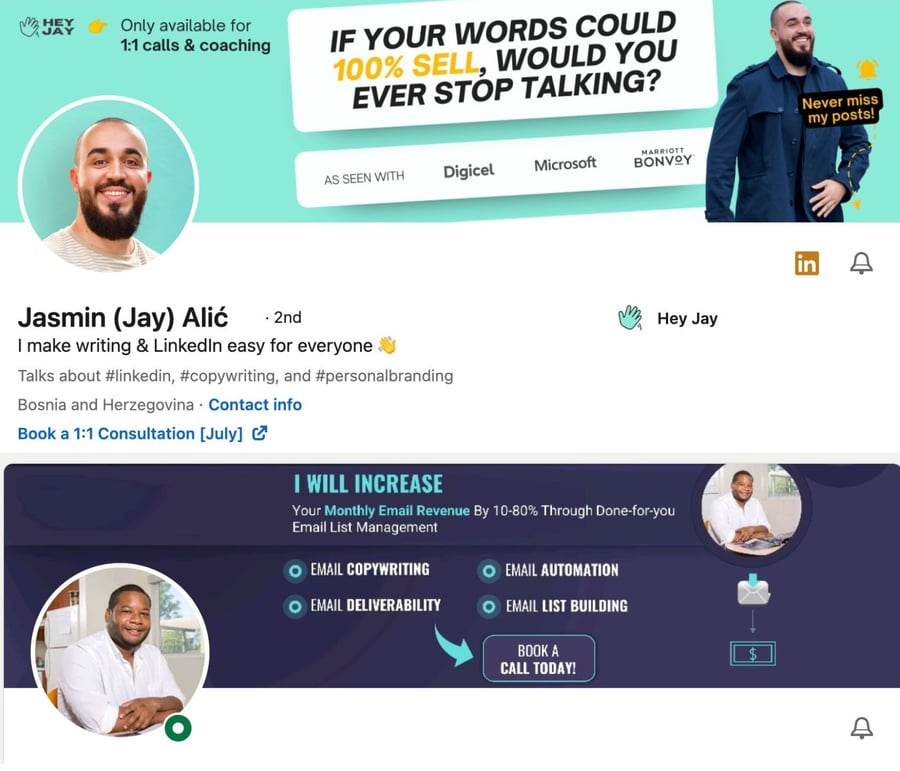 Next, you need to fix your profile picture. Most people don't have the right type of image as their headshot. If you follow the right guidelines, your headshot can make your content instantly recognisable on your followers' feeds.
The image doesn't necessarily need to be professional, but it must be high-quality and it should clearly show what you look like.
If you can match the background and style of your profile picture with your banner, you can create an excellent artistic effect that will make your profile feel more premium and professional.

Have a clear (not clever) headline
The headline of your profile will show up underneath your name when you create posts and leave comments. It's essentially your chance to deliver a single sentence that will draw potential followers to your profile (landing page).
Creating the perfect headline is difficult — it needs to be concise and powerful.
Some profiles use their most impressive results, others might clearly state their target audience.
Make sure to create an engaging headline that stands out from the crowd and clearly conveys what you do for people (the value they get from following you), and you're guaranteed to get twice as many profile views and followers.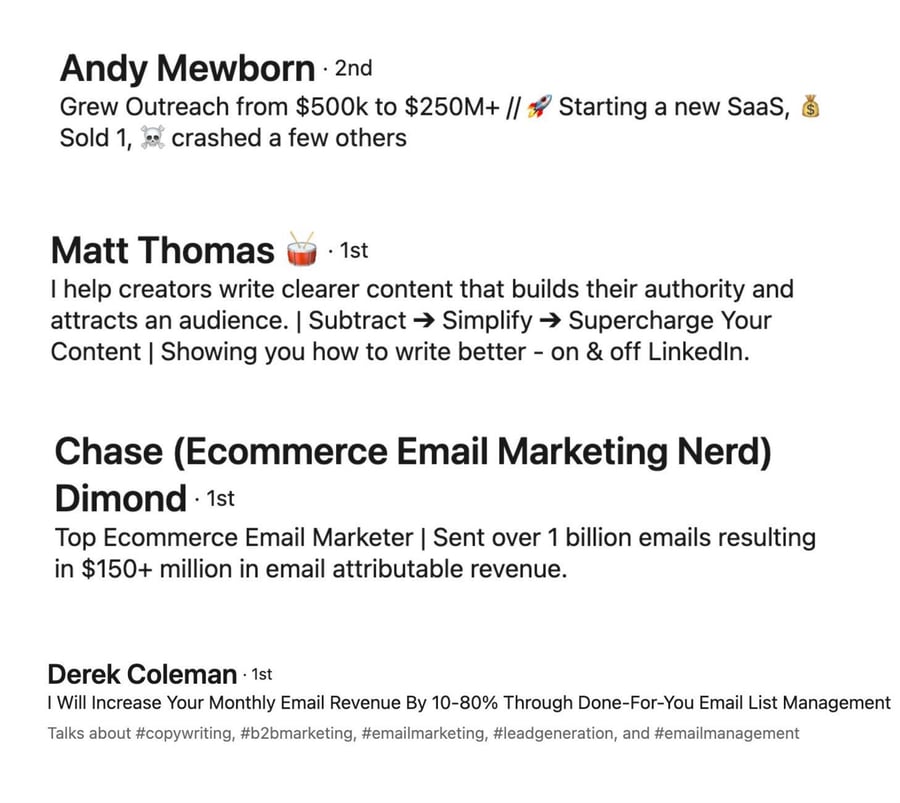 Streamline your About section
Now that you've optimised the visual elements of your profile to draw leads in, you need to give them value to make sure that they'll convert into sales.
The "About" section of your profile allows you to write a couple of paragraphs that add content to your profile. Unfortunately, though, 96% of people use this feature incorrectly.
There's a common framework that all of the best LinkedIn profiles follow when it comes to the 'About' section. If you get this right, you can convert inbound leads quickly and easily.
So, what do people do wrong? Most of the time they use this section to talk about themselves.
However, your target audience doesn't necessarily care about you — they want to know how you can help them. That's why it's important to use some psychology and copywriting to create a compelling piece of content that will resonate with your target audience.
Let's take a look at some of the top LinkedIn creators to see how they structure their 'About' section:
Start with a strong hook - you need to pique interest with the opening sentences of your content. Write something that makes people want to click 'See More'.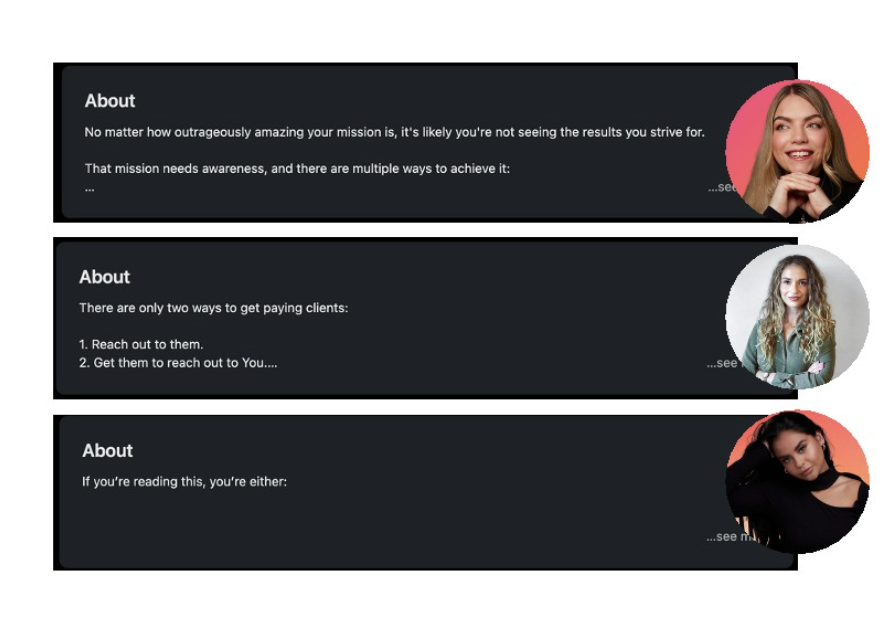 Clarify their pain points - your target audience has a problem that they need solving. Make sure to clarify it at the start of your content piece to reassure them that you understand their situation.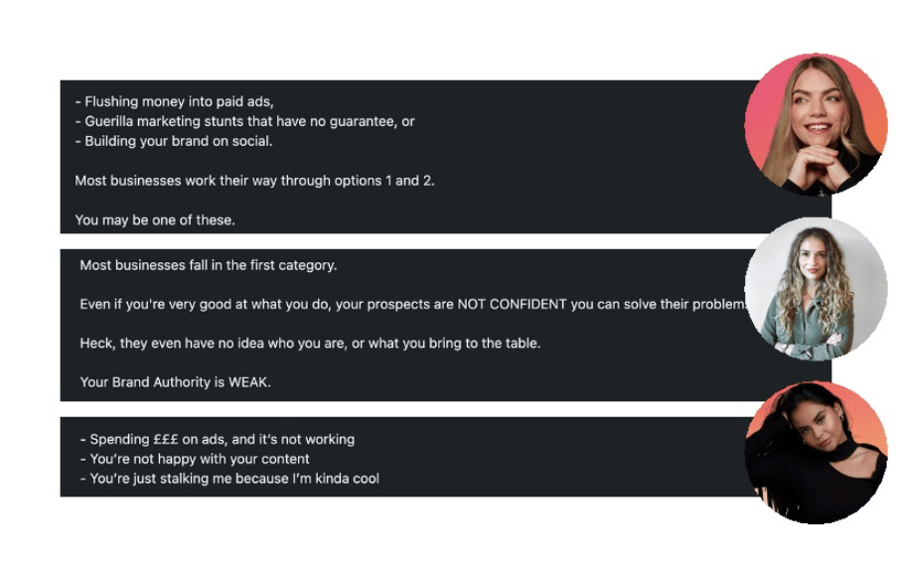 Push even further into their pain points - use descriptive language to highlight the problem that your target audience is facing, agitating their pain points even further.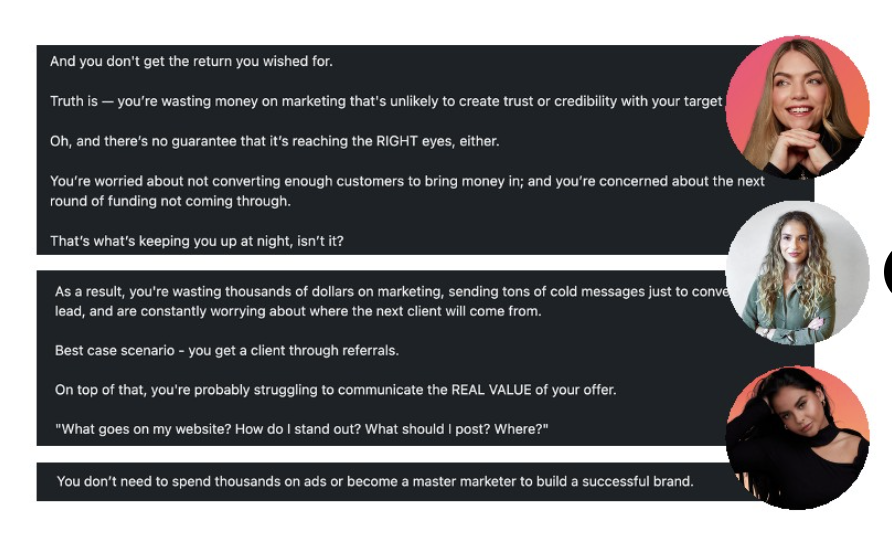 Show them what their future could look like - you're taking your target audience on a journey to a place where you're solving their problem for them.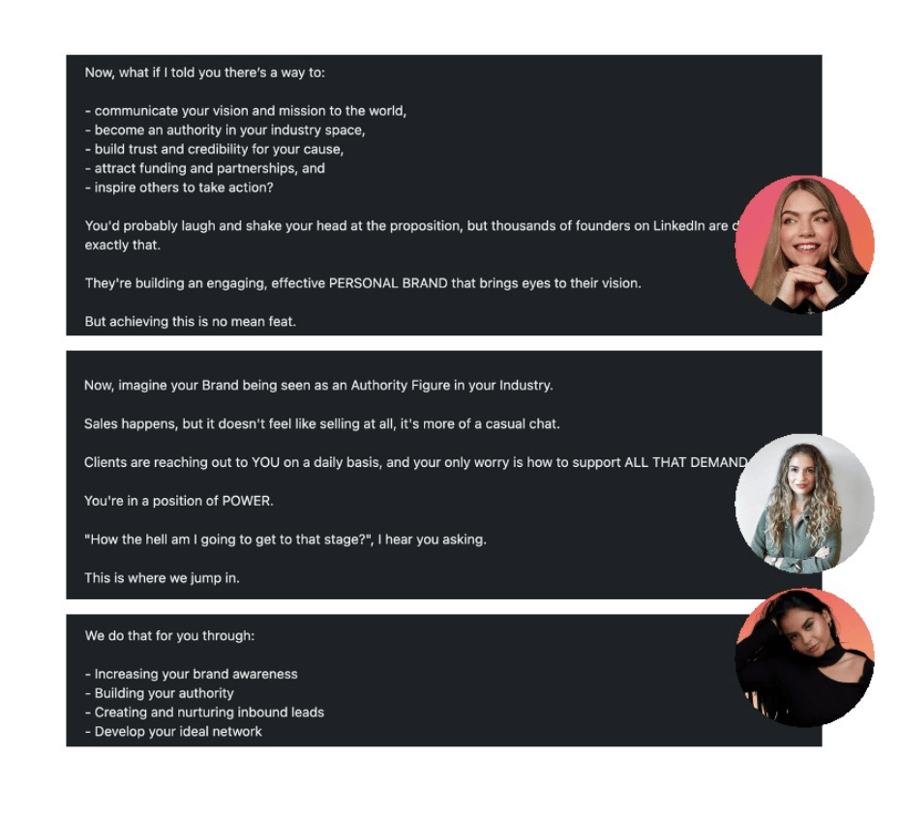 Present your solution - this is where you tell them how your solution takes them from their current situation to their ideal future situation.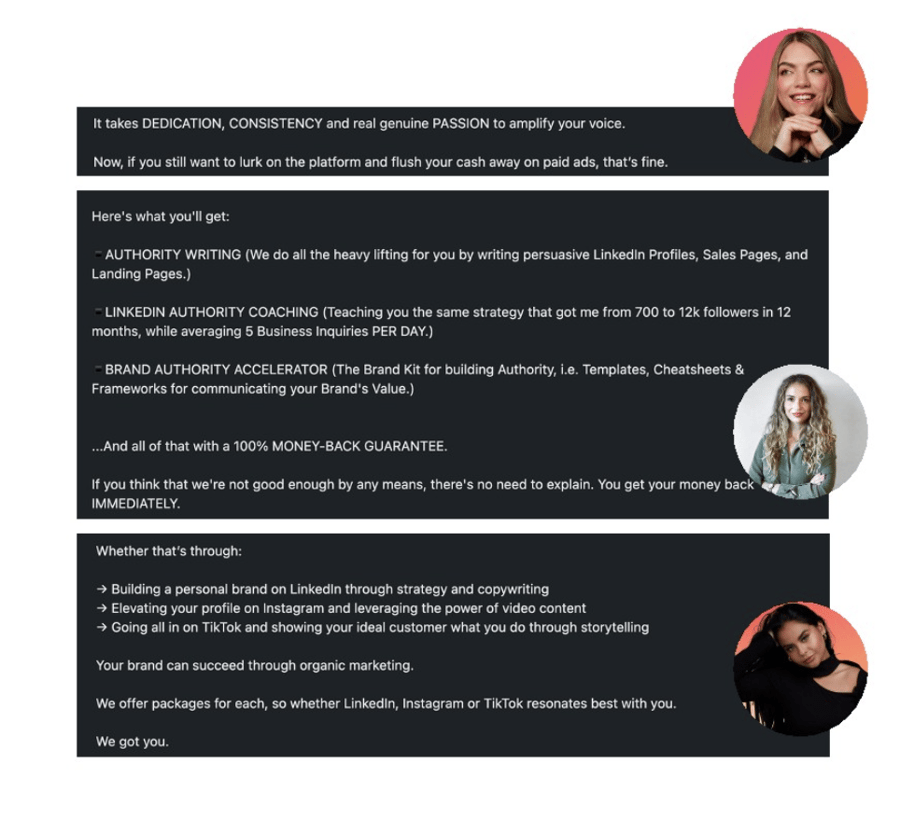 End off with a CTA - most profiles forget this important final step. Be specific with your call-to-action: do you want them to send you a DM, book a call, or sign up for a newsletter?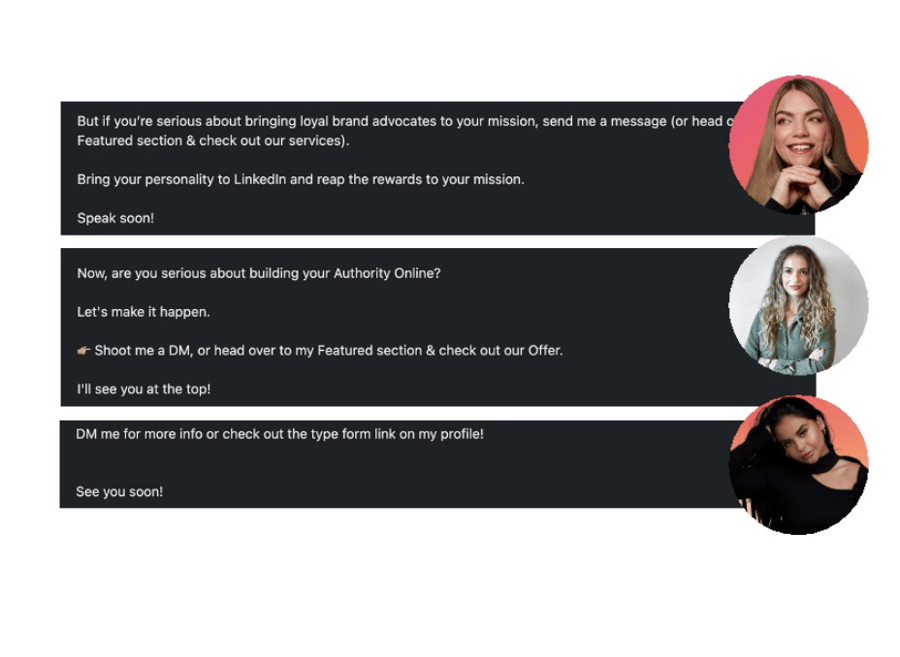 Remember, most people live incredibly busy lives. They're constantly on the move and don't always have time to read an essay — especially if it doesn't resonate with them.
Formatting is one of the best ways to overcome this problem. Make your content easily scannable to improve readability with:
Alternatively, you can add a TL;DR section for those who don't want to read your full story.

Turn on creator mode
If you want to turn your LinkedIn profile into a lead magnet, you need to turn on 'Creator Mode'. This doesn't mean that you're going to become an influencer, it's just going to unlock some powerful tools that you're going to need.
Firstly, you'll get access to a custom link in your profile — LinkedIn's version of "link in bio". All of the profiles that we analysed above have unique custom links underneath their location.
What's great about this link is that you can send your followers anywhere and customise the anchor text into a CTA. All of the profiles above are directing followers to book a call with them.
Here's one that links out to a free newsletter: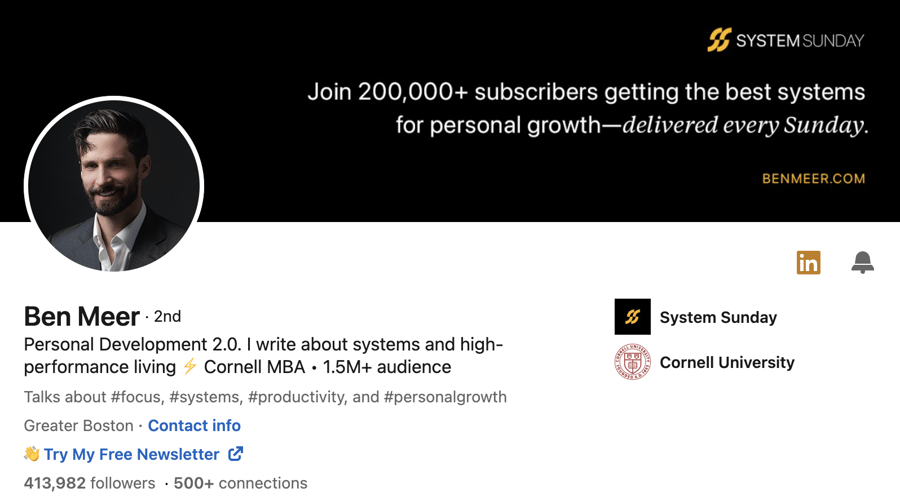 You can use this custom link to direct your target audience to whatever is most valuable to your business. Whether that's subscribing to a newsletter, booking a call, or going to a dedicated landing page.
Here are some other benefits you get with Creator Mode:
Increased visibility: Your content will be more visible to other LinkedIn users, including those who are not connected to you. This is because creator mode content is featured more prominently in search results and on the LinkedIn homepage.


A larger audience: As your content becomes more visible, you'll likely attract a larger audience of followers and viewers. This can help you to build your personal brand and reach a wider audience with your message.


More engagement: Creator mode content is also more likely to be engaged with by other users. This means that you'll get more likes, comments, and shares, which can help to boost your reach and visibility even further.


Access to exclusive features: Creator mode users also have access to a number of exclusive features, such as the ability to create and publish newsletters and 'articles', stream live video, and add elements to their 'featured section'.


Optimise your profile with keywords: Creator mode users can add up to five hashtags to your profile, which can help people find your content when they search for those topics.


If you want to turn on creator mode, simply follow these steps:
1. Go to your LinkedIn profile.
2. Click on the "Me" icon in the top left corner.
3. Click on "View Profile."
4. Scroll down to the "Resources" section and click on "Creator mode."
5. Click on "Turn on creator mode."
6. Follow the instructions to complete the process.


Optimise your featured section
The final piece of your LinkedIn profile puzzle is the 'Featured section'.
Most users will pin their best-performing posts in this section, or direct people to irrelevant content. But, if you use this section correctly, it can be a powerful sales tool.
You can choose to add posts, media, images, articles, documents, or external links to this section. It's recommended to use external links for your featured section.
Here are 7 great external links you can pin in your featured section for better lead generation:
Newsletter
Free training
Lead magnet
Book a free call
Upcoming events
Client testimonials
YouTube channel or Podcast


But, if you really want to impress people that land up on your profile, you need to create visually appealing thumbnails that align with the other elements of your profile. Here are some examples: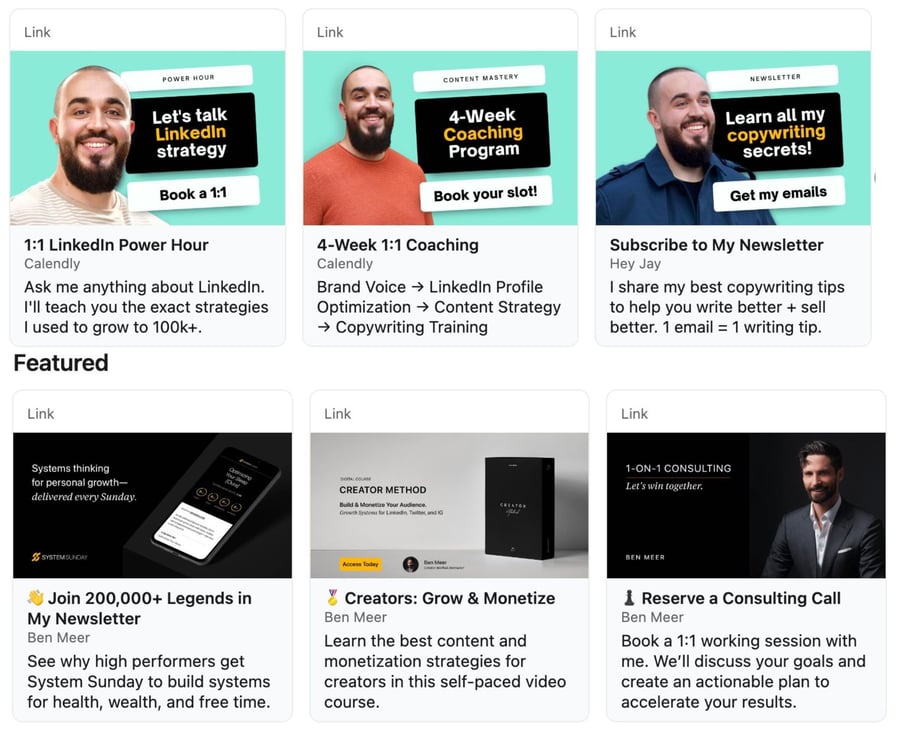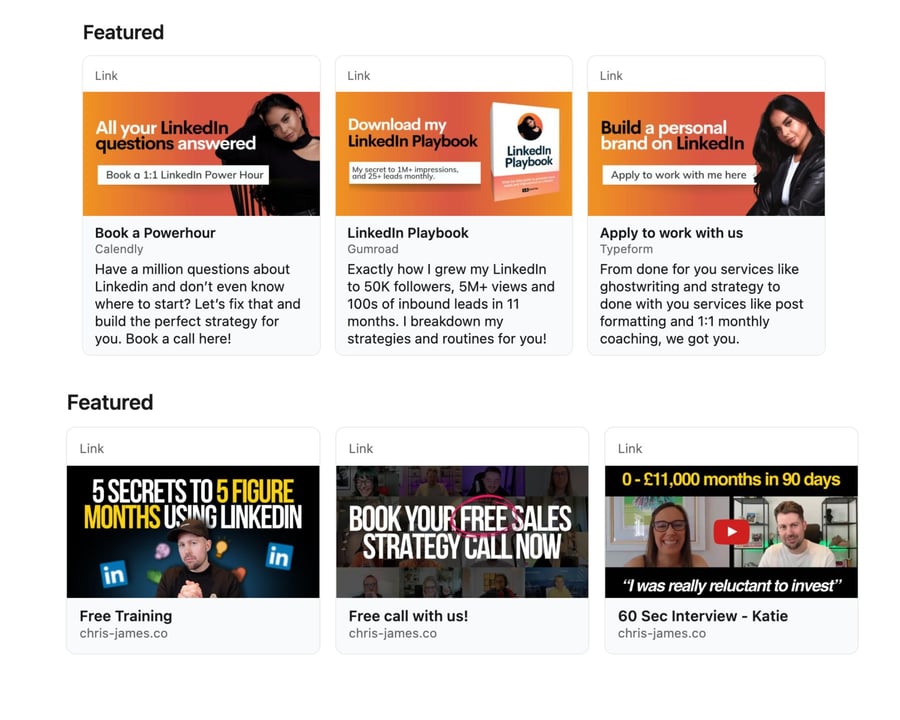 3. Providing Valuable Content
Having the perfect LinkedIn profile is great, but it doesn't help if no one's looking at it. Just like a landing page for your business, you need to direct traffic to your profile before you can start generating leads.
In order to drive traffic to your profile, you need to start posting content. LinkedIn is all about engaging with your audience and providing them with valuable content.
You build trust and nurture your audience with posts like:
Case studies
Social proof
Industry trends
Personal stories
Informative content


For most people, posting content can be difficult. Sometimes you don't know what to post, run out of ideas, or simply don't have the time to do it.
But, it's actually much easier than you might expect.
Let's unpack it below.
Create a content strategy
The first step is to understand the type of content that you should be posting and why. Most LinkedIn users use the basic sales funnel principles to create their content — it's broken down into three categories.
ToFu (Top-of-funnel) - this content is designed to get your views and engagement to grow your audience and can include content such as personal stories, trending topics, and general topics within your niche.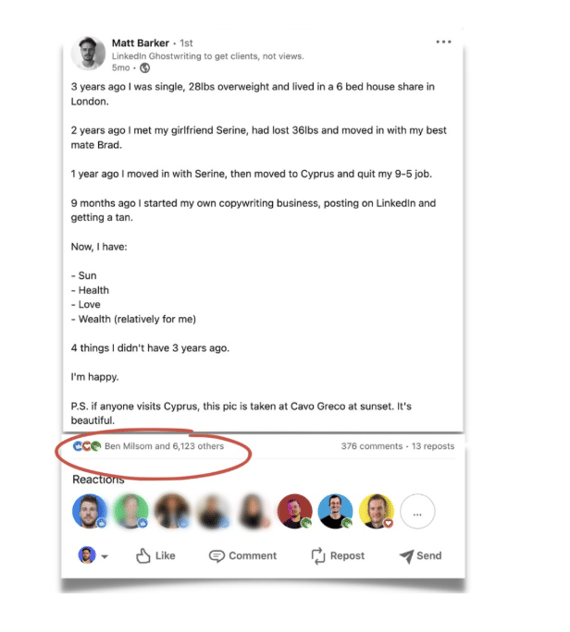 MoFu (Middle-of-funnel) - this content is designed to nurture your audience and turn you into an industry leader or authority figure in their eyes. You'll need to show more in-depth knowledge and expertise in this category with how-to guides, problem-solving showcases, and carousels (we'll cover carousels shortly).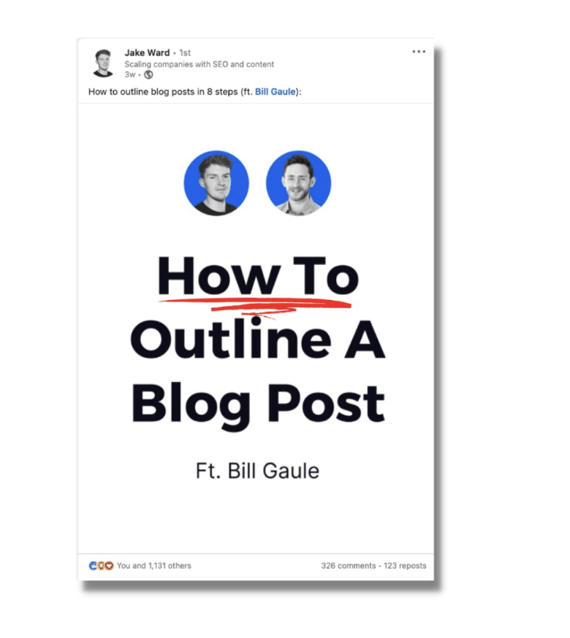 BoFu (Bottom-of-funnel) - this is where your followers will turn into leads. Your followers already see you as a potential solution to their problem, they just need one final push over the line with testimonials, case studies, and personal results.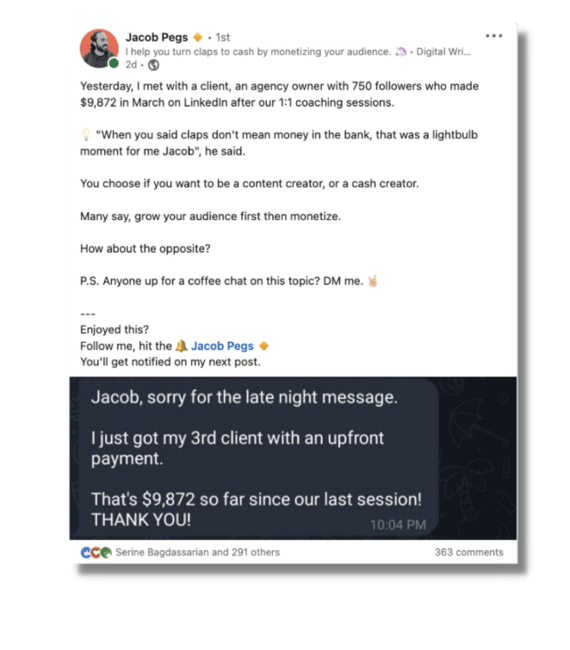 How do I find content ideas?
Now that you understand the type of content you should be posting, you need to focus on how to flesh them out.
LinkedIn requires consistency, which means that you need to post often. Each post needs to be high-quality if you want to attract an audience and generate leads.
Finding ideas for content is a challenge that most people struggle with though. The easiest and fastest way to find content is to ask ChatGPT or Google Bard.
But, if you want more control and personalisation over your content, you can find trending topics and repurpose them into your own content.
Here are a couple of ideas:
Collaborate with other creators.
Refresh content from other creators.
Search other social media platforms.
Look for problems to solve in your niche.
Find relevant YouTube videos and podcasts.


Make sure to plan your content ahead of time. When you try to create content on the spot, you'll feel pressured.
To make the content creation process easier and attract an audience, focus on writing for one person. If you try to write to create content for everyone, you end up targeting no one.
Hint: use this ChatGPT prompt to interview your target audience for insights and advice:

But what's important to remember is that psychographics are much more important than demographics.
In other words, don't focus on the age and occupation of the person you're creating content for, it's about how they think and feel.
People have problems that cause pain and dreams that cause desires. You can address these 4 factors with valuable content using 3 pillars:
Actionable advice: To get results
Personality: To form a bond
Storytelling: To inspire


Be active daily
If you want to succeed on LinkedIn, you need to post consistently at the same time and on the same day of the week.
Content creators on all social media platforms use this method to create a habit among their followers.
For example, if you always post at 12:34 PM on a Tuesday, your audience will know when they can expect to see your content on their feed — rather than sporadic and random times.
You also need to make sure that you engage with your audience — on their content and your own posts. This is something that the LinkedIn algorithm will prioritise, which will push your content to more potential followers.
Comment on other posts with helpful insights and information. Don't just repeat what they're saying or give them a compliment. The more value you add to your comment, the more likely you'll get replies and interactions.
Here's a basic overview of the engagement you should be aiming for.
Post 3x per week.
Reply to and like all comments.
Comment on 10x other posts per day.
Send 10 connection requests per week.
DM people that engage with your content to chat.


Most creators are more active, but the framework above is a primary starting point and you can build from there.
The Power of Visual Content
Visual content is one of the best ways to beat the algorithm on LinkedIn. Most people simply write posts, and although they might be informative, they don't always make users stop, read, and engage.
Recently, there has been a surge in visual content on the platform, and LinkedIn will prioritise this content in your feed over a wall of text.
That's why you're seeing a lot more carousels, videos, and images around. You can use the same content to your advantage and stand out from the crowd.
Here's a quick guide on how to make a carousel. If you're stuck on how to use visuals on your profile, check out this guide on visual content for LinkedIn.
Use LinkedIn Articles
If you want to become a thought leader in your industry, it's crucial to put your ideas on paper. This could be done on your website's blog, but you can take it a step further and bring attention to your valuable LinkedIn profile.
Once you turn on Creator Mode, LinkedIn gives you access to 'articles'. This is essentially a blog page on the platform that allows you to write your own articles or blogs on any given topic.
Use this section to draw more people to your profile by showcasing your ideas with long-format content.
Hint: these articles can be optimised for search engines! If you get it right, you can win new followers directly from Google's search results.
Create an email list
No matter which social media platform you use, it can all come to an end in a flash.
We've seen Elon Musk completely transform Twitter (now X), Meta can restrict your posts, and the LinkedIn algorithm can bury your content in a matter of seconds.
Relying solely on another platform to promote your business is risky — never build a business on rented land. That's why you need to promote content that you own.
Directing people to your website or email list is always a great idea as long as you keep them engaged with valuable content.
Always promote your email list in posts, comments, and on your profile's featured section.


4. Sell More with Direct Messaging
While you're using your valuable content to engage your followers and keep them interested in your profile, you still need to sell to them.
Some of your followers might have converted through your profile's featured section (booking a call, subscribing to your email list, or buying a product/service).
But, the best alternative method to sell to warm leads is through direct messages. It's more personal and it gives you the opportunity to have a conversation with them.
Knowing when to send direct messages can be tricky, especially when your following grows and you get more engagement.
However, generally starting conversations with followers who engage with your content often and already show interest is the best way to go.


5. Launching Digital Products
Digital products are one of the most effective ways to increase engagement with your followers and add people to your email list.
If the content you're putting out is helpful, people are more likely to buy from you. A digital product can be a guide, an e-book, or simply content that would be helpful in your industry.
For example, if your niche is teaching people how to build a strong personal brand, your digital product might be an e-book that analyses 75 of the best personal brands on LinkedIn.
It's an easy lead magnet you can leave on your profile for people to engage with when they're ready.
If you want to learn more about how to create the perfect digital product for your LinkedIn page, take a look at this post.


6. Using Data-Driven Insights
If you want to succeed on LinkedIn, you need to make sure that you're continually improving your content — but how?
By listening to your followers.
You need to make sure that you're always keeping an eye on your analytics to see which elements of your content resonate best with your audience.
Once you've pinpointed the ideas, topics, and types of content that your audience engages with the most, you'll have a reference point for the content that you should be using in the future.
You should constantly monitor your analytics, talk to your followers, and find ways to improve your content.


Final Thoughts
LinkedIn is a powerful tool for generating leads. However, you need to use the platform correctly, beat the algorithm, and craft a magnetic profile if you want to generate high-quality leads for your business.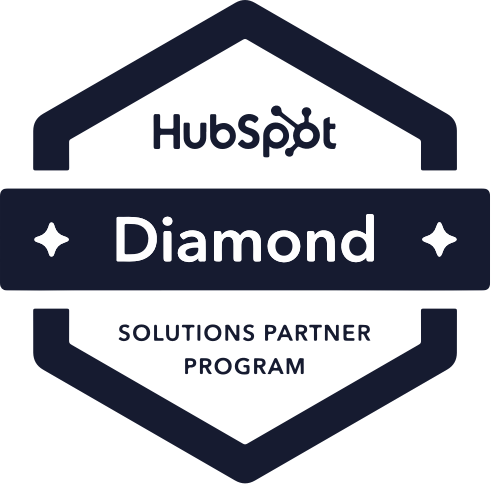 MO Agency supports visionary leaders to succeed with HubSpot