1. Complete every section of your profile
This is an obvious thing to do, but we've seen so many LinkedIn profiles missing critical information and only having the bare necessities. Fill out your profile summary (the overview of your professional experience), specify your industry and location, your current job role and position, your past positions, your education history and specific skills.
The typical structure of a professional's LinkedIn profile is detailed below.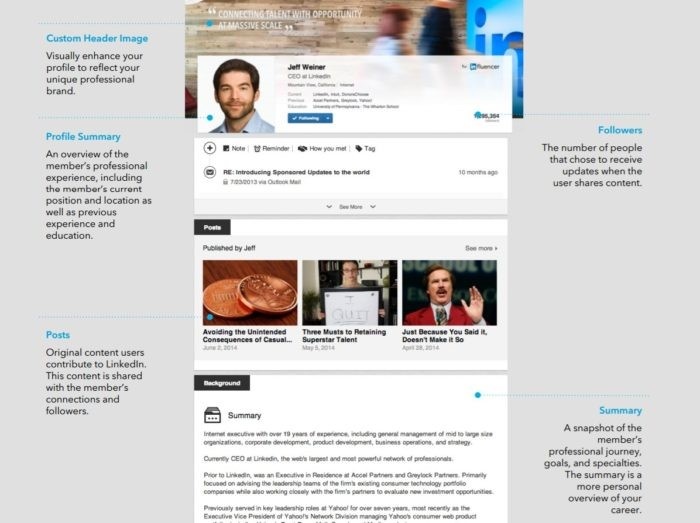 Also, make sure that you have at least 50 connections to give your LinkedIn profile some form of credibility.
2. Use a professional picture for your LinkedIn profile
Use a clear headshot for your professional profile picture. These picture needs to be of the highest quality and can be utilised across all your social media profiles. Ideal sizes for a profile picture are either 200x200 pixels or 500x500 pixels.
3. Keep your profile summary short and sweet
Your profile summary can only be a maximum of 2000 characters. Our suggestion here is to keep your wording and sentences tight and informative. Keep your writing in the first person and show how you're different from the rest of the pack. Talk about how you can solve client problems and provide solutions through your experience and skill-set.
4. Your contact information section needs to be completed
This is one of the key sections for starting conversations with potential customers and getting new job opportunities. This section should detail your email address, contact number, personal URL and social media handles.
5. Customise your personal vanity URL
Customise your profile's default URL so that your actual name is included in the URL. This is far better for search engines when they're indexing your LinkedIn profile. LinkedIn details the following steps for customising your public profile URL:
Click the Me icon at the top of your LinkedIn homepage.

Click View profile.

On your profile page, click Edit public profile & URL on the right rail.

Under Edit URL in the right rail, click the Edit icon next to your public profile URL.

It'll be an address that looks like www.linkedin.com/in/yourname.

Type the last part of your new custom URL in the text box.

Click Save.
6. Think about SEO when optimising your LinkedIn Profile:
Consider the keywords relevant to your industry and profession. These would be terms that people would likely search on search engines like Google. Now add these keywords to your summary sections, skills section, job title, experience section and your personal interests section.
With all of the above elements, your LinkedIn profile will be fully optimised for whatever you want to do on the platform. Think about your objectives and align the above recommendations with those aims, such as sales, lead generation, brand awareness or thought leadership. You'll definitely see a difference in the connections you make and the discussions you're pulled into.
If you're just starting out in the world of LinkedIn, we strongly suggest reading our blog post: LinkedIn for business: 3 beginner tips, which teaches you how to promote your business on LinkedIn.