CRM or Customer Relationship Management, is more than software. Customer Relationship Management is a strategy for managing prospective customer and customer interactions.
What's in this guide?
Introduction
About the author: Luke Marthinusen
I'll be the first to tell you that no single CRM is the best solution for all businesses. I'm biased towards HubSpot - but we still tell some potential clients - it's not the correct solution for them and recommend competitors.

That being said, I am well-positioned to write about this subject, and if you are considering a CRM system - I urge you to read this article carefully. It's peppered with useful info. I'm very experienced in the arena.

I'm the founder, current CEO and 100% shareholder of a group of companies that implements, integrates and optimises CRM systems. We employ 35 full-time staff with offices in Johannesburg and Cape Town. We deliver projects in South Africa, Africa, Europe and the Middle East.

We sell HubSpot CRM. HubSpot is a billion-dollar US tech company with 7500 employees.

As I write this, we are ranked 7th in EMEA (Europe, Middle East, and Africa) in 2023 for HubSpot CRM sales and installs. I've devoted my career to implementing, integrating and optimising CRM systems for sales, marketing, service and ops teams.

Although we only sell HubSpot, every month, we are 'integrating with' or 'migrating away' from Salesforce, Pipedrive, Microsoft Dynamics, Freshdesk, Oracle and more. We know these systems well.



Relevant Case Studies:




We regularly win awards for HubSpot.
2020 Award: HubSpot Customer First
2021 Award: Integrations Excellence
2022: Platform Migration Excellence
2023: Platform Excellence
You can view the Partner of the Year page here.
You can view our HubSpot Impact Awards here.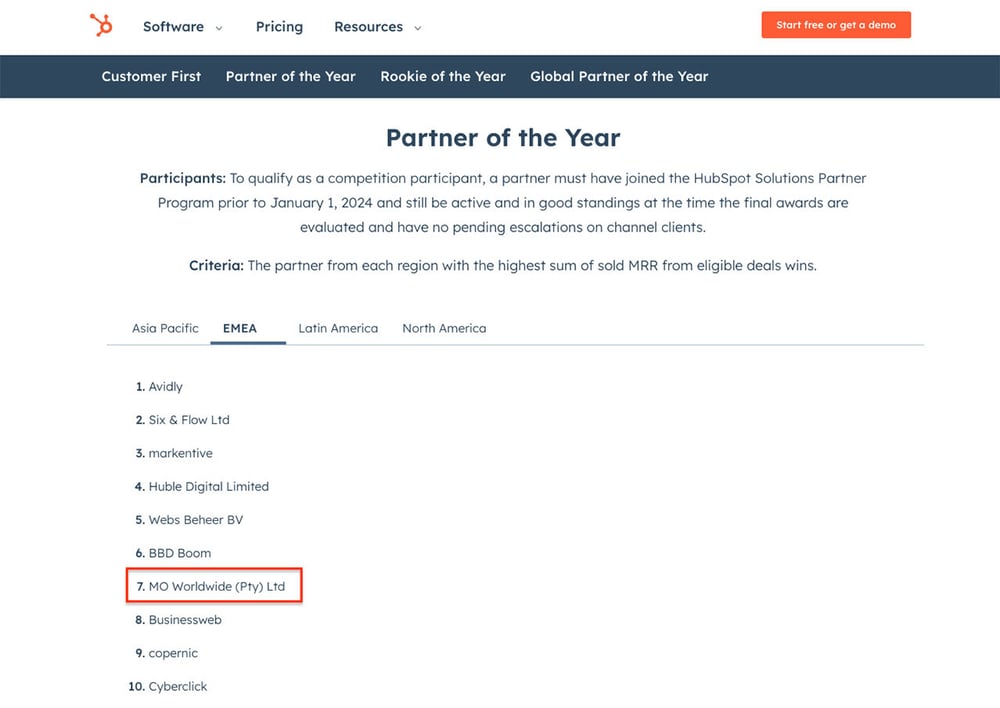 Why write this CRM guide?
We've been implementing CRM systems for many years now. We've worked on all the CRM systems discussed below. I've written the guide as a single-source overview of CRM software in South Africa.
We have unique requirements in South Africa. Our businesses tend to be smaller than our US and European counterparts. Additionally, we are very sensitive to foreign currency hard costs and the fluctuations associated with the South African Rand.
This guide outlines your CRM options in South Africa and empowers you to choose the best CRM software for your needs.
Why do you need a CRM system?
A well configured CRM system will provide a transparent and disciplined approach to managing your customer relationships from initial acquisition to becoming a profitable advocate for your company.
Keep this core requirement in mind during your decision-making process. It is easy to get sidetracked by sexy CRM system features.
Always ask yourself:
Will this improve my customer relationship management?
Will it increase company profitability?
Will it increase my teams productivity?
At the end of the day, you want to be able to take a temperature reading on your business or department at any time. Want to check on your progress on your sales target (sales team) or lead acquisition target (marketing team) on a random day? No problem - and no need to ask someone to pull a report - it's right there. Real-time data.

Relevant Case Study: iKhokha: HubSpot Migration, Integration & Tech Stack Simplification
The Best CRM software to choose in South Africa
South Africans have a unique set of requirements for CRM. In this guide, I outline what I think the best CRM choices are for South African businesses.
In no particular order, they are:
HubSpot CRM
Salesforce Sales Cloud
Microsoft Dynamics 365
Zoho CRM
Pipedrive
All of the Customer Relationship Management software options suggested above are solid options, but there are subtle nuances within each system. These range from flexibility, ease of use, local SA support, and price.
So, let's consider what you need to consider.
1. What to consider when choosing CRM Systems in South Africa
Affordability: The ZAR can fluctuate wildly, making sizeable $/€ payments a concern.
Popularity in South Africa: Sharing experiences and best-use practices with peers is very important to successful implementation and usage. Upskilling new staff on popular platforms is often far quicker due to their past experience with the system.
International Support: In SA, we have a 5 to 9-hour time difference with support centres in Asia and the USA. This can be frustrating when a major problem is encountered.
Local Support: To set up, consult, maintain and troubleshoot if required.
Most User-Friendly: CRM software really becomes valuable when the whole team uses it.
Business Headcount: Headcount contributes hugely to the functionality required and monthly software costs.
Relevancy: Has the CRM vendor kept up to date with modern trends? Some of the original/legacy CRMs in SA have not kept up. E.g. Bluwave, Sage, SAP and NetSuite.
2. How to evaluate your CRM System choice?
All of the CRM systems on our list are strong platforms. That being said, each business is unique, and it's up to you to find the right balance between price, features and functionality.
Your choice needs to be made with the current and future state of your business in mind.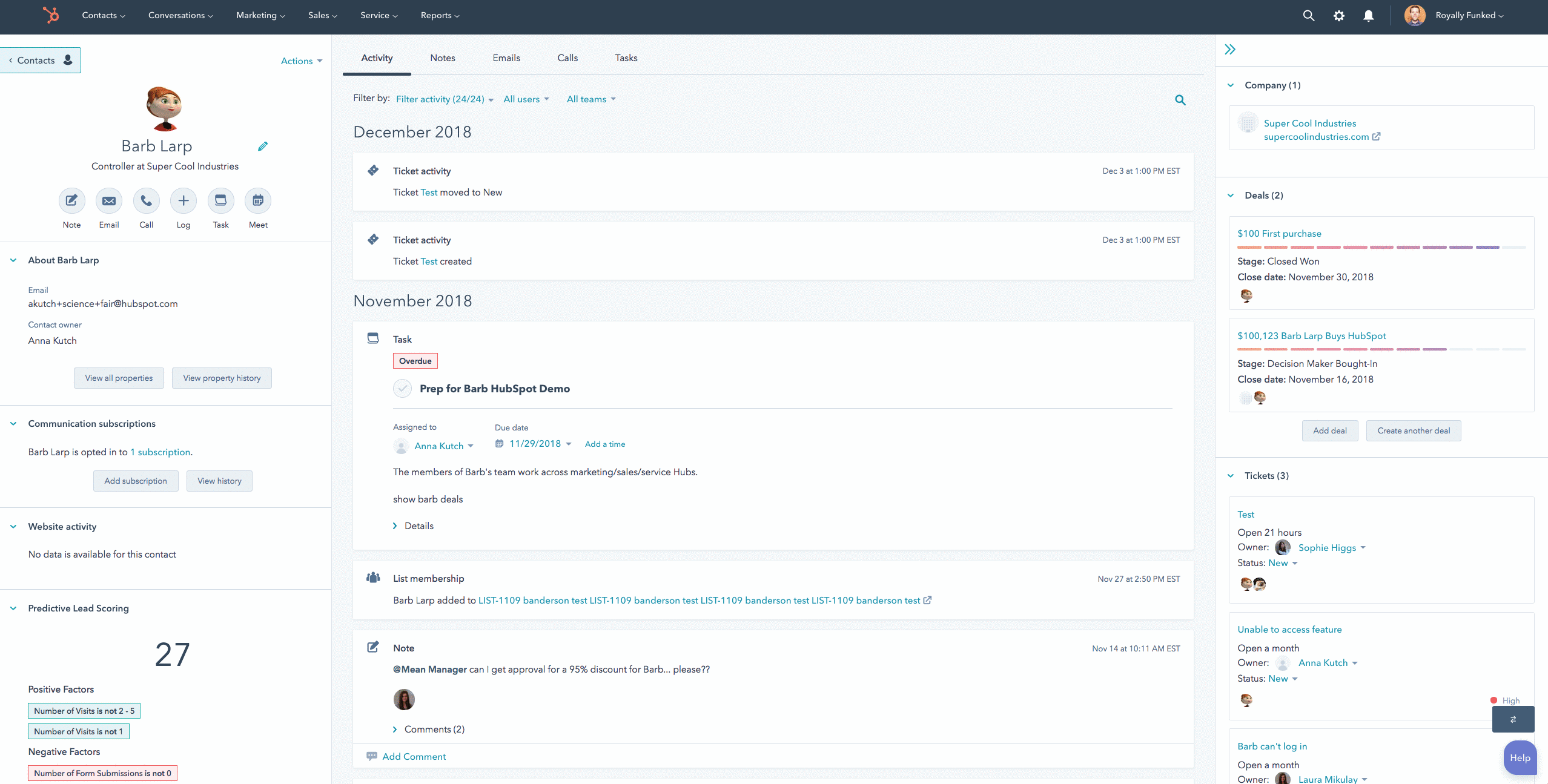 Image Source: HubSpot
CRM Software Features
Core features
Opportunity & Pipeline Management: Team and individual pipelines.
Email integration: Track and automatically log email communications in the CRM.
Calendar integration: Track meetings and automatically log in to the CRM (Gmail & Outlook/Office 365).
Dashboards & Reporting: Customisable dashboards and easy reporting.
Task management: Create, manage and share tasks.
Contact property customisation: Configure lead types, industries, geographies, etc.
Sales process customisation: Configure and customise deal stages and properties easily.
Mobile capabilities: Mobile app for users on the move.
Sales Automation: Lead allocation, rotation, and notifications to peed us the sales process.
Ease of use: Clean & uncomplicated user interface.
Value for money: Scalable pricing suited to the South African market
Additional feature considerations
Quoting (CPQ): Configure, price, quote (CPQ) is a sales tool for the sales team and admins to generate quotes quickly.
Marketing integration: Bulk email sends, WhatApps, website lead capture forms, social media integration, and marketing automation.
Communication features: Internal chat, tag members, Slack and Google Drive integration.
Setup and maintenance: Does an external consultant or dedicated employee have to set it up and maintain it?
Integrations: Accounting, ERP, messaging, and other CRM system integrations - natively or by API.
CRM Systems and Business Size
The definitions below are very broad, and you need to consider functionality and size when evaluating CRM Systems. You could be a 10-person company and require enterprise-level features. So, as I mentioned - use them as a guide.
The price difference between a fully featured enterprise seat and an entry-level CRM seat can be 2-5 times.
Large sales teams require more sophisticated CRM team partitioning, multiple sales pipelines, sales process automation and even AI to help with contact management.
At a smaller company, everyone can communicate easily with each other and collectively manage CRM Systems. A sales team with 25 CRM users, all with the same access rights and views, can be problematic.
At our larger clients, we configure CRM Software to work slightly differently for each department. Sales, Marketing, and Management need to see different customer data to do their jobs and work optimally.
A. Small Business CRM Systems
1 - 25 employees
Limited budgets
Sales pipelines
Email integration
Website form integration
Works well out of the box, with little or no customisation.
Suggested CRM Software: HubSpot Starter & Professional, Pipedrive, Salesforce Sales Cloud Essentials & Professional, Zoho Standard & Professional.
B. Medium Business CRM Systems
25-250 employees
Practical budgets linked to ROI and business goals/strategy.
Teams are divided across functional lines: Operations, Internal Sales, External Sales, and Marketing. Etc.
Integrations with one or two major business systems. E.g. Xero Accounting, ERP, inventory management.
Minor customisation is required.
Can self-implement or outsource?
Implementation timeframe: 1 month - 6 months
Suggested CRM Software: HubSpot Professional & Enterprise, Pipedrive, Salesforce Sales Cloud Professional & Enterprise,
C. Enterprise CRM System
250+ employees.
CRM Systems must be designed for enterprise use.
CRMs must serve large-scale business needs across multiple departments and teams.
Numerous enterprise tool integrations.
Very customised.
Can NOT self-implement. Must be outsourced to a specialist CRM partner.
Implementation timeframe: 6 - 12 months.
Suggested CRM Software: HubSpot Enterprise, Microsoft Dynamics 365, Salesforce Enterprise & Unlimited.
Popular review website's CRM Rankings:
Review carefully, as these websites sometimes put the wrong products in the wrong categories. E.g. In G2 Crowd - ClickUp is not a CRM. It is a project and task management system with a small CRM capability... TrustRadius - Insightly is a good CRM, however, it's only for very small companies or freelancers.
G2 Crowd: Best CRM Software 2023
Top 3: HubSpot CRM, Salesforce CRM, ClickUp.
TrustRadius: Customer Relationship Management (CRM) Software 2023
Top 3: HubSpot CRM, SAP Sales Cloud, Insightly
PCMag: The Best CRM Software for 2023
Top 3: Salesforce CRM, HubSpot CRM, Zoho CRM.


HubSpot is the only CRM that makes all three lists!
In fact, HubSpot is the only CRM that makes it to every single CRM list out there. Do a Google for some other lists to see for yourself.
I'll be the first to tell you that HubSpot is not the perfect solution for everyone, but it seems to make it onto all these lists for a reason. Definitely worth investigating.
3. The best CRM software to choose in South Africa
HubSpot CRM
Salesforce Sales Cloud
Microsoft Dynamics 365
Zoho CRM
Pipedrive
Let's jump in, starting with the fastest-growing CRM software - HubSpot.
3.1. HubSpot CRM
Overview
HubSpot has greatly increased its market share over the last few years. It is fast eating into the clients that Salesforce, Microsoft and Oracle once dominated. This is mostly because of its ease of use and fair pricing.
HubSpot Sales Hub provides a range of tools and features, including contact management, pipeline management, sales analytics, and email tracking, all of which are designed to improve productivity and streamline workflows.
Sales Hub is built on the same platform as HubSpot's Marketing and Service hubs, which means that sales teams have access to a full suite of tools for managing customer interactions across the entire customer lifecycle. The platform is also highly customizable, allowing businesses to tailor it to their specific needs and requirements.
HubSpot's sales and marketing integration is very strong. Some will argue that in today's world, where most sales are done online/virtually, this is critical.
Both sales and marketing teams can work together on the same system. This concept of one system for all customer-facing functions is further developed with HubSpot's customer support solution - HubSpot Service Hub.
HubSpot has 5 x Hubs that make up its CRM software, with it's free CRM at the core. The Hubs can be used independently or together.
HubSpot Sales Hub
HubSpot Marketing Hub
HubSpot Service Hub
HubSpot Operations Hub
HubSpot CMS Hub
Operations Hub is an integration tool that integrates an accounting package like Xero into HubSpot. CMS Hub is a website content management system similar to WordPress.
Pricing
Free trial: Yes, with some feature limitations. The trial period is forever.
Price range:
Starting at

$0p/month

for HubSpot Free CRM.
HubSpot Sales Starter at $45p/month for 2 x licences removes HubSpot branding on live chat and meeting scheduling tool, provides up to 2 sales pipelines, and additional sales tools.
HubSpot Sales Professional for $450p/month including 5 x licences ($90/month per additional users). Professional gives access to up to 15 sales pipelines and sales automation for sales follow-up and reminders. These costs include the 20% discount you get when you choose an annual contract.
HubSpot Sales Enterprise costs $1200p/month includes 10 x licences ($120/month per additional users). Enterprise offers all HubSpot's bells and whistles.
Unlimited contacts and data storage in all plans: No
Free live support in all plans: Yes, even on the free platform, you get access to the same live support.
Strengths
Ease of use is a strong differentiating attribute of HubSpot. This makes it a solid choice for managing mid-sized marketing and sales teams' customer relationships. Gartner Peer Insights users noted a favourable balance between the platform's functionality, flexibility and extensibility.
HubSpot demonstrates a clear understanding of the CRM System lead management market backed by its strong marketing execution and marketing automation. It has a clear roadmap that aligns with the company's core audience of midsize B2B organisations (10 - 1000 staff)
HubSpot's pricing model and solution packaging readily align with business value. It uses a freemium model for its solutions that target both sales teams and marketing teams. This provides a low cost of entry.
A fully functional CRM software for free. Using free versions of HubSpot Sales Hub provides integration of Gmail and Outlook calendars and email. Customisable contact properties, deal stages, pipeline and opportunity tracking. Tasks, website chat and bots, email tracking, reporting, meeting scheduling link per user.
Cautions
HubSpot's sales strategy is geared toward attracting business decision-makers in SMBs. Larger enterprises will find that HubSpot lacks focus for selling to IT leaders who are typically strong stakeholders in enterprise-grade sales CRM and marketing automation initiatives.
Integrating HubSpot Marketing Hub to HubSpot CRM will cause you to be billed for contacts in your CRM System. Additional marketing contacts are sold in increments of 5,000 from $224.72/month for Professional and increments of 10,000 from $100.00/month for Enterprise Hubs.
Although the reporting got a serious update in 2022 and is easy to use, advanced reporting was limited, and it remains to be seen if the 2022 update will solve these problems.

3.2. Salesforce Sales Cloud
Overview
Considered to be the leader in the CRM space. Salesforce Sales Cloud's market position reflects its sustained strength in product vision, marketing execution and revenue growth.
Salesforce Sales Cloud offers a range of features, including lead and opportunity management, sales forecasting, contact management, and collaboration tools. The platform also provides advanced analytics and reporting capabilities, allowing businesses to gain insights into their sales performance and identify areas for improvement.

Salesforce Sales Cloud is highly customisable and can be tailored to meet the specific needs of each business. It can be integrated with other Salesforce products, such as Marketing Cloud and Service Cloud, as well as third-party applications and systems, such as ERP and accounting software.
Salesforce Sales Cloud constantly evolves, with new features and updates being released regularly. Notable newish additions include:
Einstein Forecasting is an AI-powered forecasting tool that uses historical data to predict future sales performance. It gives sales managers real-time insights into their team's performance, enabling them to make data-driven decisions.
High Velocity Sales is a set of tools that enable sales teams to work more efficiently and effectively. It includes features such as email templates, automated workflows, and lead scoring, allowing salespeople to focus on selling rather than administrative tasks.
Pricing
Free trial: 30 days
Price range:

Starting at $25 user/month for Salesforce Essentials (up to 10 users)
$75 user/month for Salesforce Sales Cloud Professional (Our opinion: The right plan to invest in to get full adoption and success with CRM)
$150 user/month for Salesforce Enterprise
Up to $300 user/month for Sales Cloud Unlimited
All products require an annual contract.
Unlimited contacts and data storage in all plans: No
Free live support in all plans: No
Strengths
Strong market strategy, offering products for different customer segments, from small and midsize businesses (SMBs) to global enterprises. It has one of the largest implementation partner ecosystems in South Africa.
Salesforce receives praise for its ability to meet complex sales process requirements. Salesforce is highly scalable and flexible, enabling it to meet the needs of different sales teams.
Salesforce Essentials: Strong offering for small firms with less than 10 seats. Basic contact management features, along with task and event tracking, Outlook & Gmail integration, mobile app access, reporting, and Chatter (Salesforce CRM's internal chat tool).
Features are limited only by your budget.
Cautions
Several of the most advanced functionalities are available only via add-on purchases. Specifically, companies that want off-the-shelf functionality for lead qualification must purchase Salesforce's sales acceleration product, High Velocity Sales. Companies that require pipeline inspection functionality or predictive forecasting must purchase Sales Cloud Einstein

Pricing is always an issue with Salesforce Sales Cloud. Add-ons, as detailed above, extend across the product suite. And lastly, contract flexibility and the overall contracting experience and price elicit complaints.

Reference customers and Gartner Peer Insights reviewers expressed concerns about the learning curve associated with the complexity of Salesforce Sales Cloud. They state that they will not consider Salesforce because of the complexity of its software relative to the complexity of their sales process requirements. Source: Gartner Magic Quadrant for Sales Force Automation.
Campaign management requires licensing to Salesforce Marketing Cloud or Pardot, which will cost a minimum of $1500 p/month billed annually. Equally marketing automation and campaign management is not the easiest to use, and is geared more to B2C rather than B2B.
Salesforce implementation costs can range from R100,000 to millions of Rands. It can be skipped for Salesforce Essentials.


3.3. Microsoft Dynamics 365
Overview
Microsoft remains a leader in the segment, but its position is due in large part to Microsoft's unified data model for all Dynamics products and Microsoft-related systems such as Office, Outlook, etc.
Dynamics 365's position for 'Ability to Execute' has slipped slightly on the basis of Gartner reference customer scores for its reporting, mobile and forecasting capabilities.
Microsoft Dynamics 365 Sales is relevant to midsize, large and very large enterprise clients. It's applicable to B2B and B2C use cases, and both short and long-cycle sales processes.
Gartner reports that Microsoft has made notable enhancements and innovations in the past year. By improving its forecasting and pipeline inspection functions with embedded predictive capabilities, the platform is stronger. The new forecasting capabilities address a previously notable gap in the product.
Adding Dynamics 365 Marketing enables businesses to create and send personalized email campaigns to target audiences. It includes features such as email templates, A/B testing, and marketing automation to streamline the campaigns, events and social media marketing.
Pricing
Free trial: 30 days
Price range:

Starting at $65 user/month (This depends...)
$95 user/month for Sales Enterprise
$135 user/month for Sales Premium
Up to $210 user/month for Microsoft Relationship Sales
Unlimited contacts and data storage in all plans: No
Free live support in all plans: No
Here is the link to their pricing page. I work outside of the Microsoft ecosystem and could not make heads or tails of their pricing model. Good luck.
Strengths
Like Salesforce, this enterprise-grade platform offers features limited only to your budget.
Microsoft's value proposition rests on a unified data model for all Dynamics products and Microsoft-related systems such as Office and LinkedIn. Notable for vendors in this market, Microsoft's product vision focuses on helping clients build data-driven, optimised sales processes with tools that span Dynamics, Office, LinkedIn and Power BI.

Customers praise the advantages of Microsoft's platform for integration and rapid deployment. Gartner recognizes the quality of the platform for building custom sales processes and comprehensive customer data profiles with Power Apps, Power Automate, Power BI and Power Virtual Agents.

Microsoft sells to IT and business decision-makers through a "One Microsoft" strategy for digital transformation.
Cautions
The often-stated issue is that Microsoft's reporting and dashboard features are hard to use, require a lot of building and are too simplistic. Generally, Power BI is required at an additional cost.

In the Gartner report on Sales Force Automation in July 2020, their reference customers gave Microsoft's application comparatively low scores for account and contact management, opportunity management, mobile functionality, CPQ and lead management.

No tiered discounts are applicable. So midsize and large enterprise clients using Microsoft Relationship Sales are in for a steep per-user monthly price. This increases the cost of ownership considerably for midsize and large multiuser deployments.
Be prepared to download the 58-page licensing guide to figure out what you should be paying in licence fees. A dedicated person or support company to manage the platform is required.

3.4. Zoho CRM
Overview
Zoho's suite of CRM System applications spans sales, marketing, service, commerce and customer experience.
Its sales product, which is a component of the Zoho CRM System product suite, features a full set of sales force capabilities, including lead management and guided selling. It is suitable for most sales organisations looking for a flexible sales platform that will enable them to customise it as their sales processes as they mature.
In the past year, Zoho has enhanced Zoho CRM with a new marketing automation hub, a microservices layer for building custom applications, and integration with virtual meeting applications. The roadmap includes functions platform improvements with augmented reality and prediction modelling.
Zoho CRM is moving very fast.
Pricing
Free trial: 15 days
Price range:
Starting at $7 user/month for Zoho Bigin
$12 user/month for Zoho Standard
$20 user/month for Zoho Professional
$35 user/month for Zoho Enterprise
Up to $45 user/month for Zoho Ultimate. All billed annually.
Unlimited contacts and data storage in all plans: No
Free live support in all plans: No. Paid plans only.
Strengths
Zoho CRM is relevant to sales organisations with complex B2C sales cycles.

Zoho does not impose long-term contracts on customers. Additionally, it offers refunds to customers dissatisfied with its service.

Gartner Peer Insights reviewers have praised the product's ease of use, referring to functions like record searchability and an attractive UI.
Cautions
Compared with its peers, Zoho has comparatively few global, very large customers for its sales offering. It has comparatively few relationships with global (and South African) system implementers.

Zoho has released comparatively few sales-specific enhancements in the past year, and comparatively few enhancements requested by customers. Instead, Zoho has emphasised platform improvements and capabilities that apply to the entire CRM suite.

Gartner's reference customers for Zoho CRM identified several functional gaps, such as the functionality of the mobile app, the record filtering and limited report/dashboard functionality.
Limited free support; expect to wait. 8-hour turnaround on support queries.
Premium support costs 20% of licence fees and is only available for accounts with 10 or more users.
Expect some custom development to make the CRM system work for you. Budget accordingly.

3.5. Pipedrive
Overview
Pipedrive is easy to set up and use. It's a deal-focused CRM System that helps sales teams visualise their sales pipelines and prioritise their next proactive activities.
It was founded in 2010, and its headquarters are in New York City. The company has a freemium model, which allows users to use the basic features of the software for free, with paid plans that offer more advanced features.
Pipedrive has a simple interface that is easy to use and designed to help salespeople keep track of their deals and progress through the sales pipeline. It also offers features such as email integration, task automation, and reporting. Overall, Pipedrive is a helpful tool for salespeople who want to better manage their sales pipeline.
Orientated around an activity-based selling methodology, Pipedrive monitors, tracks and organises deal activities throughout the sales process to improve efficiency and proactive communications.
Pipedrive is great for small to mid-sized sales teams in the B2B market.
Pricing
Free trial: Yes
Price range:
Starting at $15 user/month for Essential
$29 user/month for Advanced
$59 user/month for Professional
$119 user/month for Enterprise. Billed annually or monthly.
Free live support in all plans: Yes. Chat across all plans. Phone support for Enterprise.
Strengths
Lightweight and intuitive, Pipedrive automatically organises your contacts, deals, emails and calls for easy access and ultimately helps sales to be proactive in their efforts.
Pipedrives' visual representation of the entire deal process improves efficiency. It provides quick and easy access to relevant information without having to search through layers of data.
With multiple and fully customisable pipelines, Pipedrive adapts to your specific needs, helping your teams work the way they want most effectively. Along with the mobile app; contacts and activities can be readily accessed from anywhere on the go.
Reporting with Pipedrive is great for both sales and sales managers. Where sales have access to custom sales reporting tools, visual reports and built-in forecasting for total deal overviews. Sales managers also have access to individual and team rep's targets and activity tracking.
Cautions
Comparatively, Pipedrive offers limited functionality for the price and focuses on smaller sales teams of 1-5 reps.
With no separation between lists of new leads and contacts and requiring external CRM Systems or mail service for nurturing and newsletters, marketing and sales teams have no clear and connected comms.
Although pipelines are customisable, they are simplistic and might not work well with complex sales processes. Sales teams are busy, and Pipedrive requires a lot of manual entry to work properly; this and the minimal automation capabilities result in a lot of admin.
Scaling businesses may find they outgrow Pipedrive fairly quickly.
4. What are the key benefits of CRM?
CRM Systems enable businesses to strengthen customer relationships with customers, potential customers, partners and suppliers. Hence the name - Customer Relationship Management. In a world that's increasingly more competitive, how you manage and use your information will be the difference between success and failure, and Customer Relationship Management is core to that concept.
1. Increased sales metrics and productivity
Using a reputable CRM system improves sales productivity. If you measure and track your performance - you know how to improve and hit targets more efficiently.
Excel is NOT the best way to track sales performance... I am constantly surprised by how many companies we talk to (big and small) use Excel to manage their sales pipeline and reporting.
2. Improved contact management
Every call, email, meeting, and touchpoint with your contacts can be tracked - automatically. No longer do CRMs require this to be done manually. Customer Relationship Management with connected CRMs is super efficient and easily connects to your Gmail and Outlook inboxes and calendars.
3. Increased customer satisfaction and retention
Your easiest customers to convert are your current customers. Acquiring new customers is expensive, and when you really know your customers (through constant communication), you are less likely to lose them.
4. Personalised customer interactions
Most modern CRMs come with lead tracking capabilities, so you know what pages of your website have been visited or emails opened. This information allows you to reach out with relevant information tailored to your customer or prospect.
5. Increased productivity
Automate and track regular administrative tasks like follow-up emails, and 'catch-up' meetings. Build reports on customers who are falling through the cracks. High-revenue customers, that account managers are not giving proper attention to. Identify low-revenue, high-effort clients.
6. Reporting and analytics
Detailed analytics start to reveal star sales staff, client industries or geographies and allow you to know where to focus your efforts.
5. Key features of a CRM System
1. Lead management and contact management
Most businesses are looking for a safe, easy-to-use & manage place to store customer data for the business, and Customer Relationship Management Systems deliver. The number of businesses still using spreadsheets to manage business contacts and leads is frightening. Your customer data and contacts are the lifeblood of the business.
2. Opportunity tracking and sales pipeline
Logging opportunities against CRM contacts is key to closing more sales. Whether the opportunities are new customers, your salespeople are working with or existing customers that account managers manage. The opportunities can be logged and systematically moved through the stages in a sales pipeline - more deals will be closed, and sales targets can be achieved.
Pipeline management in HubSpot CRM: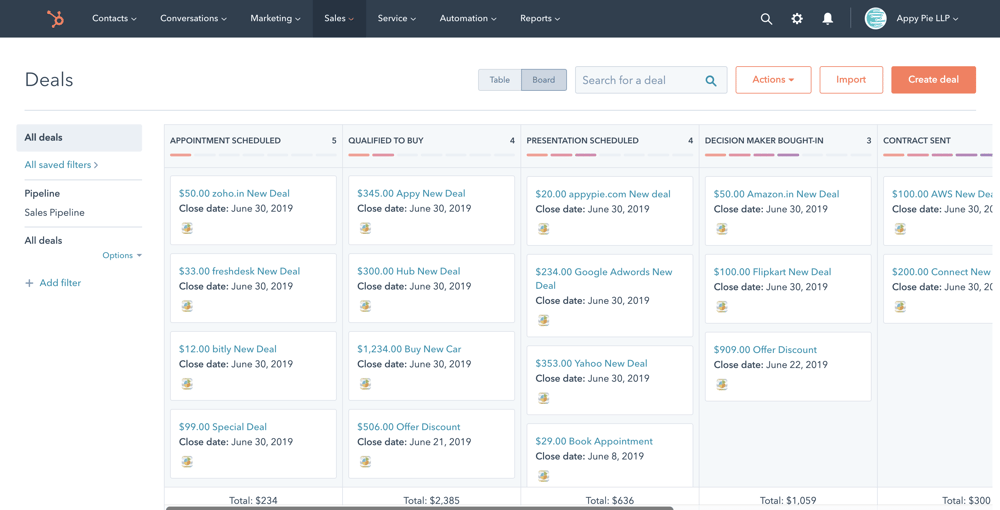 [Image source: HubSpot]
Pipeline management in Salesforce CRM: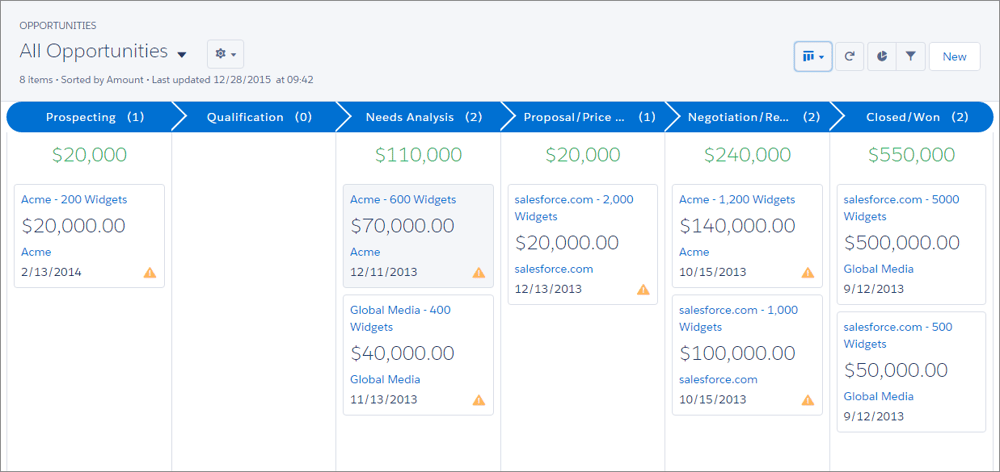 [Image source: Salesforce]
3. Email and calendar integration
Gmail, Outlook and Office 365 will integrate into modern CRM software. This is key because all email communication and calendar meetings are automatically logged in the CRM software. This automated logging removes the need to log these customer touchpoints manually. Manually logging touchpoints is the bane of many salespeople using the CRM Systems of old.
Below, you can see HubSpot CRM integrated into Gmail. You can see that the email has been tracked and opened once. The user can also see CRM information right from Gmail. The same functionality exists for Outlook.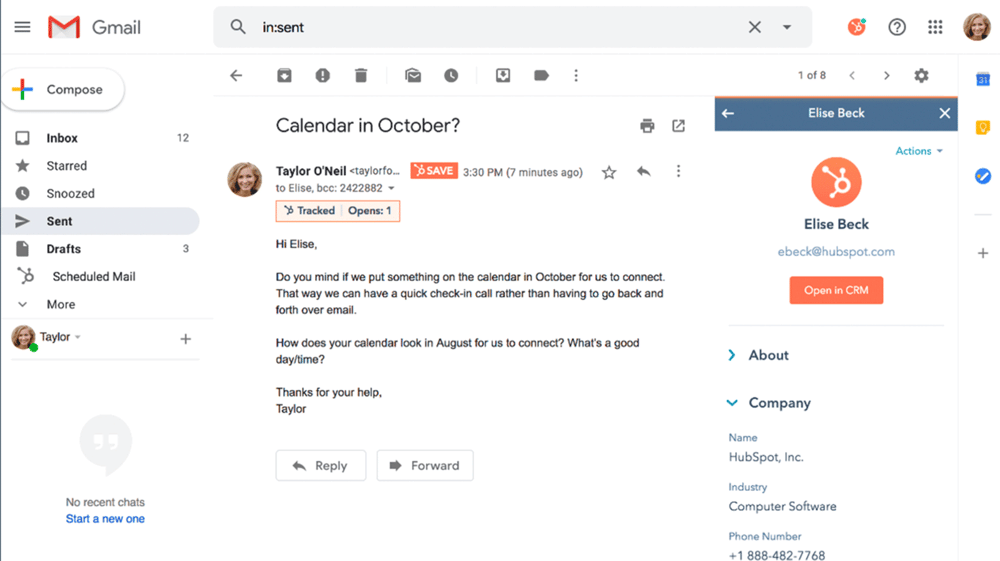 [Image source: HubSpot]
Email integration gives users access to Customer Relationship Management tools inside their email. Below, you can see the user is inserting a 'book-a-meeting' link into the email. Options exist to add documents, sequences (automated email), and templated emails to enhance productivity.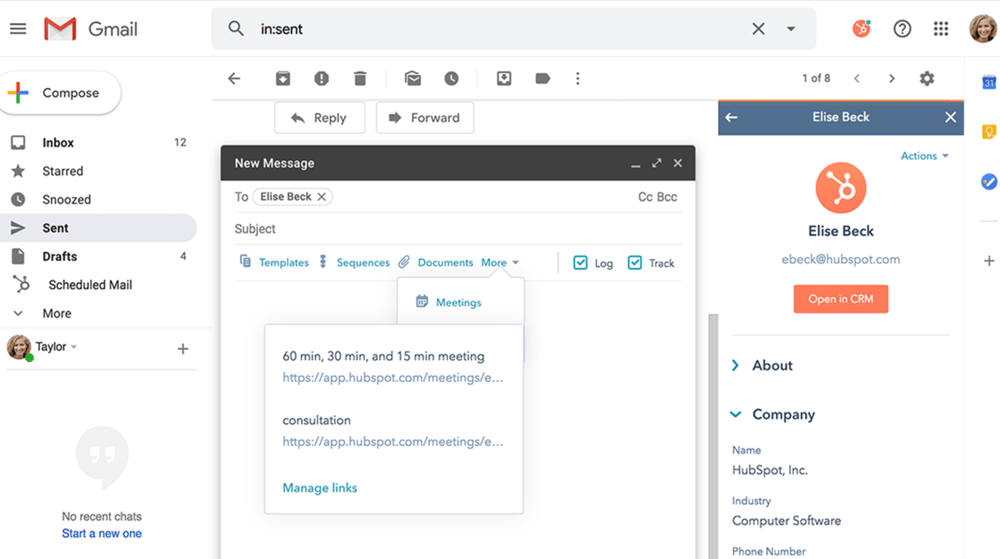 [Image source: HubSpot]
Salesforce's Outlook integration allows the same functionality. Not all CRMs do this well. We have been very disappointed with the Zoho CRM Gmail and Outlook integrations. They are far behind the likes of HubSpot and Salesforce. Microsoft Dynamics CRM does not integrate well into Gmail and is natively part of the Outlook suite.
CRM email integration is a major productivity element for your customer-facing teams. Don't overlook it.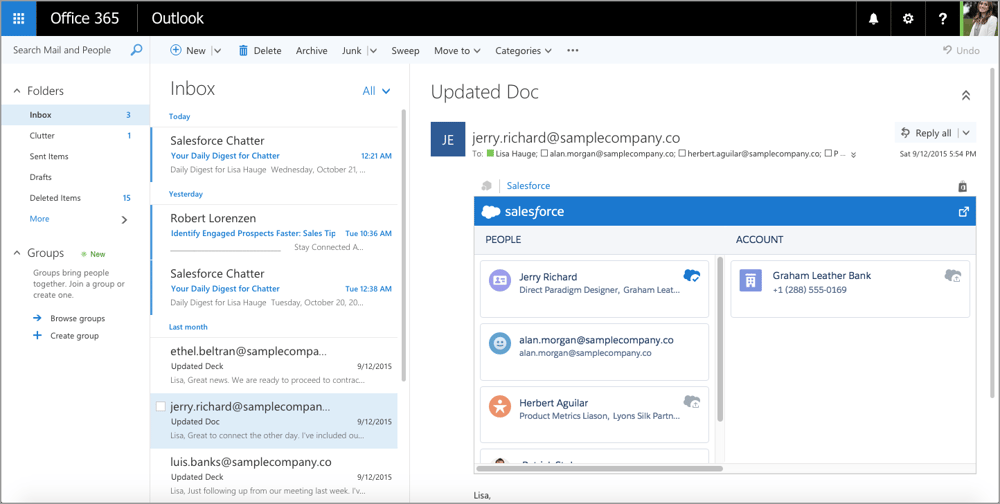 [Image source: Salesforce]
4. Quoting
Quotes inside your Customer Relationship Software are important because they help sales teams track and move deals through the CRM pipeline. Some CRM solutions have complex quote functions, while others may be simpler but still functional for most businesses.
Depending on the CRM, creating a quote automatically creates an opportunity for the sales teams to track and move deals through the pipeline to close.
Although most CRMs come with a standard quoting ability, it is important to understand the scope of your quoting requirements before selecting a CRM. You might also decide to keep quoting outside of our Customer Relationship Management software. We quote from our project management system, for example. We pull the quotes into the CRM software via a unique link and API process.
Some companies with thousands of line items require sophisticated quoting capabilities. This is available, but expect to pay for it. Salesforce CRM and Microsoft Dynamics can do this particularly well.
But Salesforce, for example, requires a very expensive module called CPQ Salesforce (Configure, Price, Quote). It's expensive and a monster to configure. However, if set up right, it is a very powerful tool.
CPQ, in its simplest form, can create a basic quote. In its more complex form, the CPQ system can reference different pricing tables, discounts, and other complicated calculations to spit out a quote.
Many salespeople get frustrated when they try to add products to opportunities in Salesforce. The Salesforce CPQ solves that.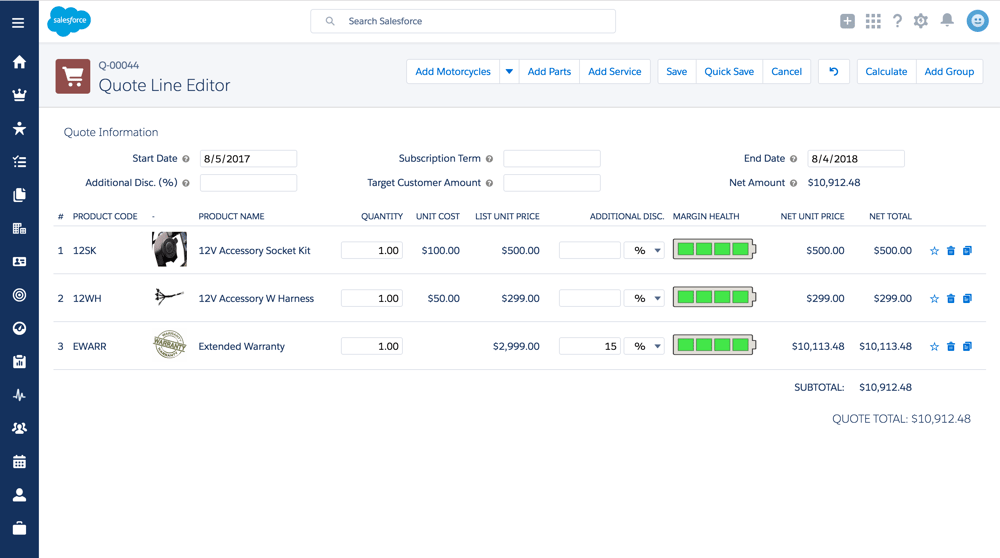 [Image source: Salesforce]
Microsoft Dynamics 365 Sales Professional has a powerful, albeit poorly interfaced quoting capability. The image below is sourced from this article on creating a quote in MS Dynamics.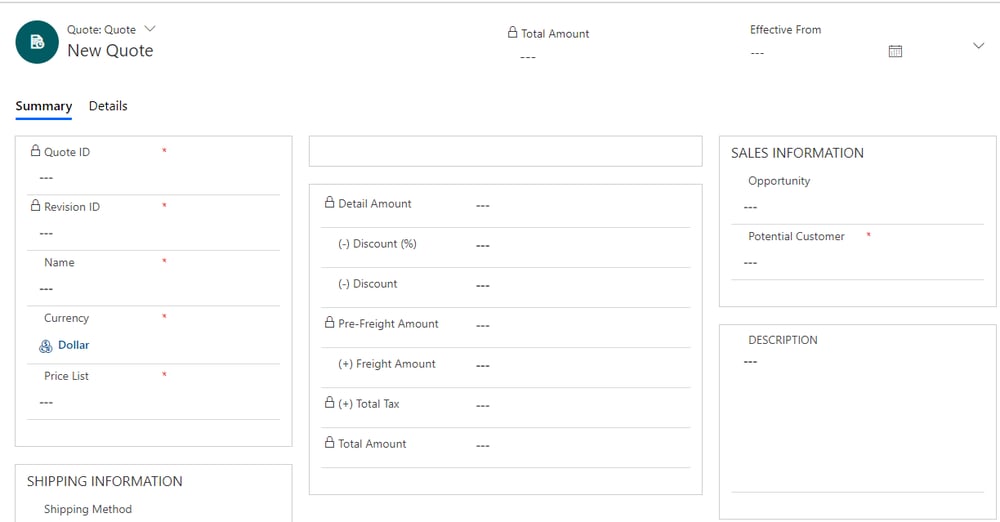 HubSpot quotes offer an easy-to-use quoting function that is very functional. It can't handle the volume of products and line items that a Salesforce CPQ can. If you have no more than 1500 line items, HubSpot is great.
HubSpot CRM natively includes adding items to quotes from a product library and e-signatures. All this is offered natively in their HubSpot Sales Professional offering.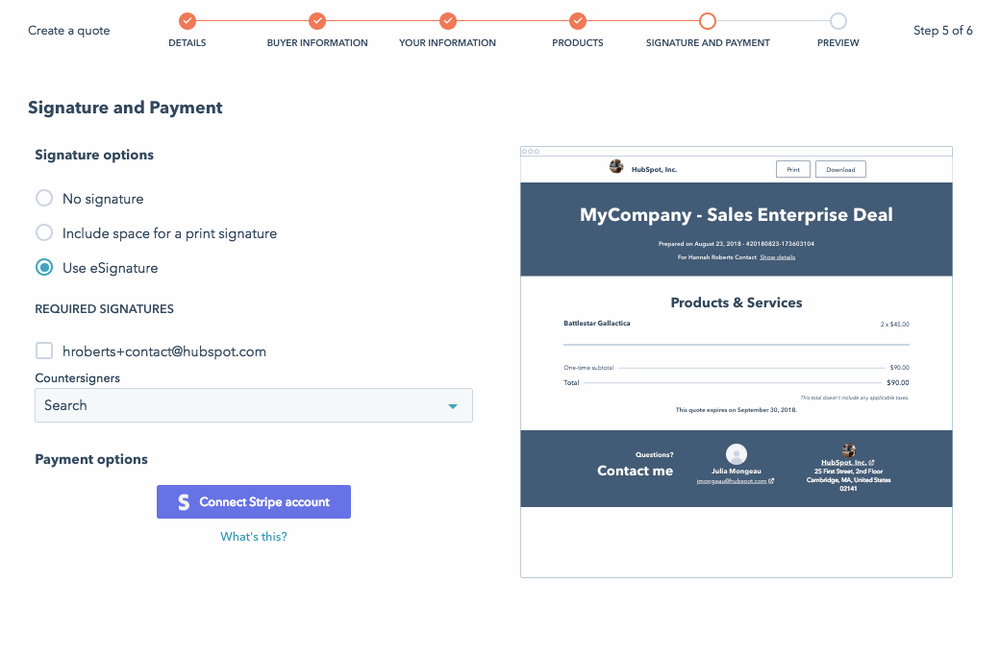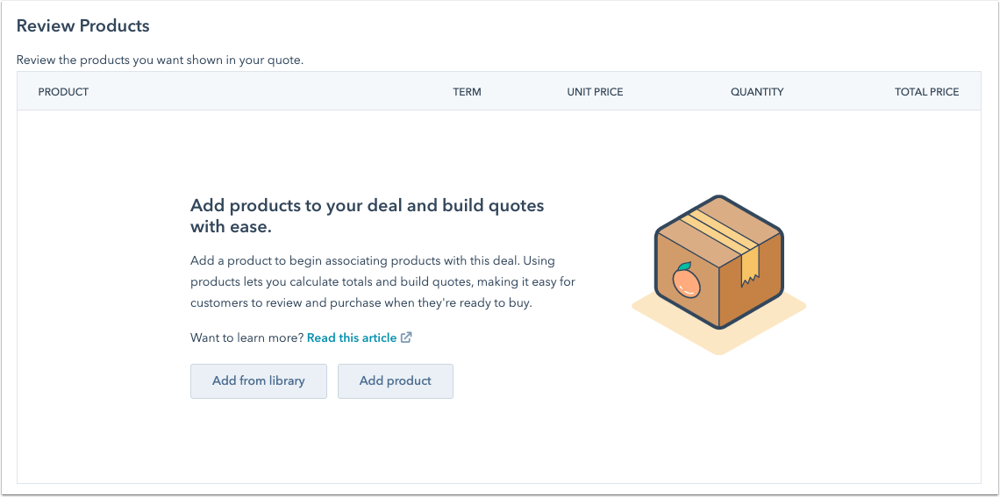 [Image sources: HubSpot]
5. Marketing campaign management
For most B2B companies, marketing has gone digital. Leads are generated online and passed to the sales teams. CRM integration into your website, landing pages, email marketing, and paid promotion on Google Ads and social media helps with ROI calculations and allocation of marketing budgets.
This move to digital means your customer data needs to be actioned and driven with a Customer Relationship Management strategy inside a digital system - the CRM. A strong marketing automation functionality is required to activate large databases of customer data in your CRM. Marketing automation will engage, and surface leads for your sales team to engage with.
The powerhouse in this space is HubSpot Marketing Hub, but significant competition is developing with Salesforce Marketing Cloud. That being said, Salesforce Marketing Cloud is specifically targeted at B2C. HubSpot is stronger in the B2B space.
Salesforce's B2B system is Pardot, which has suffered in recent years from a lack of new feature rollouts. It's looking and performing like an old dog.
Microsoft Dynamics is commonly paired with Click Dimensions a third-party software to accomplish this. However, their native marketing suite - Dynamics 365 Marketing is gaining some momentum.
Salesforce and HubSpot lead on both effectiveness and usability in Customer Relationship Management, marketing automation, customer data actionability, and campaign management.
There are some lesser players in the space, but they aren't anything to write home about. Zoho CRM claims to have a marketing suite, but it's limited. Active Campaign is a potential small business CRM and marketing campaign solution, but it's limited to light lifting in Customer Relationship Management and marketing automation.
Our choice in this space is HubSpot. The only other vendor that has the level of marketing integrations and automation detailed in the HubSpot image below is Salesforce, with Marketing Cloud.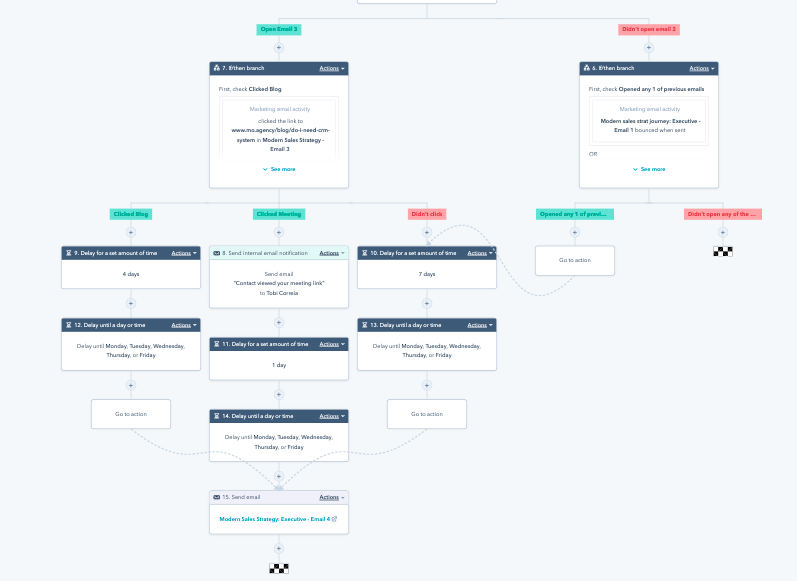 [Image source: HubSpot]
6. Email marketing
At the base level of campaign management, it is critical to send out regular communications to your customers and potential customers. The customer-facing teams often can't get to all contacts monthly, so regular email marketing ensures a business stays top-of-mind with all the contacts in your database.
See the Marketing campaign management section for the providers or email marketing software.
7. Customer segmentation & targeting
By segmenting your customer data in your CRM system according to industry, position, and possible criteria - communications can be custom-designed and targeted to be more relevant. This enables customer-facing staff to add more value to their outreach. Full property customisation is a must. All the Customer Relationship Management systems on this list tick the box here.
8. Customer service and ticketing
Holistic Customer Relationship Management requires knowing who the customers are, managing support requests, and maintaining regular contact. Customer satisfaction can be tracked at multiple customer interactions, which can be used to maintain and build better customer relationships.
Ticketing allows clients to log support requests and allows a business to manage the requests through to resolution. Issue turnaround times can be tracked, customer satisfaction, and, ultimately, customer experience can be better managed. Reporting on this customer data will bring recurring issues to light, enabling efficient rectification and proactive, preventative measures for better customer retention.
Relevant Case Study: Digitising & Automating 4Racing's Customer Service with HubSpot Service Hub
A popular stand-alone support solution in the customer support space is Zendesk Support. It can be integrated into most CRM solutions via ready-built integrations. Expect to pay a monthly fee for it. However, when writing, all the CRM solutions on this list, bar Pipedrive, have a built-in ticketing and help desk solution for customer satisfaction tracking.
Integrated support and CRM means service professionals can view the entire sales process when servicing the client, an integral connection point for efficient service.
Microsoft provides a product called Dynamics 365 Customer Service.
[Image source: Microsoft]
Salesforce has Salesforce Desk.
HubSpot has HubSpot Service Hub.
Below is a screengrab of the HubSpot ticketing board, and then a single HubSpot ticket view.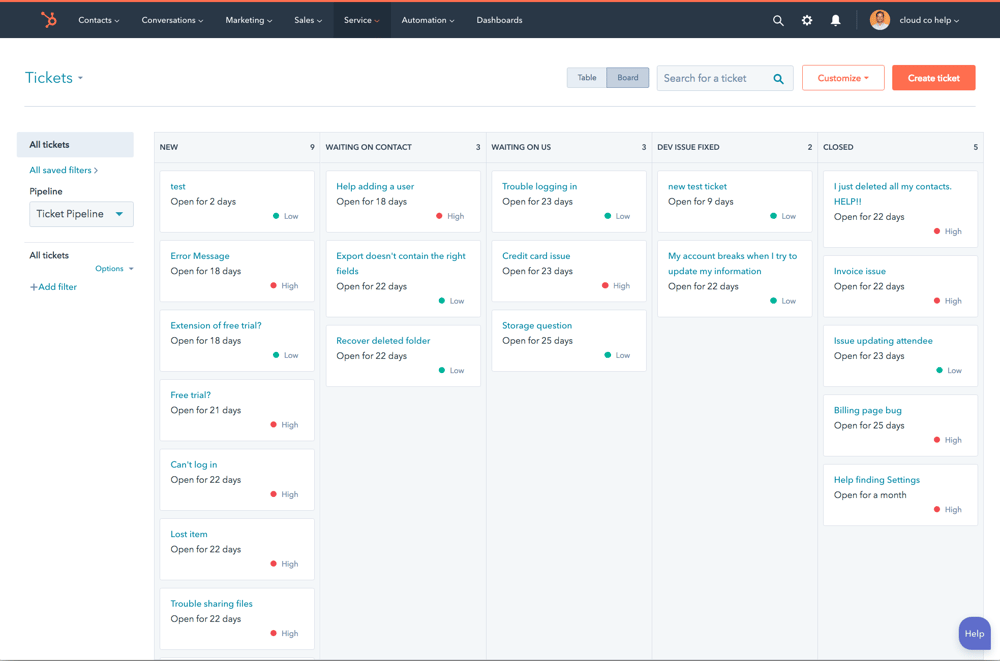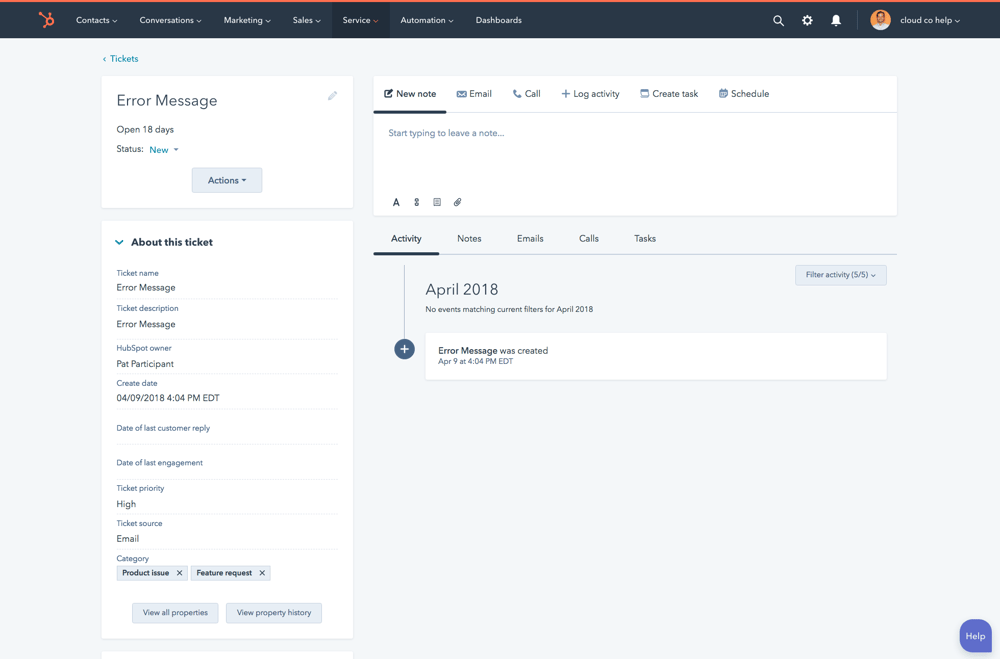 [Image source: HubSpot]
This article compares HubSpot Service Hub to Zendesk Support and gives a great overview of the functions that can sit inside a ticketing system.
These systems all have automation included. The outcomes are the same, but the interfaces are a bit different. See below. HubSpot, as with most of their interfaces, is more visual.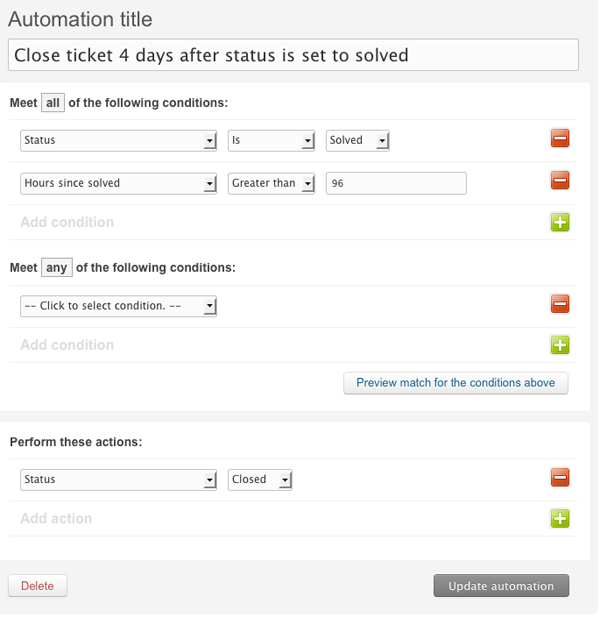 Source: Zendesk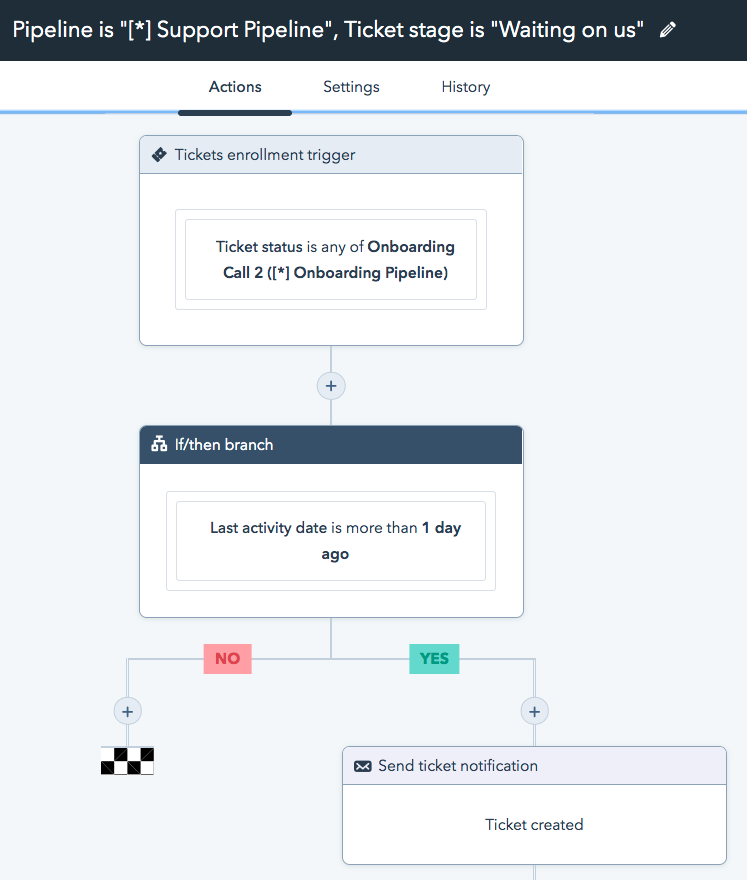 Source: HubSpot
Measuring customer satisfaction with the built-in survey tools in HubSpot CRM.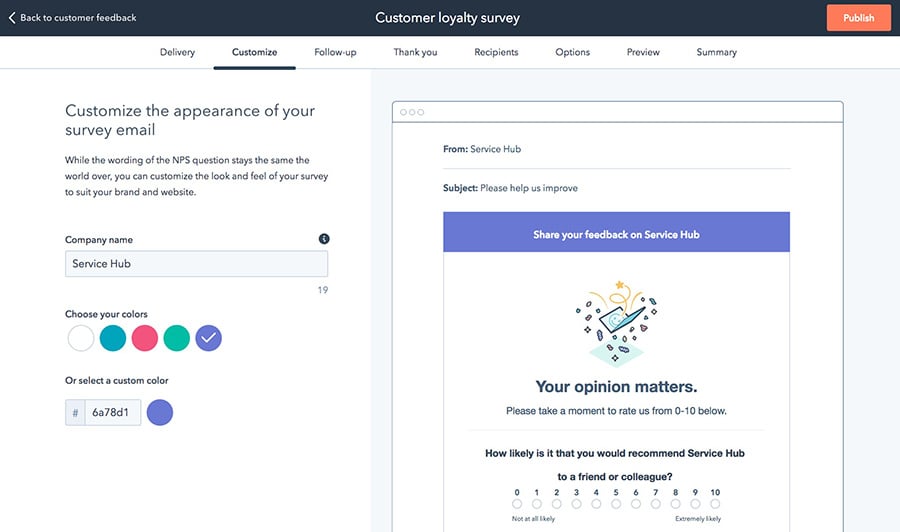 Source: HubSpot
9. Reporting and Dashboards
It's critical that all your customer data can be collated into dashboards that can be customised for particular functions, e.g. Salesperson, sales manager, service manager, business unit manager and more. What is measured can be improved, and customised reporting is one of the best means of improving the performance of a business.
Salesforce originated dashboards. They were pushing dashboards before dashboards were even a thing. This is a great Salesforce article on six important dashboards a leader should have at his/her fingertips.
All the CRMs in this guide have good reporting and dashboarding capabilities. HubSpot is particularly good at attribution and ROI reporting as it was borne out of the marketing campaign world.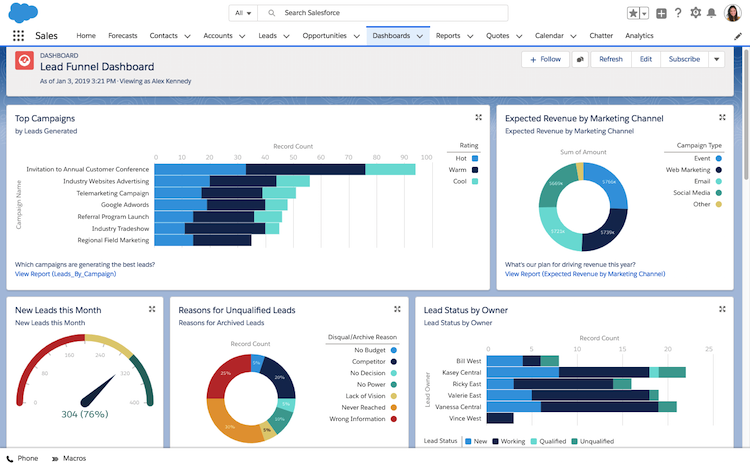 Better CRM systems will allow cross-object and platform reporting. With the report below from HubSpot, you can report on sales activities and how they relate to marketing activities like Ad spend and blog performance.
To my knowledge, only Salesforce and HubSpot are allowing this natively at the moment.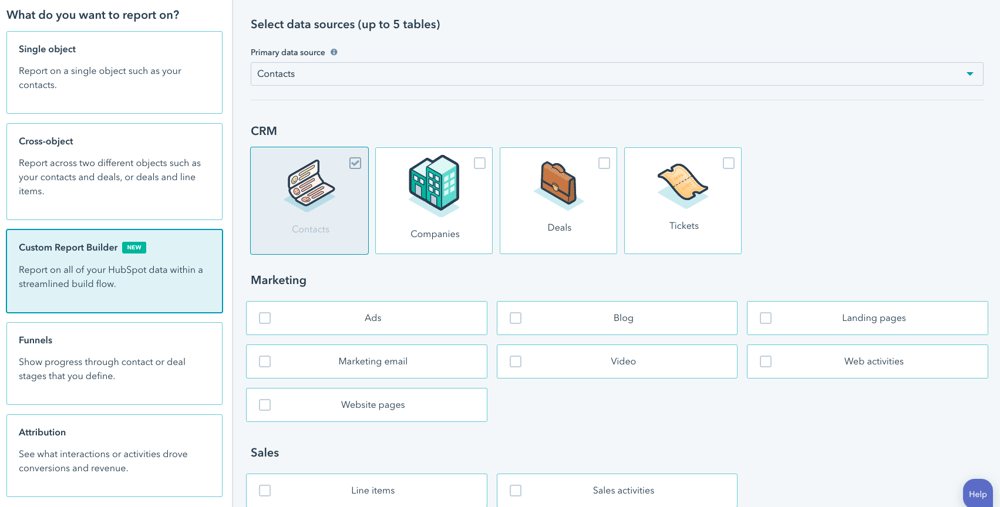 10. Mobile CRM
Most good CRM software has a mobile app that allows on-the-move reporting and logging of communications and tasks. A salesperson can be reminded of a call to a prospect, a sales manager can quickly see the status of a sales team's performance, and a business owner can have a birds-eye view of sales, service, and general business performance.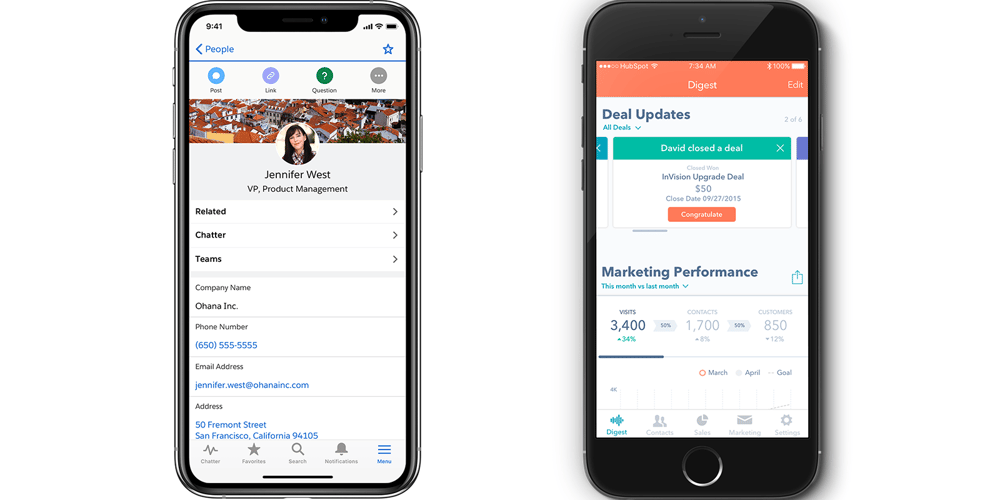 [Image Source: HubSpot & Salesforce]
We used to worry about this a lot Pre-Pandemic, but the requests for a mobile app have decreased Post-Pandemic.
Selling is now happening more and more on the laptop. It's nice that the app is there, but it's not being used to the same extent as Pre-Pandemic.
In our experience, our clients are 99% accessing CRMs via their web browsers. App experiences are always limited to create quick and easy access. We think this limited functionality and remote selling have fundamentally changed the game.
6. Enterprise vs. SMB CRM Systems
Enterprise CRM Systems
Enterprise CRM platforms offer a vast array of features and can integrate seamlessly with their existing enterprise resource planning (ERP) systems. They often come with extensive developer toolkits with which custom functions can be built.
Due to this flexibility, these systems cost more to run from both a licensing and support perspective, but they are far superior when dealing with large data sets and deliver better functionality around augmented reporting and analytics for business processes.
Popular enterprise systems include Salesforce, Microsoft Dynamics, SAP, HubSpot CRM Enterprise and Oracle. These are suited to companies of 1000+ employees or with very specific or complex CRM requirements.
SMB CRM Systems
The market of enterprise vendors can be intimidating to small and medium businesses with limited budgets and looking to improve their contact management and business processes.
The good news is that this space is exploding, and there are many vendors to choose from. Every day, they are nipping at the heels of the functionality offered by the larger enterprise systems.
HubSpot has emerged as a leader in this space. But it is more expensive than the competitors. Strong automation and CRM customisation allow it to be used for managing, optimising and reporting on business processes across all parts of a business.
We've done a number of Salesforce CRM rip and replaces with HubSpot CRM Professional.
Popular small and medium business CRM systems include HubSpot CRM Pro, Zoho CRM, Pipedrive and Insightly. Generally, these are suited to businesses with up to 1000 employees.
7. Implementing and managing your CRM (Support)
Day-to-day Management
Firms that have adopted Zoho continually find no specialists in South Africa, and the email and telephonic support based in India is rather lacklustre.
Pipedrive and Insightly fall into the self-managed and self-deploy spaces. So, there aren't providers that focus on the solutions.
HubSpot, Salesforce, and Microsoft Dynamics 365 each have dedicated partner networks highly trained by the vendors.
The move to cloud-based Software as a Service (SaaS) CRM has decreased the administration required to deploy and maintain a CRM system.
That being said, all CRMs need a level of maintenance. An unattended CRM quickly moves away from the promise of strong customer relationships. The automated nature of today's CRMs means that customer data builds up and can hide meaningful data - hampering accurate, timely business decisions.
Large enterprise-level systems need the support of an IT department, a dedicated CRM manager, or, at the very least, a person in charge of the functional areas of Customer Relationship Management. E.g. Sales, Service, Marketing and Operations.
Depending on the level of integration into other company systems, the level of maintenance required will vary. Deep integrations will require IT involvement.
Most SMB Customer Relationship Management Software will not require too much management; however, it will require a champion in the business to manage the rollout, avoid CRM failure, and drive continued usage.
Implementation
Regarding implementation (sometimes called onboarding), enterprise systems require an outside implementer. Leveraging the knowledge of a team who has done it before makes work go quicker and prevents backtracking.
Whether the implementer is the vendor themselves or a vendor partner, these teams know how to implement correctly.
They have the experience and process knowledge of Customer Relationship Management strategies at many companies. They can enable CRM success from day one and add value to your customer data. They can train the IT, sales and marketing departments to manage the CRM and the users to use it.
A small business can do it alone.
As can a medium-sized business, but it's highly recommended to engage with the CRM vendor or a vendor partner for implementation/onboarding.
Starting a CRM project in the right direction is key to its long-term success. Generally, vendor partners will offer a 60-90 day onboarding program to up-skill the business and its staff to use the CRM effectively.
User Adoption
Customer Relationship Management requires a shift in thinking and training. Training the users, the IT team and managers correctly can make or break a project. The sales team can be the hardest people to onboard and get adoption from. The sales team often have sales processes that work for them, and they can be very protective over their customer data and personal networks. They don't want to add to your company's CRM.
They must be tracking their activities in the CRM system. They are the company's revenue source, and profitable customer relationships start with them. Customer data generally has its genesis in your sales team.
Convincing the sales team to use a new and improved system can be challenging, and even the most open-minded sales team members resist change. The key here is to demonstrate how adding their customer data to the CRM System can enhance, automate and speed up the sales cycle.
The CRM vendors aren't the best at user adoption. They tend to believe everyone should be using their software, and they've been trained to think it's the easiest software to use. This can cause problems for you.
I suggest relying on a vendor partner or specialist in user adoption. They have tried and tested training and methodologies to drive stronger customer relationships with CRM.
We've found that on-the-job training is needed to link training and workplace practicality. Just because your employees learn to do something in training doesn't mean they'll retain it once they are faced with the job. This on-the-job training can be led by managers or entirely outsourced.
Let us help you
We've helped countless businesses implement CRM systems to drive better customer relationships and business growth. We continue to work with many SMB and Enterprise clients to improve their Customer Relationship Management in business development, marketing, lead generation and customer support.
Give us a call. We'd love to hear from you.