HubSpot CMS Hub is an 'add-on' to the ever popular HubSpot Marketing Hub. This has allowed HubSpot marketers to manage almost all of our digital elements from a single login.
While HubSpot CMS has existed for quite some time now, it's always lived in the shadow of Marketing Hub.
But your website is too important to be considered an afterthought. As we all work to move our businesses online, HubSpot wants to make sure they have a CMS that supports your efforts to leverage your website to grow your business.
That's why HubSpot turned the content management system into its own product line, aka the HubSpot CMS Hub.
What is HubSpot CMS Hub?
Working on a traditional CMS can be a pain. Loads of plugin plugins, server configurations, updates and the ever present threat of hacks can cause a persistent headache! HubSpot CMS Hub is a SaaS CMS, and takes the pain out of CMS management.
Why use HubSpot CMS Hub?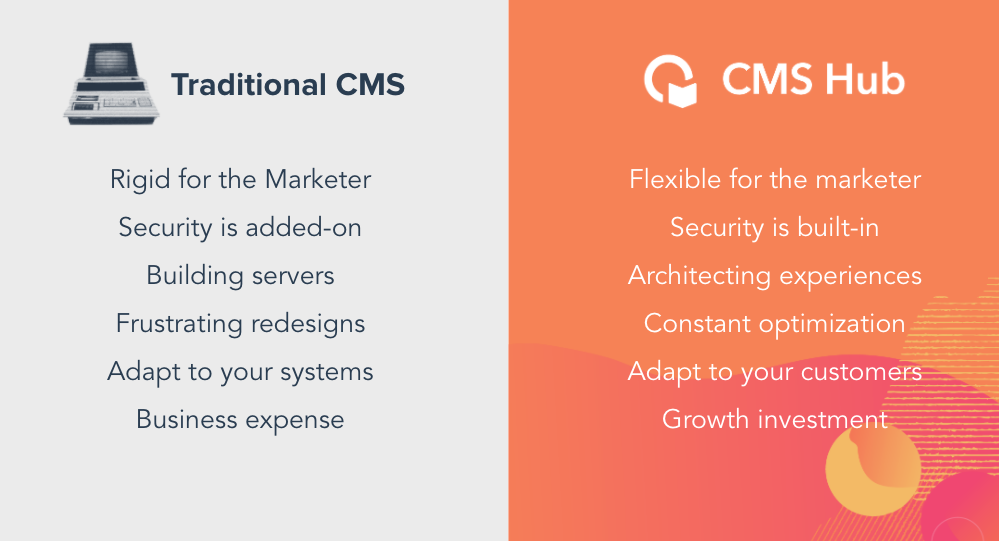 HubSpot has heard from many of their customers that one key reason they purchased Hubspot's content management system is that on their current system, their developers were slowing them down.
These days developers are so tied down with security concerns, GDPR, server issues and the like.
These customers love how HubSpot CMS Hub has empowered them to do the work they need to get results... they don't hit walls trying to get work done.
Now we don't want to throw developers under the bus. They are super important and have a key role in a HubSpot CMS Hub build.
So without the constant requests from the marketing team to update this and then that, it becomes super easy to win their hearts.
Let your developers stick to solving the complex problems they love. Not a silly font or form update on your website.
At MO Agency, we're not the only ones in love with HubSpot CMS Hub.
HubSpot CMS Hub is the highest rated content management system on G2: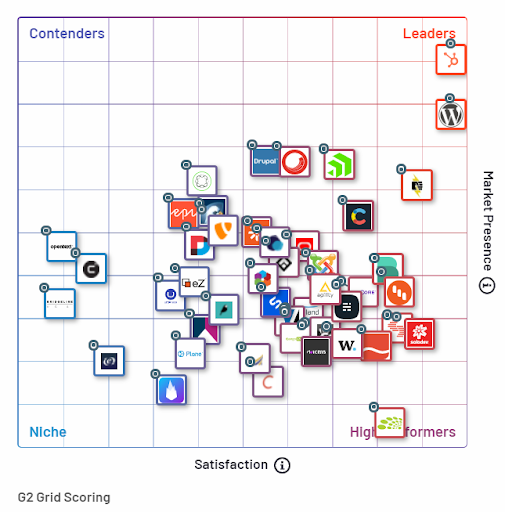 How does HubSpot CMS Hub integrate with HubSpot Marketing Hub?
Marketing Hub is the marketing automation platform that helps you run campaigns.
HubSpot CMS Hub on the other hand is a content management system geared at taking the pain out of managing your website.
Instead of forcing you to manage plugins and your own systems, HubSpot CMS Hub takes care of these systems for you, so you can focus on what really matters: the customer experience.
Alongside your favourite HubSpot Marketing Hub tools like marketing automation, popups, chatbots, etc... You now have all the tools to manage and update your website.
Easily build and optimise website pages
Flexible website themes, drag-and-drop editing, multi-language content, dynamic content with HubDB.
All-in-one tool to help grow website traffic and generate leads
CRM, SEO Recommendations, Google Search Console, Conversations: live chat and bots, A/B testing, contact attribution reporting all on one platform.
Maintenance and management without the headaches
SaaS CMS, CDN with 99.99% uptime, 24/7 security monitoring and detection, standard SSL certificate, web application firewall.
HubSpot CMS Hub Features:
The video below is from HubSpot and gives 7 great reasons why you should use HubSpot CMS Hub over a traditional website CMS.
Flexible Themes for easy page editing and optimisation
These website themes allow your developer to create a site-wide content editing experience that puts marketers in control over the website.
Start from scratch or leverage one of the pre-built website themes as a starting point.
Themes allow marketers to make larger scale changes to their web based content without needing a developer for maintenance and without knowing CSS.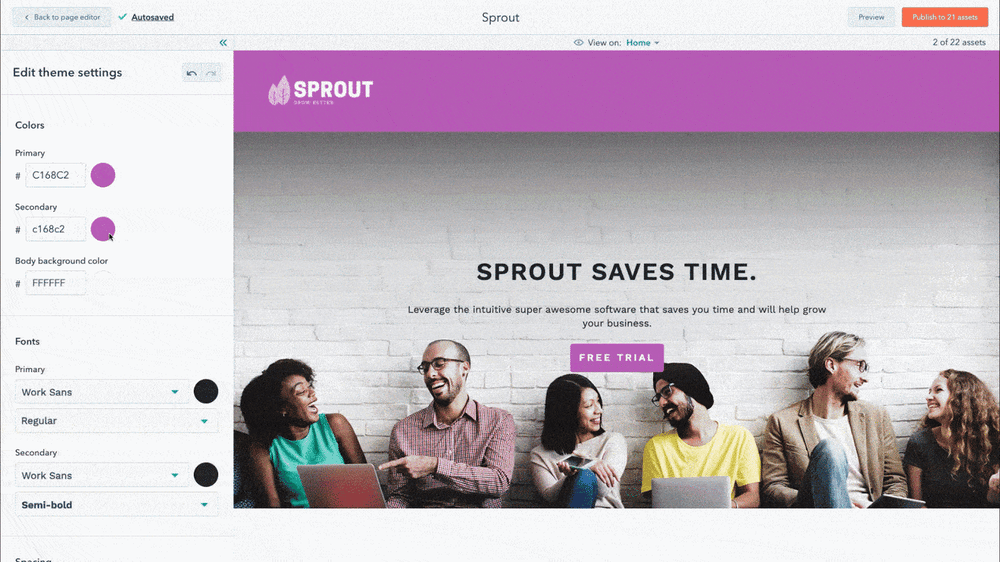 Drag and Drop page editing
Focus on creating amazing content, not managing your content creation process.
With HubSpot's CMS Hub, your developer can create a flexible content creation experience that allows you to easily create pages through a drag and drop editing experience.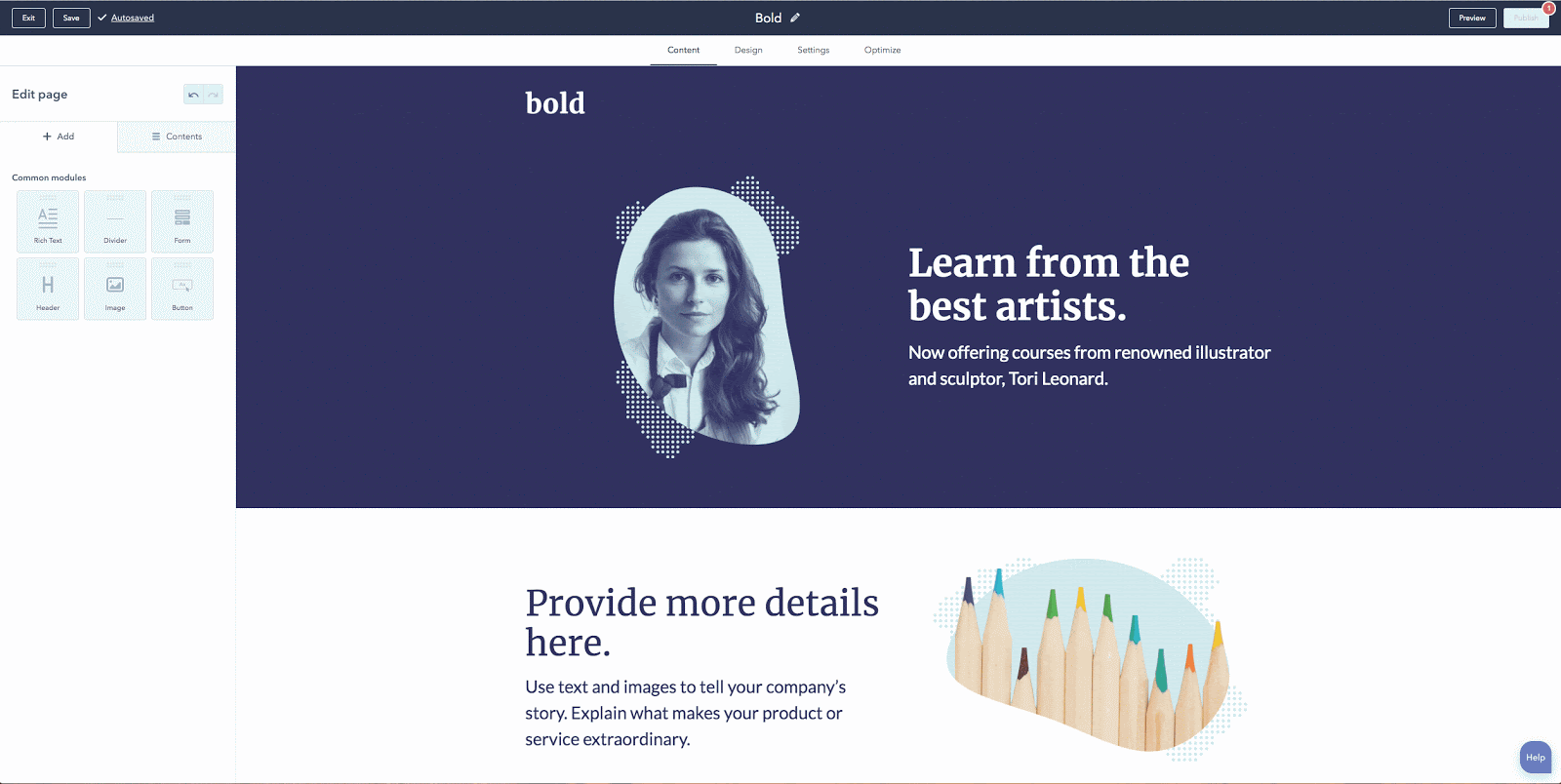 Natively integrated into HubSpot's CRM and Marketing
HubSpot CMS Hub comes with the CRM baked in.
With it, you're able to easily keep track of your site visitors' engagement with your site, and use that information to create tailored messaging that speaks directly to potential customers.

Keep track of how your visitors interact with your content from first page visit, all the way through to purchase & beyond.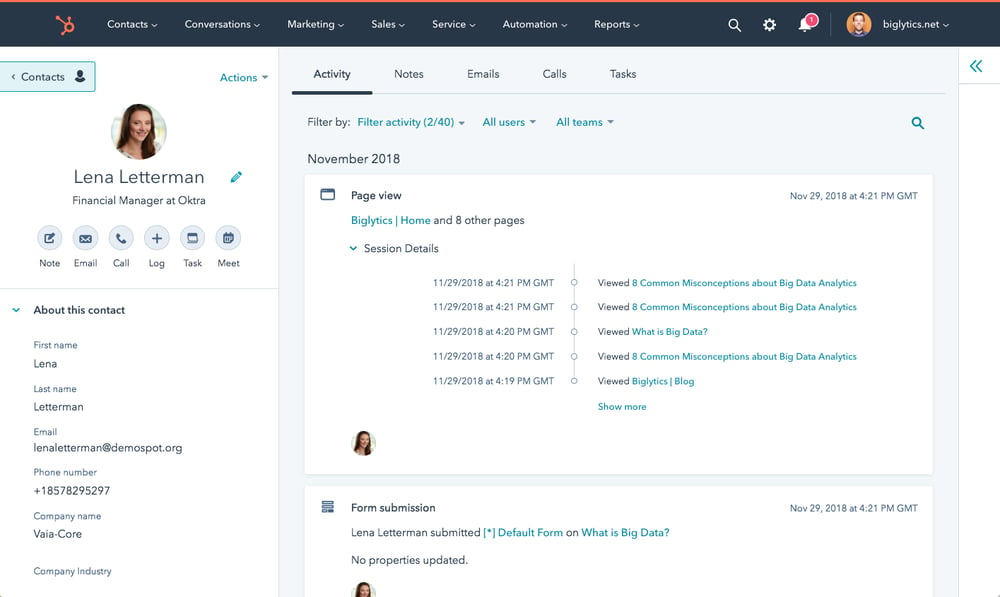 Easy content management
To create consistent experiences, drive brand trust and distribute content at the right time you need an easy way to manage your content.
Centralising your content on HubSpot's CMS Hub and being able to see exactly who is interacting with your content makes management a breeze.
The key to maximise content ROI, is knowing what's working and what's not. This is really quite difficult on most CMS's, especially if your website is large.
HubSpot also gives you SEO recommendations that will boost your website's visibility and search engine rankings, and in turn lead to more website visitors.
The built in analytics on each page make decisions around content very easy. You can also partition you content according to teams.
Use team permissions to give your team access to only the content that is important to them. Allow your blog team to only focus on the blogs that matter to them, while not being distracted by blogs owned by another team.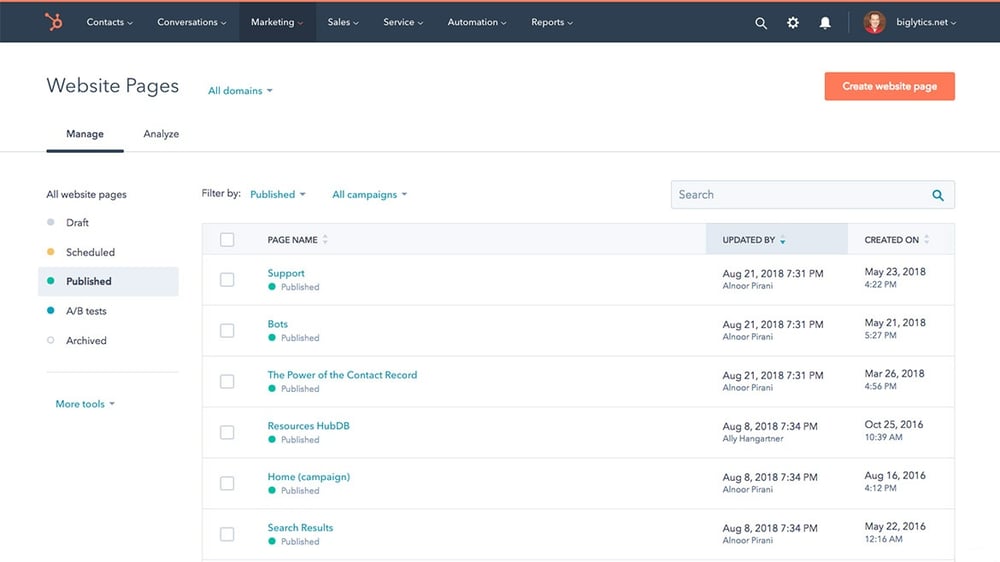 Built-in website analytics
The analytic tools in HubSpot allow you to make informed decisions on content without having to navigate out of HubSpot to your favourite analytics platforms.
No more data crunching and reporting that takes hours. All the data can be dashboarded for live easy access data.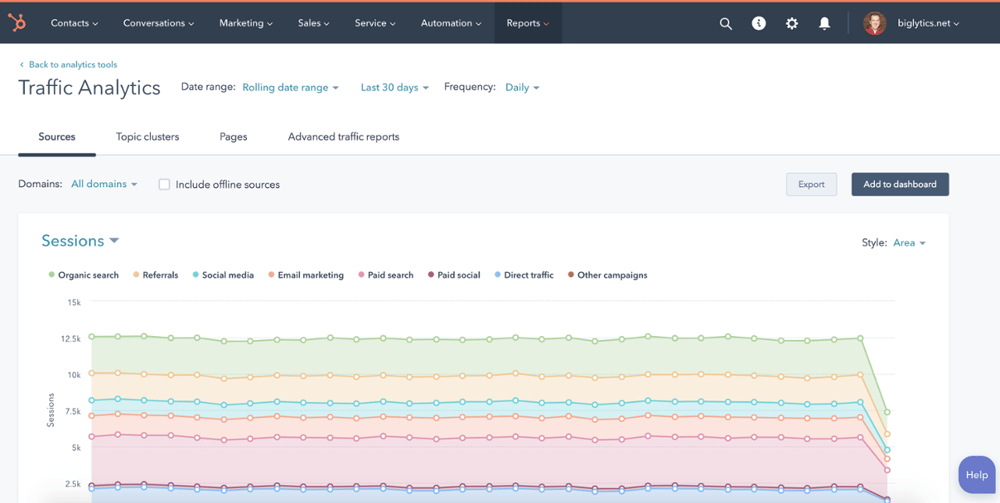 Smart content driven by HubSpot's CRM
You can use smart rules in content to target your website pages, landing pages, CTAs, and forms based on criteria you have stored about your contacts in the CRM.
Smart rules content alters the content displayed by the website based on specific viewer characteristics.
By leveraging HubSpot's free CRM alongside the CMS Hub, you can fully personalise your website user's website experience.
Aside from any property in the CRM, you can drive content with the factors in the image below.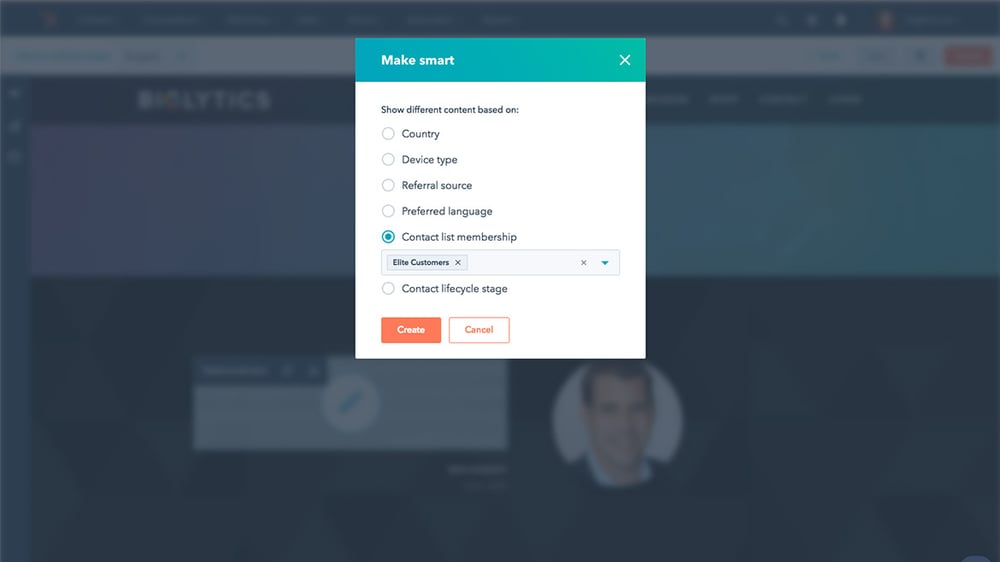 Local web development, develop without delays
Develop on HubSpot using any of the technologies, workflows and tools needed. Leverage tools like GitHub to handle version control, and make changes to your website assets as you're ready.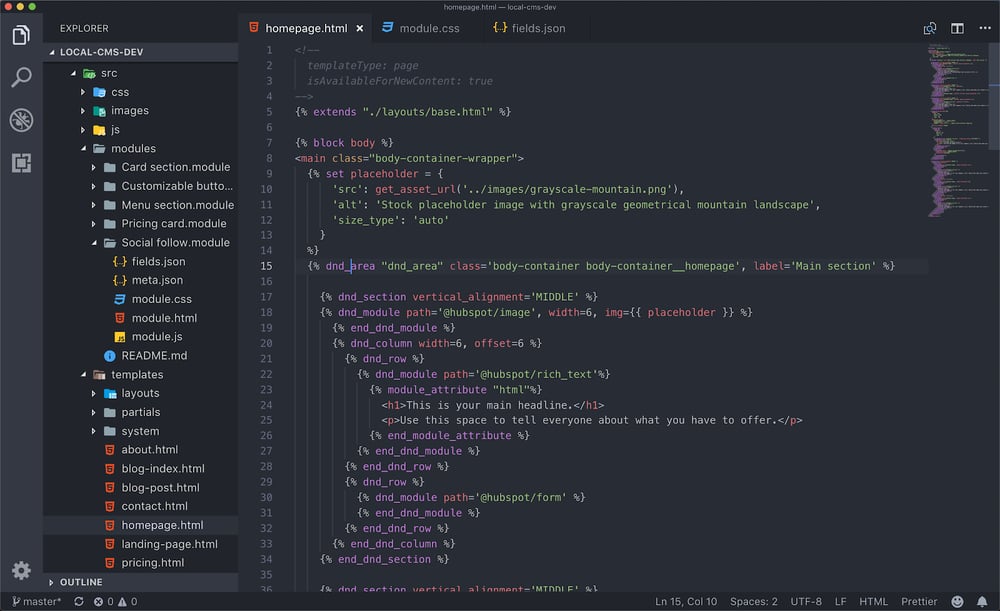 Stop managing servers, start architecting experiences
99.99% Uptime -- our SLA for site uptime
Global CDN -- our content delivery network leverages multiple data centers around the globe to ensure that your content is constantly available and delivered fast.
Cache Optimisation Strategy
24/7 Live Infrastructure Support
Web Application Firewall -- HubSpot employs an enterprise-class website application firewall, to detect any potential attacks before they pose a threat to your site.
SSO Integration -- maintain complete control over who has access to your content management system, while making it easy for members of your team to quickly access CMS Hub.
HTTPS & SSL Certificate Support
Routine Vulnerability Scanning
User & Permissions Management -- take control over who has access to your content, and who can view, edit, and publish content.
Multiple Geographic footprints
Only start paying at launch
One of the coolest features is that you can develop and test your website on a free CMS Hub account. This is perhaps the best part of HubSpot CMS for any small business.
Whether you just want to test the software to see if it's a better CMS platform than the one you're using now, or if you know your development process will take a few months, you won't have to pay until you go live with your site.
Integration into the HubSpot Growth Stack
HubSpot is an ecosystem of products called the HS Growth Stack, which allows you to progress into using their paid licences as and when you need them.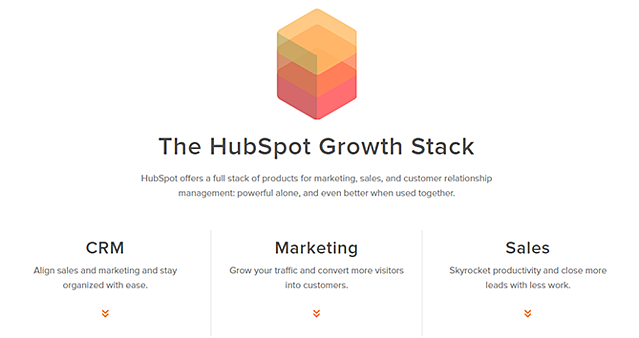 Source: HubSpot
But, while the cost for some of these licences isn't insignificant, there are free versions that are remarkably capable and can add masses of value to your company.
Free products to enhance the HubSpot CMS
Primary to this free concept is the CRM (Contact Relationship Management System). CRM users build their websites on HubSpot's "Free Forever CRM".
Gone are the days of stand-alone lead databases generated on your website and emailed to a few email addresses.
Examples of immensely popular options in the WordPress environment include Gravity Forms and Contact Form 7.
Leads generated on a HubSpot CMS Hub website are stored in the CRM, and can then be used to deliver personalised content using content with smart rules areas on your site.
For example, if a doctor visits the site, you can welcome her by name, and show her medically related headers and relevant content to drive better engagement.
The HubSpot Sales Hub Free product leverages leads generated from the website and free CRM so that leads can be tracked from generation all the way through to closing. Plus, your company salespeople can track emails, log deals, and automatically log important conversations in the CRM with the click of a button, and all for free!
Key takeaways
The HubSpot CMS has been around for many years, and as an agency, we've been integrating inbound campaigns on HubSpot Marketing into HubSpot CMS sites for a while now.
That being said, the move to make it a stand-alone product - CMS Hub. The 'free until you go live' feature, and the set of free Growth Stack products from HubSpot including HubSpot's CRM, Sales Hub, and Service Hub make it a hugely compelling offer.
Let's not forget the security and speed features, and the top rating by G2.
All of these make HubSpot CMS Hub a very compelling offering.
Additional resources