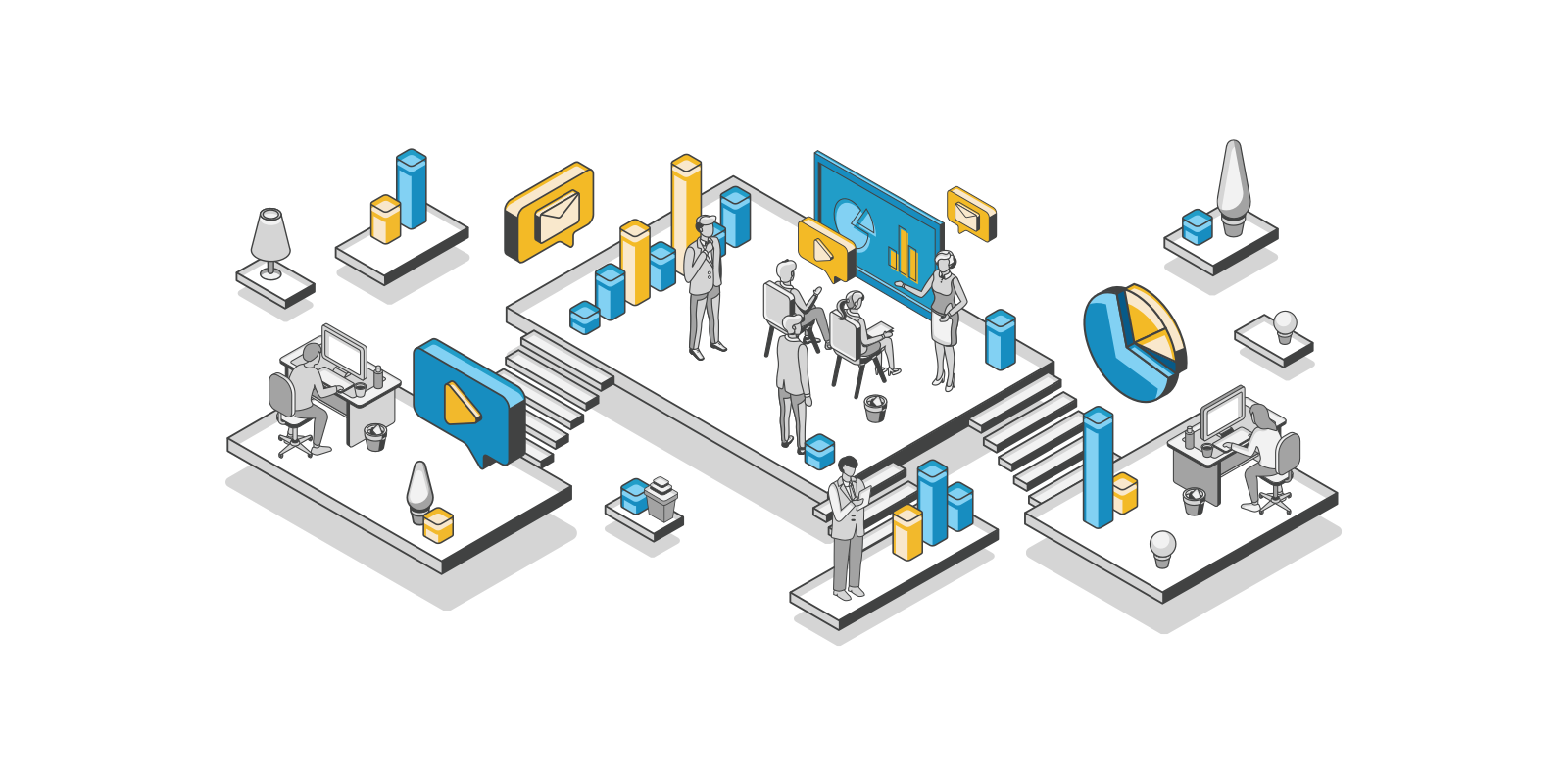 Digital Marketing
5 Ways to Instantly Improve Marketing Strategy
According to SEO Tribunal, Google receives 28 million searches per hour, 5.6 billion searches per day. More importantly, though, is the fact that 93% of all online interactions start with search engines.
"It's not what you sell that matters as much as how you sell it!". - Brian Halligan, Hubspot CEO & Co-Founder.
With these stats in mind, it's clear that without a solid digital marketing strategy, a company only loses out on the opportunity to reach out to dozens of potential clients who may be looking for the products and services that their business offers online.
Think about the last time you needed a product or service. You most likely punched it into Google and clicked on the top result. According to the latest stats, only 4.8% of people click through to the second page of Google.
In other words, if your business doesn't rank on the first page of a Google search, you're missing out on billions of potential customers.
Having the ability to draw your customer's attention with a simple Google search is the best way to grow your business and gain huge amounts of exposure. But, it's not as easy as it might sound.
Overview
The quote: 'how we sell is more important than what we sell' is something that stuck with us here at MO Agency.
We believe in creating 360-degree digital marketing strategies that go beyond the technicalities of marketing and sales. By creating holistic and multidimensional online experiences that matter and cater to customers' needs, we sell to actual people.
We believe that a functional strategy should focus on building and maintaining authority in a crowded online marketplace, no matter how tough the competition may be.
We do this by providing valuable and helpful content. Doing so positions the company as a legitimate and desired service provider.
Setting goals and measuring KPIs
A strong digital marketing strategy requires the business to set online goals that will support overarching business objectives and track the progress towards these goals.
Goals can be tracked by benchmarking current KPI values, and keeping an eye on them while you track towards your goals. Whether industry-standard or business-specific; KPIs will not only help you track progress but also help you to define your place in the market in relation to your competitors.
Companies with a clear digital marketing plan, that regularly measure their efforts, see 60% faster growth than those without a marketing plan. - Top Floor Tech
A digital marketing strategy aims to accomplish online, what your sales and marketing efforts have achieved in the real world.
Digital marketing tactics aim to:
Help you define your online value proposition so you can differentiate yourself in the online space and encourage existing customers and new ones to remain loyal.
Help you gain insights into your audience and also force you to integrate your digital channels.
Help you define the budget you want to dedicate to your

marketing tactics

and prevents you from wasting money on digital channels that do not reap a positive ROI.
Give you the agility to adapt to new trends and to use updates to your advantage to stay ahead of your competition.
Digital Marketing growth trends
Statistics show that total digital ad spending is projected to show the fastest growth. We've already seen a 16.2% increase compared to 2021, and it's projected to keep growing at a vast rate.
The global digital ad spend is expected to cross $648bn by 2023 from $380bn in 2020, and the global mobile ad spend is estimated to continue rising and cross $156bn in 2023 while continuing to climb in the following years. It might be a small step up from the $137bn in 2022, but the general trend is still upwards.
So, if you are not using digital marketing strategies or improving your existing ones then you are not taking full advantage of this powerful space and losing out on potential revenue.
...Before Adopting New Digital Marketing Campaigns
Ask The Right Questions
What has worked or hasn't worked in the past?
What were the biggest holdbacks last year?
What were the key accomplishments last year?
Who are the key competitors and how do you stack up?
What are your target audience, challenges, and pain points?
5 Ways to improve your Digital Marketing Strategy:
1. Set SMART goals and optimise for conversions
A set of clearly defined goals and objectives is the first step on any digital journey. It determines where we want to go and how we are getting there. A SMART goal is an objective that is Specific, Measurable, Attainable, Realistic and Time-based.
Wanting your consultancy to become the best isn't exactly much to go by. It's neither realistic nor attainable. Increasing your site traffic by 10% from 10,000 to 11,000 visits by the end of March is a more realistic and measurable approach because it warrants specific actions to achieve the goal.
The goal is specific, linked to a relevant metric and has an end date by which the goal must be achieved.
Remember, paying customers is the bottom line. Converting leads comes with a deep understanding of your potential customers' behavioural traits and motives.
Data gathered by analytics tools can provide a better understanding of your potential customers, but you will need to cast a wider net at first to attract prospects before you can dig deeper for insights.
2. Know who and where your audience is, and create a journey for your customer
An in-depth understanding of who your audience is and where they spend most of their time online is the bedrock of any strategy. Failure to do so could see your digital strategy fail before it even takes off.
Your target audience needs to be part of every strategic decision you make. When you have all the historical data in place, you are then able to make informed decisions about the type of campaigns you should be running, on which channels, your targeting approach and the size of your budget.
Measuring campaign performance is critical if you want to improve your marketing strategy. Look at your website analytics, social media analytics, and digital channel reporting.
The more demographic information you can gather from your marketing channels, the more insight you will have into your audience's behavioural traits, and the more effective your digital communication efforts will be.
With in-depth audience data, you can create a more effective buying journey for customers and refine all the processes in your sales and marketing tactics. Using email marketing is the most effective (and measurable) way to create a buyer's journey.
3. Quality over quantity is key to a successful marketing strategy
This notion applies to all marketing operations, from email marketing right down to your tweets. Consistent, high-quality, and engaging content impacts audience decision-making more than any other technique.
Producing and distributing high-quality, relevant content guided by your digital marketing campaigns set the stage for creating an asset of long-term value on your website.
For instance, using search engine optimization to prime a single asset to rank highly on search engines is better than having hundreds of low-quality blogs.
Also, before allocating resources towards different campaigns, do research and see whether the returns justify the means. This applies to tools, solutions, marketing channels, and other purchasing decisions as well.
4. Adapt your strategy to The Latest Digital Trends
Consider that YouTube currently services 95% of all internet users - or that Instagram's user count is growing close to 5% per quarter. This information will immensely influence your digital strategy.
Social media influencers are taking the world by storm right now. Find yourself the right influencer, create a solid social media campaign, and you've potentially doubled or tripled your number of customers.
What are your competitors doing? What kind of content is your target audience currently engaging with the most? Consider these points then find actionable marketing tips that will take you to their level - and beyond.
Knowledge is power and you need to be aware of all the new marketing techniques at your disposal for the execution of your strategy, especially if you're a small business targeting your ideal customer.
Through enough market research, you also ensure that your digital strategy remains relevant and captures the spirit of the current digital landscape.
5. Have a responsive website and be mobile-first
Mobile is one of the biggest considerations in digital marketing and is especially relevant to your strategy. In truth, your whole strategy should be mobile-first when you look at the number of internet users we have in the world today.
Mobile has now become the most important channel for internet access worldwide as mobile internet users account for 91 percent, or 4.32 bn, of total website traffic.
Search engines like Google have adopted a mobile-first approach, you are definitely putting yourself at a disadvantage if your website is not responsive and mobile-ready.
Mobile devices such as smartphones are becoming more and more common because of their versatility and ease of access. It's essentially a laptop that fits into your pocket. If you're using Google to look for local businesses, 9 times out of 10 you will be using your phone because it's so much quicker and easier.
The majority of your website visitors will be using a mobile device, so it's crucial to keep them in mind if you want to have a strong online presence.
Final thoughts
The recommendations above should form the foundation of your approach to improve your marketing strategy.
Not only does having a digital strategy make day-to-day business activities more structured, routine and measurable, but it also streamlines your marketing operations and your sales funnel.
When you focus on adapting and improving your digital strategy, you make strides to stay in touch with your target audience and appeal to their needs and issues. At the end of the day, all of this leads to more qualified leads and conversions.
Welcome to the MO Agency blog. Here you can find resources on Digital Marketing, HubSpot Inbound Marketing, Web Development & Brand Strategy.