What is clear about Penguin is that these changes have smashed conventional practices and wisdom of how to increase Google rankings.
Google rolls out changes all year long, these little tweaks to their software go largely unnoticed, but every once in a while they introduce a massive set of changes. These are named updates. Penguin is the latest of these massive algorithm changes. Panda was the update from last year.
Panda vs. Penguin
No this is not some ridiculous movie reminiscent of Alien vs. Predator…
While Panda, the 2011 update, focused on Onsite factors like unique and quality content. Penguin focuses on the offsite factors. In brief Google Penguin appears to target artificial link acquisition or 'link spam'.
Firstly it is necessary to take note that we do not know exactly what the Google Penguin changes are, however, from Google's announcements, watching websites shift in rankings and the discussion around the web we can infer fairly accurately what the changes are. In a nutshell, Penguin is designed to decrease the rankings of over-optimized websites.
In a statement about the Google Penguin update on Google's blog, Matt Cutts wrote, "We've always targeted webspam in our rankings, and this algorithm represents another improvement in our efforts to reduce webspam and promote high quality content. While we can't divulge specific signals because we don't want to give people a way to game our search results and worsen the experience for users, our advice for webmasters is to focus on creating high quality sites that create a good user experience and employ white hat SEO methods instead of engaging in aggressive webspam tactics."
So what are 'Offsite factors' in the context of 'over optimizing' websites? SEO practitioners employ a variety of techniques to game Google's search results. One of the most effective is building content (pages/websites) around the targeted website and building links to the target. By using 'anchor text' to link to the target site we can manipulate the pages that Google serves. If you don't know what anchor text is, here is a short explanation.
"MO Agency is an SEO Company."
In the sentence above the link is embedded on 'SEO Company'; in this case 'SEO Company' is the anchor text. Now we have linked this to our website home page www.mo.agency. If we continue to create links like this, our website will climb the rankings for 'SEO Company'. Post the Penguin update, if these links with the same anchor text are too numerous, Google will now single the site out and drop it down the rankings. In fact, it will more than likely send you a message like this: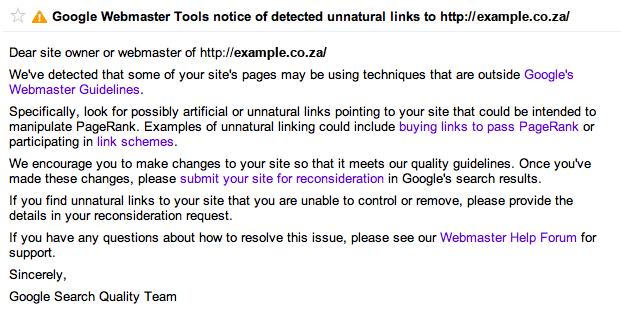 A Real World Example
This is a strong case study of a very significant drop in rankings seen by an organization called WPMU.
By removing just over 500,000 links with the anchor text "WordPress MU" (a few other changes were also made), they recovered from a dramatic drop in traffic after the Google Penguin update.
So it seems that the Google Penguin update will reduce Google's dependency on anchor text for rankings. Although, at this point, it does not look like this dependency will be removed from the ranking criteria altogether, it is very clear that if your linking structure is using the same anchor text 'too much' - Google is going to deem it unnatural and will penalise your site's rankings.
So in a Nutshell, what did the Penguin Update do?
1. The update penalizes sites engaged in link spam. Previously, the modus operandi of Google was to penalize the authority of incoming links and go after the source of the links. However, Google is now actively punishing the sites that are acquiring these spammy links.
3. Links that are part of artificial link networks will trigger a penalty.
4. Google will penalize you if a large percentage of your links used bear the same anchor text.
5. If your site links come largely from blog site footers, blog comments, and forums (low-quality links), Google is going to think twice about ranking your website.
What Now?
In my last post relating to the use of blog networks and low-quality content in an attempt to increase search rankings, I finished off my article with a statement that Google is after unique and high-quality content.
"As the web grows and search engines have to continually sift through more and more content, it is the highly original and content-rich content that will provide the website traffic that SEO clients are looking for."
Penguin drives this home even further, Penguin goes further than penalizing the source of the links, and will actively penalize your site for the use of such low-quality link sources.
The answer is to create unique and valuable content. Most of the existing SEO strategies leave a footprint that Google is 'now' remarkably adept at picking up. Create valuable, unique, and most importantly 'relevant' content and over time, your site will rank well.