1. Gather Information
The first thing that should be on your strategy list is information gathering. This is the most important aspect of this exercise. Carrying out this step will give you amazing insights into your website's performance. Google Analytics is an excellent tool for gathering various metrics in real-time. Some of the metrics to analyze should include number of visits, number of unique visits, number returning visits, number page views, average monthly bounce rate, average monthly time spent on site, top ten keywords, inbound link profile and top pages in terms of traffic, among other things.

2. Redefine Your Goals
If you are going to redesign your website, it is crucial to define your goals. A lot of this aspect will be informed by the information gleaned during your analysis in step 1. For example, if your monthly average bounce rates for the pages are high (say 70%), then it is time to include a goal such as "reducing bounce rate by 20% in the next three months" for instance. A high average bounce rate means visitors leave the website too quickly, a sign that they may not be finding what they are looking for or what they find is not of value or interest to them.
3. Redefine Your Target Audience
If most of your visitors are not staying on the website, then the following questions must be looked at:
What is your unique value proposition and how does it stand out from the rest?
When was the last time this proposition was refreshed?
What is your current target audience?
Is there a new kind of audience you will want to attract as well?
Is your current branding and content capable of meeting the expectations of your target audience?
The most important action here is providing well-optimized content that is appealing to the target audience.
The screenshot shows an example of audience frequency and recency of visits to website.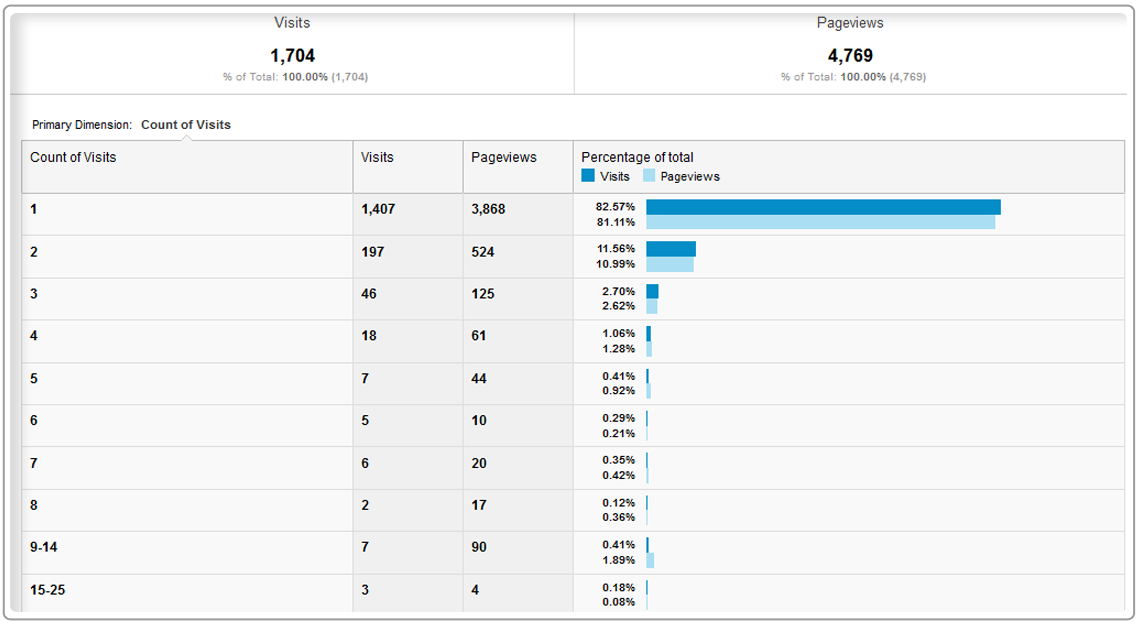 4. Get To Know Your Competition
Various tools are available for this purpose. Using Hubspot's marketing grader comes in handy for me. It provides a comprehensive report on how your competitor is doing in the marketplace in terms of their marketing efforts (blogging, mobile, social and SEO). Other tools that can be used to supplement marketing grader include Majestic SEO and Ahref. Find out about the following:
What do you like about your competitor's website?
What kind of content is your competitor distributing over the web?
How are they doing in terms of social engagement?
How are they ranking for your top keywords in your industry?
This will help you gain insight into which areas need improvement and how you can be distinctive from your competitors.

5. Do Not Lose Sight Of SEO
Undertaking a website redesign has implications for search engine marketing. Many websites have performed miserably after the redesigning process. Inculcate on-page optimization best practices for all your pages, focusing on one keyword that best describes each page.
Here are a few suggestions for you:
Factor in 301 redirects so that you do not lose traffic as a result of moving pages
Install Google Sitemap Generator plugin (the newest version 3.2.9 can be found on WordPress website) and submit your sitemap to Google Webmaster Tools. This will ensure that any changes to your website are automatically picked up by the search engine.
Remember, content has been and will always be king! So create fresh and relevant content on a regular basis.