Google Adwords uses what is called Quality Score. According to Google, Quality Score "is the basis for measuring the quality of your keyword and ad and determining the cost-per-clicks". In order to arrive at Quality Score, Adwords take into consideration number of factors such as the relevance of your keywords, ad relevancy, click through rate and landing pages.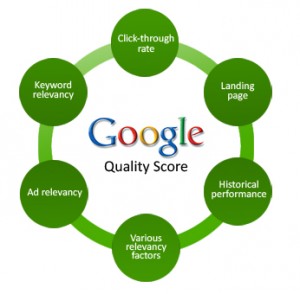 The landing page factor is of particular importance as it relates directly to SEO On-Page Optimization. Adwords is able to determine the experience of your visitors or target audience by using various performance metrics which include Returning Visits, Audience Engagement, Bounce Rate, Frequency and Recency etc. as found in Google Analytics.
Based on these historical data, Google is able to conclude on what kind of interest your landing pages are generating among the audience. Google Adwords by default gauges the landing page experience of all advertised web pages and rate them in the order of above average, average or below average. If the landing page experience is below average for instance, it negatively affects your Google Adwords Quality Score and ultimately your ad position, advertising cost (Actual Cost-Per-Click) and Return On Investment (ROI).
You can restrict Adwords from reviewing your advertised landing pages inside the "robot.txt" file, but we strongly recommend against it because doing so will have negative consequences on your Quality Score.
The best solution to generate very good landing page experience in Adwords is to pay more attention to your SEO On-Page Optimization. Google recommends the implementation of the following strategies in order to see any meaningful improvement in Adwords performance.
1. Relevant Content
Before you implement Adwords for your website, provide content on your landing pages that is relevant to your keywords and ads. The content must be original, useful and unique from those provided by your competitors.
2. Website Navigation Structure
Work on your website structure to make it fast, easy to navigate and find information on products and services. I believe the three-click principle works well in this regard.
3. Transparency
It is very important to remove all ambiguities as to what kind of products and services are being provided by the website. The visitor must never feel lost after clicking and landing on your advertised pages. Provide clear statements in your content as to what exactly you do.