At Markets Online, we build beautiful and functional websites, but we also focus on functionality and ease of use when it comes to updating content. We always urge our clients to get involved in updating their website; we believe the days of calling your web developer for every little change or addition of content to your site are gone. The folks at Google want to see momentum with your website, they want to see your website adding value to the web with regular new and unique content. If they don't see this, you can expect to drop down the rankings. Now imagine calling (and paying) your developer every time you want to make a change – how often are you going to want to make changes?
This is why we love WordPress. WordPress is super easy to learn and makes updating your content on a regular basis a breeze. Again, at Markets Online we want you to update your content, and only call us when you want to make major changes to your site.
To allow you to do this we rely very much on three plugins, and we install and use these three WordPress plugins on almost all of the websites we build. Once installed they make content creation on your website effortless, and importantly in check with the requirements Google sets out in its Webmaster guidelines.
And here they are – our favourite WordPress plugins:
Yoast SEO Plugin by Joost de Valk
(free)


Although there are many great SEO plugins out there for WordPress - WordPress SEO by Yoast is undoubtedly at the top of the pile. This plugin works with any WordPress theme, with minimal tweaks to get it going. WordPress SEO by Yoast will allow anyone with little or no experience in SEO to take total control over their WordPress website or blog when it comes to SEO.
One of the great features that we like is the snippet preview where you can see a rendering of what your page will look like in the Google search results. This snippet preview is accompanied by a page analysis tool. By inserting a focus keyword into the plugin on the page you're editing - it's really easy to optimise your page. Have a look at the screenshot from one of the pages on our own website.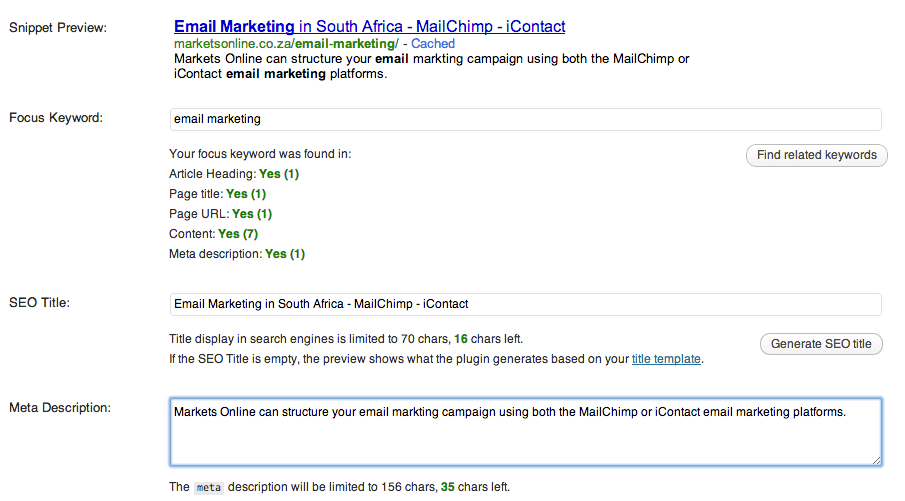 We install this plugin on all our client's websites and encourage them to add content to their website on a regular basis. Part of our handover includes a content creation tutorial session in which we cover the basics of optimising content with WordPress SEO by Yoast.
Gravity Forms by RocketGenius
(Personal US$39 / Developer US$199)

Our favourite forms WordPress plugin for well over two years – Gravity Forms is awesome. There are a bunch of contenders in this arena; two notable ones are 'Formidable', and the online 'Wufoo' forms (which is actually not a plugin, but serves the same purpose).
So why is Gravity Forms so great? Simple - ease of use. Again - we like to build our websites so that our clients can use them, and by 'use them' we mean to get into the back end to create and edit content. With Gravity Forms, our clients are creating and editing forms on their own, and we all know [contact] forms are an integral part of any website trying to communicate with potential customers, fans, members, etc. All the forms on this website are built with Gravity forms. If you click through some of our forms you'll notice we especially like the 'conditional functionality' we can build into our forms with the Gravity Forms WordPress plugin. With conditional functionality, we can build 10 forms into one form. Make an enquiry for a 'website' and the form presents a series of questions related to websites. Choose 'SEO' and the forms present an entirely different set of SEO related questions. This means we don't overwhelm potential clients with a massive form and scare them away before they click submit. It also means we have all the information required to give them the right information when we respond to their enquiry.
WooSlider by Woothemes
(Personal US$29 / Developer US$99)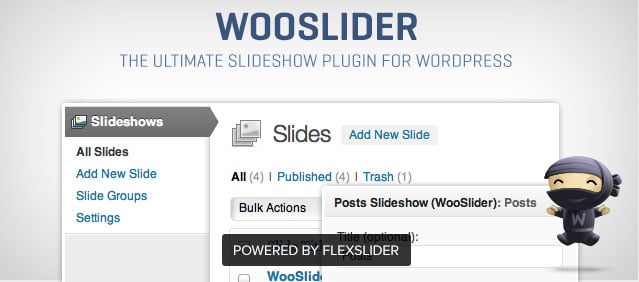 The Wooslider plugin from Woothemes makes it super easy to add slideshows to your content, whether on posts or pages. With the use of a really easy to add short code, adding images to a page or post is effortless. Of course, the sliders are responsive to screen size - so they work and look really cool on any [mobile or desktop] device - no hard work required!
Adding the shortcode is also really easy, just click 'add media' when editing a page or post and insert your slide. While inserting the slideshow, all the settings can be adjusted – Voila! The slideshow dashboard is easily identifiable in the WordPress dashboard and really won't be missed by even the most junior WordPress enthusiasts. We set up global settings for all the slideshows in the website when building the site, and the user can they choose to use these as default settings, or they can easily create their own set of rules for each slideshow they create.
And there you have it. Three really great WordPress plugins that make content creation and editing with our WordPress sites a cinch!