According to Smart Insights, 80% of internet users currently own smartphones. By 2019, mobile advertising will represent 72% of all U.S. digital ad spending. Salesforce has revealed in a recent study that 68% of companies have integrated mobile marketing as part of their overall marketing strategy, and 71% of marketers believe mobile marketing is the core of their business. Furthermore, Salesforce said that 58% of companies surveyed have a dedicated mobile marketing team.
What is mobile marketing?
Mobile marketing is not a new topic of discussion for us. For those not in the know, mobile marketing is basically any type of promotion designed for delivery on mobile devices (smartphones, cell phones, tablets, etc). Generally, mobile marketing is part of an overall multi-channel digital marketing campaign. Mobile ads delivered through systems such as Google Display Network, SMS marketing and programmatic ads all fall under the mobile marketing banner.
Why you should make mobile marketing a priority
1. Google favours mobile and penalises websites who are not responsive
If there is one reason to start a mobile marketing campaign, perhaps consider Google's algorithm update which actively penalised websites that were not optimised for mobile, did not respond to various devices and were not considered mobile friendly. The first in a series of updates was referred to as Mobilegeddon since the update literally decimated web page rankings across the internet. These updates are ongoing and continually seek to serve mobile users better search engine results.
If your website is not responsive and easy to navigate on mobile devices then you can find Google penalising your website so it falls down in search engine rankings. Google is serious about this and is becoming stricter as time goes on.
2. Mobile reaches a newer and broader audience
Far more people are choosing to search for services and products on their mobile devices over their traditional desktop computers. comScore's 2017 mobile usage report showcases below how global users of mobile devices have outgrown desktop users.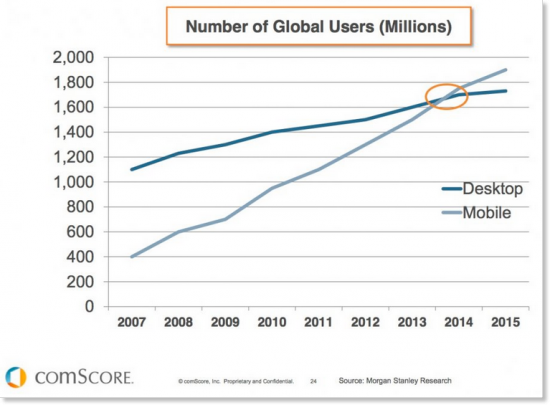 As evidenced in the chart above, there is now an increasing number of people, from across the globe, who are exclusively using mobile devices. So, if you are not implementing mobile marketing in some capacity you are losing out on reaching a much broader audience and more potential customers.
3. More ad platforms via social media
Facebook, Twitter, Instagram, and Google have all realised the great potential mobile marketing holds. These social and search giants have evolved their advertising platforms to allow for the specific and easy targeting of customers on mobile devices.
It is really quite simple to get started with mobile advertising on these platforms, and if you are already using social paid advertising you are on the right path already.
4. Remarketing is far more effective as people are always on their mobile devices and smartphones.
Like we mentioned before, often a mobile marketing campaign forms part of an integrated digital marketing strategy, which involves also targeting desktop computers. Many potential customers are browsing the web on both desktop and mobile devices.
With remarketing, prospects you have targeted on desktop computers can be re-targeted when they are using their smartphone or mobile device because they have clicked through on your ad previously. People are always on their smartphones and mobile devices, especially after hours when they leave work.
5. Mobile marketing is far more personal than its desktop counterpart
As a brand, you are always looking to get close and more personal with your target audience. This is difficult from behind the comfort of your laptop or computer screen. However, mobile devices are a different story altogether. For people, their smartphones and tablets are accessories that they carry around with them all the time.
By making use of mobile marketing, you are taking a far more personal approach with your target audience. You are able to get closer to them with more personalised content tailored to their mobile viewing experience.
As we have stated before, mobile marketing is a necessity in the current digital economy dominated by smartphones and smart mobile devices. People want to be mobile with their digital media and enjoy the freedom of surfing the web wherever and whenever they like. As digital marketers, we need to adapt to this reality and embrace mobile marketing as part of our overall digital marketing campaigns moving forward.